There is one direct ferry a week sailing from Symi to Kastellorizo, and travel times vary from 5 to 6 hours.
Symi Kastellorizo Ferry Route
Kastellorizo (often spelt Kastelorizo) is perhaps one of the most remote islands in Greece. Located just opposite the Turkish coastline, a ferry trip is the only way to get there from Symi.
Direct ferries from Symi to Kastelorizo run once a week, all the year through. The ferry operator providing this service is Blue Star Ferries, and journey times range between 5 and 6 hours.
You can find the latest prices and ferry schedules for this route at: Ferryscanner
My experiences sailing Blue Star Ferries from Symi to Kastellorizo
After spending a week in Symi, we left for Kastellorizo on the Blue Star Patmos vessel. This is a huge ship, that takes vehicles, and also has several different decks.
Facilities on board include cafes, restaurants, and even an ATM machine! While prices for some things such as cheese pies and coffee might be slightly higher than in a cafe, the convenience is a win, especially on longer trips!
As Kastellorizo is a very quiet destination in Greece, there weren't many passengers on board. if I had to guess, I would say there were more staff than passengers on this ferry – it wasn't busy at all!
In 2022, the price for foot passengers (with a SeaSmiles discount) was 19 Euros each. The car cost 59 Euros. It will be interesting to compare these prices as years go by to see if the increase or decrease!
Symi Kastelorizo Via Rhodes
A once a week crossing may not offer enough flexibility for travelers island hopping around the Dodecanese with limited time. This means it might be better to consider an indirect route which involves swapping vessels at Rhodes.
There are daily Symi to Rhodes ferries to choose from. Once in Rhodes, you would then need to get another boat sailing to Kastellorizo. In addition to Blue Star Ferries, you might also be able to sail with Dodekanisos Seaways from Rhodes to Kastellorizo.
To see if there are suitable crossings, look at travel times, and for booking a ferry ticket online, I recommend Ferryscanner.
Visit Kastellorizo Travel Tips
Here's a few tips for catching your ferry to Kastellorizo from Symi, as well as information to help you plan a stay on Kastellorizo:
Look at the price for fares and buy an e ticket for ferry services in Greece using Ferryscanner
---
Be at the port of Symi (Blue Star Ferries berth) at least a half an hour before departure. The ferry will be docked for just 15 minutes while passengers who are arriving disembark and those leaving Symi board.
---
You'll find power points on the ship to keep your phone charged!
---
Due to the proximity to Turkey, you might find your phone wants to connect to Turkish networks where their signal is stronger. Turn off roaming if you think the charges will hurt you!
---
Ferries arrive at the port in the main town on Kastellorizo. If you have booked a hotel room in advance, you host may meet you at the port.
---
There's not many hotels on Kastellorizo. Check Booking to see what is available, and compare it with Google maps to see if you can find extra accommodation not listed there.
---
Kastelorizo Ferry FAQ
People planning to travel between the Greek islands of Symi and Kastellorizo by ferry often ask questions similar to:
Is there an airport on Kastellorizo?
Yes, there is an airport on Kastellorizo which only has flight connections with Rhodes.
Which ferry company sails the route Symi Kastelorizo?
The ferry company sailing the route Symi Kastelorizo is Blue Star Ferries. They have a once per week crossing, and the ferry can take cars.
Do I need to rent a car on Kastellorizo?
Not at all! The island is very small and you can walk to all the major attractions and places to see.
Where can I book Symi to Kastellorizo ferry tickets?
To book Symi to Kastellorizo ferry tickets, I recommend using Ferryscanner. This website has a comprehensive list of all the available ferry crossings in Greece, as well as a booking system that makes the process quick and easy.
---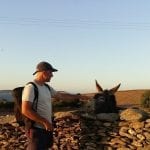 – Dave Briggs
Dave is a travel writer who's been living in Greece since 2015. He's spent many months island hopping in Greece researching blog posts such as this one on traveling from Symi to Kastellorizo by ferry. His goal is to visit every inhabited Greek island over the next few years!
Follow Dave on social media for travel inspiration from Greece and beyond: