The ferry sailing from Rhodes to Symi takes between an 1 and 1.5 hours, and there are 4 or 5 ferries a day.
Rhodes Symi Ferry Route
While visiting Symi from Rhodes is a popular day trip, there are also plenty of ferries available for those who want to spend longer on this beautiful Greek island.
Additionally, ferries sail from Rhodes to Symi all the year through. Of course there are always more crossings during the tourist season in Greece, which runs from April to October.
To check the latest ferry schedule and book a ferry ticket online for the Rhodes Symi route take a look at: Ferryscanner
Blue Star Ferries
Of the ferry companies that operate the route Rhodes Symi, Blue Star are probably the cheapest. They also offer a year through crossing, and publish their timetables well in advance.
This is ideal for tourists who like to plan their itinerary in advance. Some of the other ferry operators offering a boat trip between the Greek islands of Rhodes and Symi only publish their schedules a few weeks before – or sometimes not at all!
I've previously taken the Blue Star Ferries crossing to Symi from Rhodes, and loved the fact that it's a big ship. The big ferries are much better if you're affected by motion sickness!
Blue Star Ferries don't sail everyday though, so you'll need to check the departures are good for the time you want to visit. Also, their ferries often visit more Dodecanese islands – getting to know their schedule is a good way to plan a Dodecanese island hopping trip!
Check out timings for the routes and fares at: Ferryscanner
Other Rhodes to Symi ferry companies
During the summer, other services are offered by Dodecanese Seaways, Sea Dreams Cruises, Saos Ferries, and Sebeco. Not all of these ferries will be able to take a vehicle, so if you are traveling by car, make sure you choose the right one!
Dodekanisos Seaways may stop at the Panormitis Port as well as the main port during the high season. Make sure you get off at the right stop! Most people will want to disembark at Symi town port (Gialos).
Symi Day Trip
You may be able to put together your own day trip to Symi from Rhodes by sailing out early in the morning on one ferry company, and returning on a later ferry with a different ferry company. It really depends on the time of year you want to travel.
The benefits of organizing your own Symi day trip, are that you'll have more free times to explore Symi town, take the bus to Panormitis Monastery, and eat where you want.
You can also book a Rhodes Symi day trip online with organized tours. Here's a few examples. Prices differ as they offer slightly different things:
Symi Island Travel Tips
A few travel tips for visiting the island of Symi by ferry:
Ferries leave from the main port of Rhodes, at Rhodes Town. Aim to be at the port at least a half an hour before departure. Keep in mind that traffic in Rhodes can be busy in the summer months, so allow time for delays.
---
Using Welcome you can pre-book taxis to drop take you to the port. Alternatively, ask your hotel to organize one for you.
---
Booking is the best places to start looking for accommodation in Symi. There are plenty of places to stay in Gialos which is the name of the main port town. I've stayed at Nikos and Eva Studios which was perfect for my needs!
---
Ferryscanner is a good place to look for ferry schedules and to book tickets online.
---
---
---
Symi Ferry FAQ
Readers who want to travel from Rhodes to Symi by ferry often ask questions similar to:
How do you get to Symi island?
Ferry companies offer daily crossings from Rhodes to Symi all year round. The journey takes between 1 and 1.5 hours, depending on the vessel. There are also several companies that offer day trips from Rhodes to Symi.
Can you fly to Symi?
Unfortunately, there is no airport on Symi. The only way to get to the island is by ferry. The nearest airport is on Rhodes island.
What islands can you get to by ferry from Rhodes?
There are a number of Greek islands that can be reached by ferry from Rhodes. These include Symi, Kos, Nisyros, Patmos, Leros, and Kalymnos.
How many days do you need in Symi?
Depending on what you want to do while in Symi, you will need at least one day. If you want to explore the town and its surroundings, swim in the clear waters, and take a bus to the Panormitis Monastery, two or three days would be better.
---
You might also want to read:
---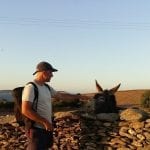 – Dave Briggs
Dave is a travel writer who's been living in Greece since 2015. He's spent many months island hopping in Greece researching blog posts such as this one on how to travel from Rhodes to Symi. His goal is to visit every inhabited Greek island – there's over 220 of them so it's an ongoing project!
Follow Dave on social media for travel inspiration from Greece and beyond: