Con Dao island in Vietnam is an up and coming destination. Go and see it before it changes! Here's how to get to Con Dao Island Vietnam by plane and ferry.
Con Dao Island Vietnam
Con Dao is a group of islands located at the south of Vietnam. It's a tropical paradise with a gruesome recent history, as it was a place of prison and exile for the Vietnamese until 1975. Con Dao was our favourite place in Vietnam during our recent trip to SE Asia, and we would love to go back.
Getting to Con Dao is relatively straightforward, though depending on how you decide to get to Con Dao it can be either quite expensive or quite time-consuming.
Is it worth the effort to get to Con Dao? Totally! Whether you are interested in snorkeling, laid-back life or recent history, Con Dao is one of the best places to go in Vietnam.
This article offers information on how to get to Con Dao from Ho Chi Minh City, also known as Saigon.
How to Get from Ho Chi Minh to Con Dao by plane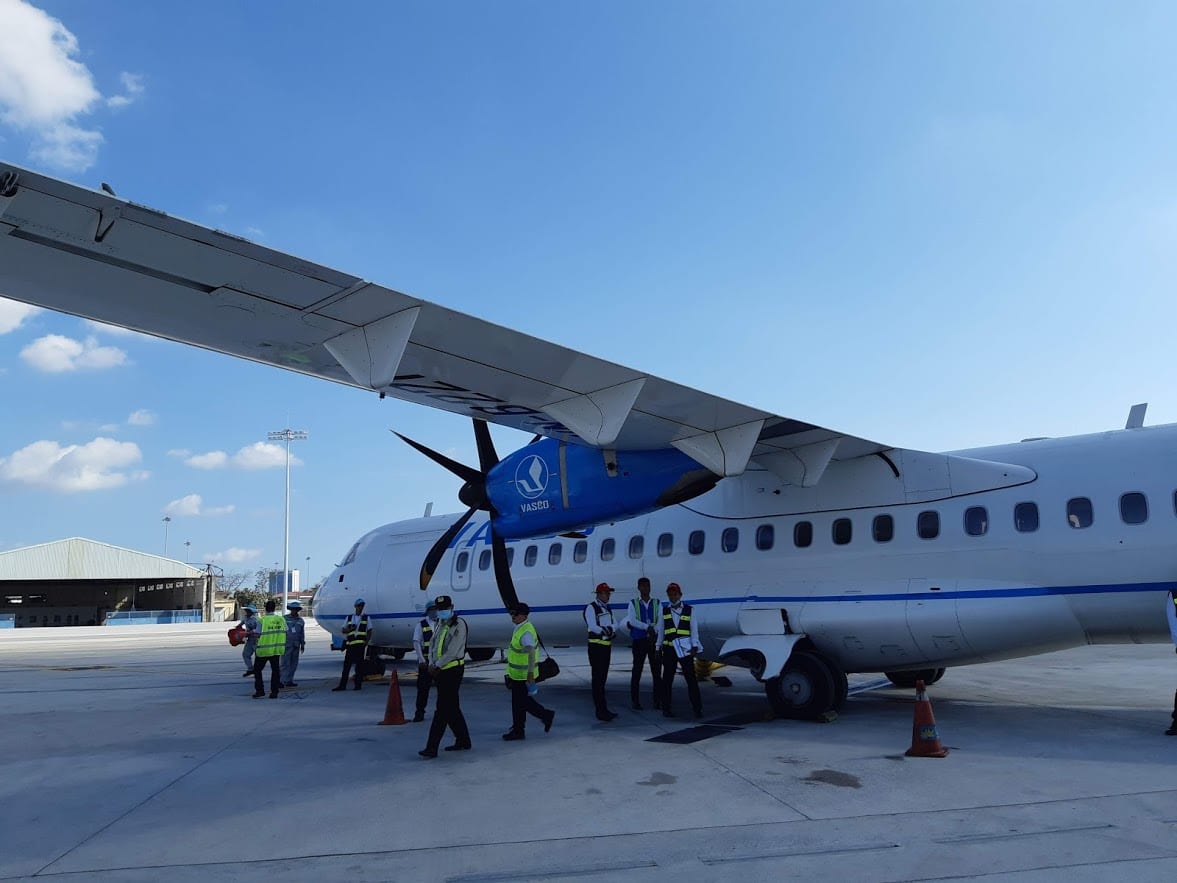 The easiest way to reach Con Dao is through a short flight from the Tan Son Nhat Airport (SGN) in Ho Chi Minh City, operated by Vasco airlines.
There are several flights a day, but they are often booked well in advance, so it makes sense to book your flights at least a week or two before you travel.
If you are travelling back to Saigon on a weekend or close to a national holiday, make sure you have your return tickets as well.
Our experience with Vasco Airlines Vietnam
We have first-hand experience for this. We booked our own tickets about ten days before we were due to fly, and there were already limited seats for the dates we wanted, or some flights were completely booked out.
On our way back, Vasco changed our departure time to a very early morning flight. When we asked if we could leave on a later flight, it turned out that all flights for that day were fully booked.
It is also possible to board a Vasco flight to Con Dao from Can Tho, in the Mekong Delta region. Leaving from Can Tho makes more sense if you were planning to explore the Mekong Delta before going to Con Dao, but there are fewer flights per day.
A return flight from Ho Chi Minh to Con Dao costs from around 150 USD, while the flight from Can Tho can be even more expensive.
Considering that you can find accommodation for under 10 USD per person in most of Vietnam, you realize that the price is quite steep – but Con Dao will make up for this.
Booking flights for Con Dao Vietnam
You can book your flight tickets on the Vietnam Airlines website. In our experience, there are technical problems now and then, which makes it even more important to book early. You will be pleased to know that a 7kg carry-on luggage and 20kg of checked luggage are included in your airfare.
The planes reach the tiny airport on the main island of Con Son, close to Dam Trau beach, our favourite beach in Con Dao.
When you go to that beach, you will see planes landing every couple of hours, which is really cool.
If you hear the engine noise of a plane about to depart, however, don't expect to see the tiny plane leaving the island, as they fly over the other side of Con Dao when they depart.
From the airport, it is a short taxi or minivan ride to Con Son town. Your guesthouse or hotel will normally arrange your transportation for you. The route to the town is pretty dramatic, and it will give you a quick introduction to this green mountainous island.
Why fly to Con Dao?
Overall, flying into Con Dao is quick, convenient and easier than taking a ferry, but it's definitely not a budget option, considering most one-way flights in SE Asia are well under 100 USD, even for much longer distances.
At the same time, if you are visiting Con Dao during the winter months (October to February), it's probably the safest option, as the strong winds can cause ferries from the mainland to Con Dao to stay docked at the ports.
How to Get from Ho Chi Minh to Con Dao by a combination of ferries and buses
If you prefer not to fly, or if the price of the flights is not appealing, an alternative way to get from Ho Chi Minh to Con Dao is by ferry from one of the mainland ports not far from Ho Chi Minh.
You can go to Con Dao from either Soc Trang, in the Mekong Delta area, from Vung Tau further east, or from Can Tho, which is closer to Ho Chi Minh.
Ferries arrive at Ben Dam port on Con Son Island, which is a short van or taxi ride from Con Son town. If you haven't arranged transportation through your guesthouse, expect to pay around 8-10 dollars for a taxi.
Take into account that, in case of strong winds or bad weather, boat services might be subject to cancellation or change.
If your visa is running out soon after you leave Con Dao, we suggest that you allow for a couple of days in the mainland after leaving the island, just to be on the safe side.
How to Get to Con Dao from Soc Trang
For people who want to spend as little time as possible on a boat, the best idea is to get from Ho Chi Minh to Tran De port, 36 kms south of Soc Trang town, and take a ferry. Soc Trang is in the region of the Mekong Delta, which is a lovely destination in itself if you have spare time.
Getting from Saigon to Soc Trang
To get to Soc Trang itself, you can take a bus from Ho Chi Minh City. This might be the best option if you are on a budget, especially if you take a night bus, and avoid the hotel costs for that night.
No reservations are generally needed for the bus, but if you want to plan ahead, you can buy it before you travel, especially if you are travelling around national holidays or weekends.
There are several buses going daily from Ho Chi Minh to Soc Trang, departing from the location marked as Saigon Bus Station on GoogleMaps. The company's name is Futa, and tickets cost around 145,000 VND (6 USD).
Buses depart every hour on the hour, until 23.00. From Soc Trang, you will have to take either a taxi or a shuttlebus to Tran De port, though ask the company if any of the buses go there directly – we read that the night bus takes you all the way to the port.
Getting from Soc Trang to Con Dao
Superdong ferries from Tran De port to Con Dao depart once or twice daily and take around 2.5 hours to get to the island.
Departing times seem to change now and then, so make sure you check their website. You can get your tickets online, though it's also possible to get them directly from travel agencies in Saigon, normally for a small surcharge.
Tickets cost 310,000 VND (13-14 USD), and there are discounts for children and seniors, as well as occasional promotions. If you have a motorbike or a bicycle, you can take it on this boat.
According to the latest news, a couple of catamarans are also expected to serve the Tran De to Con Dao route – in fact they may have already been launched by the time you are reading this.
The cost is 320-330,000 VND (14 USD) and the ferries are expected to take around 2 hours to get to Con Dao. More info here and here.
How to Get to Con Dao from Vung Tau
Another option is to take a boat from the port town of Vung Tau, further east from Soc Trang.
Located in an area of lovely beaches and national parks, and home to a few local markets and a statue of Jesus, Vung Tau is an interesting, off-the-beaten-path destination in Vietnam, so you could consider spending a day or two there on your way to Con Dao.
Getting from Ho Chi Minh City to Vung Tau
To get to Vung Tau from Saigon, you can take a bus, and ask the driver to stop close to Cat Lo port. You will then need to take a short taxi ride to the port itself. Several bus companies serve this route, departing central Saigon every 20-30 minutes or so.
Alternatively, you can take the Greenline fast ferry from Saigon to Vung Tau. This ferry leaves from the Bach Dang Speed Ferry Terminal at regular intervals from 8.00-14.00, and arrives at the Ho May Tourism Area Pier near Vung Tau in about two hours.
From here, you will need to get to the Cat Lo port, in order to get the ferry to Con Dao. Ferry prices are around 220.000 VND (9-10 USD), with discounts for young children and seniors.
Getting from Vung Tau to Con Dao
To get from Vung Tau to Con Dao, there are two possible scenarios – a brand new, daily high-speed catamaran, and a slow local boat.
The catamaran from Vung Tau departs daily at 8 am and takes a little over 3 hours to reach Con Son Island. In summer months, there is an added service at 7 am. Tickets start at 660,000 VND (28 USD), and there are VIP tickets as well. Ask around for discounts for children and seniors.
If you prefer travelling slowly, or if you have your own motorbike that you want to bring onto Con Dao, you can take a slow boat from Vung Tau to Con Dao.
This larger ferry will be an interesting experience, but it might not be the most pleasant or convenient ride as it takes about 12 hours, getting into Ben Dam port at around 6am.
Unfortunately, their website is only in Vietnamese, and you might find it difficult to book your ticket in advance, as apparently locals are given priority.
To be fair, I can't think of a reason anyone would actually prefer this ferry, unless they were doing a documentary for local boats or local life in Vietnam.
How to Get to Con Dao from Can Tho
In May 2019, a new luxurious high-speed ferry was going to be launched from Can Tho, in the Mekong Delta region. This ferry is operated by the same high-speed ferry company that runs the Vung Tau – Con Dao route, and at the same price range, while the trip will take 3 hours 30 minutes.
Buses to Can Tho depart from HCMC every hour, and they take around 4 hours to get there. Tickets cost 140,00 VND (6 USD).
How to Get to Con Dao from Ho Chi Minh City by ferry
We visited Con Dao in February 2019. At that time, we heard that there would soon be a modern high-speed ferry, the Phu Quy Express, offering a direct connection from Ho Chi Minh to Con Dao. This vessel will be carrying up to 300 passengers to Con Dao and will take about 5 hours to reach the island.
Unfortunately, we haven't been able to find any solid information as to whether this ferry is already running or not, but we read that strict tests and checks were happening to ensure that it will be safe and convenient for passengers. We will update this article when we have more information.
Conclusion – What is the best way to get from Ho Chi Minh City to Con Dao?
Considering that until 2001-2002 the only way to travel to Con Dao was by a helicopter that ran three times a week, it looks like your options to get to the island are way better these days.
If your budget allows it, and you prefer convenience over a ferry experience, the easiest way to get from Ho Chi Minh to Con Dao is by a short Vasco flight. The only drawback apart from the steep price, is that you will need to plan in advance.
As a result, you will probably have your return ticket before you even reach the island and see what you think to it. In our case, we would have loved to have stayed longer!
If you want to be more flexible with your return ticket, or prefer a more budget-friendly option, you can opt for a combination of ferries and buses. Check out the logistics carefully before you decide, as some of those options are fairly time-consuming, and they also involve getting to the ports and piers, that are often far from the city centre.
Finally, if you are travelling in Vietnam by motorbike or bicycle and you want to take it with you, your best option is the Superdong ferry from Tran De.
Next time
As far as we are concerned, next time we go to Vietnam we will probably fly into Con Dao and take a combination of ferries and buses to get back to Ho Chi Minh, as we skipped the Mekong Delta region last time. Whatever you decide, our advice is to not miss Con Dao in Vietnam!
Con Dao National Park FAQ
Readers who are travelling around southeast Asia and are considering visiting the Con Dao islands often ask questions similar to:
How do you get to Con Dao Island?
You can reach Con Dao by taking a short flight to Con Dao airport from Ho Chi Minh City, or by taking a ferry.
Is Con Dao worth visiting?
Absolutely! Con Dao has an interesting history, sandy beaches, and is worlds away from the normal route taken by foreign tourists in south Vietnam,
How do I get from Saigon to Con Dao?
Direct flights are available using Vasco or Vietnam airlines. You can also take a boat ride but it's a far longer journey.
More Asia Travel Guides
Planning a long trip through Asia? These travel guides might also be useful: