This Vietnam travel blog will help you plan a trip a 3 week itinerary so you see all the main highlights of Vietnam such as Hanoi, Ho Chi Minh City, Ha Long Bay, Con Dao and more.
Planning to spend 3 weeks in Vietnam or longer? Our Vietnam travel blog can help! Here's what we did, so you can plan your own Vietnam itinerary for 3 weeks or longer.
Vietnam Travel Blog
In February 2019, we spent three weeks in Vietnam (or maybe a touch longer), as part of a 5 month trip through Asia.
Although we skipped some of the most popular destinations in Vietnam, such as Halong Bay, Hoi An and Sa Pa, we visited other places that don't always feature on everyone's Vietnam backpacking itinerary.
As such, you might find this travel guide useful when planning a trip to Vietnam, as it will take you a little off the backpacker trail.
Where to travel in Vietnam
Like for every country, this depends on your interests and what you are after. Vietnam is a quite diverse country, with lots of beaches and islands. It also has a picturesque mainland with high mountains, rivers and floating villages. Add to the mix Vietnam's numerous bustling cities, and you will be spoilt for choice.
What you choose to see, will depend on the amount of time you have in Vietnam and how fast you are travelling. It might also depend on how much you have been 'sold' on seeing top tier attractions such as Halong Bay.
In our case, we decided to skip the popular coastal destinations of Hue, Da Nang, Hoi An and Nha Trang, and go instead to two of the islands at the south of Vietnam, Phu Quoc and Con Dao.
The main reason is that we wanted to avoid too many long-distance buses, but we were also curious to check out the two islands that we had read lots about.
In addition, we also visited Hanoi and Saigon. Most Vietnam travel itineraries include at least one of these cities, as they both have international airports that are easily accessible from other countries.
Hanoi – The capital of Vietnam
Chaotic and noisy, Hanoi is great to visit for a couple of days, though obviously there is plenty more to do if you want to spend longer.
We loved the Hoa Lo Prison Memorial, also known as the Hanoi Hilton, as well as the Vietnamese Women's Museum. Walking around the Hanoi night market was quite an experience, mostly due to the number of motorcycles around the city.
From Hanoi, it is possible to visit the UNESCO site of Halong Bay, either independently on an organized tour. We didn't go, as it was a very popular time of the year and many of the tours had been booked already, but it's there for next time.
You can read more about our experience in Hanoi city in this article: How to spend 2 days in Hanoi.
Saigon, or Ho Chi Minh City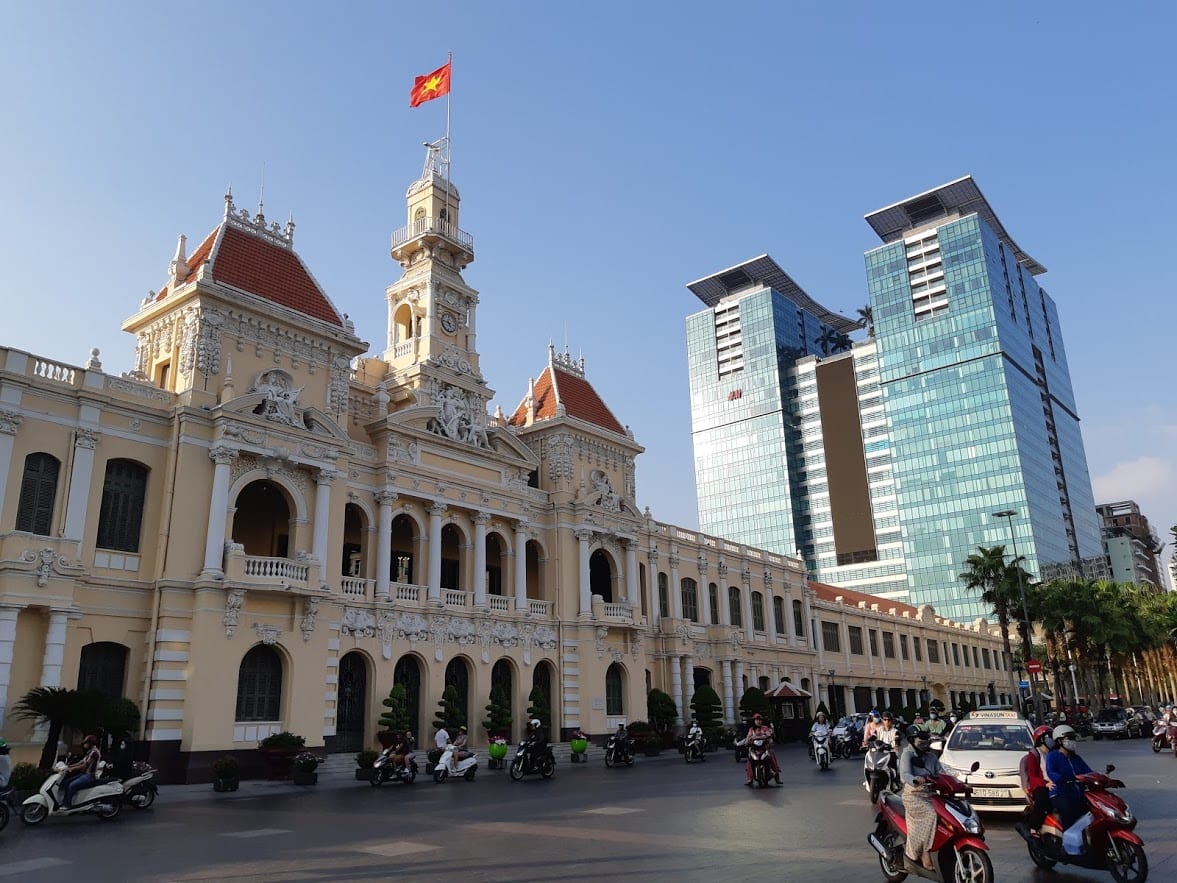 Vietnam's most populated city, Ho Chi Minh City is a buzzing metropolis with a pretty colonial centre. There is a lot to do in terms of tourist attractions, and you should definitely not miss the War Remnants museum. We also found the Fine Arts museum very interesting.
One of our favourite activities in Saigon was sitting at one of the numerous local cafes and watching the people. We also enjoyed going up the Bitexco Tower, especially as we got to see Saigon lit up at night.
For more information on Ho Chi Minh City, have a look at this article: Best things to do in Saigon.
Phu Quoc Island – (Not our cup of tea)
The island of Phu Quoc, lies to the southwest of Vietnam, close to the border with Cambodia. It was very high on our list of places to go in Vietnam, based on everything we had read about it.
When we arrived though, we have to say we were disappointed. We found Phu Quoc overdeveloped and, quite frankly, characterless. It was like they had taken all the bad aspects of somewhere like Magaluf, and were basing its development on that.
That's not to say it was totally terrible – just not the paradise that old Vietnam blog posts would have you believe. It did also tick a few boxes for us. We loved the freedom of hiring a moped for cheap and riding to different parts of Phu Quoc, and we were really impressed with the huge cable car connecting Phu Quoc with a smaller island.
On the whole though, whilst we totally understand why it would appeal to some people, it just wasn't our cup of tea.
Thinking of spending time in Phu Quoc? Check out this Vietnam trip blog first: Let's be honest about Phu Quoc in Vietnam.
Con Dao Island in Vietnam
Con Dao on the other hand, was much more like it! It's a small tropical paradise to the south of Vietnam, with the main island part of an archipelago. We spent a week on the largest and only inhabited island, Con Son, and absolutely fell in love with the place.
Although it is home to a Six Senses Resort hotel, Con Dao seems to have rather few European tourists. English is not widely spoken, and there are a handful of hotels and a few rooms for rent with rather basic facilities.
This is one of the things we loved in Con Dao – life seemed to be quite authentic, and the island isn't spoilt by mass tourism.
Most of the beaches on Con Dao are lovely, and there is great snorkeling even from the coast.
Food options were a little limited (by European standards at least), but if you like fish and fresh fruit you will love it. Not all restaurants speak English so be prepared for some guesswork!
At the same time, Con Dao is a sad place, as this is where several people were exiled in the previous century, and many of them were subsequently killed. The impressive cemetery is where the Vietnamese pay their tributes to people who died during the Vietnamese War.
All in all, we would totally go back to Con Dao, and highly recommend it, before it becomes too popular. You can easily get to Con Dao from Ho Chi Minh City on a flight, but there are other options as well.
Read more here: Con Dao – The best island in Vietnam.
General tips for travelling in Vietnam
One thing that will strike you immediately in Vietnam is the number of motorcycles, mopeds, motorbikes, scooters and anything on two wheels – though rather few bicycles.
Motorbikes are everywhere, they have priority over anything and everything and they make lots of noise. If you are trying to cross the street, especially in the cities, our best advice is to act as if the motorbikes weren't there – otherwise you might never cross the street. You'll get used to it quickly – you have no other choice!
We read that phone snatching is not uncommon, especially in Saigon. We didn't see it happen, but it's best to be cautious just to be on the safe side.
Like in other SE Asian countries, expressing anger is rather frowned upon. Even if your bargaining doesn't lead you anywhere, accept it with a smile, and avoid shouting at people.
The Vietnamese language is written in the Latin alphabet, with lots of extra symbols in use. However, you will soon realize that there is no connection with any of the languages you likely speak! All words seem to have anywhere from two to six letters, and pronunciation doesn't seem to be as straightforward as it seems. Overall, it helps to learn a few words, but we found that a few gestures and smiles go a very long way.
When to go to Vietnam – Weather in Vietnam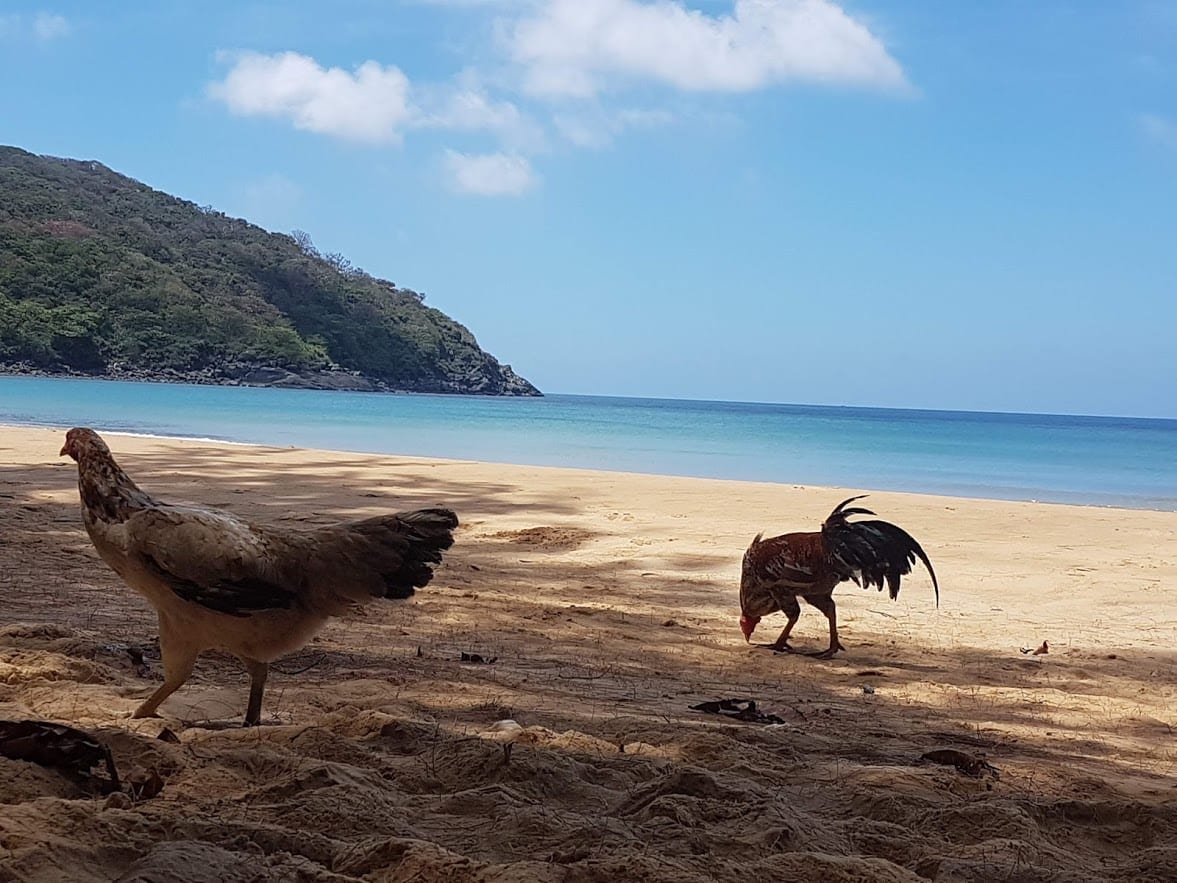 Roughly speaking, Vietnam has a generally warm climate, with some dry months and some wet months. That said, as Vietnam is a large country, the weather in the north can be quite different from the weather in the south.
If we were to split the country by region, we would have roughly three areas:
North Vietnam, from the far north and the famous Sapa area to about Ninh Binh
Central Vietnam, covering the popular areas if Hoi An, Danang, Hue and Nha Trang
South Vietnam, including Saigon, The Mekong Delta, Phu Quoc and Con Dao
North Vietnam has two seasons – the cool and dry season, from October / November to March / April, and the warm and rainy season, from April / May to September / October. While Hanoi and the areas south of it are relatively warm in the cool season, you may even see snow in the extreme north, especially in December and January.
Central Vietnam has a hot, dry season from January to August, with temperatures rising well over 30 degrees. From September through to December the weather is still warm, but there is also heavy rainfall.
Finally, Southern Vietnam is warm pretty much all year round. Here, the dry season is between November and April, while the rainy season stretches from May to October.
Avoid the rainy season!
With this in mind, the best time to go to Vietnam depends on where exactly you want to go. Like for most of SE Asia, we do not recommend travelling during the rainy season, as many outdoors activities will be unpleasant, or even cancelled in some cases. If you haven't been to a tropical country before, it can be quite a shocking experience!
As for us, we spent the whole February mostly in the south. Like we expected, the weather was generally sunny and nice, although there were a couple of cloudy days and a quick storm or two on the islands.
Getting around Vietnam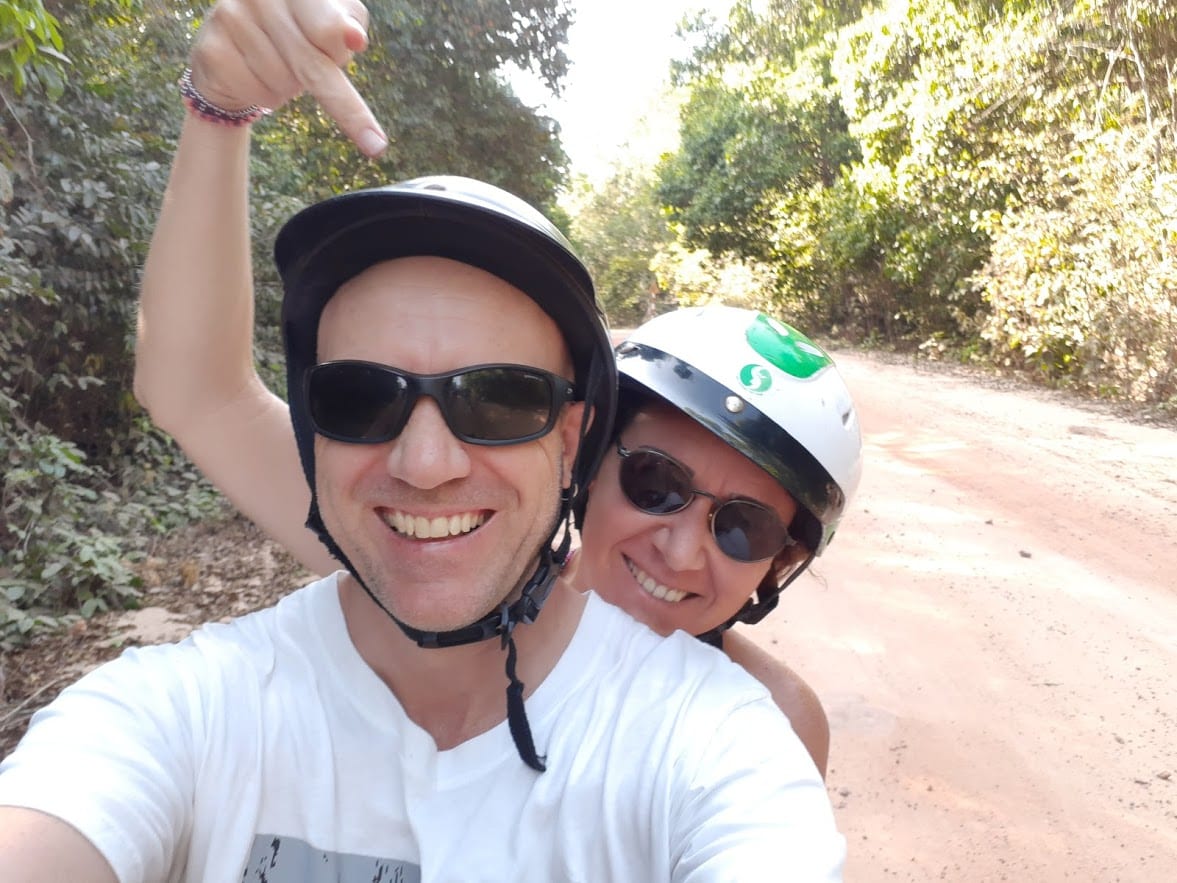 Getting around Vietnam is fairly straightforward, but it can be quite time consuming, depending on the type of transportation you choose. Obviously, airplanes are faster, but if you want to see more of the countryside and experience the local life, you can use buses, trains, and ferries.
Many people who travel in Vietnam choose to ride a motorcycle. This is a great option, but only if you know how to ride one. It was fine to ride a moped in both Phu Quoc and Con Dao, where there wasn't any traffic. At the same time, we wouldn't want to ride around in the cities, where a taxi (or Grab taxi) makes a lot more sense.
Visas for Vietnam
For most nationalities, a visa is needed to enter Vietnam. We ordered our e-visas online, at the government's official website, but not everyone is eligible for an e-visa. A single entry visa is valid for 30 days and costs 25USD.
It took a while to do the application, as the photos we were trying to upload were not accepted at first. It took us several attempts, but in the end we made it. While Vanessa's was emailed to her within one working day, mine took four!
If you are planning to only go to Phu Quoc, you don't need a visa, but we only found out when we got there. This is an effort to attract more tourists to the island, and to make it easier for them to visit.
Like for all travelling, make sure your passport is valid for at least six months after you arrive at the country, as otherwise you will not be accepted.
Money in Vietnam – Vietnamese currency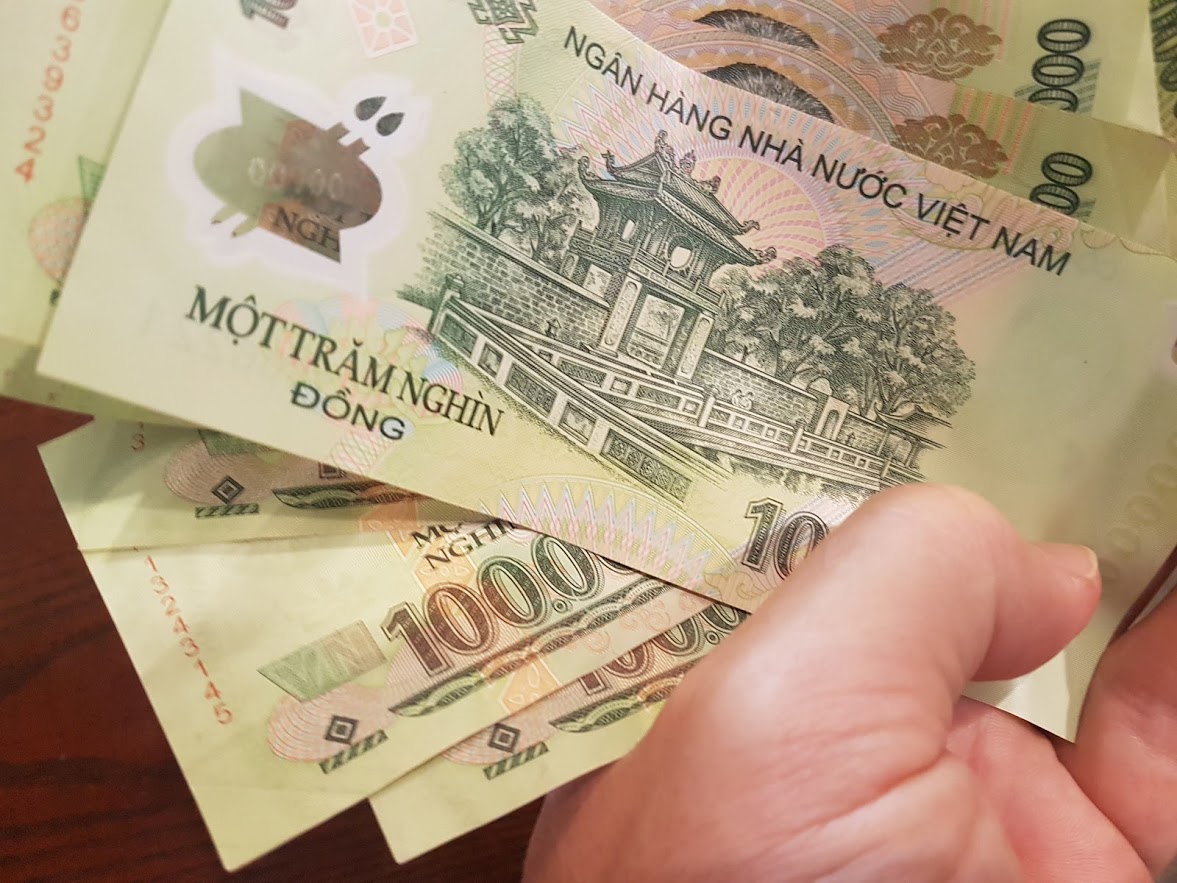 Vietnam uses the Vietnamese Dong. At the time of writing, 1 euro is almost 26,000 dongs, which makes prices quite surreal.
In our experience, many ATMs in Vietnam would only give us up to 2 million dongs (about 77 euro). That was a real pain, as there was a withdrawal fee of 55,000 dongs (slightly over 2 euro) per transaction.
Our best bet were some HSBC ATMs in Hanoi that dispensed 5 million dongs in 100,000 dong notes, and we also managed to find one random ATM in Phu Quoc that gave us 3 million. We skipped the extra withdrawal fees, but walking around with a pile of dongs in my pockets was rather annoying, especially in swim shorts!
In our experience, debit and credit cards were accepted in some places, but sometimes there was a fee of 2-3% added on top of the amount. Depending on the type of cards you are using, you can work out if this is better for you than having to withdraw more cash.
We recommend using the Revolut Card for travel.
Food in Vietnam
We'll be honest – we didn't exactly fall in love with Vietnamese food, like many other people. Arguably, we only spent time in the south, and didn't have the chance to try many regional variations.
Whereas I found the noodle dishes quite satisfying, Vanessa didn't really care much for them. We both agree that our favourite dish in Vietnam was the seafood hotpot that we enjoyed a few times in Con Dao.
The one thing we absolutely loved during our 3 weeks in Vietnam though was the coffee. Coffee comes in all shapes and forms – hot, cold, icy, frozen, plain, sugary, milky – and it's served in different cups and pots, so it's always a new experience.
We somehow ran out of time to try the egg coffee, but we really liked the coconut coffee, an iced coffee with a scoop of coconut ice cream. Yum!
How to spend 3 weeks in Vietnam
Use the image below and pin this guide on how to spend three weeks in Vietnam to one of your Pinterest boards. That way you will be able to find this Vietnam Travel Blog again later on.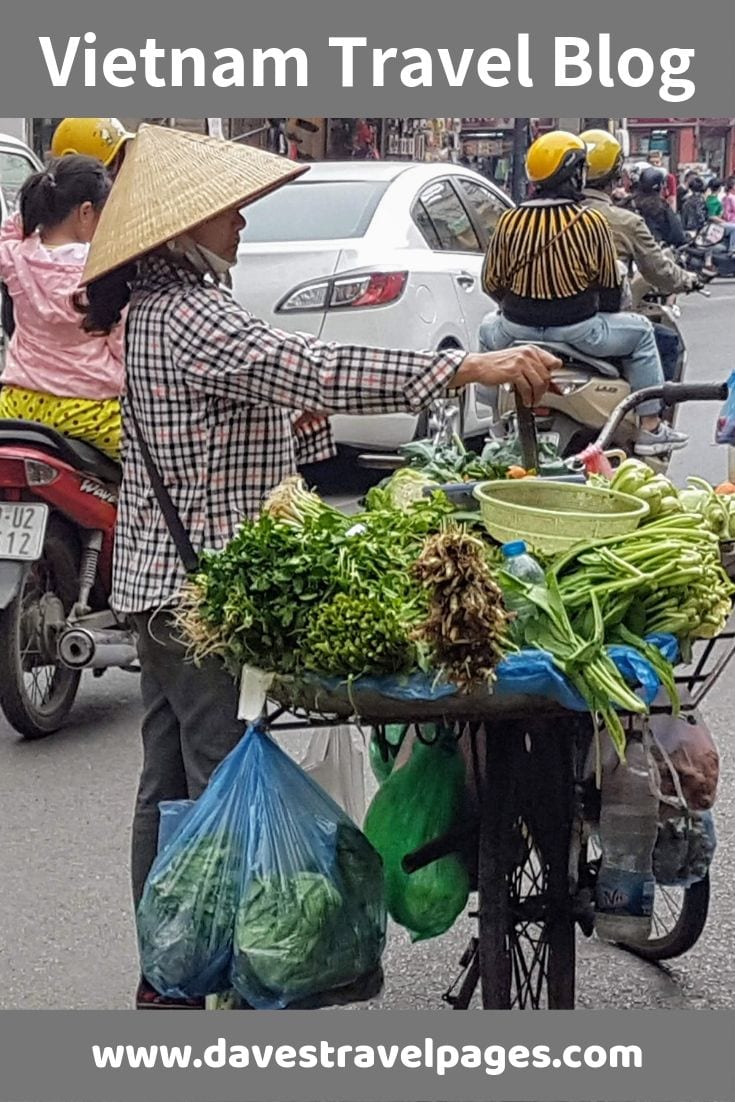 Have you been to Vietnam? Where did you go, and what did you think? Let us know in the comments!
Vietnam Travel Tips
1. Food in Vietnam can be a mixed bag, so it's worth trying a few different dishes to see what you like.
2. There's a lot of delicious coffee to be had in Vietnam, so make sure to try as many variations as possible.
3. Traveling with cash can be difficult, so consider using a card that doesn't charge foreign transaction fees.
4. Budget accommodation can vary in quality!
5. It's easy to get around Vietnam by bus, train or taxi – just make sure you know the price before you get in!
6. Ho Chi Minh City is a great place to start your trip, and it's a good base for exploring the south of the country.
7. If you're looking for some peace and quiet, head to the beaches on Phu Quoc Island for some relaxation time.
8. Make sure your passport is valid for at least six months after you arrive in Vietnam.
9. The currency in Vietnam is the Dong, so make sure you do some research into how much things cost before you go.
10. Have fun and enjoy your time in this amazing country!
Visit Vietnam FAQ
Readers who are traveling around southeast Asia, and are considering visiting Vietnam to see the popular tourist destinations and more often have questions such as:
How much money do I need for 2 weeks in Vietnam?
How much you spend when traveling Vietnam will depend on your travel style and what you want to see and do. Allowing for 50 dollars a day per person should cover most things.
Is 5 days enough for Vietnam?
You'll only get to see a few highlights such Ha Long Bay or Ho Chi Minh City. You might want to base yourself in one place and take day trips to places that interest you.
Is 3 weeks enough for Vietnam?
3 weeks is enough time to get around the country and experience most of the highlights. To truly experience Vietnam though, the longer you give it the better!
How many days in Vietnam is enough?
Depending on what you want to see, two weeks in Vietnam is generally enough time to get a good overview of the country. If you're looking to explore more in-depth, then three weeks is a good amount of time.
Is it ok to eat street food in Vietnam?
Yes, eating street food is safe in Vietnam. However, we recommend that you only eat food that has been cooked fresh and is still hot. Avoid any food that looks like it has been sitting out for a while.