Tight on time, and only have 1 day in Santorini? This guide will show you how to see the best of Santorini in one day as hassle free as possible.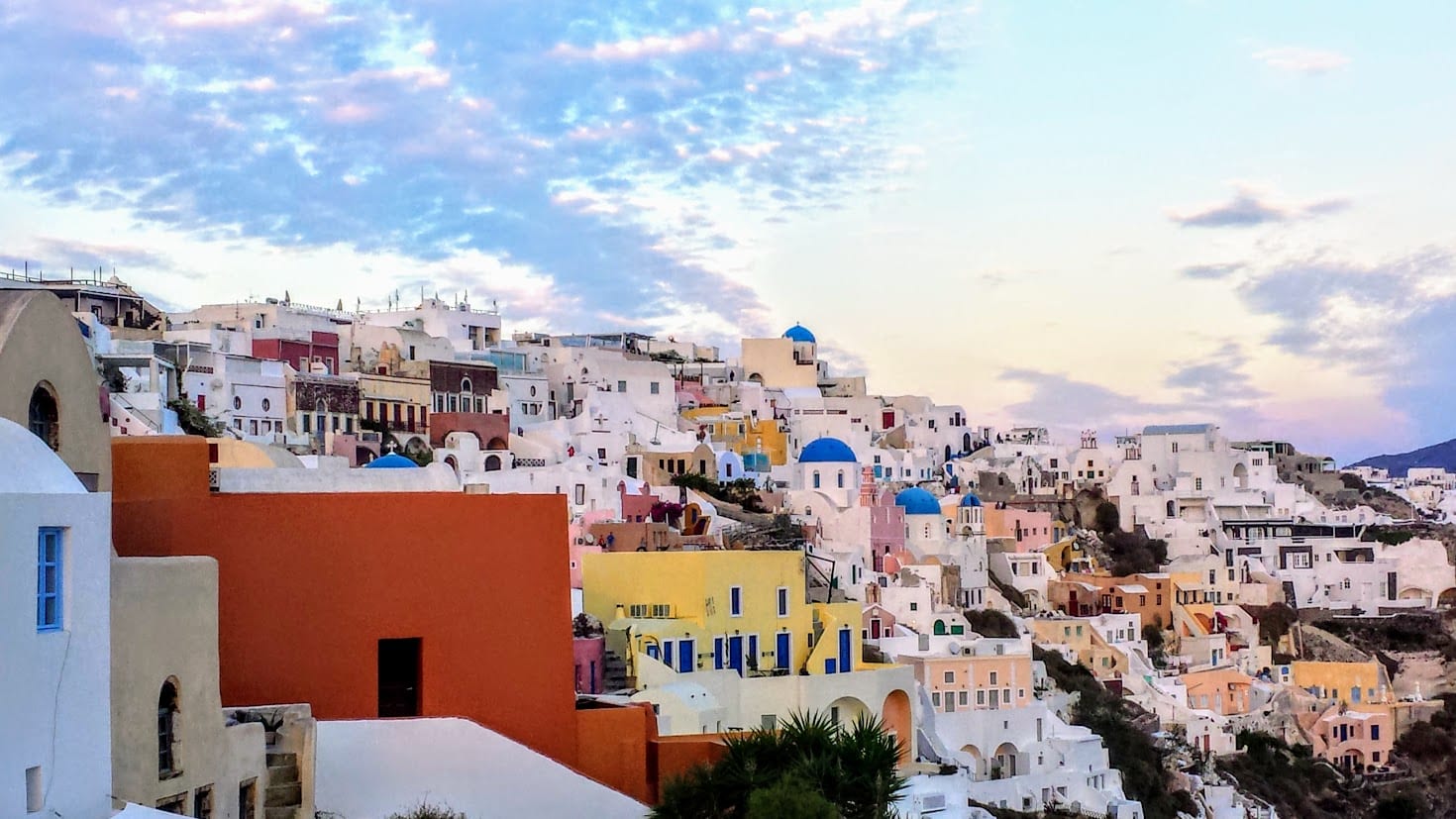 How to spend 1 day in Santorini
I'll start this Santorini travel guide with the assumption that you already know just a day in Santorini is probably not enough time.
I'll also assume, a day there (or maybe a little less) is all you have, and so you want to make the most of your time in Santorini.
This guide will show you the best ways to catch some of the highlights of Santorini in one day.
If by some chance though, you came across this guide but want a longer Santorini itinerary, you should check these two articles out:
Santorini in one day
With that out of the way, I'll move onto my second assumption. And that is you only have time enough to see Santorini in one day because of the following reasons:
You're arriving into Santorini on a cruise ship
You're Greek island hopping on a tight schedule
You're visiting Santorini on an ambitious day trip from Athens
If this is the case, taking an organized tour is probably going to be your best way to see the popular destination of Santorini in 6 or 7 hours. If that sounds like you, take a look at these 3 options:
If you'd prefer to see what you can of Santorini without a tour guide though, put aside a couple of minutes to read the rest of this post.
Let's start by asking a question….
Why do you want to go to Santorini Greece?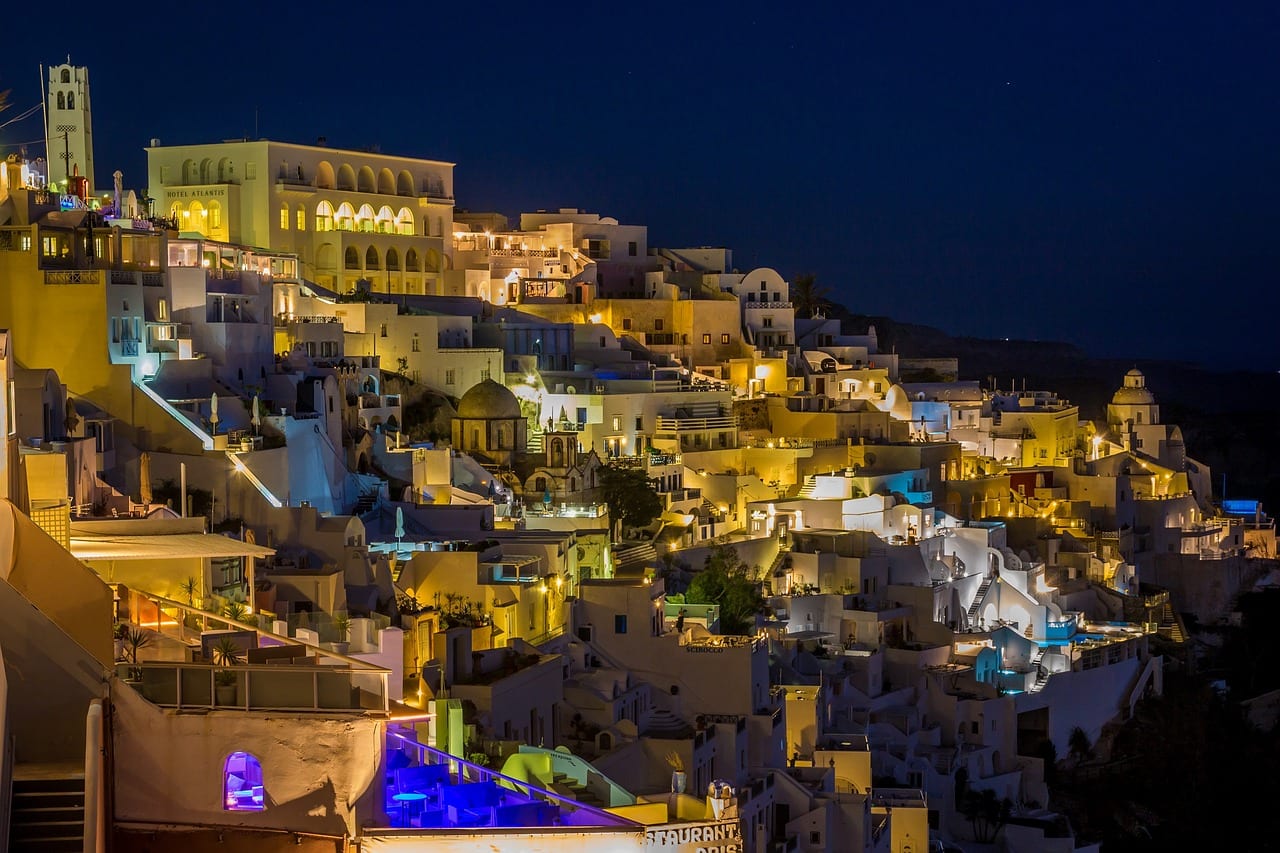 Before you plan a trip to Santorini, take some time and ask yourself a couple of questions. Why do I want to go to Santorini? What do I want to do there? Then, ask yourself a few more:
Do you want to see the blue domed churches and the sunset views?
Are you interested in a trip to the volcano?
Were you planning to visit Akrotiri archaeological site and the museums in Santorini?
Do you want to spend some time on the beach?
Is it the wineries that mostly caught your attention?
There's obviously not time to do all this with one day in Santorini, so you'll have to narrow it down. There's also another thing to keep in mind…
Expectations vs reality
We've said this before, and we'll say it again – if you can, avoid visiting Santorini in the peak season. Not only are prices higher, but the number of visitors can be almost ridiculous.
Like a few other places in Europe, Santorini has become a bit of a victim of its own success. Things are changing very rapidly in Santorini, so if you were there even a few years ago, do not expect to find the place as you left it.
In peak season, Santorini now receives up to six cruise boats carrying up to 8,000 passengers, on a daily basis. This is on top of the people who visit on ferries from other Greek islands.
Those who stay in hotels and rooms for rent add to the numbers, with a total capacity not far off a whopping 100,000 beds. For an island with a current estimated population of 25,000 people, this is a crazy!
In short, you might have been sold on the idea of Santorini with its beautiful villages, whitewashed buildings and blue-domed churches, but nearly 150,000 people have also been sold the same dream, and will be there on the same day you are. Keep this in mind, as it might affect what you decide to see and do with your one day in Santorini.
Best time to visit Santorini
Our conclusion? While the island is definitely worth visiting once in your lifetime, you will have a much better experience if you choose to go during a less busy time of the year. We were there in November, and we absolutely loved it. Another trip we took to Santorini in late September was also very enjoyable.
However, if summer is the only time that you can visit, be prepared for the crowds, and plan ahead.
Take into account that public buses will most likely be full, and that driving around on your own might not be as relaxing as you think, due to traffic, parking restrictions and rules.
If you are coming on a cruise, calculate the time that you need to get off and back on your boat, and allow for possible delays. Finally, don't have high hopes of island photos, without the crowds. You've been warned!
Arriving in Santorini
If you've only got one day in Santorini, where you arrive and depart from is going to be an important factor in planning your itinerary. There are three main access points when arriving in Santorini.
Santorini in one day by cruise boat
Santorini is frequently included in cruise itineraries around the Mediterranean. These cruise ships arrive near the Old Port, just below the town of Fira. Cruise passengers will have less than one day in Santorini, ranging anywhere from 5 to 16 hours.
Boats arrive and depart at several times during the day. Many of them only stay on the island between 16.30 and 21.30, which gives barely enough time to see the famous Oia sunset.
What many cruise passengers don't realize is that even getting off and back on the boat is likely to take a substantial chunk of time.
As Santorini's port is not big enough for large ferries, people are generally taken to the island on small tender boats. We have read that passengers who have pre-booked tours in Santorini are given priority to get in the tender boats, but we don't have our own experience.
Going up from Santorini Old Port to Fira
The tender boats take visitors to the Old Port, from where they can either walk up a few hundred steep steps or take the cable car to Fira town.
As you realize, the queues for the cable car will be quite long, and getting into town might take you a while. There is also the option of a donkey ride, but we definitely do not suggest it.
It's difficult to put an exact time on how long it will take you to get from your cruise ship to Fira in Santorini, but anywhere up to an hour might be realistic. As such, plan your time on the island accordingly.
Santorini Day Trip from Athens
It is technically possible to plan a day trip to Santorini from Athens by choosing well timed flights. These change from year to year, but basically, you'd be looking at the earliest flight to Santorini possible from Athens, and taking the latest one back. Or going on to another destination of course.
Santorini airport is located around 6kms from Oia, and there are various options on how to get from the airport into the town, with the quickest being a pre-booked taxi. I've got a full guide here – How to get from Santorini airport to Oia.
Arriving in Santorini by Ferry
Santorini is connected with Athens and many other Greek islands by a network of ferries. These arrive at either the Old Port, or the New Port, depending on which service you take.
Again, whilst there may be bus services and taxis to use, you might be best pre-booking a taxi in order to cut down on wasted time.
Ok, I'm on Santorini, Now What?!
So, you now know where you'll be arriving into on Santorini, it's time to plan out your day! If you're seriously tight on time, and don't want the hassle of planning everything yourself, a tour is the way to go. You might even want to consider a private driver for the day. This is especially so for people arriving by cruise boat to Santorini.
These are the best tours for people spending just a day in Santorini:
One Day in Santorini Itinerary
Tours aren't for everyone though. If you prefer to explore Santorini independently, you'll need to cherry pick the ideas that suit you best from the following information.
Getting around Santorini
While taking one of the above tours will be a great addition to your Santorini experience, you might prefer to be more flexible and get around on your own. Transportation will be the main issue here, especially in high season.
There are plenty of inexpensive "KTEL" buses going around the island, costing from 1.80 to 2.50 euro for each ride. Be prepared for queues, and allow enough time, especially if you have a ferry or cruise boat to catch.
Most buses depart from the capital of Santorini, Fira. If you want to visit both Akrotiri and Oia, you will have to take two different buses as there is no direct route. You can find bus schedules here.
Renting a car, quad, moped (or bicycle!) is another option. Take into account that Santorini's narrow streets can get very busy in summer, so be prepared for traffic jams. If you want a specific type of car, you will definitely need to book in advance. Parking will be another issue, especially in popular places like Oia.
Do not rely on hailing a taxi down the street. The island only has about 40 taxis! If you want to pre-book some form of transportation from the port or the airport, click here.
Things to do in Santorini in a day
With the logistics out of the way, we will now list the best things to do in one day in Santorini, and you can choose according to your preferences.
Best way to see Santorini views in a day
One of our favourite things to do in Santorini was hiking from Fira to Oia. It's entirely possible to do the hike on your own, but you can also do it as a guided tour if you prefer.
The trail is about 10 kms (just over 6 miles) long and apart from a couple of spots is an easy hike. You should allow at least 3 hours, as you will want to take several photos!
The path passes through some of Santorini's prettiest and most quaint villages – Firostefani and Imerovigli – and ends at Oia, with the famous sunset. Take a small detour to see the Skaros rock, and if you have several hours wander into the pretty villages.
Hiking from Fira to Oia in Santorini is a great option to absorb the ambience of the island and to admire the wonderful views. In fact, if we went back to Santorini for a day, this is the one activity we would absolutely do again.
Take into account that summer can be very warm, so avoid afternoon hours when the sun is at its hottest. The best time to do the hike is either early in the morning or late in the evening, to coincide with the sunset in Oia.
Make sure you have prearranged your transport back to Fira.
Romantic Santorini in a day – Santorini sunset in Oia
Many cruise boats depart in the afternoon or early evening. However, if your schedule allows for the sunset in Santorini, you are likely to want to get to Oia for that. Although Oia is really beautiful, in our experience the villages close to Fira, such as Firostefani and Imerovigli, are also very picturesque. In fact the Santorini sunset is impressive no matter where you are!
Remember that Oia is very popular and is likely to be quite crowded. If you are after the sunset views, rather than Oia itself, you might actually prefer to spend your evening in a less popular village – or simply somewhere along the hiking trail mentioned above.
As for what to do in Oia, if you are like us, you might find that it's too crowded for your liking in summer. Our suggestion is to try and find a relatively quiet place to enjoy the views. If you are after the blue domed churches, this is where they are. You can't miss them – just follow the crowds! Quite frankly, it might be best to visit the village early on in the day, as things will get hectic afterwards because of the numbers people who want to see the sunset.
If you visit Oia in winter, however, you will experience the village at its best. Walk around the cobbled streets, sit for a coffee somewhere, and just enjoy the sunset views.
Best way to see ancient Santorini in a day
If you are interested in ancient history, Santorini has a lot to offer. The most popular ancient site on the island is the ancient site of Akrotiri.
Often compared with Pompeii, this is a site that was buried under lava and ashes, when the Santorini volcano erupted in the 16th century BC. It is possible to get to Aktoriri by bus, rented car or pre-booked taxi, though if you want to learn more about Santorini's history you can always take a guided tour.
A less famous ancient site on Santorini that is also very interesting, is the site of Ancient Thera (or Thira). This citadel was founded by the Spartans in the 9th century BC, much later than the destruction of Akrotiri, and was named "Thera" after their leader.
Ancient Thira is located at the area of Mesa Vouno, between Kamari and Perissa beaches. You can see many ruins dispersed all around the area, including the ancient Agora, several temples, a theatre, gymnasiums and a cemetery. The site is closed on Tuesdays.
Museums in Santorini
Apart from the ancient sites, you should also visit the Museum of Prehistoric Thera in Fira. It's not too big, but it contains superb wall paintings, frescoes, ceramics, jewellery and several other fascinating artefacts, excavated in Akrotiri and nearby Potamos. It covers Santorini's history up to the Late Cycladic I period. The museum is closed on Tuesdays.
Another great museum in Fira is the Archaeological Museum of Thera. Its collections include artefacts from the Roman and Hellenistic Periods. The museum is closed on Mondays.
Visiting all of these will be a history overload for most people, but if you have a special interest in Greek history you can easily visit all of them in one day. Note that Ancient Thera and the museums close around 15.00-16.00, depending on season.
Finally, a museum that has just opened earlier in 2019 is the Lost Atlantis Museum in Megalochori. Santorini is said to be one of the possible locations of the lost Atlantis, and this interactive museum promises to explain the history of this mythical land. We have no opinion of our own, but we'd be curious to visit when we return to Santorini.
Visit the Santorini volcano
While exploring the Santorini volcano isn't on everyone's list, we enjoyed it a lot when we visited. The black-gray sand is quite unique, and the landscape is otherworldly. If you are into weird landscapes by all means go, just make sure you have a hat, water and sunblock.
We'll be honest though – we probably wouldn't have enjoyed hiking there on a hot day, as the dark sand gets incredibly hot. If you are visiting in peak season think carefully about the high temperatures and decide for yourself.
If you are interested in boat tours in Santorini, this article will help – Santorini Boat Tours.
Santorini in one day – The beaches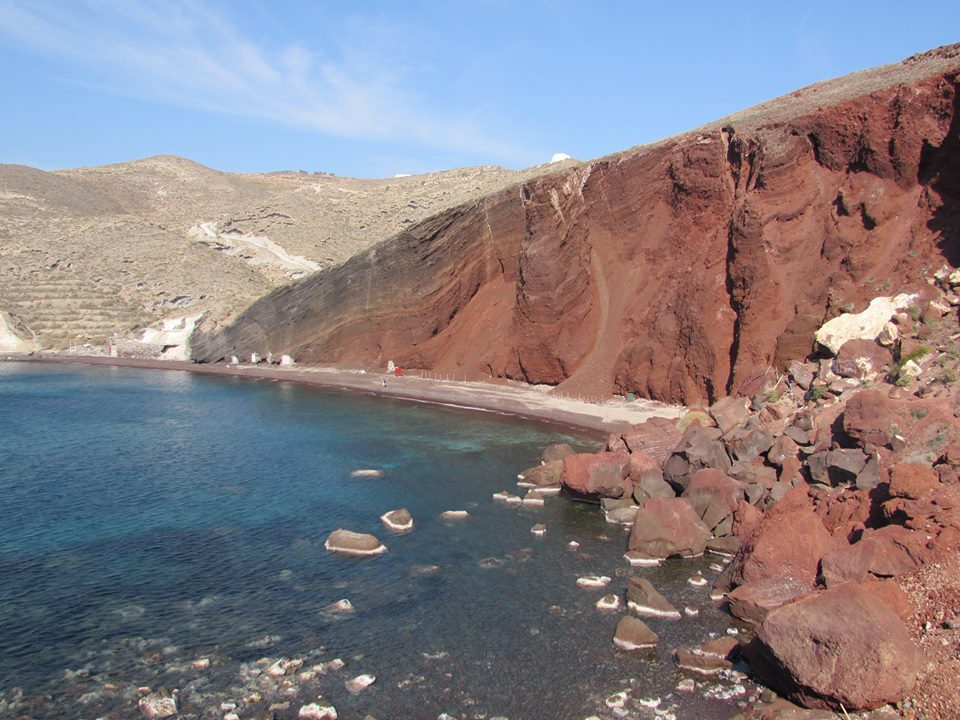 Our biased opinion – Santorini beaches are far from the best beaches in Greece. They are definitely quite photogenic, especially the Red Beach, but our advice is to not really bother with the beaches in Santorini, especially if you are going to other islands in Greece.
At the same time, there is no denying that many visitors enjoy the long stretch of black pebbles to the east side of the island. Kamari, Perissa and Perivolos beaches are quite popular, and you might want to include them in your one day Santorini itinerary. If you do, let us know what you thought!
A less frequented beach is the small beach at Ammoudi, just under Oia village. You can easily walk down from Oia, and also have a meal at Dimitris taverna.
Santorini for wine lovers
Apart from the views, the incredible sunsets, the volcano and the ancient sites, Santorini is also famous for its wine. Its unique volcanic soil allows for distinctive types of grapes to grow in the area, and the varieties of wine produced cannot be found anywhere else in the world.
There are many wineries in Santorini that you can visit. Some famous names are Kanava Roussos, Kasteli, Argyros, Sigalas, Boutaris, Koutsogiannopoulos, Gavalas, Santo Wines, Gaia, Art Space and Venetsanos, to name a few.
As the wineries in Santorini are dispersed around the island, you will need to have your own transportation, and a designated driver. However, the best way to visit the wineries in Santorini is to take a dedicated wine tasting tour, where you will be able to learn more about the wine making process and enjoy local delicacies to match each wine.
It is also possible to combine a winery tour with other places of interest, according to your preferences.
Santorini for foodies in a day
Apart from its unique wines, Santorini also has several local products and dishes worth tasting. If you want a more authentic experience away from the tourist crowds, you can consider taking a private tour revolving around traditional products, cooking and wine.
Get to know the famous Santorini fava (yellow split peas), tomatoes and other delicacies, and attend a cooking class in an original farm.
What to do in Santorini in one day
We hope that all of the above has helped you plan what to do in Santorini in one day. As you can see, there are many choices for things to do, and it all depends on what you like, as well as the time of year, to a certain extent.
To summarize – If you are coming to Santorini in summer, it might be best to arrange a private tour. This way you won't have to deal with the hassle of transportation and parking, and you will definitely see more of the island as your guide will know where to take you. Even if you never take tours, this might be one occasion where it's necessary, to make the most of your limited time.
If you are coming to Santorini during the off-peak months, it will be easier to explore the island on your own if you prefer. If you want to visit multiple places, you can rent a car and drive around. However, another great suggestion is to do the hike from Fira to Oia, and take in the views. If you want, you can add in a wine tasting tour, and enjoy the famous Santorini wines. The choice is yours!
One day in Santorini – Your experience
Have you ever been to Santorini for a day? What was your experience? Let us know in the comments!
FAQ About Visiting Santorini for One Day
Readers planning a first trip to Santorini and only have a day to explore the island often ask questions similar to:
Is 1 day enough for Santorini?
You can see a lot of the highlights of Santorini in one day if you plan out your itinerary well, but two or three days is really needed to explore and appreciate the whole island.
Is it worth going to Santorini for a day?
If one day is all you have to spend on Santorini, it is definitely worth it. Make sure to put time aside to get photos of those famous blue domed churches, the picturesque village of Oia, and of course the amazing views of the sunset!
Can you travel around Santorini in a day?
You can travel around the entire island in a day if you have a rental car or are taking an organized tour. It is more complicated and impractical to travel around Santorini in a day on the buses, and a taxi for the day would be very expensive.
How much time do you need in Santorini?
The ideal amount of time to spend in Santorini would be two or three days. This would allow time to see its many attractions such as the archaeological site of Akrotiri, the traditional villages, Santorini's wineries and more.
What are the significant attractions in Santorini?
Visitors should aim to plan a Santorini itinerary around some or all of the most important attractions on the island which include: Fira, Oia, the Caldera, Akrotíri Archaeological Site, Red Beach, Wineries, Pyrgos, black sand beach at Perissa, Ammoudi Bay, and of course the world-renowned sunset.
---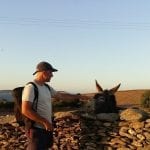 –
Dave Briggs
Dave is a
travel writer
from the UK who has been living in Greece since 2015. As well as writing this guide about how to see Santorini on your own from a cruise ship, he's written hundreds of other insightful travel guides to Greek islands and destinations. Follow Dave on social media for travel inspiration from Greece and beyond: