Spending 3 weeks in Thailand is an ideal amount of time to see what this beautiful country has to offer, such as Bangkok, Chiang Mai, Krabi, Koh Samui and more.
What to do in Thailand for 3 weeks
If you're planning a trip to Thailand and have about three weeks to explore this fascinating country, the travel ideas in this blog post might help.
I've visited Thailand several times, and have put together this guide to planning your own itinerary.
Where some blogs list out an unrealistic and quite stressful itinerary for getting around Thailand, this one takes a more realistic approach.
After all, 3 weeks in Thailand is a great amount of time to be able to spend on vacation, but there's no way you can see the entire country!
The result is that this travel blog post isn't intended to be a definitive guide to 3 weeks in Thailand. Instead, it's based purely on how I got around, places I stayed, and what I did in Thailand during my most recent trip to the country with my girlfriend.
Where possible, I've linked out to 'deeper dive' travel guides to places in Thailand we visited.
Planning a 3 week Thailand Itinerary
One of the purposes of our 5 month trip around Asia, was to combine a work and travel lifestyle a little more. This had a bearing on our trip planning, and one of the logical conclusions of this was to spend a little longer in each place than perhaps regular travellers might otherwise do.
Another consideration, is that we would be entering Thailand at Phuket as we had found a cheap flight from where we had recently spent 4 days in Singapore.
Finally, Thailand is one of those countries which regular travellers seem to end up passing through on more than one occasion. What we couldn't see this time, we could always see at some point in the future.
The conclusion: We wanted a travel itinerary for Thailand that was nice and chilled.
Our Thailand itinerary for 3 weeks
After a little bit of planning, our 3 week Thailand itinerary turned out as follows:
Phuket (3 nights)
Koh Lanta (5 nights)
Koh Jum (5 nights)
Krabi (1 night)
Bangkok (10 nights)
Now, I'm pretty sure that most people will look at this Thailand itinerary and wonder what the hell we wanted to spend 10 days in Bangkok for!
To be honest, I'm in partial agreement!! However, it served a purpose for us, and as a result perhaps we saw a little more of the city and appreciated it for what it is more.
Knowing what I know now, I would personally choose to spend far more time in Koh Jum, just a few days in Bangkok, and would probably have skipped Phuket altogether.
Three Weeks in Thailand
Time to take a look at what we got up to during our 3 weeks in Thailand! Here I'll take you through the places we visited, more or less what we did, and where we stayed.
Phuket in Thailand
Our entry point into Thailand was Phuket, thanks to an unbelievably cheap flight from Singapore with Scoot. I've been pretty impressed with this low cost carrier, especially as we got a flight from Athens to Singapore for less than 170 Euro!
The plan was to spend a couple of nights in the old town of Phuket before heading out to the islands. Unfortunately, the Mrs was under the weather during our time here, so we missed out on day trips in Phuket.
In the end, I just did some work for a few days, which in a way was some relief. I wasn't impressed at all with the Old Town of Phuket, so suggest you spend as little time there as possible!
Boat from Phuket to Koh Lanta
The one blessing about staying in Phuket Old Town, was that it was very easy to get the boat out to Koh Lanta without an insanely early start to the day!
We'd heard about Koh Lanta from a friend, who had been visiting in off season a few months earlier. Although she'd been rained on every other day, she seemed to really like it, as it was fairly laid back unlike the Phi Phi Islands!
Why we skipped the Phi Phi islands
Although we'd been planning to visit the Phi Phi islands on a day trip from Phuket, we eventually decided to skip it altogether. The reason for this is that there was way too much emphasis on the party scene. We were more interested in being chilled and slowing things down a little.
Ironically, the boat from Phuket to Koh Lanta took us via Phi Phi where we swapped boats. The view on the way in was very nice, but I think we made the right decision. There were sightseers everywhere!
Check out boats to Phi Phi islands: Phuket to Phi Phi Islands.
Koh Lanta Island
We spent 5 days on Koh Lanta island, which is a pretty low key place. There's less of the party vibe, and more of a relaxed feel. Picture plenty of sandy beaches, beach bars and restaurants, and warm waters.
I really enjoyed our stay on Koh Lanta. We checked out plenty of beaches, indulged in tasty Thai food and got to see a sunset or three. Unless you are planning to combine work and travel, I think that 5 days is about the right time to spend on Koh Lanta.
Check out my detailed Koh Lanta Guide for things to see and do when there!
Here's my guide on Where to stay in Koh Lanta.
Koh Jum Island
If Koh Lanta is laid back, Koh Jum is positively sleepy! This seemed to me a far more genuine island to visit. Sure, tourism is a key factor of life on the island, but it's not in your face the way it can be in some places.
There's no hassle, you can rent bikes and mopeds cheaply to get around, there's great food, and a nice selection of beaches. Koh Jum is an island where everyone seems to know one another and get along.
During our stay, we met a couple from Germany. They come out every year to spend 3 months on the island, and I can see why. It's perfect for getting away from everything!
Koh Jum may not have the digital nomad tag that other places in Thailand have, but I know I'd prefer to work from here for a month or two than from Chiang Mai. Chiang Mai's problem – it doesn't have a beach!
Check out my travel guide to the island – Koh Jum Travel Guide.
Krabi in Thailand
Moving on from Koh Jum, we caught a local boat to Krabi where we stayed the night. Reflecting on it, we could probably have stayed for a night or two more.
Krabi was a bit of a pleasant surprise – at least from the brief amount of time we spent there. Perhaps in my head it was going to be a little like the Old Town of Phuket, but thankfully, it was nothing like it at all.
It was certainly worth staying the night there, before we caught an internal flight to Bangkok. Prefer to travel by bus?
Flying from Krabi to Bangkok
During our trip through Asia, we decided to fly where possible as opposed to taking overnight buses. Although the flights always worked out to be slightly more expensive than taking buses, we tended to arrive in better shape and more awake! When entering new countries, it also solved our 'ticket out' requirements.
If I was in 'super budget traveller' mode, I would almost definitely take overnight buses. As it was, we travelled in 'value for money mode'!
Flying from Krabi to Bangkok, we took Thai Airways, one of perhaps half a dozen different airlines we used during the trip. A pretty good flight, good company.
10 Days in Bangkok
And then it was on to Bangkok. For 10 days.
Yes, I know what you're thinking. It's a long time!
If we were there purely for sightseeing in Bangkok, I would totally agree with you. In my opinion, 4 or 5 days would be the most time you should spend there, although you could probably do the essential Bangkok highlights in 2 days.
Our 10 days, however, also included some work days and a planning day for the next destination which would be Myanmar.
Things to see in Bangkok, Thailand
Despite having 10 days in Bangkok, we probably didn't see everything that you tend to find on most people's Bangkok itineraries. For example, we didn't visit one floating market, nor the famous Maeklong Market (although this is technically a day trip from Bangkok).
Instead we saw plenty of temples, art galleries, and markets like the one in this video.
Bangkok has changed a lot since I last visited. There's less tuk tuks, a little more traffic, less street food, and many many shopping malls!
I recently created a guide you might be interested in – How to spend 2 days in Bangkok.
What about Chiang Mai?
Out time spent in Thailand was part of a larger trip around South East Asia, and so we didn't visit Chiang Mai in northern Thailand until after we'd visited Myanmar.
As such, this 3 week Thailand itinerary doesn't include information about it, but you can check out these other travel guide to Chiang Mai:
Travel Tips for Thailand
We used some essential online services when traveling through Thailand. Whilst they might not always have been the cheapest option, they were by far the easiest option.
If you're planning a trip in Thailand, you'll probably end up using these services more than once:
Grab – Think Uber, but 100 times better, cheaper and more efficient.
Klook – A great platform for booking tours and day trips. They often offer discounts unavailable anywhere else.
Get Your Guide – If Klook can't help you out with tours, then Get Your Guide is the next best option!
Booking – My favourite site for booking accommodation online. Progress to Genius Level for extra benefits!
And that, my friends, is pretty much our first three weeks in Thailand. Please feel free to share this post via the pin below.
Thailand Trip FAQ
Readers planning a three week trip in Thailand often ask questions similar to:
How many weeks should you spend in Thailand?
For most tourists, two weeks is the shortest period I'd recommend spending in Thailand, especially if you're flying in from far away. On the other hand, if you're traveling from within South East Asia or intend to concentrate on a certain region, you can spend a week in Thailand – you'll have plenty of reasons to return again in the future!
Is 2 weeks in Thailand Enough?
If you plan to spend 2 weeks in Thailand, it is better to work out one area of the country to concentrate on, as it is not enough time to see it all. You could spend all the time island hopping between the beautiful islands for example, and leave northern Thailand for a future trip.
What is the best month to go to Thailand?
Between November and early April is the best time to visit Thailand. It's not only the least rainy period of the year in Thailand, but it's also the warmest, with temperatures ranging from 32 to 36 degrees Fahrenheit and up to nine hours of sunshine a day.
How much does a month in Thailand cost?
Thailand is one of the most affordable countries in the world to travel around. Ultra budget traveler might find they can get by with $600 in a month. Perhaps a more realistic budget to aim for would be $1500 for a month in Thailand, which would allow for various trips and transportation between islands.
What is the food like in Thailand?
If you like delicious street food, you're going to have an amazing time in Thailand! Of course, you have to try Pad Thai, but there are thousands of tasty dishes to sample. If you have time take a food tour or even better try a cooking class.
---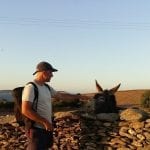 –
Dave Briggs
Dave is a
travel writer
currently based in Greece, and wrote this 3 weeks in Thailand itinerary when traveling around South East Asia. In addition to creating this Thailand itinerary, he's also written hundreds more travel guides to and blog posts to destinations all around the world. Follow Dave on social media for travel inspiration: