During the summer, there is at least 1 ferry a day sailing from Andros to Paros island in Greece, taking between 3 hours and 55 minutes and 4 hours 15 minutes.
Paros island in Greece
Paros, one of the most popular islands in Greece, is known for its stunning beaches, Cycladic architecture and Venetian castles.
Located in the Aegean Sea, it is a popular destination for tourists from all over the world. The island itself is quite small, but there are plenty of things to do and see in Paros.
Andros Paros Ferry Route
There is at least 1 ferry a day sailing from Andros to Paros, taking between 3 hours and 55 minutes and 4 hours 15 minutes. The ferries sail from the port of Gavrio on Andros to the port of Parikia on Paros.
The journey time from Andros to Paros depends on the type of ferry you take and which ferry companies you sail with.
SeaJets Andros Paros Route
SeaJets offer 6 crossings a week. The only day they don't sail is a Sunday. This is a high speed ferry, and although it will stop at other islands along the way, will take you from Andros to Paros in 3 hours and 55 minutes.
SeaJets are typically the most expensive of all the Greek ferries. Check out Ferryhopper for Greek ferry tickets and up to date timetables.
Cyclades Fast Ferries
Fast Ferries offer a conventional ferry vessel on this route. It has slightly slower travel times and is slightly less expensive. Passengers can expect ticket prices to be around 30 Euros for crossings between the Greek islands of Andros and Paros.
Check schedules and ferry routes for the Andros Paros services at Ferryhopper.
Paros Island Travel Tips
A few travel tips for planning your itinerary when visiting the Greek island of Paros:
Ferries sail from Gavrio ferry port in Andros. Be at the departure port at least a half an hour in advance of departure.
---
---
Areas to consider staying in Paros include Piso Livadi, Parikia, Chrissi Akti, Aliki, and Naousa. All the information you need on hotels can be found in my guide on where to stay in Paros.
---
Spend time on some of the top rated beaches in Paros: Santa Maria, Logaras, Chrissi Akti, Kolymbithres, Pounda, Agia Irini, and Monastiri.
---
The easiest way to get hold of ferry tickets for the Cyclades islands in Greece is by using Ferryhopper. You can easily check ferry connections, the travel time and book tickets for popular destinations online.
---
---
---
How to travel from Andros to Paros FAQ
Questions about about traveling to Paros from Andros in the Cyclades group of islands include:
How do I get to Paros from Andros?
The only way to make a trip from Andros to Paros is by taking a ferry. There is at least one ferry a day in the high season sailing to Paros from Andros.
Is there an airport in Paros?
There is a small airport on Paros island which has dozens of connections per week with Athens.
How long is the ferry crossing from Andros to Paros?
The ferry from Andros to Paros can take between 3 hours and 55 minutes and 4 hours and 15 minutes. Ferry operators on the Andros Paros route may include SeaJets and Fast Ferries.
Where can I buy tickets for the ferry to Paros?
One of the best places to look at ferry schedules and to book tickets online is at Ferryhopper. I think it's better that you book your Andros to Paros ferry tickets in advance, you could also wait until you are in Greece, and use a travel agency.
---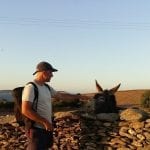 –
Dave Briggs
Dave is a
travel writer
based in Athens, Greece since 2015. In addition to writing this guide about ferries from Andros to Paros, he's also written hundreds more travel guides to Greek destinations. Follow Dave on social media for travel inspiration from Greece and beyond: