It's time to get into vacation mode with this complete guide to the best things to do in Paros, Greece! Includes what to see, where to go, and what you shouldn't miss.
Visit Paros Greece
Paros is a beautiful Greek island in the Cyclades, close to Mykonos and Santorini. It is popular with tourists of all ages, from families to young crowds to people on a sailing trip.
There are many and very diverse things to do in Paros. Active people will enjoy various watersports and will hike the numerous paths.
Some people will love the lively beach bars and the clubs in Paros. Others will find a more remote beach where they can get away from everything.
In short, Paros will appeal to most visitors. In this blog post, I have included the best things to do in Paros Greece.
Explore Parikia, the island's main port town
The first place you will see if you arrive to Paros by ferry is its capital, Parikia.
The quaint port town has about 4,500 permanent residents, and is the largest commercial and business hub on the island. In fact, it is one of the biggest Cycladic towns.
Parikia was inhabited since the proto-cycladic period. Travellers will have the chance to see evidence of earlier civilizations, from the ancient times to the Byzantine era.
Apart from its long history, Parikia boasts plenty of cafes, tavernas and vibrant nightlife. In addition, there are many beaches close to the town where you can relax in a sun lounger.
Here's a taste of things to do in Parikia.
Visit the Panagia Ekatontapiliani church
The island's symbol is the Byzantine church of Panagia Ekatontapiliani, right in the heart of Parikia. Its name literally means "the one with a hundred doors".
The original temple was built in the 4th century AD, by the Emperor Constantine the Great. It was later renovated and rebuilt several times.
Like in many other areas in Greece, some of the materials used were taken from ancient temples in Paros. Observe the interior of the cathedral, and you can't fail to notice them.
After you have explored the church, pop in the small Byzantine museum in the courtyard. You will see several Orthodox icons and other religious objects.
Visit the Archaeological Museum of Paros
The small Archaeological Museum of Paros is close to the Ekatontapiliani church. It hosts exhibits that have been found in the area, dating from the early Cycladic period through to the Roman era.
A little further out of the town, towards Livadia beach, you can also see the ancient cemetery. It was not open to the public when I visited, but you can see some of the ancient tombs through the fence.
Climb to the Venetian castle for sunset views
Like many other Cyclades islands, Paros was occupied by the Venetians during the Middle Ages. As such, it has a Venetian castle.
However, the Venetian castle in Paros doesn't resemble the medieval castle you may have in mind. Instead, it is a cluster of houses attached to each other, forming a circle.
Entrance into Parikia Kastro was only allowed from certain points. In other words, the house walls were also the castle walls. This setting was meant to prevent pirates and enemies from attacking the town.
Today, visitors can wander around the castle, and observe the walls. Some of them have incorporated materials from an ancient temple! Perhaps the most famous section is the Paros Kastro Tower which is made up of countless pieces of ancient Greek temples and structures!
Tip – go up, close to St Constantine church, and watch the sunset!
Wander around Parikia old town
One of my favourite activities in Parikia was wandering around the old town. The iconic white-washed Cycladic houses with the blue doors and windows are simply everywhere.
Allow for at least a couple of hours if you want to stroll around the whole town. Chances are that you'll be lost in the maze of narrow alleys.
When you've had enough, sit for a snack or drink at one of the numerous cafes or tavernas. Try some of the local delicacies, like chickpeas in the oven, fresh fish and regional cheeses.
For more things to do in Parikia, including the best beaches in the area and where to eat, check this detailed article.
Visit the Old Port of Naoussa
Naoussa is a small resort town, on the north coast of Paros island. It is a popular place to stay in peak season, not least because of the large selection of hotels with a swimming pool and sun loungers.
Naoussa's landmark is the Venetian castle by the waterfront. There are plenty of quaint fishing boats along the quay. As expected, you will find dozens of restaurants and cafes with a view to the Aegean sea.
If you are after luxury boutiques, Naoussa is the best place to visit in Paros. In addition, you will find some of the best Paros nightlife.
Now I can't lie – Naoussa wasn't my cup of tea. I found it too developed and touristy, and not much authentic local life. But everyone is different, and others will love it.
Experience the Butterflies Valley
Visiting the Butterflies Valley was one of my favourite things to do in Paros. This is a verdant nature reserve where you can see hundreds of butterflies during the summer months.
The first thing you will notice here is that the temperature drops considerably! This is due to the rich vegetation. As you walk around, you will notice dozens of types of different trees and other plants.
It might take you a few minutes to spot the butterflies, whose species is called Jersey Tiger moths. Their main colours are brown, black, yellow and white.
Looking closely, you will notice that the inside of their wings is a bright red / orange colour.
This protected area is open to visitors from mid-June to September. There is a small entrance fee of 3 euro.
If you don't have your own transport, you can hop on the designated "Petaloudes" local bus from Parikia.
Stop by the Benetos and Popi Skiadas Museum of Cycladic Folklore
If quaint museums are your thing, you must visit the Benetos Museum of Cycladic Folklore. This is the life work of Mr Benetos Skiadas, a fisherman who collected and preserved the folk traditions of the Cyclades islands.
Since he was young, Mr Benetos travelled around the Cyclades on his fishing boat. He saw the famous landmarks on the islands, and then made models, purely from memory. These models have all been arranged in a big garden, close to his home.
There is also an indoors museum, containing models of various types of boats and fishing boats, all made by Mr Benetos.
There is a small entrance fee of 5 euro, which I thought was totally worth it.
Visit the traditional mountain villages in Paros Greece
Paros is much more than Parikia and Naoussa. There are many inland villages where you can spend a few hours. If photography is one of your hobbies, you will be delighted with the shots.
Explore Lefkes village
Lefkes is the most visited village in Paros. It is located right in the middle of the island, at a height of 300 metres.
Like most Cycladic towns, Lefkes consists of a maze of streets and alleys. Walk around and explore the beautiful village. You may soon realize that you have passed the same spot two, or maybe three times!
There are many local cafes in Lefkes where you can take a break. Some of them are inside the village. Others are right outside, offering great views of the area and the imposing Agia Triada church.
There are many buses per day connecting Parikia with Lefkes and other nearby villages. There will typically be some from Naoussa as well. You can see the Paros bus timetables here.
If you have your own vehicle, you can leave it in the designated parking areas right outside the village.
Visit Prodromos village
Another village worth visiting in Paros is Prodromos. We might have skipped it if we didn't have a suggestion for Tsitsanis restaurant. It would have been a real shame, as it's a truly picturesque place.
At the time we visited, there were no other visitors in Prodromos. We could easily walk around the narrow alleyways and take in the ambiance.
As for Tsitsanis restaurant? It was one of our favourite places to eat in Paros. I suggest that you are very hungry when you get here, as the portions were huge!
Close to Prodromos, you will also find Marpissa and Marmara. It is easy to visit all of them in the same trip, especially if you have your own transportation.
Check the views from St Antonios Monastery
If you have your own vehicle, I totally suggest driving up to St Antonios Monastery, not far from Marpissa village.
The views from up there are simply stunning! Among others, you can see a long stretch of sand, Molos beach, and the nearby Kalogeros beach.
As the road is pretty steep, drive as far as you feel comfortable to, and then continue on foot. If you feel like it, it's possible to hike there all the way from the village.
The monastery was closed at the time we visited, but you may be luckier.
Stop by the seaside villages in Paros
Apart from the inland villages, Paros has plenty of villages right by the coast. Most of them are popular tourist resorts, and get busier in summer.
We stayed in Logaras, close to Piso Livadi, on Paros east coast. Piso Livadi could be described as a fishing village, but there are many tavernas and cafes and a small, sheltered beach. Logaras was quieter at night, but there were enough restaurants just on the beach.
Other coastal villages that you could visit include Aliki, Drios and Ampelas. You will find plenty of little tavernas everywhere – the most difficult part is to choose just one!
With that said, we loved Thalami in Ampelas, not just for the food, but also for the setting, overlooking a quiet beach.
Related: Where to stay in Paros
Relax on the beaches in Paros
If sandy beaches are your thing, Paros will not disappoint. You will find dozens of pretty beaches all around the island's long coastline.
Paros has more sun loungers and umbrellas when compared to other Greek islands in the Cyclades that I have visited. This doesn't mean that there are no remote beaches – you will just have to look for them.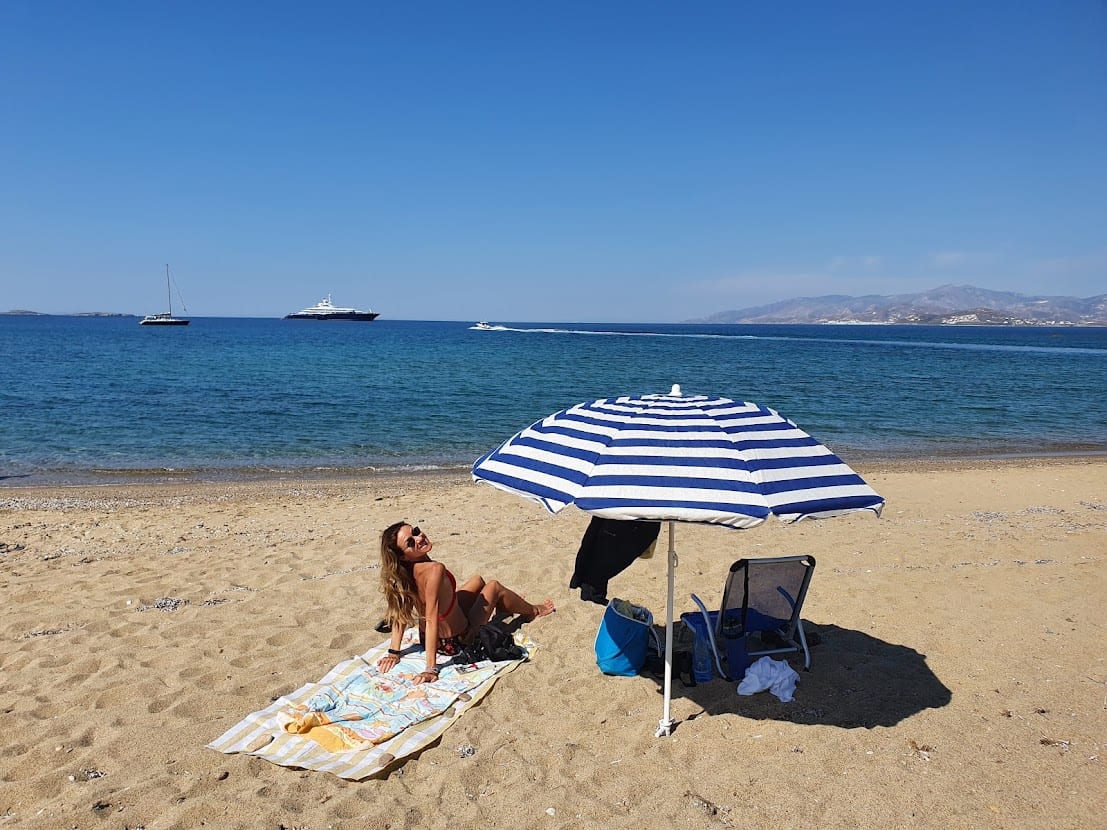 For a detailed list of the best beaches in Paros Greece, including a few remote ones, check out this article.
And now, here is some information about the most popular beaches in Paros.
Kolymbithres Beach
Kolymbithres beach is possibly the most photographed beach in Paros. The strange rock formations among the numerous stretches of sand make it popular with visitors.
The beach is fully organized, with umbrellas and sunbeds, and there are various water sports.
My unpopular opinion? I didn't think Kolymbithres beach was so special. If you go, I'd love to hear what you thought, so feel free to comment right below.
There are frequent buses to Kolymbithres beach from both Parikia and Naoussa. If you have your own vehicle, you will find a large parking area nearby.
Santa Maria beach
Santa Maria is another popular beach in Paros Greece. Along with Mikri Santa Maria, further north, they are located on the north-east coast of Paros.
When I visited, both beaches had plenty of facilities. The water in Santa Maria beach is shallow, which makes it ideal for children.
There is a large parking area just next to the beach. If you don't have your own vehicle, you can take a bus from Naoussa.
Golden Beach
Golden Beach is a long, sandy beach on the south coast of Paros. As the name suggests, it has beautiful golden sand.
Known in Greek as Chrissi Akti, it stretches for several hundred metres. Along the coastline you will find numerous beach bars.
Golden beach, and New Golden beach further north, are especially popular for surfers and wind surfers. There are several water sports schools, including a centre for scuba diving.
Visit Monastiri Beach and Paros Park
Paros Park is a culture and recreation park with interesting hiking trails. It is located on the northwest peninsula of Paros island, north of Kolymbithres beach.
The Environmental and Cultural Paros Park begins at Monastiri beach, and the nearby Monastery of St John Detis. You can leave your vehicle in the large parking, and hike around Paros Park.
Several cultural events, like concerts or open-air cinema, are organized near the beach bar. As their website is only in Greek, ask around for the latest info.
Hike around Paros Park
There are three main hiking paths in the peninsula, and a few minor ones. In my opinion, the most interesting path leads to Cape Korakas, where you can see the impressive lighthouse.
Other paths lead to some remote beaches, Perikopetra and Tourkou Ammos. Note: I wouldn't say that the paths were very clearly signposted!
Hiking Paros Park was one of my best things to do in Paros. For a while, it felt like I was on a remote, totally undeveloped Greek island!
If you are planning to spend some time there, make sure you have everything you need with you. Don't forget to bring sunscreen, your hat and plenty of water.
More Hiking in Paros
If hiking is your style, you will be pleased to know that Paros has a long network of hiking paths. Apart from the trails in Paros Park, there are many more around the island.
One of the most popular paths is the so-called Byzantine Trail, which connects Lefkes to Prodromos.
This is part of a much longer hiking route, passing by Parikia, Marathi, Lefkes, Prodromos, Marpissa, Agios Antonios and Piso Livadi.
Another scenic hiking path connects Parikia with the chapel of Agios Fokas. You will go past Livadia beach, the main beach in Parikia, and then towards Krios, Marcello and Kamini.
Soon, you'll be able to see the quaint chapel. There's a small beach there, so bring a towel.
If you like hiking, I suggest visiting Paros in spring or autumn, as summer temperatures can get uncomfortably high.
You can also get in touch with Paros Hikes, who will show you around the island.
Enjoy the water sports in Paros Greece
I mentioned earlier that Chrissi Akti beach is ideal for watersports. In fact, Paros is a good destination for anyone who likes beach activities.
Here are some of the water sports you can enjoy in Paros:
Windsurfing
Kite-surfing
Scuba diving
Snorkelling
Water-skiing
Canoeing – Kayaking https://seakayakparos.com/
Paddle-boarding
Fishing
In addition, there are several schools where you can learn sailing basics, or refresh your swimming skills.
Children – and many adults – will love Paros Aqua Park, where you can have fun on the water slides. Note: the park will remain closed for 2022.
Try horse riding in Paros
Paros is one of these islands where it's possible to go horse riding. There are several schools where you can try this unique sport:
Take a day trip to Antiparos
Antiparos is a smaller island near Paros. It gained popularity in recent decades, as Tom Hanks and his Greek wife Rita Wilson built a villa here.
While Antiparos is often marketed as the smaller sister island of Paros, it's a lovely little destination of its own. In fact, I liked it more than Paros… but that's just me.
Technically speaking, Antiparos hasn't got too many "things to do". You will probably spend your time sunbathing, eating, having coffees and enjoying the amazing sunsets. Or you can enjoy the low-key bars on the island.
In terms of sightseeing, you should definitely visit the incredible cave. This is easily doable on a day trip from Paros. In addition, you can take a trip to Despotiko island nearby.
Antiparos is only a 7-minute boat ride from Pounta ferry port, on the west coast of Paros. If you are staying in Parikia, you can take a small passenger boat departing from the main port a few times a day.
Take a look here: How to get from Paros to Antiparos
Sailing trip to Antiparos
It is also possible to visit Antiparos on a semi private cruise. As an example, this full-day sailing trip passes by Antiparos and Despotiko island, which is currently being excavated.
You will get to snorkel in crystal clear waters, see some impressive sea caves, and enjoy a great meal on board.
I have taken a similar trip in Milos, and it was a great experience, so I totally recommend it.
Day Trip to other Greek islands
It is possible to take day trips from Paros to a few nearby islands.
For 2022, day trips from Paros to Mykonos are entirely possible. Ferry itineraries are convenient, and they allow up to about 12 hours in Mykonos.
This is enough to get an idea of the Chora, and even take a trip to Ancient Delos.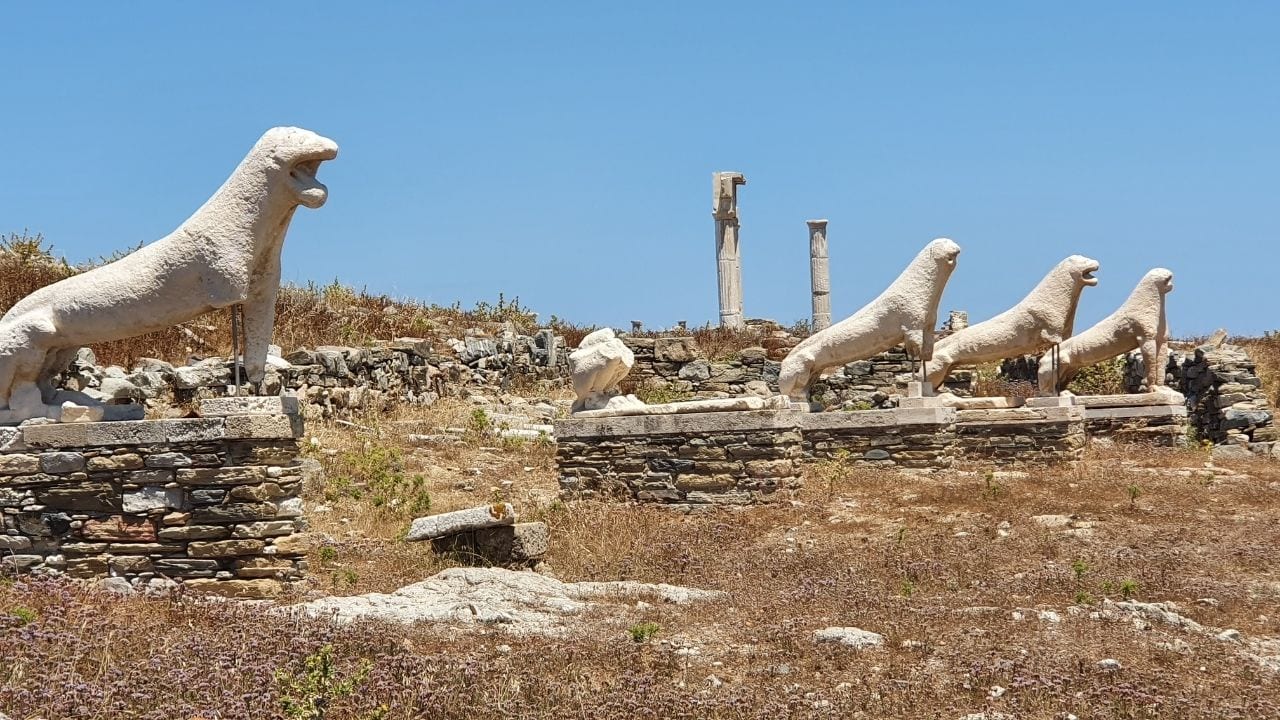 Going to Naxos is also straightforward. There are numerous daily ferries from Paros ferry port to Naxos town port. As an indication, it's only a 45-minute trip on the Blue Star Ferries.
A day trip to Naxos would allow you to check out Chora, the Portara, and maybe a couple of the beaches. With that said, it's best to allow several days for Naxos, as there's lots to see and do.
On the other hand, a day trip to Santorini isn't possible on day ferries for 2022, as timings are not convenient.
For ferry timetables and schedules, take a look at Ferryhopper.
Also read: Islands near Paros
Things to do in Paros with children
Most of the above activities are suitable for children. Arguably, the beach parties are not the best option for families, but the island has plenty of kid-friendly beaches.
Here is one more suggestion that families will appreciate.
Alkioni Aegean Wildlife Hospital is an animal shelter aiming to help and rehabilitate wild animals. In addition, they are aiming to increase awareness regarding the protection of fauna.
Visits are possible, and there are specially designed lookout stations where visitors can observe the animals. However, visitors should be aware that the shelter is a hospital, rather than a zoo.
You can get in touch on their FB page.
Getting around Paros
As you can see, there are dozens of things to do in Paros, and you will need to somehow get around to see it. The main options include a bus, a taxi or a private vehicle.
Compared to other Cyclades, Paros has a good bus network. There are many routes connecting Parikia and Naoussa to many of the villages around the island.
At the same time, you will find an abundance of rental cars in the bigger towns. In my view, this is the best way to get around Paros if you want to be independent.
Visitors from outside the EU will typically need an international driver's license. Even if the agency doesn't ask for it, you won't be covered without it in case of an accident.
Related: Paros Travel Blog
FAQ About What to do in Paros Greece
Planning a trip to Paros? Here are some commonly asked questions that might help you out.
What is Paros known for?
Paros is one of the Greek islands in the Cyclades. It is known as an island offering a mix of shallow, sandy beaches, beach clubs, good nightlife, quaint villages and good food.
How many days should I spend in Paros?
It depends on how much of the island you want to see. If you only have a couple of days, you can easily explore in Parikia and the nearby beaches. People who want to explore the whole island and go to some of the more remote beaches, should allow for at least a week.
Is Paros a party island?
When it comes to partying, Paros doesn't have the reputation of Mykonos or Ios. However, there are plenty of clubs on the island where you can go dancing until the morning hours. Most of them are in Parikia and Naoussa, and there is also the famous Pounda beach club.
What is the best part of Paros to stay in?
Many visitors choose to stay in Parikia and Naoussa. The two towns are ideal if you are here for just a couple of days, or if you want a selection of things to do in the evenings. Other popular places to stay on Paros island are close to Aliki beach, Piso Livadi, Drios and Golden beach.
Is Paros worth visiting?
Paros is a great destination for most travellers, as it offers a unique combination of beaches, nightlife, activities, quaint villages and good food. However, people who are looking for quiet, unspoiled destinations might find it too developed, and could look for other islands instead.
---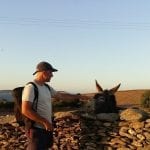 –
Dave Briggs
Dave is a
travel writer
who writes about and lives in Greece. If you enjoyed reading about what to do in Paros island, you might want to look at his other Greek island travel guides and itineraries. Follow Dave on social media for travel inspiration from Greece and beyond: