This guide shows where to stay in Paros island, Greece and what to expect from each location. Includes best hotels in Paros and travel tips.
Planning to stay on Paros
Paros is a popular Greek island to visit for international travelers. It belongs to the Cyclades group of islands, along with Mykonos and Santorini.
Most travelers will love the variety of things to do in Paros. Paros has a long coastline, with dozens of beaches for all tastes. Whether you want beaches with tourist facilities, or smaller coves where you can have more privacy, you will find it here.
There's plenty of opportunity for water sports and outdoors activities, and there are several attractions all around, including museums, ancient sites and natural reserves.
Completing the picture, are the quaint towns and villages. The two biggest settlements are Parikia, and Naoussa, famous for the restaurants and nightlife. These are also two of the best places to stay in Paros – but there are many more.
Tips on how to choose the best place to stay in Paros island
Here, you can find some quick reference points, tips and advice on the best place in Paros to stay. The rest of the guide goes into more details.
Where to stay in Paros might depend on what type of holiday you are looking for
Paros has many faces. In fact, few of the Cyclades offer so much diversity.
The island is a good introduction for first-time visitors to Greece. The traditional architecture, the fantastic food and the beautiful nature will appeal to most people.
At the same time, Paros island is family-friendly. The shallow, protected beaches and abundance of tourist facilities make it an ideal, safe place for everyone.
On the other hand, Paros is famous for its vibrant nightlife. Parikia, the capital, is full of relaxed bars and a few clubs. In addition, the smaller Naoussa is an upcoming, cosmopolitan town offering plenty of options for nightlife.
The best place to stay in Paros island will depend on a number of factors, like the following:
what you are looking for during your holiday
the number of days you have on the island
the time of year you are going
your budget
how you are planning to get around.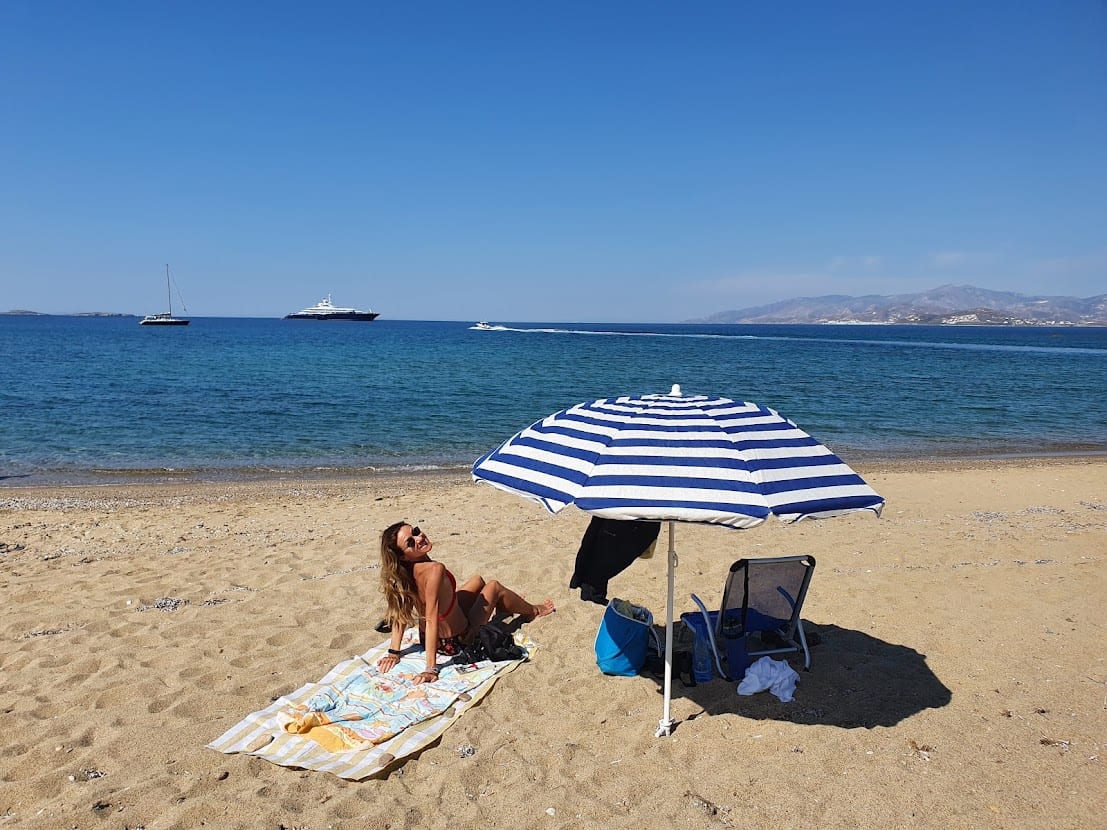 Types of Accommodation in Paros
There are many different types of accommodation in Paros. You will definitely find something that suits your needs and budget. Here's a look at what types of places to stay are on offer.
Camping: Typically the best budget option, often preferred by younger people. For 2021, there are three campsites operating on the island: Krios, Koula and Blue Aura.
Studios: Simple rooms with a variable number of beds, often with a kitchenette
Hotels: Like in all the Cyclades, there are plenty of basic, family owned hotels in Paros
Boutique Hotels: A more upscale option, typically offering amenities like swimming pools, spa facilities and various body treatments.
Villas: Larger properties, often suitable for bigger groups of people
AirBnB: This term has become synonymous with short-term apartments. In my personal experience, booking.com works out better (and cheaper) in Greece.
And now, let's see in which areas of Paros you will find accommodation.
Best places to stay in Paros island: Parikia, the capital
Unless you are travelling to Paros by plane, Parikia is the first place you will see on the island. It is a busy port town, with about 4,500 permanent residents.
The capital of Paros is a pretty, quaint Cycladic settlement. It is full of traditional white-washed houses with colourful windows and bougainvillea trees.
Parikia is a great place to stay. It's ideal if you are interested in a combination of sightseeing, nightlife, and traditional Cycladic architecture.
I would also suggest staying in Parikia if you are only in Paros for 2-3 nights.
Things to do in Parikia Paros
The landmark of Parikia is the impressive Byzantine church of Ekatontapiliani. Its name means "the one with a hundred doors", though apparently only 99 can be seen. Don't miss the small archaeological museum, a short walk from the church.
The old part of the town is a maze of tiny alleys and narrow streets. This is where you will find one of the main attractions in Parikia, the picturesque Venetian castle.
Several small chapels are built all around, and the sunset views from the top are lovely.
All around the white-washed alleyways, you will find dozens of cafes, bars and restaurants, souvenir shops and travel agencies. In addition, and many more tourist facilities.
Beaches in Parikia
There are a few sandy beaches a short walk or drive away from Parikia. The vibrant Livadia beach, where you will find plenty of tourist facilities, is located at the outskirts of the town.
Further north, Krios and Marcelo beach are both good choices for their beach bars and water sports. This is where two of the island's campsites are located.
Towards the south, in the area of Parasporos, you will find two more sandy beaches. Look out for Magaya and Parasporos Beach club in Google Maps.
Hotels in Parikia Paros
There is a good range of hotels and rooms to let in Parikia and the surrounding areas. Apart from the old town itself, you will find accommodation around the beaches of Krios and Parasporos.
Some of the best hotels in Parikia and around include the following:
Best places to stay on Paros Greece: Naoussa
Naoussa (or Naousa) town is the second biggest town in Paros. It is located on the north coast of the island, in a large bay.
The ruins of the Venetian castle right on the harbour are attracting visitors at all times of day. The quaint fishing boats in the marina are another well-visited photo-stop.
The cosmopolitan town is full of restaurants, cafes, boutique stores and a few late-night bars. It is a vibrant, lively resort which is popular with visitors looking for some of the Paros best nightlife.
The island's landmark winery, Moraitis, is located at the outskirts of Naoussa. They also have a vinotheque in the heart of the town.
Beaches in Naoussa
Walking distance from Naoussa, you will find Piperi, a small, sandy beach frequented by locals.
Other nearby beaches include Agioi Anargyroi, the well known Santa Maria and the famous Kolymbithres. A short drive away, you can visit Monastiria beach and Paros Park.
Hotels in Naoussa Paros
Some of the best hotels in Paros are in Naoussa. Apart from luxury and boutique hotels, there are also some great budget and mid-range options.
Where to stay in Paros: Piso Livadi / Logaras
The resort towns of Piso Livadi and Logaras are good options with visitors who prefer to stay outside the main towns.
Logaras has several rooms to let, and a few seaside tavernas. Piso Livadi has more options in terms of restaurants and all-day cafes, along with a few relaxed bars.
The two villages are a 10-15 walk from each other, and you can easily explore the area on foot. If you are self-catering, there are many minimarkets and supermarkets all around.
Nearby, you will find a few authentic Greek villages – Lefkes, Marpissa, Marmara and Prodromos. They are all worth visiting for their traditional style and quaint architecture.
Beaches in Piso Livadi / Logaras
Logaras itself has a long, sandy beach with many facilities, including loungers, umbrellas and restaurants. Part of the beach has no amenities, and the shallow waters are ideal for families.
For a change of scenery, you can swim at the small local beach in Piso Livadi. Anyone looking for lively beach clubs, should visit the busy Punda beach, which is also walking distance.
Hotels in Piso Livadi / Logaras
Where to stay in Paros: Aliki
Aliki is another lovely resort town in Paros. Located on the south west coast, it offers a laid-back atmosphere and a good selection of tavernas and relaxed cafes.
The Museum of Cycladic Folklore, where you can see small scale models of various Cyclades landmarks, is located nearby.
Beaches in Aliki
There are three local beaches in Aliki, where you can go for a quick swim.
A short drive away, you will find some of the best beaches in Paros if you are looking for quiet spots. For more information, check this article on Paros beaches.
Hotels in Aliki Paros
Aliki beach has a great selection of budget accommodation, like Helen's Studios and Fisheye Rooms. If you are looking for more luxury, check out Paros Afrodite Luxury Villas nearby.
Where to stay in Paros: Golden Beach
For many people, Golden beach is the best beach in Paros. It is a long, sandy beach on the southeast coast of the island. It is known in Greek as Chrissi Akti, literally meaning Golden Coast.
Golden beach is especially popular with windsurfers, but also with everyone who wants to enjoy some time by the coast. Along the coastline, you will find many cafes and beach bars, along with several water sports schools.
Hotels in Golden Beach
Two of the best places to stay in Chrissi Akti are Acquamarina resort and Saint George Hotel, which is closer to New Golden Beach.
Villa Kampanelli, closer to Dryos, is also a great choice.
Where to stay in Paros: Lefkes
Visitors who are not too keen on beaches and have their own transportation could consider staying at Lefkes, the island's most famous inland village.
The traditional, maze-like architecture and the impressive church of Agia Triada are two of the main attractions in Lefkes.
Like many other Cycladic villages, you will find narrow cobbled streets full of whitewashed houses and bougainvillea trees growing over the roofs. There are several tavernas and all-day cafes in the village and the outskirts.
Visitors who are interested in hiking, could take the old Byzantine trail, connecting Lefkes with Prodromos village. The path is about 3,5 kms long, and will lead you through the pretty landscapes of Paros.
One of the best places to stay in Lefkes is the Bocamviglia Cycladic Gem, a large self-catering apartment decorated in traditional colours.
Day trip from Paros to Antiparos
A day trip to Antiparos is a must-do activity from Paros. You can get there on the numerous local ferries from Paros to Antiparos. Foot passengers can leave from Parikia. If you want to take a vehicle across, you need to leave from Pounda port.
While a day is enough to see the highlights of Antiparos, I would suggest staying there for a few nights if you can. The vibe is more laid-back and relaxed, and you don't really need a car to enjoy the island.
The highlight attractions in Antiparos include Antiparos town, the Antiparos cave and Despotiko island. Take a look here: How to get from Paros to Antiparos
Some of the best places to stay in Antiparos town include Asteras, Kastro Antiparos and Sunset Studios and Rooms.
If you want to stay out of the town, Statheros and Ergina Summer Resort are two of the highest rated options. There are also several villas on the island to choose from.
How to get to Paros?
There are many daily ferries to Paros from Piraeus and Rafina ports in Athens. In addition, there are connections with many other Cyclades, like Mykonos, Santorini, Naxos and Milos.
You can check routes and book your ferry tickets on Ferryhopper, a great place to start to plan a Greek island hopping adventure.
Paros is also accessible on a short flight from Athens airport. In the near future, there may be direct flights from some European countries, so watch this space.
Here is a complete guide on how to get to Paros. Here's how to get from Paros to islands close by.
How can I get around Paros?
While the bus network in Paros is quite developed, a rental car will give you more freedom. Quad hire is very popular on the island.
If you are not thinking to rent a vehicle, it's probably best to stay in Parikia, which has the best bus connections with other areas in Paros.
Other ways to get around the island include taxis, and several sailing trips to various beaches.
Also read: Paros Travel Blog
FAQ About where to stay in Paros
Readers planning to visit Paros and researching which are the best areas to stay often ask questions similar to these:
What is the best part of Paros to stay in?
Most people visiting Paros choose to stay in the two main towns, Parikia and Naoussa. Both of them have many options for cafes, restaurants, bars and shopping, and offer a variety of accommodation.
Where should I stay in Paros Parikia or Naoussa?
Parikia and Naoussa are among the best areas to stay in Paros. They both offer a good selection of studios and boutique hotels. If you are not planning to rent a vehicle, Parikia is probably a better choice.
Where is the party at Paros?
The best nightlife in Paros is in Parikia, the main port, and Naoussa. In terms of beach clubs, head out to Punda beach, close to Logaras.
Is Paros a party island?
Paros Greece is an island that can fit all tastes. It's famous for its nightlife, but it's also great for families. It's a good option for couples, but also groups of friends. Paros is so diverse, that everyone will like it.
---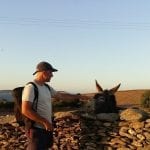 –
Dave Briggs
Dave's
travel writer
from the UK who's been living in Athens since 2015. As well as writing this guide on choosing the best area to stay in Paros, he's also created hundreds of other travel blog posts and itineraries Greek islands and other destinations all over Greece. Follow Dave on social media for travel inspiration from Greece and beyond: