Whether you are in Paros for a day or a week, this article will give you ideas on what to do in Parikia, the capital and port town of Paros.
Paros is one of the most popular islands in Greece. It is a great choice for travelers who want to combine beach life, good food, and lots of sightseeing in an ideal Greek island setting.
Quick introduction to Parikia Paros
Parikia is the main town in Paros island. It is also known as Parikia town or sometimes Chora, and you will also see it written as Paroikia. It has around 4,500 permanent residents, making it one of the biggest cities in the Cyclades.
The quaint town is located in a natural, sheltered bay, which constitutes the main ferry port of the island. Several ferries connect Paros to Piraeus and Rafina ports in Athens, and to many other Cyclades islands like Santorini and Mykonos.
Paros has been inhabited for several millennia. As you are walking around Parikia town today, you will see traces from many historical periods, including antiquity and the Byzantine era.
Many of the houses in Parikia are constructed in the traditional Cycladic style with whitewashed walls. Doors and window frames are painted in bright colours, which make a lovely contrast with the numerous bougainvillea trees.
What to do in Parikia Paros
There is plenty to do, including sightseeing, eating, drinking, and relaxing on the beach. To help make your trip as enjoyable as possible, I have compiled a list of the best things to do in Parikia. Check them out below!
Stroll along the Waterfront and Port of Parikia
The first thing to do in Parikia is to explore! There is a seafront promenade where you can walk, stretching all the way from Livadia beach to Agia Anna church. Part of the promenade is occupied by the ferry port of Parikia.
You can stroll along the promenade at any time of the day or night, and never get tired of it. As Parikia faces west, there are many fantastic spots with sunset views. There are plenty of restaurants and cafes to sit and watch the world go by!
If you have a vehicle, note that the coastal road is closed to traffic at certain times of the day. Ask around for the latest information
Parikia Paros Port
While some visitors to Paros fly from Athens and land at Paros airport just outside of town, most people travel by ferry either from Athens or nearby islands, arriving at Parikia port.
As well as being an arrival and departure point, the ferry port can also be an interesting place to watch ferries coming and going. No trip to a Greek island is complete without at least one photo of a ferry!
When planning an island hopping trip to or from the main port at Parikia Paros Greece, you can find ferry schedules and book tickets online at: Ferryscanner.
Pass by the Windmill Roundabout
As you are walking along the promenade, you can't fail to notice a large windmill, the trademark of Paros. This quaint building welcomes visitors to the port.
The windmill hosts a tourist information office, where you can pick up useful material.
Discover the backstreets in Parikia on foot
In my experience, the most interesting area of Parikia was its historical centre. Wandering around the backstreets of Parikia was one of the best things to do in Paros. As the old centre is pedestrianized, the only way to explore is on foot.
The old town in Parikia is located right behind the seafront, and includes an incredible maze of tiny backstreets. Walk around, and allow for enough time to get lost in the narrow, whitewashed alleyways.
If you only have a few hours in Parikia, my suggestion is to just wander around the pretty town, and take in the Cycladic ambiance. You'll find numerous shops, cafes and restaurants where you can take a break.
While walking around Parikia old town, you will inevitably see the impressive remains of the medieval castle. Here's a little more info about it.
Explore the Venetian Castle in Parikia Paros
The Venetian Castle, known in Greek as Kastro, was one of our highlights when exploring Parikia in Paros.
Like other Venetian castles in the Cyclades, it doesn't look like the medieval castle that you might have in mind. Instead, it is a settlement made up of several detached houses.
The Venetian Castle in Parikia was originally built in the 13th century to keep intruders away. Many of the materials used, including marble, were taken from an ancient temple, which used to be in the same area. The architecture is very impressive!
As you are walking up and down the whitewashed streets and stairs, you'll see many buildings that might look abandoned. Look closely – are they really deserted? You might be surprised!
As always happens on the Greek islands, you will come across dozens of churches all around the Venetian Castle. Some of them may be open, so take a peek inside. Pay close attention, and you will soon start noticing the marble elements on many of them!
Tip – The Venetian Castle in Paros is a lovely place to watch the sunset from. Our favourite spot was the church of St Constantine.
See the sunset from the Church of St Constantine
The Church of Saint Constantine is located at the highest point of the Kastro in Parikia. It's well worth the short but steep and slippery stone backstreets to the church, for the views out over the sea.
There's also a restaurant up here, called Kastro Art Lounge. It is a stunning spot for a break with a view.
Visit the church of Panagia Ekatontapiliani in Paros Greece
The church of Panagia Ekatontapiliani is considered to be one of the most important Byzantine churches in Greece. It's one of the oldest and best preserved Orthodox temples in the country.
The first temple was built on the site in the 4th century AD, by the Emperor Constantine the Great. It was later renovated multiple times, most notably by the Emperor Justinian I.
More chapels and rooms were constructed in later years. More often than not, materials were collected from existing constructions in Paros, including ancient temples.
The name "Ekatontapiliani" translates to "the one with a hundred gates". According to local tradition, "the church has ninety nine visible gates. The hundredth gate is closed, and is not currently visible. It will open up when Istanbul becomes Greek again".
The interior of the church is quite large by Greek standards, and the details are very impressive. Allow enough time to wander around the church, and observe the various marble elements.
Just like the castle, these are made of the famous Parian marble, which is famous for its exceptional quality. The original Aphrodite of Milos statue, which is exhibited in the Louvre, was made out of Parian marble.
Just like the big church in Tinos, Ekatontapiliani is dedicated to the Virgin. It celebrates on the 15th of August, and there is a local feast, the famous Greek panigiri.
This video, shows the interior and exterior of the church. If you speak some Greek, you will also find out more about the history of Paros.
Check out the Byzantine museum inside the Ekatontapiliani church
As you are walking around the courtyard of the church, you will notice a small Byzantine museum. Exhibits include icons, and a few items used by priests. Some of them date from the 16th – 17th century.
There's a few more photos here. The Byzantine museum has a small entrance fee of 2 euro.
Visit the Archaeological Museum of Paros
Located just a two minute walk from the Panagia Ekatontapiliani, you'll find the small but interesting Archaeological Museum of Paros.
Inside the gates, you'll find a courtyard with a half-assembled mosaic and some large marble carvings. Additionally, there are three separate rooms housing exhibits from the early Cycladic period through to the Roman era.
The two most notable exhibits are the Gorgo statue and the figure of Nike. There are also some exhibits that were discovered in Despotiko island, near Antiparos.
Opening Hours for the Paros Archaeological Museum are 8.30 – 15.30 daily, except Tuesday. The entry ticket cost 3 Euro, and it took us about a half hour to walk around.
Stroll by the Ancient Cemetery in Parikia, Paros
Close to the modern Paros harbour, on the way to Livadia beach, you can see an open-air area with the remains of an ancient cemetery. This important site dates from the 8th century BC to the 3rd century AD.
Unfortunately, the site was closed to the public when we visited, but you are able to see through the gates. You will see tombs dating from several areas, including a mass grave from the 8th century BC.
The adjacent museum was also closed. It includes several exhibits, and photos from recent excavations. These are placed behind glass panes, so you can have a glimpse.
Enjoy the Cafes and Restaurants in Parikia Paros Greece
When you visit Greece, one thing is certain: you won't go hungry or thirsty! Parikia has dozens of cafes, restaurants and traditional tavernas to enjoy a snack, drink or meal.
In terms of meals and the best restaurants in Parikia Greece, we thoroughly enjoyed a taverna called Pinoklis, by the coast. The food was great, portions were big, and our waiter was outstanding!
Koutouki, just a short walk from Pinoklis, also came highly recommended. Unfortunately, they were just opening for the season, so we couldn't eat there.
Towards the end of the seafront, you will find a small local taverna called Bountaraki. It looks as traditional as it gets!
The selection of Parikia Paros restaurants is endless though, and the more you wander around Parikia, the more places you will discover. Just stroll around, find a place you like, and enjoy traditional Greek cuisine or a Greek coffee or beer!
Go out for some nightlife in Parikia
When spending more than a full day in Parikia, make sure to experience the vibrant nightlife.
There are all sorts of late-night cafes, bars and night clubs in the backstreets of Parikia and on the coast.
Tip – People who are not happy to pay Mykonos prices, will appreciate the nightlife in Paros.
Pop in Ragoussis Bakery
One of the most iconic bakeries in Parikia is the large, modern Ragoussis Bakery, which originally dates from 1912. They have several types of cookies, breads and other local delicacies.
One that came highly recommended are these sweet local treats called "lichnarakia".
Tip – Going to Naoussa? Ragoussis has another branch, which also has a seating area.
Go to the beaches near Parikia in Paros
There are a few beaches close to Parikia in Paros that can be visited on a local bus, or even on foot.
The easiest beach to go to from Parikia is Livadia, (Livadi Beach) which is within walking distance of Parikia centre. It's one of the most popular beaches to go to when staying in Parikia.
The beaches of Krios and Marcello, further north from Parikia, are normally busy with young crowds. You will find plenty of sun loungers, umbrellas and watersports.
A couple of kilometres south of Parikia, you will find two beautiful sandy beaches in the area of Parasporos. The beach bars there were very quiet when we visited in late June.
While these beaches are easily accessible from Parikia, there are dozens more beaches in Paros that you can easily reach by bus or rental car. Here are some of the most popular and best beaches to enjoy when you visit Paros:
Kolymbithres
Golden Beach and New Golden Beach
Santa Maria and Small Santa Maria
Logaras near the fishing village of Piso Livadi
Monastiri beach near Paros Park.
This article has more information about the main beaches in Paros.
Nearby Attractions – Naoussa
While Parikia has enough attractions to keep you occupied for a day or two, there are many more things to do in Paros.
One popular day trip from Paroika Paros, is to take a quick bus ride to Naoussa, another charming coastal town in Paros. I personally thought Naoussa was too touristy, but everyone is different – after all, I like islands like Sikinos and Schinoussa!
Nearby Attractions – Villages in Paros
Paros has a few inland villages you can visit. A popular one is Lefkes, with the quaint Cycladic architecture and incredible church of Agia Triada.
A sightseeing suggestion is to combine Lefkes with a few other nearby villages, like Prodromos and Marpissa, and perhaps end up in Piso Livadi for a meal or drink.
To get around, there's buses from the town of Parikia, but you might find it more convenient to organize a car rental for a day or two. I recommend: Discover cars
Other museums outside Parikia
Two other attractions that we enjoyed visiting in Paros are the Butterflies Natural Reserve and the Benetos Museum of Cycladic Folklore.
These are both located on the road to Aliki. As an indication, the Benetos Museum is a 15-20 minute car ride from Parikia.
However, the big island has lots more to offer. I am sure that you can discover your favourite spots on your own!
Where to stay on the Greek island of Paros
If you are only on the island of Paros for a couple of days, you night decide that Parikia is a good area to stay.
Before booking anything though, I suggest taking a look at my guide to the best places to stay in Paros.
FAQ About Paros Island
Readers planning to visit Parikia in Paros often ask questions similar to these when researching their trip:
What can you do in Paros for 2 days?
Two days are enough to see the highlights of Paros, such as Parikia, Naoussa and a few of the villages. You will also have time to go for a swim on one of the beaches.
What is Paros Greece known for?
Paros is an ideal island for all types of people. While it is known for its lively atmosphere, it offers a diversity which you won't find on many of the other Cyclades. Its family friendly beaches, fantastic food and good bus connections make it an ideal destination for everyone.
Is Naxos or Paros better?
Everyone is different, so you are unlikely to get an agreement here. I personally liked Naxos more, as I found that the beaches were nicer and it's less developed. However, people looking for lively beach bars, nightlife or the cosmopolitan feel of Naoussa will probably vote for Paros.
Is Paros Greece expensive?
In my experience, Paros is one of the least expensive Cyclades I have visited. As there is plenty of accommodation on the island, you can find affordable rooms during most seasons. In addition, the wide selection of tavernas meant that food was inexpensive – and very tasty!
Should I take a day trip to Antiparos?
If you only have one or two days in Paros, you will not have enough time to visit Antiparos and do it any justice. However, if you have a few days in Paros, by all means go to Antiparos. You can take a day trip on the small boat departing from Parikia, or perhaps take a sailing tour where you can relax on the boat and discover many beautiful beaches.
Where is Parikia?
Parikia is the largest town and capital of the Greek island of Paros. It is located on the west coast of Paros, and has all the important tourist infrastructure such as the main ferry port and bus station.
For what it's worth, I personally enjoyed the laid-back vibe of Antiparos more than the busier Paros. If you have time, visit both!
---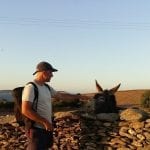 –
Dave Briggs
Dave is a
Greek travel blogger and writer
originally from the UK, and living in Greece since 2015. In addition to this guide about Parikia Paros Greece, he's created many travel guides to other Cycladic Islands and destinations all over Greece. Follow Dave on social media for Athens travel ideas and more: