Plan a trip to Andros Island in Greece with this travel guide. An easy 2 hour ferry ride away from Athens, here's a look at things to do in Andros, Greece.
Andros Island Greece
The Greek island of Andros seems to be largely unknown among first time visitors to Greece.
It's a shame on the one hand, because this Cycladic island has far better beaches than Santorini, and more picturesque villages than Mykonos.
On the other hand, it's great – it means Andros is a lot quieter than those two more famous islands!
In fact, we (that's Dave and Vanessa by the way) love Andros so much, we've even written a guide book to it now available on Amazon!
** Travel Guide to Andros and Tinos now available on Amazon! **
Not that you need it (but you can get it if you want!)… This travel guide to Andros island in Greece you're reading right now has everything you need to plan your own visit.
We've included observations from our own experiences there which include places to see, where to stay, and the best things to do in Andros Greece.
Andros Island in Greece
This travel guide to Andros in Greece is quite detailed. Your choice whether to read it all, or jump through to the section that catches your eye!
How to get to Andros
Andros is the northernmost island in the Cyclades island group, which puts it close to Athens. As there is no airport on Andros, the only way to reach the island is by ferry.
Ferries leave from Rafina Port of Athens rather than the more well known Piraeus Port. The travel time from Rafina to Andros is about two hours. There are plenty of ferries every day to choose from, and Ferryhopper has the latest schedules and timetables.
If you are arriving at Athens Airport and want to go directly to Rafina Port the trip is easy. A taxi will get you there in about 40 minutes (pre-book one by clicking here), and a bus takes about 50 minutes. Most tourists will find it easier to take a taxi.
You can also reach Andros from some of the other Greek islands close by. Some people choose to include Andros on the return leg back to Athens after Greek island hopping from Mykonos and Tinos.
What is Andros famous for?
Unlike most of the other Cyclades, Andros is a very green island, with lots of springs and running water. Andros is said to have over 170 beaches, and as a result it's quite popular with Greeks, especially with Greek families. Fortunately, it has at the same time not succumbed to mass tourism.
It also boasts a network of over 150 kms of well-marked hiking trails, which outdoors enthusiasts will love.
Andros has a long maritime tradition. Since ancient times, it has been home to families of captains and local sailors who traded across the Aegean Sea. Many of Greece's important families come from Andros, including the Goulandris family, whose foundation has funded many museums in Andros and Athens.
Andros has an exceptionally rich culture. Several painters, poets and other artists were born or have lived in Andros. There are numerous museums on the island, and you should visit a few when you visit. Most of them are located in the main settlement, Chora.

Sightseeing in Andros and How to get around
Andros has several nice towns and villages that you can visit. Apart from the biggest towns of Chora and Batsi, there are several small villages that are definitely worth a stop. At the same time, there is plenty to do in terms of nature, ancient settlements, monasteries, museums, and even a cave!
While there are some bus services on Andros, the best way to get around is going to be by car. This way, you can get to see more of the pretty villages and quieter golden sand beaches!
If you've never hired a rental car on other Greek islands before, read my tips on renting a car in Greece.
Chora in Andros
Chora, literally meaning "country", is the main settlement on Andros. This is the island's capital and is pretty much the only town that is somewhat lively year round.
If you are not staying in Chora Andros, you should definitely make at least one day trip to explore this picturesque little town.
There are some lovely mansions, neoclassical architecture, and the famous whitewashed Cycladic houses are everywhere. You can also see the ruins of the Venetian castle, which was built in 1207 and bombed during WWII.
Things to see in Chora, Andros
Chora is home to several museums, and if you want to see them all you would need to spend at least one full day. Check the museum section in this Andros island travel guide below for more information. Note that most museums are closed one day a week.
After you've visited the Contemporary Art Museum in Chora, make sure you walk down to the beach. There's a lovely little church there, Panagia Thalassini, and the views are great!
Also, check out the Tourlitis lighthouse, apparently the only lighthouse in Europe built on a rock. If you are there on a windy day, you will literally be blown away!
The impressive Unknown Sailor's statue in the large square is a symbol of Andros, and most Greeks will instantly recognize it.
The statue of the Unknown Sailor was constructed in 1959, in honour of all the sailors who left Andros, but were lost at sea and never returned. We were quite impressed to find out that the strong winds had brought it down in 2001, though it was later repaired and put back on its pedestal.
There are plenty of tavernas and cafes on the main street, so you can take a break from all the sightseeing and watch the world go by. You will instantly feel that Chora has a lively local community – we saw many people greeting each other and sitting for a coffee.
Note that if you are driving into Chora, you will have to park in the designated parking area right outside the town.
Batsi Andros
Batsi is a small coastal town which is fairly popular with visitors. Even if you aren't staying in Batsi village, you could spend a couple of hours for a coffee or a meal on the picturesque promenade, and maybe even a swim.
Unlike Chora, the town itself doesn't have many attractions, but it's a good base if you want to explore the western beaches.
There is an outdoors cinema, showing a different movie every night. In terms of tavernas, we ate at recommended Mi Se Meli and O Stamatis which were fine, but we didn't think they were overly special.
Korthi Andros
We visited Korthi town on our way to Grias to Pidima beach, and actually liked this little, sleepy town. It's worth stopping for a coffee with a view to the sea, and having a conversation with the friendly locals.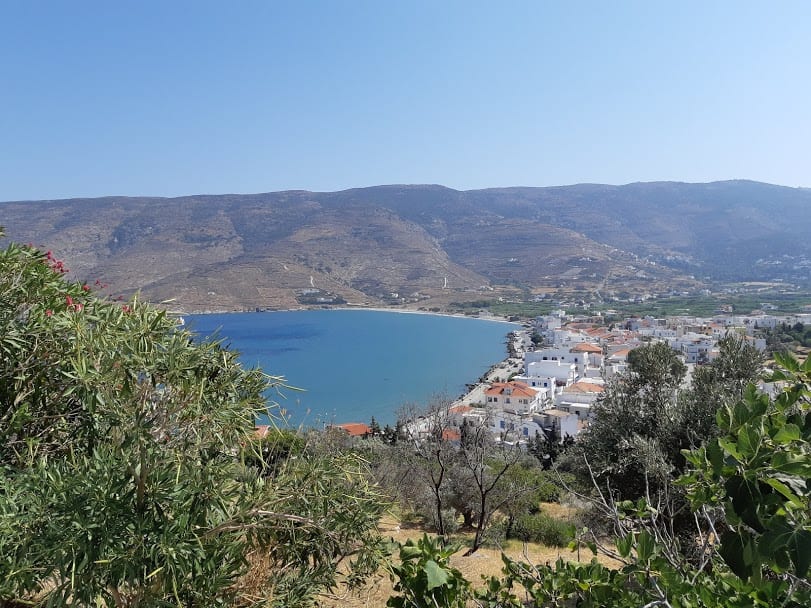 There are some very picturesque houses in the town, and the local beaches, Korthi and Vintsi, are fairly well protected from the winds.
Menites village
This is a small village with several water fountains. If you didn't know you were in Andros, you would probably imagine you are somewhere in North Greece – it is an unusually lush place for a Cycladic island.
There are a few cafes and tavernas here. If you want to experience more of the beautiful nature, a hiking path goes straight through the village.
Apikia village
This small, picturesque village is popular for the famous Sariza springs and the nearby factory where the water is bottled. The water is said to be therapeutic for people suffering from kidney issues. If you visit in the evening, you may want to bring a jacket!
St Peter's Tower
Between Gavrio and Batsi, visitors can see St Peter's tower, a 20-metre tall cylindrical tower constructed during the Hellenistic period. This is one of the best preserved towers in the Cyclades, and was used to defend the surrounding area.
We kept postponing our visit to the tower for "tomorrow", and when we left Andros we realized that we hadn't seen it! Oh well – it will be there for next time.
Paleopolis
Paleopolis was the capital of Andros between 6th century BC and 6th century AD, when the first Arab invasions happened. Remains of the ancient town can be seen on the island, whereas the findings that have been excavated are presented in the small archaeological museum.
If you are interested in hiking, you can walk down to the coast, preferably on a non-windy day. You can still see some of the fortifications of the town, while the remains of the ancient port are visible, under the sea.
Faneromenis Castle
The Faneromenis castle is located up on the mountain, close to Kochylos village. It was built in the beginning of the 13th century by same Venetian ruler who built the castle in the Chora.
You can still see what's left of the walls, as well as the adjacent Faneromeni church, celebrating on the 15th August. As you would expect, the views from the castle are pretty unique.
Aladinou Cave
On your way from Batsi to Chora, you will see a few signs for Aladinou Cave, also known as Foros Cave. This is a small cave with stalactites and stalagmites, estimated to be over 4.5 million years old.
You can have a short guided tour by some very enthusiastic locals, who will show you some stalagmites in the making! It's well worth visiting, and we really enjoyed being shown around this little cave.
Museums in Andros
Andros has plenty of museums to keep you busy. Most of them are in Chora, but there are also a few around the island. Our favourite was the Olive Oil museum in Ano Pitrofos, while if you like art you will definitely appreciate the Goulandris Museum of Contemporary Art and the Kydonieos Foundation.
Olive Oil Museum, Ano Pitrofos
Even if you have been to an olive oil museum before, you should make a special trip to Ano Pitrofos just to visit this one. The museum is located in an old, authentic olive mill.
The founder, Dimitris Chelmis, is a passionate architect who restored the mill transforming it into a museum. We believe that similar projects need all the support they can get, and definitely recommend paying a visit here.
You will have a short guided tour, followed by a video Dimitris made after the mill was restored, showing how olive oil is produced. We won't give away too much detail, as the video is really interesting and you should see it yourselves!
This is a great museum to bring young kids, as they will love playing with the old equipment.
Check their website for more details.
Archaeological Museum, Chora
The Archaeological Museum of Andros is a small museum exhibiting several collections of items from the Geometric, Archaic, Roman, pre-Byzantine and Byzantine periods. Although it isn't the most exciting archaeological museum we've been to, there are a few sculptures and inscriptions worth seeing.
You can find information about admission and opening times here.
Goulandris Museum of Contemporary Art, Chora
This private museum was originally established by the Goulandris family, in order to host the works of an Andriot sculptor, Michael Tombros, who also created the Unknown Sailor's statue. The museum was later expanded, and today consists of two buildings.
While the Old Wing is home to artworks of prominent Greek artists, the New Wing hosts temporary exhibitions, presenting works of Greek and foreign painters.
You may be surprised to hear that works of artists like Picasso, Matisse, Miro and Kandinsky have been exhibited here.
Opening hours vary by season, so make sure you check their website for more information.
Maritime Museum of Andros, Chora
The Maritime Museum is located towards the edge of the town, close to the square with the Unknown Sailor's statue. It contains several maritime and nautical documents, such as diaries and contracts, as well as ship models, photos, lithographs etc.
At the time we were in Andros, the information we found online regarding their opening hours was conflicting. You could try passing by at 11.00-14.00 and 18.00-21.00 daily, excluding Wednesdays, or perhaps calling 22820-22264.
Kydonieos Foundation, Chora
Another private initiative, Kydonieos Foundation aims to promote exhibitions and cultural events in Andros. The Foundation provides several all-year-round workshops, and organizes rotating art exhibitions in summer. You can visit their FB page for more information.
Kairios Library, Chora
This library is home to a large collection documents, publications, manuscripts and several other Andros archives. Unless you can speak Greek this might not be very interesting, although apparently the interior of the building is pretty unique.
We were very unclear about the opening hours – they definitely didn't match what we found online and as such we didn't manage to visit.
Digital Museum of Andros, Chora
This is a museum projecting digital content about the history of Andros. It's probably the best museum in Chora Andros if you are visiting with family! For summer 2019, the museum is open 11.00-14.00 and 18.00-21.00 daily, excluding Wednesdays.
Archaeological Museum of Paleopolis
This small museum is located close to Batsi, on the way to Chora. It contains findings from the excavations of Paleopolis, which was the capital of the island in ancient times. We actually ran out of time to visit, but it would have been interesting. More information can be found here.

Monasteries in Andros
Like most of Greece, Andros has several monasteries. Some of them date from the Byzantine period, while others are newer. Even if you are not particularly interested in the Greek Orthodox religion, you could visit one or two and get an idea of life in a monastery.
The largest monastery in Andros, Zoodochos Pigi is an easy one to stop by, as it's located close to Batsi. Agios Nikolaos monastery, close to Apikia, is also very interesting, especially as it used to serve as a school during the time of the Ottoman Empire.
If you are feeling a little more adventurous, you can visit Panachrantou Monastery, up on the mountains. It is an old Byzantine monastery which has been partially renovated, and is home to an icon of the Virgin Mary and the relics of St. Panteleimon. The road is narrow and winding – but that's part of the fun of getting there!

Beaches in Andros
For many Greeks, some of the main attractions in Andros are its lovely beaches. Even if you spend a week in Andros, you could easily visit a few different beaches every day and still run out of time to explore all of them.
Many of the beaches in Andros are easily accessible by car. Others are a little more difficult to get to, as they require a drive on a dirt road, a hike or even a boat trip.
Batsi beach
If you are staying in Batsi, this is an easy option for a quick swim. You will find many umbrellas and loungers, but there are also more quiet areas where you can put your towel.
Kypri – Chrissi Ammos – Agios Petros beaches
These three sandy beaches are located between Batsi and Gavrio port. They are all fairly large, easily accessible, and offer several options in terms of umbrellas, loungers and tavernas.
These beaches are probably your best bet if you don't have a car, as you can easily get there by bus and you will always find a nice spot to stop at. They are also ideal for families.
Fellos and Kourtali beaches
These were two of our favourite beaches in Andros. They are two long, sandy beaches that are very close to each other. In our experience they can be fairly protected from the wind, and you can spend long hours here.
Bring your own shade, water and snacks, and enjoy. You can also stop at To Steki tou Andrea for a nice meal – the cheese selection and the lamb dishes were great.
Vlychada and Pyrgos beaches
If you like quiet beaches and are prepared for a 15-minute drive on a narrow dirt road, Vlychada might be your favourite beach in Andros. When we visited there were only a handful of people there, and it felt like we had the beach to ourselves.
The nearby Pyrgos is a lot smaller, but a little more protected from the wind. You can spend all day here if you like. On the way back, make sure you go to the taverna O Kossis, which we thought was the best restaurant in Andros – more on that below.
Grias to Pidima beach Andros
The most famous beach in Andros is "Grias To Pidima", roughly translated as "the Old Lady's Jump". You may have seen the photo of a tall, thin stone pillar coming out of the sea.
According to one story, the pillar is actually an old lady that jumped from the Faneromenis Castle, above the beach, to escape from the Ottomans. True enough – if you look closely from some angles at the stone, you may see that it resembles a woman.
While this beach is very picturesque, it gets quite busy, and is best avoided on days of strong Meltemi wind as it's not very protected. Try to get there early in the day, and bring your own water and a few snacks. You will have to walk down some stairs in order to get to the beach, but spening time here feels amazing!
Korthi and Vintsi beach
A long, surprisingly quiet sandy beach, Korthi beach is a great choice, and you can even get some natural shade. It's also a good alternative if Grias to Pidima beach is too windy or too busy. There is a smaller beach at the other side of Korthi town called Vintsi, where the locals prefer to swim.
Paraporti and Niborio beach Chora
If you are staying at Chora, the easiest beach to go to is Paraporti, known also as Paraportiani, just a short walk from the town. It's a fairly popular beach, even on windy days. Niborio, on the other side, is rather pebbly – our advice is to avoid it, especially on windy days.
Gialia and Piso Gialia beaches
These two bays are a short drive from Chora, and Piso Gialia is nicer. To get there, you will need to walk down a fair few stairs. There is a rather loud beach bar, though it shouldn't matter as there is a lot of free space on the beach where you can put your towel.
Apothikes beach
This small beach on the west of the island came highly recommended by several friends and locals. You can get there through a very steep dirt road. We set off to go there, but we saw the waves from above and didn't bother! That beach has a bar, but you can bring your own food and drinks if you prefer.
Zorkos, Vitali, Ateni and Achla beach
These sandy beaches to the north and northeast of Andros were among the ones we really wanted to see. However, there was little point in trying to go there, as they are very exposed to the strong north winds, and it would have been impossible to swim.
These beaches are accessible through long dirt roads, so if you want to rent a car in Andros consider getting a 4WD. It is also possible to hike there, or perhaps take a boat trip, depending on weather.

Hiking in Andros
Andros is a very enjoyable place to go hiking, although summer might be best avoided. The mountainous, green island has a very long network of hiking trails and paths, of which at least 150 kms have been cleared, maintained and signposted in recent years. Works were undertaken by the Cyclades Prefecture and also several groups of volunteers, such as Andros Routes.
The hiking trails of Andros received the "Leading Quality Trails – Best of Europe" Award in 2015. Additionally, the "Andros Walking Festival" was first organized in 2018, promoting hiking tourism on the island. There are several networks and companies offering hiking activities in Andros, or you can choose to go on your own – just make sure you have good shoes and preferably a local map.
Some of the most popular hiking paths and routes include the hike from Vourkoti to Achla beach, the hike to Pithara waterfalls, the trail to Panahrantou Monastery and the route around Menites.

Best time to go to Andros
If you want to spend some time on the beaches, the best time to go to Andros is in summer. At the same time, if you have been to Greece before, you will probably have heard of the Meltemia winds. These strong north winds appear seemingly out of nowhere in July and August, and often in September.
We visited Andros in late August, hoping that the Meltemia would have died off – but they hadn't. In our experience, staying on the beach wasn't always possible, especially on beaches looking to the north.
In retrospect, it might have been better to visit in mid-September, though the days are a little shorter then. You could also consider visiting Andros in spring or early summer, but note that the water temperature is not as warm as you might expect!
Summer is also best if you want to see the special exhibitions that are usually organized by some of the museums or hotels in Andros. There were plenty of special events when we were there, including the exhibitions in Chora's Museum of Contemporary Art and Kydonieos Foundation.
If you are primarily visiting Andros to go hiking, spring or autumn would be the best times to go. In fact, there is a walking festival organized in October, which sounds very interesting. Check out our full guide on when to visit Andros and Tinos in Greece for more information.
Where to stay in Andros
Most people prefer to stay in Chora, Batsi or Agios Petros area, between Batsi and Gavrio port. You can read more about accommodation and where to stay in Andros in this article.



Eating in Andros
While Andros is an island, pretty much every local we met advised us to avoid eating fish! We found that rather surprising, but decided to follow their advice and try some of the local meat dishes and cheeses instead.
Andros has several local cheeses, made from cow, goat and sheep milk. They were all delicious, and you can either get them at restaurants or at small local markets and supermarkets.
Our favourite was fresh volaki cheese, which is shaped in the form of little balls. Kopanisti, a spicy creamy cheese, and petroti, another fresh white cheese, were also very tasty.
In terms of local dishes, there are special omelets in Andros, called fourtalia or froutalia. They contain thinly sliced potatoes, sausages and maybe louza, pieces of pork which have been smoked and marinated in wine. Some people also add vegetables, or cheese.
There are also many meat dishes, where the meat is cooked in different sauces. A popular one, normally cooked over Easter, is a lamb dish with cheese, eggs and herbs, called "Lambriatis".
Our favourite taverna in Andros was a meat taverna called O Kossis. They are up on the mountain, so you will need your own transportation to get there, and it's absolutely worth the drive.
They specialize in grilled meat and have few other options, however if you are vegetarian you can always get a salad and some fries. There's also a farm with a small area they give pony rides, so if you are travelling with family your children will love it!
Andros also has many traditional desserts, such as spoon sweets and marzipan cakes called amigdalota. We somehow didn't try any of those when we were there. It's as good an excuse as any for wanting to return to Andros in Greece.
---
FAQ About Andros
Readers of Dave's Travel Pages who want to visit Andros often ask questions similar to:
Is Andros Island nice?
Andros combines picturesque scenery with cosmopolitan chic, and the gorgeous beaches of Andros are some of the most beautiful in the Cyclades islands of Greece.
Where is Andros island Greece?
Andros is the northernmost of the Cyclades islands in Greece. It is also the closest island in the Cyclades to Athens.
How do you get to Andros Island in Greece?
You can only reach Andros by ferry. From Athens, ferries depart from Rafina Port (not Piraeus) and the crossings take only two hours. You can also get to Andros from nearby Greek islands such as Tinos and Mykonos.
Is Andros a party island?
Andros could not be described as a party island when compared to other islands such as Ios and Mykonos. During the high season though, cafes and bars stay open late in the Chora.
What Andros Island is known for?
Andros is the second largest island in the Cyclades group, and is known for its natural beauty, lush vegetation and beautiful beaches. Chora, the main town, has a lovely mix of typically Cycladic architecture, Venetian design and neoclassical buildings.
Andros features a lot of things to see and do, and visitors tend to enjoy this island for being less affected by mass tourism than other islands. Have you visited Andros before? Did you enjoy Andros as much as we did? Leave a comment below!
---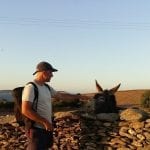 –
Dave Briggs
Dave is a
travel writer
who has been living in Greece since 2015. In addition to writing this travel guide about the Greek island of Andros, he's created literally hundreds of other blog posts to destinations all over Greece. Follow Dave on social media for travel inspiration from Greece and beyond: