Ferries to the Greek island of Kea depart daily from Lavrion Port near Athens. The journey time from Athens Lavrion Port to Kea is just one hour. Here's everything you need to know about booking ferry tickets to Kea and organizing your trip.
Kea island in Greece
The Greek island of Kea (also known as Tzia), is one of the Cyclades islands closest to Athens. In fact, it's just an hour away from Athens by ferry, making Kea a popular weekend break destination with Athenians.
Kea has a different feel than the other Cyclades islands, mainly due to the buildings. You won't see the distinctive whitewashed houses and blue-domed churches in Kea. The buildings have more natural earthy tones of colour with their architectural style feeling more elegant instead.
The island of Kea is also much greener in comparison to its drier companions in the Cyclades. There are forests, cultivated farmland and wildlife, giving it an extra dimension to the other often dry and dusty islands.
Although Kea does have some nice beaches, it is more than just a beach holiday destination. Ioulis or Ioulida, the Chora of Kea has a relaxing vibe, and there's plenty of culture to indulge in.
In short, it's not difficult to see why Athenians love visiting Kea for short breaks away from the city!
How to travel from Athens to Kea
There is no airport on Kea island, and so the only way to travel from Athens to Kea is by ferry.
All ferries for Kea currently leave from the third port of Athens known as Lavrion. You may find this port with different spelling on Google maps such as Laurium and Lavrio.
Lavrion is located in the south-east corner of Attica, and it is close to Cape Sounion and the Temple of Poseidon. If you have never visited the Temple of Poseidon, it's worth spending some time either on your way to or from the port if you can.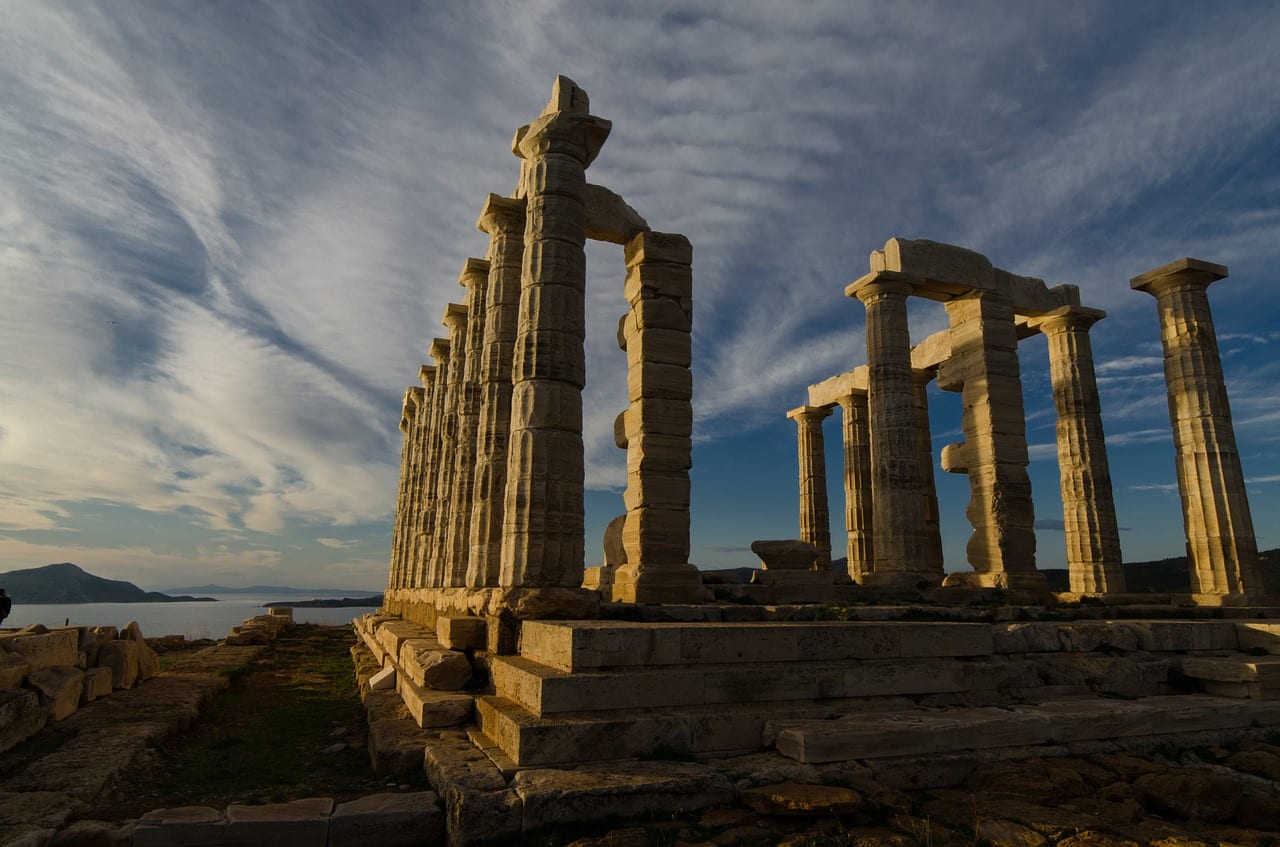 Getting to Lavrio Port
If you've got your own car, then set your GPS and go!
Without your own wheels, you'll have to rely on public transport options or take a taxi. A taxi would be easiest, but it won't come cheap.
As there's no Uber in Greece, try the taxiplon app instead. Alternatively, you could pre-book a ride using Welcome.
The remaining option is to use the buses to get from Athens to Lavrio. The trip takes about 1 hour and 45, minutes departing from Mavromateon street outside Pedion tou Areos park near the National Archaeological Museum.
Unfortunately, it doesn't take you all the way to Lavrion Port. Instead, you'll need to get a taxi for the last part of the journey.
Ferries to Kea from Athens
The ferry journey from Lavrion to Kea takes around one hour. There may be faster boats from time to time which reduce the crossing to 45 minutes.
Ferries to Kea carry cars as well as passengers. If you are planning to travel in the peak tourist month of August, it is best to pre-book your ferry tickets ahead of time. I recommend using Ferryhopper.
During the summer and high season, there can be 5 or 6 ferries per day sailing to Kea from Lavrion. These are all operated by a number of different ferry companies.
Some of the ferry operators providing services on the Athens Kea route include Goutos Lines, Blue Star Ferries, and SeaJets.
Typically, ferry ticket prices start at around 11.00 Euro for foot passengers. They may be cheaper in low season.
Arriving in Kea by ferry
The short ferry trip lasts around an hour and then you reach Kea. Your boat will dock at the main port at the small settlement of Korissia which is on the northwest coast of the island.
There is plenty of accommodation to choose from in Korissia, or you can choose to take a cab or bus on to the capital of the island Ioulida.
Kea Island Travel Tips
These insights might make planning your trip to Kea a little easier:
---
When it comes to booking Kea ferry tickets and checking out timetables for crossings, Ferryhopper is great.
---
Although direct ferries are rarely fully booked, it's best to get your tickets as far in advance as possible.
---
When Greek island hopping, always try to be at your departure ferry port an hour before your ship is due to sail.
---
Use Welcome to pre-book a taxi to and from Lavrio port near Athens.
---
Booking is a very easy way to find and book hotels in Kea online.
---
What to see in Kea Greece
Once you've arrived on the Greek island of Kea, you might want to include some of these ideas in your travel itinerary:
Spend time in Ioulida and visit the medieval castle and archaeological museum
Photo stop at the iconic Stone Lion of Kea!
Explore quaint villages like Vourkari, Korissia, and Otzias
Chill out on the popular beaches of Gialiskari, Koundouros, and Korissia
See the ancient archaeological site of Karthea
Onward Travel from Kea
If you want to carry on your Greek island hopping adventure then you will be happy to know that you can take onward ferries to other islands of the Cyclades.
You can easily reach nearby Kythnos and Serifos, but for some destinations such as Mykonos you might need to take a connecting ferry from Syros.
Check out all possible ferry schedules at Ferryhopper.
FAQ About Traveling To Kea
People planning to travel from Athens to Kea often ask questions like these:
How do I get from Athens to Kea?
The only way to get to Kea from Athens is by ferry. During the peak summer months, there can be up to five ferries per day leaving from Athens Lavrion Port and going to Kea.
Does Kea have an airport?
The Greek island of Kea does not have an airport, so you can not fly there. The closest airport to Kea is Athens International Airport.
Where does the Kea ferry from Athens leave from?
The ferry to Kea islands leaves from Lavrion Port in Athens. Lavrion is located on the south-east tip of the Attica peninsula near to Cape Sounion and the Temple of Poseidon.
How long does the Athens to Kea ferry take?
The ferry journey from the Athens port of Lavrion to the nearby island of Kea takes approximately one hour.
How do I buy ferry tickets for Kea?
The easiest way to book Kea ferry tickets online is by using Ferryhopper. You can also organize ferry tickets at a Greek travel agency when you arrive in the country, and you may even be able to buy tickets on the day you want to sail from the port itself – although don't try this in August!
---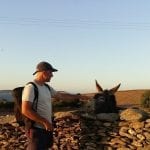 – Dave Briggs
Dave is a travel writer who's been living in Athens since 2014. He's created hundreds of Greek travel blogs about getting to smaller destinations in Greece such as this Athens to Kea guide, as well as bigger name destinations. He has a somewhat ambitious goal of visiting every Greek island (there's over 200!) and writing about them all to help other people plan their holidays to Greece.
Follow Dave on social media for travel inspiration from Greece and beyond: