You can get from Athens to Iraklia island using the ferry that leaves from Piraeus Port. In the summer, there can be 3 weekly ferries to Iraklia from Athens.
Iraklia island in Greece
I'll start by saying that Iraklia is one of my favourite islands in the Cyclades. I far prefer these smaller islands to the big touristy ones, as they are more laid back and have a time stood still feel to them.
If this sounds like your sort of thing, you'll love Iraklia! It's got less than 100 residents, there's not much to do apart from relaxing on the beach and swimming, and you can practically walk around the island in a day!
I'd suggest staying for 3 or 4 days on the island in order to really get a feel for it. It will take you a little while to get into a slower rhythm, especially if you are visiting some of the busier islands on the same trip! Information here on where to stay in Iraklia.
By the way, Iraklia is one of the first Greek islands that we created a small guide book for. It's available on Amazon in Kindle E-Book format here – Schinoussa and Iraklia Greek Islands Travel Guide.
One last note: You may find that Iraklia has different spellings as you do more research. Other ways it can be written include Irakleia and Herakleia. Welcome to Greece!
Athens Iraklia Ferry Route
Iraklia island has no airport of its own, and so the most popular way of traveling from Athens to Iraklia is by ferry.
If for some reason you did not want to get a ferry all the way from Athens to Iraklia, you could consider first flying from Athens to Naxos island. From Naxos, you would then take a much shorter ferry journey to Iraklia which is very close by.
Ferries from Athens to Iraklia
It's easier of course to take a direct ferry from Athens to Iraklia island. They don't run every day in the summer, so you'll have to be a little flexible with your departure times. Still, you should find there's 3 ferries a week from Athens to Iraklia.
Ferries to Iraklia leave from Piraeus Port in Athens. The best place to find up to date timetables and book ferry tickets to Iraklia is using Ferryhopper. You can also use a local travel agency after you've arrived in Athens to book your Iraklia ferry tickets.
Typically, it is the Blue Star ferry company operating this route using their vessel Blue Star Naxos. This is a large, comfortable ship, which may make stops at Paros and Naxos islands on the way to Iraklia.
The total journey time from Athens to Iraklia is between 5.5 and 6.5 hours depending on the stops it makes along the way.
Ticket prices for the Athens Iraklia ferry start at around 27.50 Euro.
Iraklia Travel Tips
Make your trip to the Greek island of Iraklia by making note of these key points.
Booking is a great platform for booking hotels in Iraklia online.
---
Ferryhopper is the best way to research ferry schedules and book Iraklia ferry tickets online. When taking a Greek ferry, try to be at the departure ferry port an hour before it's due to sail.
---
---
---
---
There's only one ATM in Iraklia. Consider taking extra cash just in case.
---
What to see in Iraklia
Some ideas of things to include in your Iraklia itinerary:
Explore the nature and hiking trails
Hike, drive, or take a boat to the beaches
Visit The Cave of Agios Ioannis in Iraklia
Unplug, relax and unwind!
I've a detailed travel blog here: Iraklia island travel guide.
FAQ About Traveling To Iraklia
These are some questions people ask about getting from Athens to Iraklia.
How do you get to Iraklia?
The best way to get to Iraklia is by ferry. As well as the Athens to Iraklia ferry route, there are also ferry connections with the surrounding Greek islands in the Cyclades.
Can I fly to Iraklia island in Greece?
You can not fly to Iraklia island as it has no airport. The closest airport to Iraklia is is located on the nearby island of Naxos, which has regular domestic flights to Athens during the summer.
How long does the Athens to Iraklia ferry take?
The ferry journey to Iraklia from Athens can take between 5.5 and 6.5 hours depending on weather and stops at other ports along the way.
How do I buy ferry tickets for Iraklia?
The most convenient way to look for ferry timetables and buy ferry tickets to Iraklia online is to use Ferryhopper. This is a well laid out platform, with up to date information on how to buy Iraklia ferry tickets from Athens.
Wrapping up: The only way to reach Iraklia from Athens is to use the ferry service. Blue Star Ferries provide direct ferries 3 times a week.
Have you ever made the Iraklia trip from Athens? What did you think of the Greek ferry companies and the vessels they used to get to Iraklia by ferry? Leave a comment below to help out other readers!
---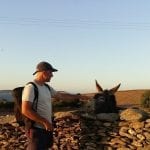 – Dave Briggs
Dave is a travel writer who has been living in Greece since 2014. He's created hundreds of insightful and useful travel guides about Greece, and loves researching the smaller destinations such as Iraklia. He has a somewhat ambitious goal of visiting every Greek island (there's over 200!) and writing about them all.
Follow Dave on social media for travel inspiration from Greece and beyond: