There is typically one direct ferry per day sailing from Athens to Kimolos during the summer months. The journey to Kimolos from Athens takes between 3.5 and 5.5 hours.
You can travel from Athens to Kimolos by ferry and the best time to travel to Kimolos is June, July, August, and September. This Greek ferry travel guide shows you how.
Kimolos island in Greece
Located just a kilometre away from Milos at its closest point, Kimolos is an often overlooked destination in the Cyclades islands of Greece.
It's avoided the tourist boom due to the main industries of the island being mining and farming. In fact, you could almost say that there is a general ambivalence towards tourism on Kimolos.
Perhaps this, more than anything, has helped Kimolos retain its authentic and genuine nature. The islanders are friendly and love to talk to new faces, the food is magnificent, and the pretentions of higher profile destinations such as Mykonos are nowhere to be seen.
It goes without saying that I loved this island from almost the moment I got off the ferry! If you're looking for a low-key Greek island where there is a real sense of community spirit coupled with fantastic landscapes, then I'm sure you'll love it as much as me!
How to get from Athens to Kimolos
The island of Kimolos does not have its own airport, and so therefore you can not fly directly from Athens International Airport to Kimolos.
One option however, is to fly from Athens to the neighboring island of Milos on a domestic flight. From Milos, you could then take the small local ferry leaving from Pollonia and sailing to Kimolos.
Read this guide for more details: How to get from Milos to Kimolos.
Ferries to Kimolos from Athens
The easiest way to get from Athens to Kimolos is to take a direct ferry.
During the summer high season, there is normally one ferry per day sailing from Piraeus Port in Athens to Kimolos island.
Ferry Companies and Ferry Schedules
In 2022, the ferry company Zante Ferries operates the Piraeus Kimolos route, making stops at other Greek islands along the way.
The journey time for the ferry trip takes around 5 and a half hours. The ferry schedules has the vessel sail around four times per week.
You should note that Zante ferries are pretty bad at putting up their ferry schedule – often it is only released a month or two in advance for the following month. This makes planning an island hopping route in advance not as straightforward as other routes!
Check the latest schedules and book ferry tickets at: Ferryscanner
Another ferry operator that may provide services on the Athens Kimolos ferry route is SeaJets. Their smaller, faster vessels cover the journey in around 3 and a half hours.
Generally speaking, the faster a ferry ride is, the more expensive it will be as well!
For up to date ferry schedules from Athens to Kimolos, check out Ferryhopper.
Kimolos Island Travel Tips
If you want to visit Kimolos in the Western Cyclades, your trip planning will go a little easier with these insights:
---
For up to date ferry schedules from Athens to Kimolos, and to book a ferry ticket easily online check out Ferryhopper.
---
Aim to be at ferry ports in Greece an hour before Greek ferries on the Kimolos trip are due to leave.
---
---
Pack a pair of comfortable shoes to walk in so you can explore some of the hiking trails in Kimolos.
---
---
What to see in Kimolos Greece
In a similar way to Milos, Kimolos has a unique landscape and great variety of geological wonders.
Some of the highlights of Kimolos you'll want to experience include:
Spend evenings in Chorio
Watch an outdoor movie in the Venetian Castle in Chorio (if one is playing!)
Relax on the beaches in Kimolos
Marvel at the photogenic Goupa Karra – Rema Fishing Villages
Take a boat tour around Kimolos
Use the hiking trails to get closer to the landscape
Read my full travel guide here: Things to do in Kimolos
FAQ About Traveling To Kimolos
People planning to travel between Athens and Kimolos ask similar questions such as:
How do you get to Kimolos from Athens?
The best way to get to Kimolos island from Athens is by ferry. Ferries to Kimolos from Athens leave from Piraeus Port. An alternative, would be to fly from Athens into Milos island, and then take a small local ferry from Milos to Kimolos.
Is there an airport on Kimolos?
There is no airport in Kimolos, and so the only way to reach the island is by sea. The closest airport to Kimolos is on the neighboring island of Milos, which has domestic connections with Athens.
Where does the Kimolos ferry leave from in Athens?
The direct ferry from Athens to Kimolos leaves from Athens Piraeus Port. During the summer months, there is normally one direct ferry per day from Athens Piraeus to Kimolos island.
How long does the Athens to Kimolos ferry take?
The quickest ferry to Kimolos from Piraeus takes 3 hours and 40 minutes. The slower, regular service takes 5 hours and 30 minutes. Note the faster ferries in Greece and normally more expensive.
How do I buy ferry tickets for Kimolos?
The easiest way to find and book Kimolos ferry tickets online is using Ferryhopper. Note that ferry schedules are often only published a few months in advance.
---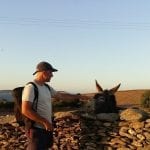 – Dave Briggs
Dave is a travel writer who's been living in Athens for the last eight years. He's visited many of the smaller destinations in Greece such as Kimolos island, and wrote this guide on how to get to Kimolos from Athens to help other travelers. He has a somewhat ambitious goal of visiting every Greek island (there's over 200!) and writing about them all.
Follow Dave on social media for more Greece travel ideas: