There are year round ferry services from Piraeus Port of Athens to Rhodes. During the summer, there is at least one ferry a day.
Athens to Rhodes Ferry
Let me give you fair warning – the ferry ride from Athens to the Greek island of Rhodes is one of the longest you can take! Even the quickest journeys are rarely shorter than 15 hours, and the longer off-season crossings can take over 24 hours!
This is because Rhodes is one of the Dodecanese islands, and also one of the furthest from mainland Greece.
The good news though, is that the ferry company that operates on this route (Blue Star Ferries) between Piraeus Port Athens and Rhodes has some excellent boats, so you're in for a comfortable ride.
For the latest ferry schedules and ticket prices, take a look at Ferryscanner.
Blue Star Ferries
Blue Star have many ferries they use on this route, and I've previously traveled on the Blue Star Patmos vessel from Athens to Rhodes.
This was a car ferry, as are the other Greek ferries they use on this route. So, if you want to get to Rhodes with your car, rest assured it's possible and easy to do!
Blue Star Ferries to Rhodes depart from the port of Piraeus at Gate E1. This is where all their ships to the Dodecanese islands leave from.
If you're driving to the port, use Google maps to get you there as the road signs are abysmal!
If you're traveling as a foot passenger, I recommend using a taxi to get you from your hotel to the correct gate. If you want to save money and use public transport, I highly recommend you aim to be at the port at least 2 hours before your scheduled departure.
Book your ferry tickets on the Athens Rhodes route at: Ferryscanner
Ferry Schedule and Ferry Tickets
During the low season there are less frequent crossings between Athens and Rhodes. There may just be two or three conventional ferries per week.
During the summer months, which is the peak season to go island hopping around the Greek islands, there are one and sometimes two ferries scheduled per day.
Keep in mind that during high season (August), and some seasonal holidays such as Greek Easter, ferries may sell out. Book in advance whenever possible.
Prices start from 65 Euros for passengers. Additional charges are applied for vehicles and for cabins.
Find prices and book online here: Ferryscanner
Ferry Trip Travel Tips
On longer trips like these, especially those which travel overnight, you might want to look into a bed cabin.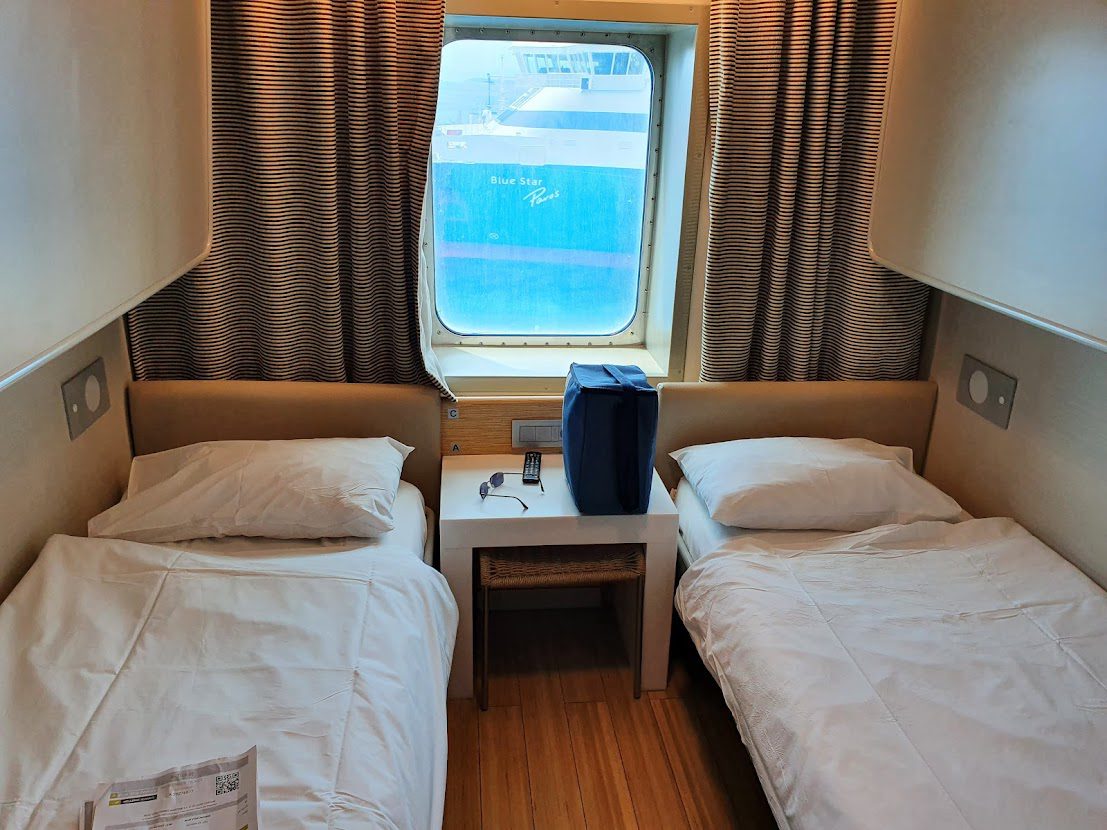 Yes, it will push up the cost of the ferry ticket from Athens Piraeus to Rhodes, but the good night's sleep you'll get is incomparable!
If there's two or more people traveling, it becomes more affordable, and beats trying to fall asleep in an armchair!
Another tip for your next trip is to take your own food on board. Like all ferry companies, Blue Star Ferries has various cafes and places to eat on the ferry, but the prices are slightly more expensive.
Planning your vacation itinerary for a Rhodes visit
If you're only staying on Rhodes for a few days, and your priority is sightseeing, you might find that Rhodes Town is the best place to stay.
If you're taking longer holidays in Rhodes, and beaches are a must, consider Faliraki and Lindos.
There are plenty of hotels all over the island to choose from. I use Booking to compare prices and find the most suitable accommodation.
Note that the distance between the extreme ends of Rhodes island means it can take over an hour to drive. You might want to want to rent a car in Rhodes to get around if you really want to explore the island.
Never hired a car in Greece before? Read these tips on renting a car in Greece.
An alternative to hiring a car, is to go on an organized day tour of Rhodes.
Some of the highlights of Rhodes include:
The Palace of the Grand Master
Old Rhodes Town
The Acropolis of Lindos
Butterfly Valley
Kalithea Springs
The Seven Springs
And of course many, many beaches!
Athens Rhodes Ferry FAQ
Readers planning to take the Athens to Rhodes ferry often ask questions similar to:
How do I get from Athens to Rhodes?
You can either fly from Athens International to Rhodes airport, or take a ferry. While the price of flights is more expensive than a ferry ticket, it takes only an hour as opposed to 15 hours on the ferry!
How long is the ferry from Athens to Rhodes?
The travel times from Athens to the island of Rhodes change depending on the time of year and the ferry type used. Expect a crossing to take anywhere from 15 to 18 hours.
Where do the ferries to Rhodes from Piraeus leave from?
All the Blue Star Ferries sailing to Rhode depart from Gate E1 in Piraeus Port.
Where do the ferries to Rhodes arrive?
The ferries to Rhodes arrive in the harbour of Rhodes. You can walk from the Port to the Old Town, but it is probably easier to get a taxi.
How do I book ferry tickets online for Greek ferries?
You can book your ferry tickets for the Athens Rhodes journey at Ferryscanner.
Ferries are a great way to explore the Greek islands, and Athens Rhodes is one of the most popular routes. You can book your tickets online at Ferryscanner, and make sure to arrive at the port at least 2 hours before your departure time. Keep in mind that during high season, ferries may sell out so it's best to book in advance!
---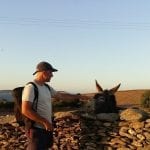 –
Dave Briggs
Dave is a
travel writer
from the UK but living in Athens Greece since 2015. As well as creating this guide to taking the Athens to Rhodes ferry, he's created hundreds more guides about other islands and destinations in Greece. Follow Dave on social media for travel inspiration from Greece and beyond: