If you want to rent a car in Greece during your vacation, there's a few inside tips you should know first. Here's some essential information on car rentals and driving in Greece.
Thinking about car rentals in Greece?
I've been living in Athens since 2015, and use this blog to share travel tips with independent travelers visiting Greece.
Over the last few years, I've had a lot of people write to me saying they want some more information on Greek car rentals. Well, I'm happy to oblige!
This guide covers not only the basics of how to rent a car in Greece, but also goes a little deeper into what it's like driving rental cars in Greece, things to look out for, and if you even need a car in the first place. I've also thrown in some ideas for road trips at the end!
So, whether you want to plan a 2 week Greek road trip to see more of the country, or are thinking of renting a car in Santorini for just a few days, I've got you covered.
Find car rentals in Greece at: Discover Cars
First though…
Do you need a car in Greece?
Greece is an amazing country to visit and explore and it's best done by car. The variety of landscapes and places to see is vast: mountains, beaches, islands, gorges, medieval castles and monasteries – the list goes on.
Having your own transportation will allow you to access more of this diversity, often from within your own driving time frame.
Another advantage of renting a vehicle during your Greek vacation, is that you have the flexibility to move at your own pace. You can stop when you want for a rest or a meal without having to wait for a bus, stay longer at a beach, and skip places entirely. Renting a car in Greece will also save you money compared with organized tours.
However there's a few things to keep in mind. Firstly, you don't need a car everywhere you go, and some Greek islands such as Hydra are traffic free in any case. You'll definitely not need a car if you plan on staying in Athens for a few days – more on this later!
Finally, most car rental companies do no let you take rental cars on the ferries in Greece. This means that if you are visiting more than one destination during your holiday in Greece, you may end up renting more than one car.
Car Rental Companies In Greece
As you can see from the photo above (taken in Rhodes 2022), car rentals in Greece can be very cheap when compared to renting cars in other European countries.
Keep in mind though, that the price of hiring a car for a day or longer will depend on the location, time of year and the type of vehicle. You certainly won't be picking up 20 Euro a day cars in Mykonos in August!
While the major international car rental companies such as Enterprise, Hertz, Sixt, Thrifty, and others are represented in Greece, on many islands you can only rent cars at small family owned businesses. In the past, it was a bit of a pain phoning around trying to get prices from numerous companies.
Now, I recommend using Discover Cars in order to get an idea of prices for car rentals in Greece. You can also book online to reserve your vehicle making the whole process easier and less time consuming.
Pros and cons of a rental car in Greece
Here's a quick look at popular destinations, itineraries and scenarios to see where renting a car in Greece might be most useful, and where it might not be needed at all.
Greek island hopping – You'll have to rent a car on each Greek island as the Greek car rental companies do not allow hire cars to be taken on the ferry for insurance purposes.
Athens – No need to rent a car. The historic center is walkable
Santorini – Car rental is useful for exploring the island for a day or two. Not needed at all in Fira and Oia.
Mykonos – Rental cars are great for getting to remote beaches or driving from resorts into the Old Town at night (park near the windmills).
Crete – Having your own car is really the only way to explore the largest island in Greece
Mainland Greece – Perfect for putting together a road trip itinerary to see the parts of Greece you really want to.

What do I need to hire a car in Greece?
Whether you want a car for a day, a week, or a month to travel around Greece, a car rental company will want the same basics from you. These are the fundamental car rental Greece rules:
You must be at least 21 years old. A young driver fee may apply to under 25s.
---
Must have held your license for at least 1 year.
---
From 5 November 2021, visitors with a valid driving license from the USA, Canada, Australia, UK and Gibraltar, do not need an International Driver's Licence to drive in Greece.
---
Visitors who have a valid license from a European Union country, as well as Switzerland, Norway, Lichtenstein and Iceland do not need an international driving license.
---
An international drivers license is required for non EU licenses and those not mentioned above.
---
You'll need to show a passport
---
You'll need a credit card
---
Note: Rental agencies may also have their own rules. Some may even be willing to offer car hire by saying that an International Driver's Permit is not needed, even if you did need one.
While that may be true, you will need it if you get into an accident in your Greek car rental and have to file any reports, and also if you are stopped for a road check by the police.
Find car rentals throughout Greece at: Discover Cars
Greece Car Rental Insurance
Every year, I hear stories of people involved in a collision who suddenly found out that their third party liability insurance didn't cover enough in a crash, or that because they didn't have a valid license (the IDP in most cases) their insurance was invalid.
It might be tempting to go for cheaper insurance and cut corners, but my recommendation is to just get full comprehensive insurance. You might find that you can pre-book this before you leave for your holiday in Greece.
Can you drive in Greece with an American license?
Renting a car in Greece is now possible with a US license – an international driver's license is no longer required!
If you visit the website of the US Embassy in Greece you will see the following sentence: "U.S. citizen tourists/temporary residents with stays less than six months with a valid United States driver's license can drive in Greece with their U.S. license."
American citizens who decide they want an IDP anyway, can get one through the AAA. More information on this site.
Special note for drivers from the USA
If you've never driven in Greece (or Europe) before, you should be aware of a few things.
The main one that trips people up, is that most cars in Greece are manual cars (I think you call it driving stick). If you've never driven one before, the busy streets of Athens or tight lanes of Santorini are probably not the place to start learning!
You can get some automatic cars, but you'll need to put in a special request for one as they are not common.
Special note for drivers from the UK
A few notes for my fellow Brits who are going to drive in Greece:
In Greece, your drive on the right hand side of the road!
Take your photo ID driving license. At this point you don't need an International Driving Permit (IDP), but they may change in the future.
Where to pick up Greek rental cars
All of the main cities in Greece have places you can hire a car from. In addition, the islands also have vehicle rental companies, where you also get the option of ATV rental. Typical collections points include airports, ferry ports, and main towns and cities.
It's important to note that in Greece, most of the time a rental car will need to be returned to where you picked it up from. One way car rentals on the mainland are a rarity.
Athens Airport
For anyone planning to land at Athens International Airport and go straight out on their epic road trip around Greece, they'll probably rent a car in Athens airport.
It's highly advisable to pre-arrange this before you arrive, especially during the high season (July and August). Popular rental car companies often find themselves fully booked during this period due to the demand.
If you do want to wing it, there are a number of Athens Airport rent a car desks after arrivals. I wouldn't expect great prices though – save money by pre-booking.
Tips for renting a car in Athens: Don't unless you really have to! Driving in Athens city center is challenging on all fronts, from badly signed and maintained roads to tight parking spaces. Only rent a car in Athens if you intend to take it straight out of the city.
Greek Islands
On the Greek islands, you can find car rental companies at the ferry ports, airports, and popular resort towns.
During the high season, most rental companies in big name destinations like Santorini and Mykonos may only have limited availability. The prices will also be higher than in off season.
Even in tiny Sikinos you can find vehicle rental as shown in this photograph!
Prices for Vehicle Rent Greece
Supply and demand really dictate the price of a rental car, along with the rental period, whether it's a one way rental, if it's a manual car etc.
I've seen prices start from as little as 20 Euro per day, and also heard in the peak season that some islands were charging nearly 70 Euro a day.
If you worked on the average being 50 Euro a day with whatever car rental insurance coverage is also required, it would be a reasonable budget.
Find cars for rent in Greece: Discover Cars
Do you need a car in Athens?
You might be tempted to collect a hire car from Athens International Airport when you arrive. If you are heading straight out to explore the Greek mainland this can be a good idea. If, however, you plan to spend a few days sightseeing in Athens I recommend against it.
You don't really need a car to get around Athens, as most of the important historic sites are all within walking distance of one another. Additionally, parking in the narrow streets can be a real issue – and that's before we even start talking about how crazy the roads and driving are in Athens!
Bottom line – You don't need a rental car in Athens, so only hire one as you set off to explore mainland Greece.
Rent a car in Athens Greece
Most people renting a car in Athens will do so at the airport. However, if you plan to stay in the city a few days, and then hire a car in order to start your road trip in Greece, you can find plenty of car rental locations near the historic center.
The biggest cluster of car rental companies in Athens can be found at Leof. Andrea Siggrou just a short walk from the Temple of the Olympian Zeus. You'll find local and the most popular car rental companies have depots in this area of Athens, such as Avance, Enterprise Rent A Car, Sizt, Avis, and a dozen others.
During the off season, and if you have time, you may be able to get some keen prices for car rentals in Athens in this area by playing off quotes from one place to another.
Related: Pros and cons of traveling by car
Can you take a rental car on a Greek ferry?
Most car rental companies do not allow you to take their cars on ferries. The reasons for this are that the insurance might not cover you for accidents, and also, they may not have agreements with repair garages to solve even minor problems on all the islands. Remember, there's 119 inhabited islands in Greece!
That said, I was recently informed by a reader that Europcar and perhaps Hertz will offer additional coverage for taking rental vehicles on ferries in Greece. He said he couldn't book this online, but could pay extra for it when picking the car up from the location. If you have also had experience in this let me know so I can update these guides!
Drive rent a car Greece – Tips
When it comes to driving in Greece, there's a few things you should know that will help you out. These tips cover day to day practicalities such as where to get fuel, tolls for roads, and parking.
Unlike in the UK, there will be an attendant at gas stations in Greece who will fill the car up with fuel for you. Just let them know how much you want. They'll also check the tire pressure if you ask.
If you are using the major highways you can expect frequent toll stations. On our recent trip from Athens to Nafplio, we used the toll road and it cost us 9.25 Euros driving a smaller car.
Roundabouts have stop signs on them. Also, sometimes traffic already 'in' the roundabout will give way to traffic about to enter. I find it all very strange coming from the UK, and have never quite got my head around it!
The use of the car horn can signal somebody saying hello to another person, that somebody in front of them at a traffic light didn't move quickly when the light turned green, or as a signal to let someone out at a junction. I'll leave you to work out what it means if you hear a long loud blast of the horn accompanied by the word 'Malaka'!!
It seems the most beautiful beaches on the Greek islands are always down a dirt track as opposed to a sealed road! Take it nice and steady as you drive.
When booking a hotel in Greece, ask about parking spaces
You should check out this very useful guide to driving in Greece for more insights!
Road trips in Greece
Once you've picked up your vehicle from the rental car company, it's time to hit the road! Exploring Greece by car is a fantastic experience, but where should your trip take you?
On the mainland, the Peloponnese is a popular destination for a road trip, and it's packed full of interesting archaeological sites, amazing beaches, and medieval castles. You can also drive north from Athens to Delphi and then on to Meteora. In fact, the number of ideas you can come up with is endless!
Take a look here for 10 road trip ideas for Greece.
Car Rental Greece FAQ
I've covered a lot of the things you need to know about hiring a car in Greece. These frequently asked questions about driving car rentals on the mainland and Greek islands should also help your research:
What documents do I need to rent a car in Greece?
In order to rent a car in Greece, you will need to present your driver's license, passport, and a credit card. Non EU issued drivers licenses will need to be accompanied by an International Drivers Permit. Currently, Brits do not need an IDP.
Can a US citizen rent a car in Greece?
Yes, US citizens can hire a car in Greece on their regular license, An international driving license is no longer required.
Can I rent a car in Greece with UK license?
UK citizens can hire a car in Greece as long as they have a photo ID license.
Is it difficult to drive in Greece?
Your experience of driving in Greece depends where you are. In Athens, the traffic is aggressive, chaotic, and unpredictable, with motorbikes zipping in between cars across different lanes. On the islands, the traffic is less chaotic but the road conditions may be worse. Pay attention as you drive!
Should I rent a car in Crete?
If you really want to get to know the island of Crete, you'll need a car. This way you can visit all this amazing island has to offer, from stunning beaches to mountains and ancient sites.
Next read: What to pack for international travel
Final thoughts on renting a car in Greece
Renting a car in Greece is a great way to explore the country, but be sure to do your research first. Athens is best explored on foot, so avoid renting a car there if you can. Stick to renting cars when you're exploring the mainland – just be aware of the tolls and roundabouts! As for driving in Greece, be prepared for things to be a bit different than what you're used to. The locals use the horn frequently, so don't be alarmed if you hear one blast while driving. And finally, when planning your road trip in Greece, make sure to check out this useful guide with 10 ideas for amazing trips!
Next read: Money in Greece
---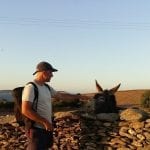 –
Dave Briggs
Dave is a
travel writer
based in Greece. In addition to writing this complete guide about what you need to know to rent a car in Greece, he's written many more guides to Greece and the islands. Follow Dave on social media for more Greece travel tips: