This guide to the best day trips and tours in Rhodes will help you experience more during your vacation.
Rhodes Tours and Day Trips
If you're planning a holiday to the beautiful island of Rhodes in Greece, you'll want to make sure you experience all the island has to offer. From stunning beaches and ancient ruins, to medieval towns and lively nightlife, there's plenty to keep you busy.
One of the best ways to see everything Rhodes has to offer is by taking a tour or going on a day trip. That way, you can sit back, relax, and let someone else do the driving. You'll also be able to take part in activities such as kayaking which need specialized equipment.
In this guide, we'll share some of the best Rhodes tours and day trips so you can make the most of your time on the largest of the Dodecanese islands.
---
Symi Day Trip
One of the most popular day trips to take from Rhodes is to Symi island. Symi is a small, but charming island that's known for its Venetian architecture and beautiful beaches. It's one of the Dodecanese islands like Rhodes, but is very different in nature.
---
Rhodes Boat Trip Ideas
There's no better way to experience the Greek islands than on a boat tour, and Rhodes is no exception! There are plenty of boat tour options to choose from, ranging from day trips to multi-day excursions.
---
Outdoor Adventure Tours
Some of the most memorable day trips in Rhodes are the ones that take you off the beaten path and into nature. There are plenty of outdoor adventure tours to choose from, including hiking, biking, and even canyoning. We particularly loved kayaking in Rhodes!
---
Rhodes Food Tours and Cooking Classes
If you're a foodie, you'll love taking a food tour or cooking class in Rhodes. You'll get to taste traditional Greek dishes, learn about the island's culinary history, and even try your hand at making some of the food yourself.
---
Rhodes Bus Tours – Hop On Hop Off
One way to see Rhodes at your own pace is by taking a hop on hop off bus tour. These tours allow you to get on and off the bus as many times as you like, so you can explore different parts of the island at your leisure.
---
Rhodes Town to Lindos Tours
If you're staying in Rhodes Town, you'll definitely want to take a day trip to the nearby town of Lindos. Lindos is home to some of the most beautiful beaches on the island, as well as the stunning Acropolis of Lindos. Take your choice between a bus tour or high speed boat!
---
Rhodes Old Town Tours
One of the best ways to get orientated in Rhodes is by taking a walking tour of the Old Town. You'll get to visit highlights such as the streets of the medieval Old Town, the Palace of the Grand Master, the castles walls and more.
---
Cruise Shore Excursions
For people visiting Rhodes for just a day or two as part of a cruise, there are plenty of great shore excursions to take. These typically include visits to popular sights on the island, such as the Acropolis of Lindos, the Old Town of Rhodes, and the Valley of the Butterflies.
---
Lindos to Rhodes Town Day Trips
Of course, if you're staying in Lindos, you can also take a day trip to Rhodes Town. Rhodes Town is the largest city on the island and is home to many of Rhodes' best sights, including the Old Town, the Palace of the Grand Master, and more. Check out these great Rhodes tour suggestions from Lindos to Rhodes Town:
FAQ About Rhodes in Greece
Readers who want to spend time exploring the island of Rhodes will find these frequently asked questions and answers helpful:
How many days are enough for Rhodes?
There is no definitive answer, as everyone's travel style and preferences are different. However, we would recommend at least a week in order to see the majority of what Rhodes has to offer. Of course, if you want to spend more time relaxing on the beaches or exploring more of the island's outdoor adventures, you could easily spend longer on Rhodes..
Is Rhodes safe for tourists?
Yes, Rhodes is a very safe destination for tourists. violent crime is extremely rare, and petty crime such as pickpocketing is also uncommon. However, as with any vacation destination, it's always important to be aware of your surroundings and take precautions with your belongings.
Can you do a day trip from Rhodes to Turkey?
Yes, you can take a Rhodes to Marmaris day trip, which takes about 9 hours.
Is Rhodes worth visiting?
Yes, Rhodes is definitely worth visiting! There are plenty of great things to see and do on the island, from exploring the medieval Old Town to relaxing on beaches in beautiful bays.
Is there a lot to do in Rhodes?
Yes, Rhodes is a great destination for tourists looking for things to do. There are plenty of historical sights to explore in the Old Town, as well as beautiful beaches and nature trails to check out. Additionally, there are a wide variety of boat tours and other outdoor activities available on the island.
You might also want to read:
---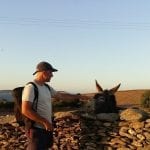 – Dave Briggs
Dave is a travel writer who's been living in Greece since 2015. He's spent many months island hopping in Greece researching blog posts such as this guide to the best Rhodes day trips and excursions. His goal is to visit every inhabited Greek island over the next few years!
Follow Dave on social media for travel inspiration from Greece and beyond: