A Santorini wine tour is the perfect experience to complete a stay on the Greek island of Santorini in style. Here's the best Santorini wine tasting tours.
Wine Tasting in Santorini
Santorini is famous around the world for a few things: the volcano, the stunning sunsets with a view to the caldera, and the blue-domed white-washed houses.
There is one more thing in Santorini that you won't always see in your friends' photos but is really worth exploring, and that is Santorini wine.
The island has a number of wine producers, and you'll often find local wine on the menu at restaurants. You can even visit the Koutsoyannopoulos wine museum if you have time.
The best way to really get an appreciation for the Greek wine in Santorini though, is to take a small group wine tour.
Choosing a Santorini wine tour
There are several wine tours in Santorini, all of which include visiting a few wineries and vineyards where the wine-making process is explained.
Some of these tours offer a full meal, some include platters of cheese and other delicacies, while it is also possible to combine your Santorini wine tour with a cooking class or some sightseeing.
It's hard to go wrong whatever you decide, so choose one of the tours that most suits your mood.
The Best Wine Tours in Santorini
Here's a selection of the best wine tasting tours in Santorini, Greece. Enjoy your Santorini vacation in style!

Here's some more information on Santorini's wines and where they are made.
Santorini Wines
Like most of Greece, Santorini has some pretty distinctive grape varieties.
The mild Greek climate, combined with Santorini's unique soil, has allowed for a few unique grape varieties to grow. Evidence shows that wine has been produced in Santorini for at least 3,500 years!
Santorini Wineries
There are several wineries in Santorini that are open to the public. The most well known of these are Venetsanos Winery, Domaine Sigalas, Santo Wines, and Boutari.
While you can skip them and just taste the various wines on your own, you could also take a Santorini winery tour if you want to know more about wine-making in Santorini.
Wines of Santorini
The best known wine varieties in Santorini are Assyrtiko, Athiri and Aidani (whites) and Mandilaria, Mavrotragano and Voudomato (reds). They are high in alcohol content and intense in flavor.
While in Santorini, you will also come across a wine called Nichteri, a vintage wine made from Assyrtiko grapes. It took its name after the Greek word nichta (=night), as this type of wine was traditionally produced after dark.
Last, but not least, there is the sweet, world-famous Vinsanto (Vino di Santorini), made from all three types of white grapes, after they have been dried in the sun.
It takes about 10 kg of grapes to produce one litre of Vinsanto, and the wine needs a few months to ferment. This would be an ideal gift for a special occasion.
FAQ About Santorini Wine Tours
Readers planning a trip to Santorini for wine tastings and tourism often ask questions such as:
Is Santorini wine good?
Santorini wine is wonderful and unique owing to the dry and unusual climate. They taste even better with a caldera view!
How many wineries are in Santorini?
There are over 18 wineries in Santorini, which is quite surprising given the tiny size of this famous island in Greece.
How long does a wine tour take?
You can expect most wine tours in Santorini to last around 4 hours. Some may be longer if they include additional activities or add-ons such as a sunset meal.
What islands are near to Santorini?
If you're planning to visit another Greek island right after Santorini, there are a few nearby to consider. Some of the most popular are Mykonos, Milos, Folegandros, Paros, and Naxos.
And that's it! The best Santorini wine tours, for those of you that love wine. If you take any of them, please leave a comment below to let everyone know if they were good!
Please Pin For Later
If you're collecting ideas for your upcoming Santorini vacation, this guide to the best wine tours would make a great addition to your Pinterest board. Just use the image below!
Further Reading
You might also be interested in these other Santorini travel guides.
---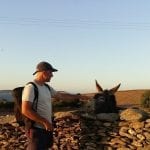 –
Dave Briggs
Dave is a
travel writer
from the UK now living in and writing about Greece. As well as creating this blog post on visiting Santorini wineries, he's written many more articles about destinations in Greece. Follow Dave on social media for travel inspiration from Greece and beyond: