Everyone who travels to Santorini wants to see the magnificent Santorini sunset. Which hotel could you stay in that would give you the best view though? Here's a look at the best Santorini sunset hotels to choose from.
If you are planning a trip to Santorini, Greece and want the best view of the sunset from your hotel, you'll enjoy our favorite picks for Santorini sunset hotels! I think the best sunset hotels in Santorini can be found in Imerovigli.
The Famous Santorini Sunset
If there is one absolute 'must do' when visiting Santorini, it's seeing the sunset. There's something magical about watching the sun disappear and the sky change colors on this beautiful Greek island.
The spectacular sunsets over the volcanic island of Santorini, combined with the amazing views, certainly make it an experience to be remembered, but there is one drawback.
While Oia Castle is the most popular sunset spot in Santorini, it can be elbow to elbow standing room only with thousands of other tourists there to see the same thing. This means it might not be as relaxed and romantic as you were hoping!
If crowds aren't your thing there is an alternative though – stay in a hotel with a sunset view.
Many boutique and luxury hotels in Santorini have amazing caldera views and sunset spots. Pick a hotel with a private pool or private hot tub for the ultimate relaxed Santorini sunset experience. Who wouldn't want to enjoy the incredible panoramic views of Santorini from a pool on your own private terrace?
Here we'll take a look at some of the best hotels that offer views from Oia, Fira and other places in Santorini, where you can watch these spectacular sunsets every night!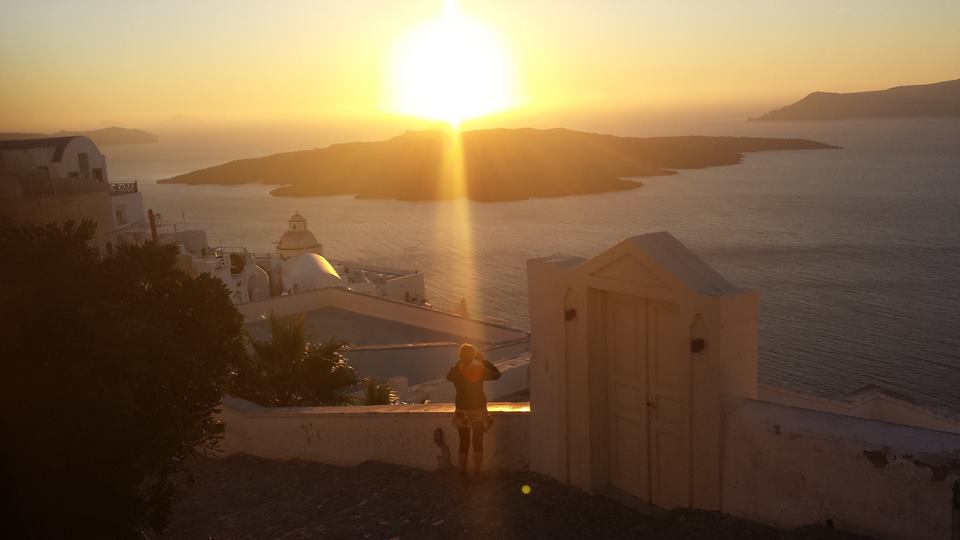 Where To Stay in Santorini for Sunset
When looking for the best place to stay in Santorini for sunset, there are four main towns to consider. These are Fira, Imerovigli, Firostafani, and Oia, all of which are on the west coast of Santorini, which is where you need to be to see the sunset.
Each one of these towns has hotels with Santorini sunset views, with some being in better locations than others.
I've a guide here on Where to stay in Santorini that goes into more detail about each area and which one might be best based not just on the sunset, but also as a place from which to explore Santorini.
Best Place To Stay In Santorini For Sunset
The rest of this guide focuses on Santorini sunset view hotels. Accommodation types range from boutique hotels to larger luxury hotels. You should note that hotels located on the west coast of Santorini with a view of the sunset come at a premium – It's unlikely you'll find cheap hotels here!
I've listed the best hotels in Santorini with sunset views below, including where to check out reviews online.
Directly under here, you'll also see an interactive map of hotels in Santorini where you look at pricing and other details. You'll want to be looking at hotels on the left hand side (west side) of the island in order to get the best view of Santorini's sunset
It's important you do your due diligence before booking any hotel, and checking out the reviews with particular reference to the sunset is a part of this.
Hotels with sunset views in Oia, Santorini
The most popular viewing spot to see the Santorini sunset is at the top of Oia, but the drawback is that hundreds of other tourists have the same idea!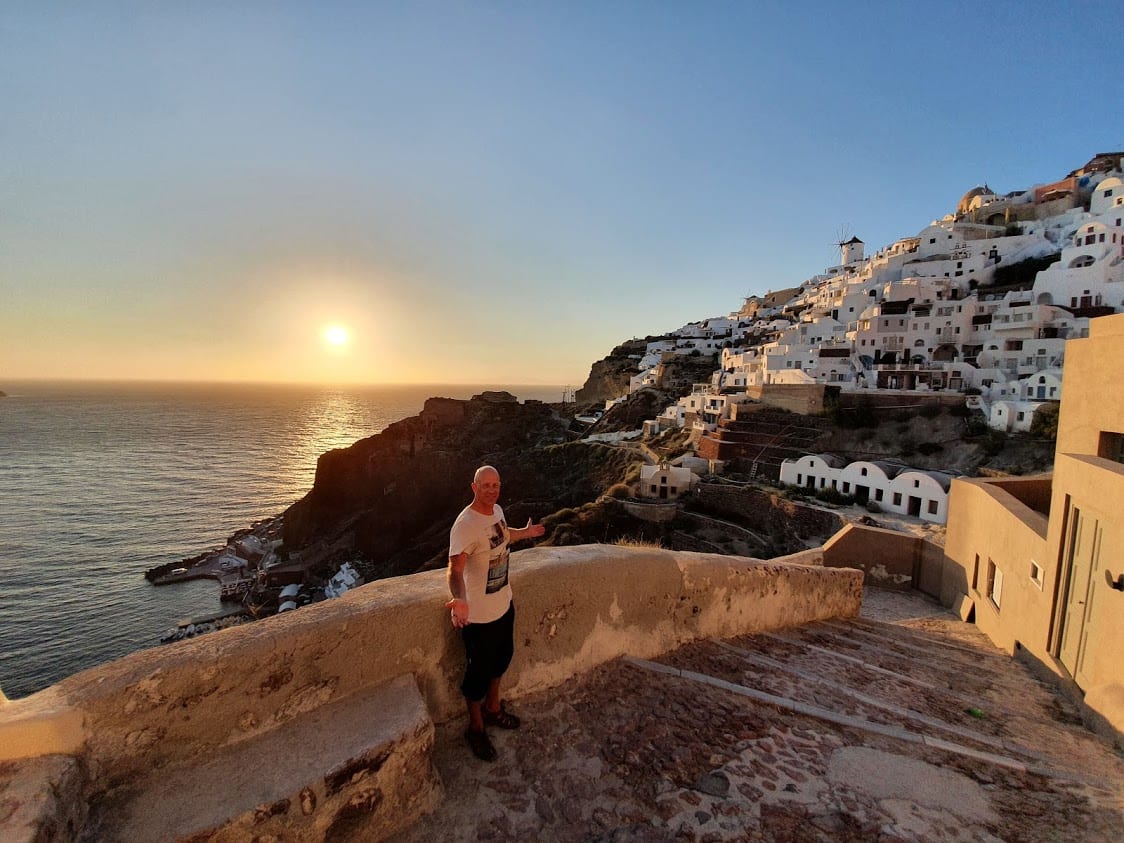 Finding a quiet and relaxed spot can be something of a challenge for first time visitors, which is why some people choose to stay in Santorini sunset hotels.
As Oia is the town that everyone heads to in order to see the spectacular sunset, you might think that every hotel offers a sunset view. This is not the case though, as the sun sets over the town which blocks out the view of the sea.
This is why people flock to the tip of Oia, hence the hordes of tourists! A few hotels do offer a true Santorini sunset view, but generally speaking do not have a caldera view.
Best Oia Hotels with Sunset View
• Canaves Oia Suites – Perfect location. 95% of people rate their stay as excellent! See reviews by clicking here.
• Marizan Caves & Villas Another highly rated hotel, with a 93% rating of excellent. See reviews by clicking here.
• Golden Sunset Villas – – You should check out the Windmill Suite! See reviews by clicking here.
Also read: How to get from Santorini ferry port to Oia
Hotels with sunset views in Fira and Firostefani, Santorini
Direct sunset views are not entirely possible from here, but you do get to experience a nice sunset all the same.
Best Fira & Firostefani Hotels with Sunset Views
Hotels with sunset views in Imerovigli, Santorini
Although it might not have the high profile of the two main towns on Santorini, Imervovigli does in fact have some of the best sunset spots. This means that when it comes to looking for a Santorini sunset hotel, Imerovigli makes a very good choice.
Best Imerovigli Hotels with Sunset View
• Grace Santorini – Champagne breakfast, plunge pool, and great sunset views? Yes please! See reviews by clicking here.
• Absolute Bliss – Breathtaking location and a honeymoon suite. See reviews by clicking here.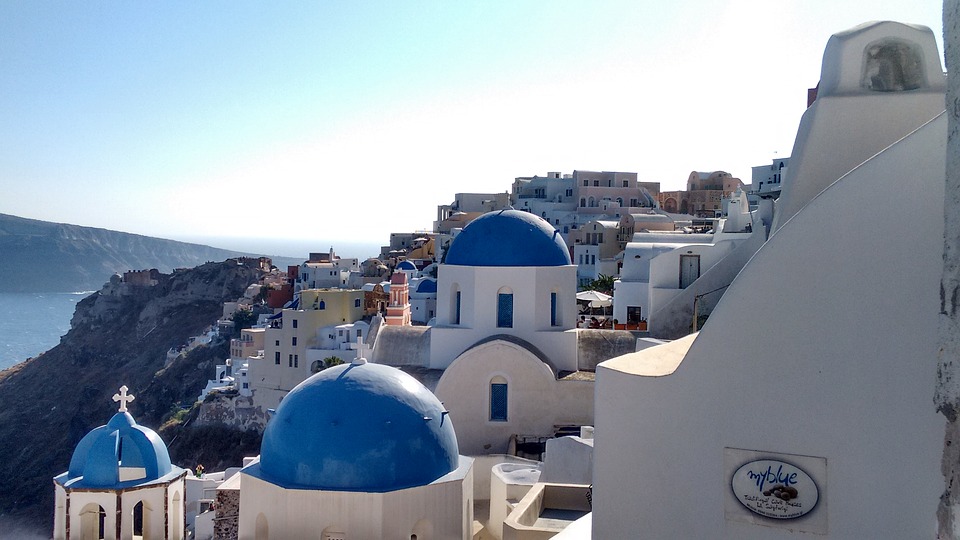 FAQ About Santorini hotels with sunset view
Readers planning to stay a few nights on the Cyclades island of Santorini often ask questions similar to these when looking for a Santorini hotel and hotels in Greece:
Where is the best place to watch the sunset in Santorini?
The Old Castle at Oia is by far the most popular place to watch the sunset in Santorini, but it can get very crowded in peak season. Some people choose to stay in a hotel in Santorini that offers sunset views so they can enjoy the end of the day in a more relaxed and romantic setting.
Which side of Santorini does the sunset?
The northern village of Oia is a good place to watch the sunset, but along the west coast of the island you can find places which have equally good, and less crowded views of the sunset. I personally like Imerovigili.
Which is the best part of Santorini to stay?
The villages of Fira and Oia on the west side of the island are popular places to stay for people visiting Santorini for just a couple of days. More budget conscious travelers, and people with more time on their hands might want to consider staying in Perissa.
Is it better to stay in Fira or Oia in Santorini?
Overall, Fira is the better place to stay as it has more places to eat and better nightlife. Oia may be super-busy for the sunset, but then goes very quiet once it is all over.
More information on visiting Santorini
There's plenty to see and do on Santorini apart from the sunset of course! I've got a great guide here which acts as an introduction on what to see and do in Santorini.
There's another one here on Red Beach Santorini. For more free travel guides on Santorini island and Greece, sign up for my newsletter where I share the best of the best from the blog with you!
---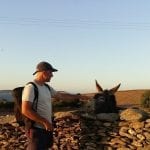 –
Dave Briggs
Dave is a
travel writer
from the UK who lives in and writes about Greece As well as creating this guide to the best side of Santorini to stay for sunset views, he's written many more guides to Greece and the islands. Follow Dave on social media for travel inspiration from Greece and beyond: