Santorini is one of the Greek islands located in the Cyclades in the Aegean Sea. Some people think Santorini is in Italy, but no, Santorini is in Greece!
Where is Santorini located?
The Greek island of Santorini is located in the Aegean Sea, approximately 230 km southeast of Athens on mainland Greece, 150 km south of Mykonos island, and 140 km north of Crete.
Below, you can see the location of Santorini Greece on a map. You can also see Santorini on Google maps here.
If for some reason you wanted the GPS coordinates, you will find that these GPS coordinates for Santorini are pretty slap bang in the middle of the island: 36.3932° N, 25.4615° E.
One of the main reasons people want to know where Santorini is, is so they can work out how to get there!
You can reach Santorini by air from Athens on the Greek mainland (about 45 minutes), and from a number of European cities in the summer season.
During the off-season, Santorini airport only has connections with Athens.
You can also get to Santorini by ferry from Piraeus Port in Athens, as well as many of the Cyclades islands and Crete. The only way to get from Santorini to other Greek islands such as Mykonos is to take a ferry.
You can find ferry connections and buy tickets for Greek ferries at: Ferryscanner
---
---
Where is Santorini – Greece or Italy?
Despite its vaguely Italian sounding name, Santorini is in fact one of the Greek islands. Santorini is perhaps the most well-known of the Cyclades chain of islands located in the Aegean Sea.
World-famous for its stunning views, sunsets and beautiful towns, the whitewashed buildings and blue domed churches are a stand out feature of Santorini island. These colours are also present in the Greek flag.
So, if you were ever wondering where is Santorini and is it in Greece, the answer is a firm yes, Santorini is in Greece!
---
Why does Santorini sound Italian?
The Greek island of Santorini has the origins of its name in the thirteenth century. It is a reference to Saint Irene, the name of the old cathedral in the village of Perissa founded by the Crusaders often described as Franks, but probably Venetians.
This is why the name Santorini sounds Italian, and why some people think Santorini might be an Italian island.
By the way, although most of the world knows the island as Santorini, it is often referred to by Greeks as Thira/ Thera!
---
How big is Santorini Island?
The island of Santorini Greece is 76.19 km². The maximum length of Santorini is 18 km, and and it's maximum width is 5 kms.
The highest point of the island of Santorini is Mount Profitis Ilias at 567 metres (1860.2 feet) above sea level. You can also find the monastery of Profitis Ilias (Prophet Elijah) here.
There are 15 towns and villages on Santorini, with the most famous being Oia and Fira.
There is a nice trail you can follow if you'd like to walk from Fira to Oia which takes 3-4 hours. Many people who visit Santorini consider the Fira to Oia hike a highlight of their trip.
How many people live in Santorini Greece?
The Santorini population is 15,550 according to the 2011 census. This local population increases during the summer months when the tourist season gets into full swing.
Exact figures are always hard to find, but in 2018 it was estimated over 2,000,000 people visited the tiny island of Santorini!
What is Santorini best known for?
Santorini is perhaps the most instantly recognizable Greek island thanks to its whitewashed buildings, blue domed churches, narrow streets, caldera views, and its amazing sunsets.
Can you get to Santorini from Italy?
During the summer months, there will be some direct flights to Santorini from Italian cities such as Rome, Venice or Milan. There are no direct ferries from Italy to Santorini, although some cruise ships may include both Santorini and Italian destinations on their travel itinerary.
How far is Santorini from Italy?
The total driving distance from Santorini to Rome in Italy is 994 miles or 1 600 kilometers, and involves at least two ferry crossings. It would take an estimated 28 hours to drive from Italy to Santorini or vice versa.
Greek Islands Near Santorini
Of all the Cycladic islands, Santorini island in the Southern Aegean Sea is found most to the south. While you can pretty much get to all the Cyclades islands from Santorini, some are closer than others.
The nearest islands to Santorini are Anafi, Ios, Sikinos, Folegandros and of course Thirassia.
What currency do they use in Santorini?
The currency in Santorini is the Euro, which is also the official currency of Greece along with many other European Union member states. There are eight coin denominations and six different notes in the euro system.
About Santorini Island Greece
If you're thinking of planning a vacation in Santorini, you may find these travel guides useful:
Please feel free to share this travel blog on Santorini. You'll find sharing buttons in the bottom right hand corner of the screen.
Santorini FAQ
Some of the most commonly asked questions about where is Santorini and what is it like include:
Is Santorini part of Greece or Italy?
Santorini is part of Greece, not Italy. This picturesque Greek island is situated in the southern Aegean Sea, in the Cyclades group of islands. You can reach Santorini by plane and ferry, and it is also a popular cruise shop destination.
Is Santorini very expensive?
Santorini is considered a premier destination in Greece, and can indeed be relatively pricey, particularly during peak tourist seasons when demand is high. The cost of your trip depends on your choices, with a range of accommodations and dining options available, from budget-friendly to luxurious experiences.
What part of the country is Santorini?
Santorini is positioned within the Cyclades island group of Greece, located in the southern region of the Aegean Sea. Its unique volcanic landscape, charming villages, and ancient history make it a captivating destination in this Greek archipelago.
Where is Santorini Greek island?
The Greek island of Santorini is located in the Cyclades group of islands in the Aegean Sea, about 230 kms from Athens, 150 kms south from Mykonos, and about 140kms north of Crete.
---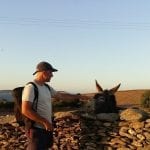 –
Dave Briggs
Dave is a
travel writer
living in Greece and originally from the UK. He started this travel blog in 2005, and over the years it has developed into an invaluable source of travel information about Santorini, Greece and the Greek islands. He has a somewhat ambitious (perhaps impossible) goal of visiting every Greek island and writing about it.
Follow Dave on social media for travel inspiration from Greece and beyond: