Start planning the perfect 10 days in Greece with these itinerary suggestions and destination ideas. Discover Athens, Santorini, Mykonos, Crete and more!
If you're looking for the ultimate Greece itinerary for around 10 days, this guide is for you! I've put together 10 awesome Greece trip itineraries that will take you to some of the country's most popular destinations such as Athens, Santorini, Mykonos, Milos, and Meteora.
Also included are some vital travel tips and considerations you might want to keep in mind when plotting out where to go and what to see in Greece.
I've listed these Greece vacation ideas below, and you can either jump through to the one that appeals to you most, or browse through them all.
Greece 10 Day Itinerary List
Planning spend 10 days in Greece?
So, you've decided that you want to plan your own vacation in Greece, but you've run into a problem.
Where exactly should you go?
Each new Greek island you find out about seems better than the last, and the number of archaeological sites is simply overwhelming.
You know it's impossible to squeeze everything into a 10 day itinerary for Greece, but at the same time, you want to make the best use of your time.
Help!
Fortunately, that's where I come in.
I've been living in and travelling around Greece for five years now, and have created some useful Greece 10 day itinerary plans to get you started.
Greece in 10 days
I've based these Greece itineraries around a 10 day stay in the country. Of course, you may have more or less time depending on your situation.
The idea, is that these Greece itineraries for 10 days will give you a base to start from. You can either build on them if you have more time, or takeaway time if you have less.
There should be pretty much a Greece travel itinerary for everyone here. Whether you want to spend your time Greek island hopping, checking out UNESCO sites, or taking a family vacation in Greece on the beach, I've got you covered!
First though, some practical advice.
Travel Tips for your Holidays in Greece
Chances are that if you're reading this, you're more keen on planning a vacation to Greece yourself than by relying on a travel agent. With that in mind, you will find the following websites enormously helpful with your Greek vacation planning.
You should probably bookmark them right away, as you'll be using these sites a lot during your Greece travel planning.
Getting around Greece
To a certain degree, your choice of how to get around Greece might determine the places you will end up visiting.
You can reach all the Greek islands from the mainland by either taking a ferry or flying. For the most part though, you can only travel between the Greek islands themselves by ferry. If you are not keen on travelling by boat, you might need to give some islands a miss, as few of them have an airport.
When on the islands or the Greek mainland, you'll need to consider how to best travel around. If you are happy to drive a rental car, you will have freedom to stop by more places as you travel in Greece than you would if you were relying on public transportation or on tours.
Keep in mind travel times between destinations when mapping out your Greece vacation itinerary.
What are you interested in?
Where to go in Greece will also depend on your interests. Most places in Greece combine beautiful landscapes, great beaches, nice hikes and interesting historical sites.
Still, if you are mostly interested in just one of the above, it would be a good idea to focus on this aspect and plan the rest of your trip around it.
This can also define the time of year you visit Greece. As an example, if you are not really interested in beaches, there is no reason why you should visit Greece in summer.
Visit in spring or autumn instead – the weather will be more pleasant, there will be fewer crowds and prices will generally be lower in the off season months.
Where to go in Greece
With all the above in mind, there isn't a one-size-fits-all 10 day itinerary in Greece. That's why I came up with 10 differently themed Greece travel itineraries.
1. The Classic Athens – Santorini – Mykonos Greece Itinerary in 10 days
For many people, the Athens – Santorini – Mykonos combination is the Greek vacation they have always dreamed of. They are the most high profile destinations in Greece, and fit in well with a 10 day vacation.
This combination is also good for people not keen on hiring a car and driving themselves. All three destinations are easily explored on foot, by public transport, or by day trip.
Keep in mind that high profile also means busy, particularly during the high season month of August. Travelling at this time may be more expensive as a result.
Day 1 – Arrive in Athens, and I suggest to leave directly for Mykonos. Flights are available from Athens International Airport, or you can transfer to Piraeus or Rafina ferry port.
Day 2 – Full day in Mykonos. Beach day! After all, it's your vacation. If you are staying in Chora (Mykonos Town), Super Paradise Beach on a day trip is a really good choice.
Day 3 – Full day in Mykonos. Time for some sightseeing. Places you can visit and take more than a few photos include Mykonos Old Town, the famous windmills, and Little Venice for a memorable sunset. Enjoy some of the legendary Mykonos night life.
Day 4 – Full day in Mykonos. Day trip to Delos. This archaeological site is UNESCO World Heritage site, and was said to be the birthplace of the Greek God Apollo. You'll still have time for a few hours on the beach after if you take an early tour. Check the ferry schedule. Either get a late evening or early morning ferry to Santorini Island.
Day 5 – Full day in Santorini. Santorini wineries tour, day on the beach, sunset at Oia.
Day 6 – Full day in Santorini. Boat trip around Santorini to the volcanic island and hot springs.
Day 7 – Full day in Santorini. Visit Red Beach, Perissa Beach if you want a swim, Akrotiri, and enjoy the hike from Fira to Oia with lots of opportunity to take photos of the blue-domed churches. Travel to Athens late evening or early morning by flight or ferry.
Day 8 – Full day in Athens. On the first full day in Athens, you can include a visit to the must-see Acropolis and Parthenon, marvel at the Temple of Zeus, check out the Panathenaic Stadium, see the Changing of the Guards opposite Syntagma Square, check out the central market, and go in search of street art for a taste of modern Athens.
Day 9 – Full day in Athens. On the second full day in Athens, visit the Ancient Agora, check out Monastiraki Square, and take a trip to Cape Sounion to see the sunset at the Temple of Poseidon.
Day 10 – Day trip to Delphi from Athens. Delphi is a UNESCO World Heritage site, and easily reached on a day trip from Athens. Take a tour, and you'll have the benefit of a guide explaining the history and importance of the site.
Further reading:
2. Road Trippin' in Crete Itinerary
Crete is the largest island in Greece, and one that has a unique character and vibe. There are direct flights from several European countries, as well as ferries from the mainland and other Greek islands.
Whilst many people are content to have a beach holiday in one place, Crete is the perfect island to take a road trip. A rough itinerary that combines archaeology, well-known beaches and a couple of off-the-beaten-track places, could be the following:
Day 1 – Arrive in Chania (overnight in Chania).
Day 2 – Explore Chania – there is also a beach right in the town if you want to go swimming (overnight in Chania).
Day 3 – Drive to Balos and Falassarna beaches (overnight in Chania).
Day 4 – Go to Elafonissi and nearby Kedrodassos beach – just make sure you go early (overnight in Chania).
Day 5 – Drive to Matala, a town that used to be popular with hippies. You can stop at the town of Rethymno for a couple of hours. Although Matala is quite touristy, it's got a great vibe. There are several beaches around so you can choose. (overnight in Matala).
Day 6 – Visit the archaeological sites of Gortyna and Faistos, both of which are pretty amazing. You have plenty of time for another swim! (overnight in Matala).
Day 7 – Drive to Lentas, a small village at the south of Crete with a lovely beach. There isn't much to do here apart from swimming and relaxing! (overnight in Lentas).
Day 8 – Enjoy the beach! (overnight in Lentas).
Day 9 – Drive to Heraklion, with a stop at Knossos archaeological site (overnight in Heraklion).
Day 10 – Explore Heraklion.
Further reading:
3. 10 Days Greek Island Hopping Itinerary
Greece has over 6000 islands, 227 of which are inhabited. These are clustered into 6 groups for the sake of reference. These are:
Ionian Islands: Located on the north-west coast of mainland Greece in the Ionian Sea, they include well known islands such as Corfu, Kefalonia and Zakynthos.
Saronic Islands: These are the islands that lie close to the coastline of Athens in the Saronic gulf. The most well known Saronic Islands are Hydra, Aegina and Poros.
Cyclades Islands: Almost everyone has heard of the Cyclades, thanks to the popular destinations of Santorini and Mykonos. There are many more though, all within easy reach of one another by ferry.
North Aegean: Located up in the north-east of Greece, the main islands here are Thassos, Lesvos and Samos.
Sporades: These islands are almost always ignored by first time travelers to Greece, but are favourites with second and third time travelers. The islands include Skiathos, Skopelos and Alonnisos.
Dodecanese: When people look at the map for the first time, they will notice just how close to the Turkish coastline these islands are! The most famous are Kos and Rhodes.
Related: Where is Kos?
Greek Island Itinerary 10 Days
As I've already covered a 'Secret Cyclades' itinerary later on, this 10 day itinerary instead focuses on the Ionian Islands in Greece.
Day 1 – Get to Patras from Athens. On arrival in Athens airport, you can get directly over to Patras. The earlier you get there, the more you can see of the city when you arrive. If you only do one thing, visit the museum in Patras.
Day 2 – Take a ferry to Ithaki. At this point, you'll discover that there are a dozen variations of spellings when it comes to Greek islands, so head for Ithaca, Ithaki, or Ithaka – it's all the same! Legend has it this island was the home of Odysseus, and it's a beautiful green island that stands in stark contrast to the drier Cycladic islands. On arrival, check in and head to a beach!
Day 3 – Overnight in Ithaca. It has to be said that this is an island of breathtaking views. Hiring a car is the best way to get around, and the island is small enough to get around easily. Check out Vathi and Kioni, and head to whatever beach looks a good bet!
Day 4 – Overnight in Kefalonia. If you have time, check out a few more beaches before heading to the village of Frikes on Ithaca. Take lunch there, and then take the ferry over to Kefalonia.
Day 5 – Overnight Kefalonia. This Greek island has always been popular with Italian tourists, but was made more famous by the film Captain Corelli's Mandolin. There's some beautiful beaches here to enjoy, as well as the local Robola wine. If you only visit one beach today, make it Myrtos beach.
Day 6 – Overnight in Kefalonia. – There's a number of wineries on the island you can visit, which is a good way to find out a little more about life on the island. Random fact – I worked on a winery in Kefalonia for a few months which was great fun! You'll also want to visit more beaches of course. Take your pick from Antisamos, Makris Gialos, Skala, and Lourdes.
Day 7 – Overnight in Zakynthos. It's time for another beach day! The best beaches in Zakynthos include Gerakas, Kalamaki, Banana and Limni Keriou.
Day 8 – Overnight in Zakynthos. Blue Caves and Navagio Beach Tour. You've probably seen the photos of the Shipwreck beach in Zakynthos, and want to make the trip there. Day trips operate out of Zakynthos town, visiting both the Blue Caves and the Beach.
Day 9 – Overnight in Zakynthos. Your choice – Want to do more beaches or sightseeing? If you haven't spent time in Zakynthos town, now is your chance. You can also visit museums such as the Byzantine, and the historically important Roma Mansion – one of the few old buildings to survive the devastating earthquake of 1953.
Day 10 – It's time to make your way back to Athens. If possible, take the ferry over to Kyllini in the Peloponnese, and if you have time, visit the ancient ruins of Olympia. Then, it's the long drive back to Athens city center.
10 days Greek islands further reading:
4. Athens and the Peloponnese Itinerary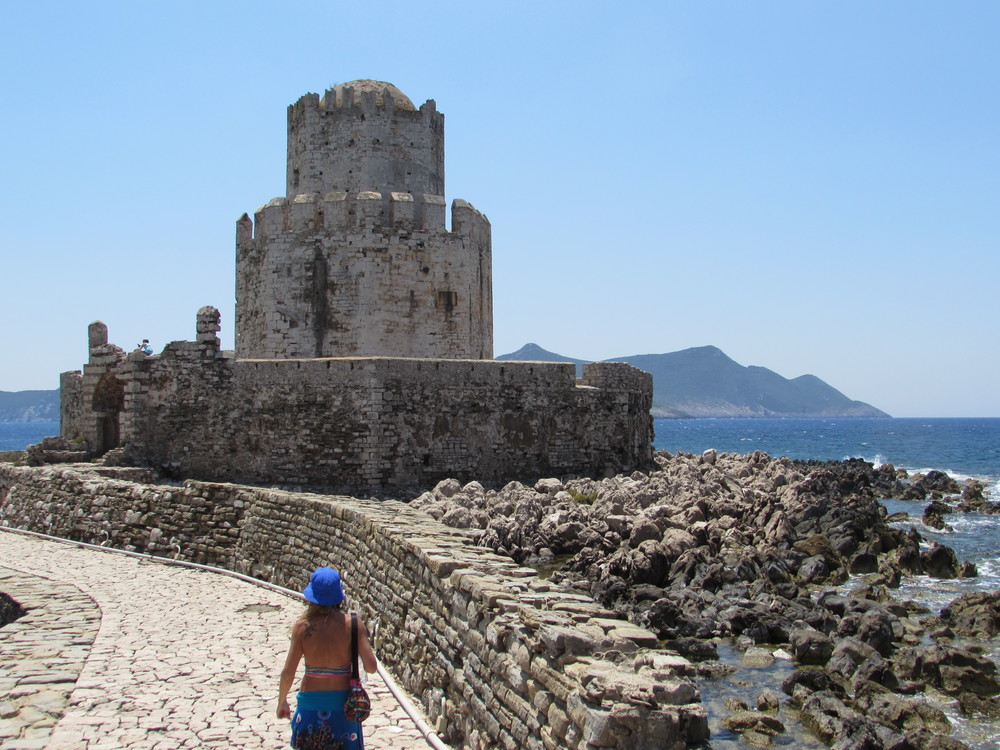 The Peloponnese region of Greece makes a great destination for a road trip. Packed full of Ancient Greek sites, it also boasts Venetian castles, great beaches, and forest covered mountains.
This road trip itinerary starts and finishes in Athens, taking in some of the most important places such as Ancient Olympia, but also a few lesser known places.
Day 1 – Drive from Athens to Nafplio. Along the way, stop off at Corinth and Mycenae. Arrive in Nafplio, a beautiful town to stroll the streets and enjoy a lovely evening meal.
Day 2 – Drive from Nafplio to Kalamata. First though, visit Tiryns just outside of town and then back-track to Epidaurus to see this wonderful UNESCO World Heritage Site, and marvel at the acoustics in the theatre. Once finished there, take the drive through to Kalamata.
Day 3 – Overnight in Kalamata. The coastal town of Kalamata is a nice place to be based, with some lovely beaches nearby. It's time to take some time out, so either enjoy the city beach, or drive further up the coast. Check out this guide on things to do in Kalamata.
Day 4 – Overnight in Kalamata. Head out to the UNESCO site of Mystras early on in the day before it gets too hot to admire this Byzantine walled city. In the afternoon, chill out at the beach once more.
Day 5 – Drive to Pylos. Along the way, you can stop off at Finikounda Beach for an hour or two – it's one of my favourite beaches in Greece! After that, drop by two incredible Venetian castles on the coastline names Methoni and Koroni. Finish in Pylos for the night.
Day 6 – Drive to Ancient Olympia. Before you leave Pylos, you could make a quick castle visit, where there are also two interesting museums. Next, head to the Temple of Apollo Epicurius at Bassae, a UNESCO World Heritage site in Greece few people have heard of. Finally, drive over to Ancient Olympia where you'll stay the night.
Day 7 – Overnight in Ancient Olympia. As you might know, Ancient Olympia was the home of the first Olympic Games, and was an important centre in the ancient Greek world. In addition to the site itself, there are a few museums which you should also make time to visit in order to help explain the site. Once you've finished, take it easy in town with a frappe and watch the world go by!
Day 8 – Drive to Kalavryta. Leaving Olympia, you can then take a route towards Kalavryta. In the winter, this is a ski-resort, but it is equally as beautiful in summer. There's plenty of great scenery to admire, especially if you take back routes, and once in Kalavyta, you can visit the nearby Monastery of Mega SpileoFouz. If you have plenty of time, ask around about the little train that runs here.
Day 9 – Drive to Patras. On this day, you have time to admire the scenery as you drive towards the important city of Patras. Once here, I recommend you visit the museum, but after that, prepare for some good food at night. After 9.00 pm, the ouzeris come to life, and the student vibe of the city becomes more apparent.
Day 10 – Drive back to Athens. Sightseeing if time.
Further reading:
5. Family vacation in Greece Itinerary
Greece is an ideal destination for family vacations, as it's such a relaxed and safe place. Of course, some areas and islands may be more suitable than others, depending on the age of the kids, and interests.
This 10 day Greece itinerary for families covers most of the bases, including visits to ancient monuments and islands with family-friendly beaches.
Tip: Why not get your kids into the mood of their Greek vacation with the Percy Jackson series of books by Rick Riordan? They'll definitely enjoy their time more at some of the ancient sites once they've read these fun stories!
Day 1 – Full day in Athens. Check my 'further reading' section at the end of this itinerary for a great way to spend 2 days in Athens with kids. On day one, visit the Temple of Zeus, Acropolis, and check out some street art.
Day 2 – Full day in Athens. On the second day in Athens, visit the Ancient Agora, have lunch in Plaka, and take the afternoon/evening trip to see the sunset at the Temple of Poseidon at Cape Sounion.
Day 3 – Full day in Naxos. The Greek island of Naxos is one of the most suitable for families. It's the largest of the Cyclades, with better beaches than Mykonos with none of the loud music and associated nightlife! On day one, either visit a beach or spend time by the pool as you relax and unwind.
Day 4 – Full day in Naxos. Wander through the streets of Chora, visit the archaeological museum, and check out the castle. As the evening draws closer, make your way to the Portara of Naxos for the sunset. If your kids are into Instagram, this is the place to be!
Day 5 – Full day in Naxos. The island is well known for its incredible food and authentic villages, so why not head out into the hills to check them out? They'll be plenty of time for more beaches in the afternoon of course!
Day 6 – Full day in Crete. The island of Crete is the largest in Greece, and one of its most interesting. There's many ways to approach a visit here.
As I've already listed a road trip around Greece as one of the 10 day itinerary ideas, for this one, we'll recommend a base in or near Heraklion, the main city. Day 1 suggestion – Visit Knossos and the archaeological museum.
Knossos is the most famous site in Crete, connected with the myth of the Labyrinth and Minotaur. Inside the museum you will see the mysterious Phaistos Disc, which remains undecipherable to this day. Will your kids be the ones to crack the code?
Day 7 – Full day in Crete. Enjoy some beach time, and then stroll around Heraklion itself. It's possible to walk along the castle walls and walk over to the fortress. Make some time to visit the central market as well – if your kids have only ever been to supermarkets, they will be amazed at what goes on there!
Day 8 – Full day in Crete. Visit Elefonisi beach with its famous pink sands. To get there, either hire a car, or take a day trip from your hotel.
Day 9 – Full day in Crete. Walk the Samaria Gorge for a little outdoor adventure. This is best done as part of an organised tour, as they will arrange drop-off and pick-up for you. I first did this walk with my parents when I was about eight years old, and still have fond memories to this day!
Day 10 – Full day in Crete. You've probably realised by now there's an incredible amount to do in Crete. So on your last day, feel free to take it easy at a beach, or take a boat trip to Dia island. If you feel like using the public transport in Greece, ask how to get to Matala Beach. The trip is worth it when you see the caves that look like Fred Flintstone lived in them!
Further reading:
6. Bicycle Touring in Greece Itinerary
Greece is a challenging country to cycle around due to the mountainous terrain, but tremendously rewarding. I've taken several bike tours in Greece now, with my favourite area being the Peloponnese.
Sadly, Greece has no dedicated bike tracks or even cycling lanes for that matter. Therefore, I suggest to stick to quiet country roads where possible. If you're looking for Greece travel ideas suitable for cyclists take a look at this route:
10 Day Itinerary Greece by Bike
This 10 day cycling itinerary in Greece is designed to start and finish in Athens, take in some scenery, and stop by significant archaeological sites along the way.
Day 1 – Cycle from Athens to Corinth. It's a long day of just over 100kms, so get an early start. Preferably make this day a Sunday when the traffic will be reduced. The route is relatively flat (by Greek standards), and you can cut short at a campsite if you want. Once in Corinth, you can visit the main archaeological site. Hotels in Corinth are cheap.
Day 2 – Cycle from Corinth to Lake Stymfalia. Try to get an early start, as you'll want to visit the archaeological site of Mycenae along the way! I left my bike tied up outside with no issues, but try to get it inside the gate if you can. After spending a couple of hours at the site, backtrack slightly, and head to Nemea. There's another site here that's interesting to see, and the region is also famous for its wine. Finally, head toward Lake Stymfalia, famous because of Labours of Hercules. There's no official camping here, so wild camp, or stay at accommodation (which is a little pricey).
Day 3 – Cycle from Lake Stymfalia to the coast. How far you get today, will depend on how strong a cyclist you are, or how far you want to go. The scenery will be outstanding as you head there, and once at the coast, turn left on the old highway towards Patras. My suggestion – look for a campsite and get some beach time!
Day 4 – Cycle from coast to Patras – Continue along the coastline towards Patras. You might even have time for a swim on the way! Once at Patras, find some cheap digs, and go and check out the museum. At night, enjoy a filling meal and a drink or two where the students hang out for a lively atmosphere.
Day 5 – Cycle from Patras to Nafpaktos – As a cyclist, you may not be able to cross the Rio bridge, but there is a ferry that can take you across. Today is just a short day, for you to rest your legs and do some sightseeing in Nafpaktos.
Day 6 – Cycle from Nafpaktos to Galaxdi. There's no real alternative than to cycle along the coastal road, but the reward is the sea views along the way. There's a reasonably tough climb towards the end, but you should arrive early enough from the 70km ride to rest your legs.
Day 7 – Cycle from Galaxdi to Delphi – It's only a short cycle ride in terms of distance to Delphi, but you will have to deal with some climbing along the way. If you are feeling fit on arrival in Delphi, you can see the site, but you might prefer to leave it for the following day. The accommodation in Delphi is some of the cheapest in Greece, and a couple of times I've found a room with breakfast for 20 Euros a night.
Day 8 – Overnight in Delphi. My preference would be to spend a full day sightseeing at Delphi. You'll appreciate the views more at an unhurried pace, and the views are rewarding for all the hard work cycling put in during the last days!
Day 9 – Cycle from Delphi to Thebes. There's some tough uphill sections at the start, but once you start the long descent to Thebes, it feels wonderful! Despite it's historic importance, there isn't a lot to see in Thebes apart from the museum, which I must say is world-class, so try and get there whilst it's still open.
Day 10 – Cycle from Thebes to Athens. I'm not going to lie, this is a long day, but you can make it! I hope you enjoyed the bike tour in Greece.
Further reading:
7. The Secret Cyclades Itinerary
The Cyclades islands are a group of over 140 islands on the east side of mainland Greece, of which around 30 are inhabited. They are aa great choice for Greek island vacations as they are all well connected by ferry.
Mykonos and Santorini are the most famous islands that belong to the Cyclades, but the others are just waiting for you to discover them!
Some of the Cyclades have airports, but the majority of them don't, so the only way to get there is by boat from either the Athens ports (Pireaus, Rafina and Lavrion) or from another island.
If you are coming to Greece through Athens, you can catch an onward flight to one of the islands, and then use a combination of boats and flights to get back to Athens.
For this 10 day itinerary, I'm not going to break it down for you. Much depends on when ferries are running between islands, and how long you might want to spend on each one.
Instead, I'll list some suggestions and you can put your own trip together!
Greek Islands Itinerary 10 Days
Paros and Naxos – This is a great choice if you want a combination of great beaches, picturesque villages and some nightlife. You can also visit Antiparos, which is very close to Paros, or take a day trip to one of the Small Cyclades, Koufonissi, Irakleia or Shinoussa.
Iraklia and Schinoussa – I spent 10 days split between these two islands a year or so ago. I loved the laid back vibe, and simplicity of it all. In fact, I said I would have loved to have spent an entire summer on either one!
Milos and Sifnos – Those two islands are a good option if you want stunning beaches and a more chilled vibe. Milos has some of the nicest beaches in Greece, while Sifnos is an upcoming destination, which is ideal for families.
Andros and Tinos – Those two islands are closer to Athens and neither of them has an airport – they are great if you want to relax and go to less touristy spots. Tinos is extremely popular around the 15th of August, and Andros gets more crowded during weekends, as it's quite close to Athens.
8. Athens, Central and North-West Greece Itinerary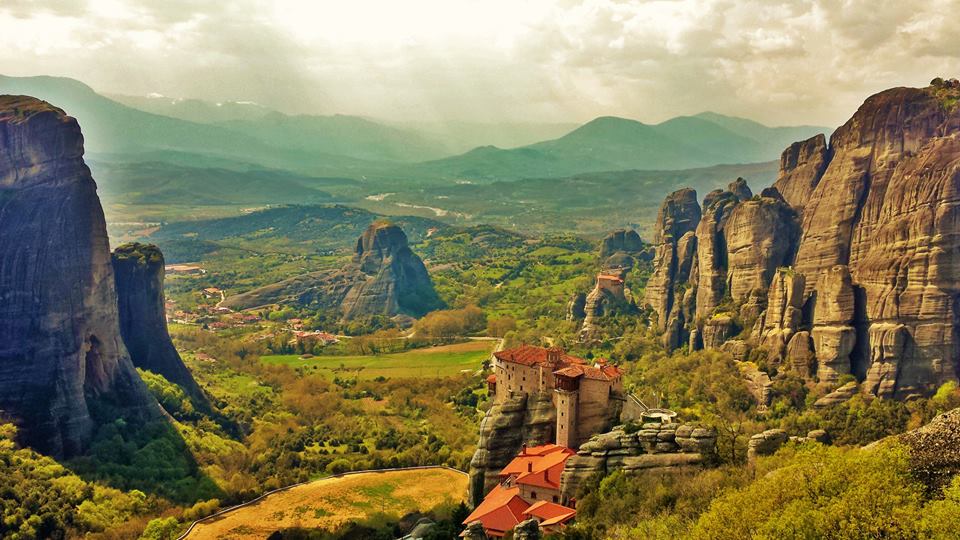 This itinerary for 10 days in Greece is ideal for anyone that loves incredible landscapes. From the views sweeping down over Delphi, to the remarkable sights and ancient monasteries of Meteora, every day presents something unique.
Whilst this itinerary is more suitable for people happy hiring a car, you can also reach Delphi and Meteora by public transport or by organised tour from Athens.
This itinerary for Greece starts and finishes in Athens, and even manages to include one island, which locals think has some of the best beaches in Greece.
Day 1 – Arrive in Athens (overnight in Athens)
Day 2 – Depart for Delphi, visit the archaeological site and museum. Instead of staying in Delphi, you can opt to stay at a small village nearby called Arachova, where there is more to do. Alternatively, you can stay in the small seaside town of Itea – and possibly go for a swim in the early morning! (overnight in Arachova / Itea)
Day 3 – Depart for Meteora, visit the area in the afternoon / evening. You can consider going on a sunset tour, as it will help you get your bearings and you will learn some interesting facts about the monasteries. Kalambaka town has plenty of accommodation and restaurant options. (overnight in Kalambaka)
Day 4 – Spend the day in Meteora. You can also hike in the area if you feel like it. Make sure you visit the Monastery of Megalo Meteoro, and watch out for the rock climbers! (overnight in Kalambaka)
Day 5 – Depart for Ioannina, a great little town on a lake. On the way, you can stop in the traditional village of Metsovo (overnight in Ioannina)
Day 6 – You can either spend an extra day in Ioannina, or depart for Parga, where you can relax all day on the beach (overnight in Ioannina / Parga)
Day 7 – Drive to Kanali, where you can go for a swim on the long sandy beach, or visit the ancient site of Nicopolis instead. Spend the evening in the lovely seaside town of Preveza (overnight in Preveza)
Day 8 – Depart for Athens. If you have been in Athens before and would prefer something new, you can drive to Lefkada island, one of the few islands in Greece that you can reach by road (overnight in Lefkada / Athens)
Days 9-10 – Lefkada / Athens
Further reading:
9. Greece UNESCO World Heritage Site Lover's Itinerary
With 16 UNESCO World Heritage Sites at the last count, you would be hard pushed to visit them all with 10 days in Greece. As such, this 10 day itinerary is based on the UNESCO sites in mainland Greece and Rhodes.
Most people might assume that the UNESCO sites are all ancient Greek sites, but this is not the case. There are also other sites representing Greece through the ages, meaning this itinerary is a great way to learn more about Greek history.
This Greece sightseeing itinerary is best followed by people with their own transport. It is also possible to put together chunks of it with day trips from key bases such as Athens. Some tour companies also offer similar routes as packages.
UNESCO Greece Itinerary 10 Days
Day 1 Overnight in Athens. Leap straight into the action by visiting the Acropolis. Dominating the landscape, this complex played a crucial part in the development of not only Ancient Greece but Western Civilisation. With extra time, make sure to visit the Acropolis Museum, and the Ancient Agora.
Day 2 Overnight in Meteora. It's possible to take a two day trip from Athens to both Delphi and Meteora. I've used that idea here, and included the UNESCO site of Meteora as your second day. I actually think this doesn't leave enough time in Meteora to fully enjoy the monasteries, but seeing something is always better than nothing. Make sure to catch the sunset!
Day 3 Overnight in Athens. In the morning, you will leave Meteora and head to Delphi. Spend time at both the UNESCO site of Delphi and museum, before returning to Athens.
Day 4 Overnight in Nafplion. Up until this point, you may have been able to see the UNESCO sites via day trips. Now though, it would be better to swap to a hire car. (You could always book a travel agency to arrange a tour for the rest of the week though). Today, drive out of Athens, and after a quick photo stop at Corinth, stop at Mycenae UNESCO site. You'll also have time to visit the UNESCO site at Epidavros. After spending several hours here, continue on to Nafplion.
Day 5 Overnight in Kalamata. On leaving Nafplion, you will pass by Tiryns which is the accompanying site to Mycenae. Spend an hour or two here, and then drive toward Kalamata, first stopping at Mystras. This is a Byzantine UNESCO site which is rarely visited, and has magnificent views. Finish the day at Kalamata and sample some of the great food at night..
Day 6 Overnight at Ancient Olympia. Although the destination is Ancient Olympia, we'll leave the sightseeing until the following day. Instead, stop by a Venetian Castle at Methoni for a bit of variety, before heading to the UNESCO site of Bassae. This site doesn't require much time, so once visited, continue on to Ancient Olympia.
Day 7 Overnight at Athens. You'll want to spend the day at Olympia, both exploring the site and also visiting the museums in and around the UNESCO site of Olympia in Greece. It's a long drive back to Athens, so take breaks if you feel tired!
Day 8 Overnight in Rhodes. Mix things up a little now, by taking the trip over to Rhodes island. The medieval city is classed as a World UNESCO site, and its Venetian architecture and influence is amazing. Take your time in Rhodes. Spread your sightseeing over a couple of days, and make time to visit the beach – You deserve it!
Day 9 Overnight on Rhodes. Sightseeing and beach time.
Day 10 Overnight in Athens. Return to Athens and relax! If you have time, wander around Anafiotika and Plaka for nice views of the Acropolis at your own pace.
Further reading:
10. Greece for Couples Itinerary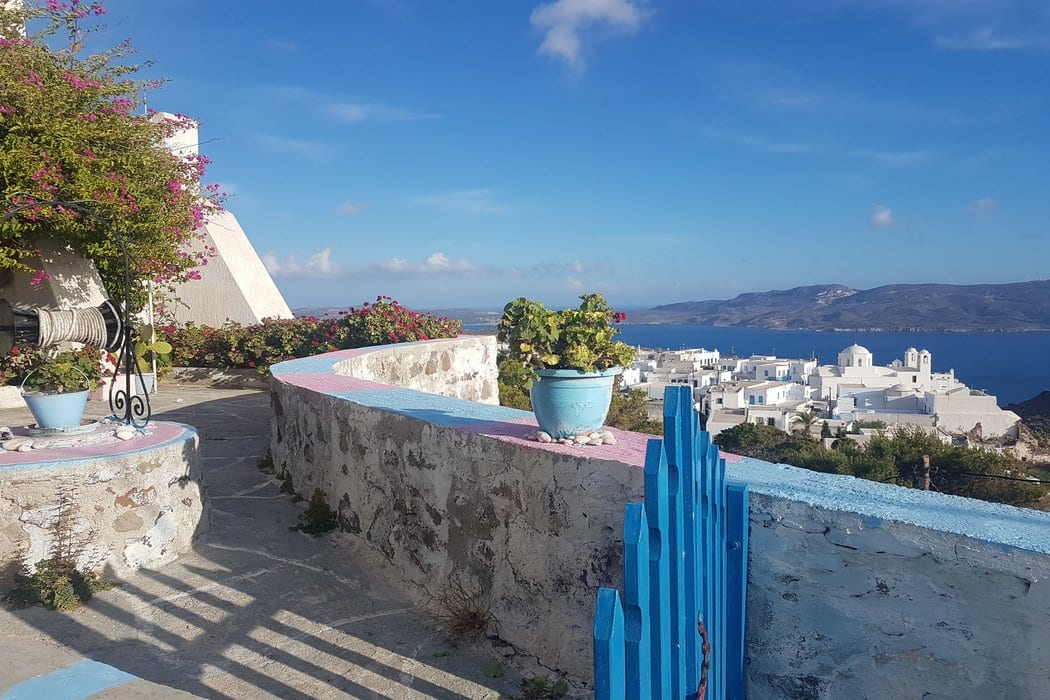 If you are looking for a couples holiday in Greece, or even a honeymoon in Greece, this itinerary is for you. You'll get to visit some of the most romantic and beautiful places in the country.
I've restricted this Greece itinerary for couples to just three destinations. If you wanted to add a fourth, consider a two day trip from Athens to Nafplion.
Day 1 Overnight in Santorini. You will most likely enter Greece via Athens, but I would suggest getting straight over to Santorini if you can. The itinerary will finish in Athens before your flight home. Ideally, try to see some of Oia and the sunset in Santorini if you have time this first day. If not, there's plenty of sunsets to follow!
Day 2 – Overnight in Santorini. This will be your first day sightseeing in Santorini. Spend some time exploring Oia if you haven't already, or alternatively take the volcano day tour. End the day with a fine meal at a restaurant with sunset view in Santorini.
Day 3 – Overnight in Santorini. There's a number of wineries in Santorini, and choosing a morning tour helps get your day off to a great start! End the day with a late afternoon/evening cruise timed to return to Santorini to see the sunset on board..
Day 4 – Overnight in Santorini. Why not visit Red Beach and Akrotiri during the earlier part of the day, and then spend a little time in Fira. End the day with the hike from Fira to Oia and time it to reach Oia for the sunset.
Day 5 – Overnight in Milos. The Greek island of Milos is well known as 'the couples island', thanks in part to the Venus de Milo being found there. Another great thing about the island is the total absence of nightclubs, meaning that relaxed late evening meals and drinks set the perfect romantic scene. Once you've taken the ferry over from Santorini, spend the day exploring near Pollonia if that's where you choose to stay in Milos. Enjoy a nice evening meal to round the day off.
Day 6 – Overnight in Milos. The island is famous for its beaches, and one way to enjoy them is by taking a sailing tip around the island. This way, you will get to see places you can't reach by road, and enjoy the feeling of catamaran sailing around one of the most beautiful islands in Greece.
Day 7 – Overnight in Milos. Another way to see the island is by 4WD tour. Again, you'll get to see beautiful beaches such as the famous Sarakiniko beach, as well as visit hidden gems. The tour will also give you an insight into a side of the island you may have been previously unaware of which is mining. A fun tour to take, especially if the weather is too windy to sail.
Day 8 – Overnight in Athens. Spend your last three days in Athens, the Greek capital. Fly to Athens in the morning, and get there in time for a lovely lunch near your hotel. In the afternoon, spend some time in the Ancient Agora, and then unwind with a cocktail on a rooftop bar with Acropolis view for sunset.
Day 9 – Overnight in Athens. In the morning, visit the Acropolis and Acropolis Museum. Continue sightseeing in Athens by exploring Monastiraki for souvenirs, and Psiri for street art. Consider a private tour to get to know the city better.
Day 10 – Overnight in Athens. Is there anything left in Athens to see? Of course! Choose from museums like the National Archaeological Museum, modern art galleries, the revived Technopolis complex, and more. Go for a stroll in the National Gardens, and in the afternoon, take a half day tour to Cape Sounion and the Temple of Poseidon to see a memorable sunset.
Further reading:
10 Day Trip To Greece FAQ
Here are some commonly asked questions about Greek itinerary planning for a 10 day or two week trip.
What can you see in Greece in 10 days?
A well thought out 10 day travel itinerary for Greece will enable you to experience a wide variety of landscapes and places to see. A typical 10 day trip to Greece for first time visitors might include Athens, Santorini, Mykonos, and perhaps Naxos.
How many days is sufficient for Greece?
The bare minimum for a trip to Greece should be seven days. Even though it's a relatively short amount of time, the highlights such as Athens, Santorini, and Mykonos could all be included in a 7-10 days itinerary quite comfortable.
Is it easy to island hop in Greece?
The easiest way to go Greek island hopping is by using the local ferry companies between specific island chains. For example, the Cyclades is a popular group of Greek island to travel around, as they are all connected together by regular ferry services.
Greece Travel Itinerary 10 Days
It would be greatly appreciated if you could add this blog post about how to spend 10 days in Greece to one of your boards on Pinterest or share it on social media.
That way you'll be able to find it again in the future when it's closer to your trip to Greece, and it may help others.
---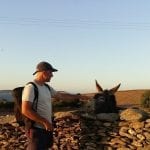 –
Dave Briggs
Dave is a
travel writer
who currently lives in and writes about Greece. If you enjoyed these itineraries on the best way to spend 10 days in Greece, you might want to explore this website for more travel blog posts about Greece trip planning. Follow Dave on social media for travel inspiration from Greece and beyond: