Red Beach Santorini – One of the most recognisable and beautiful of the Santorini beaches. The contrasting colours of soaring red cliffs and clear blue waters combine to make a perfect setting. Also known as Kokkini Beach, here's everything you need to know about how to get to Red Beach Santorini and enjoy yourself!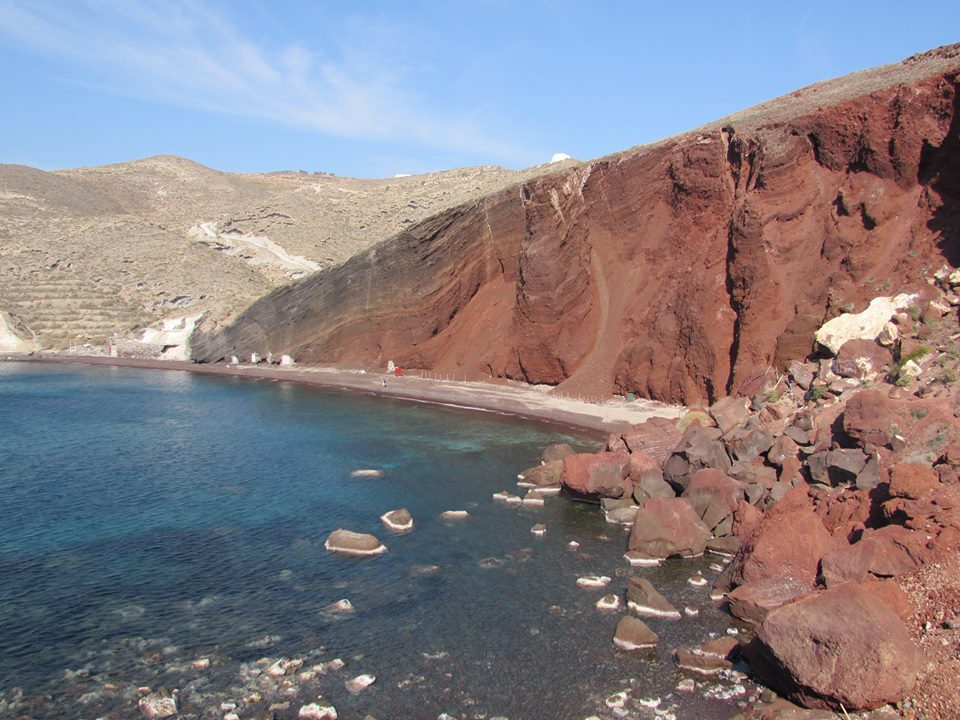 About Red Sand Beach Santorini
Red Beach is one of the places you must add to your sightseeing itinerary of Santorini. Instantly recognisable, the red lava cliffs and sands face on to clear blue waters, providing an idyllic scene.
The red sand beach, Santorini is classed as being 'semi-organised.' This is a Greek term meaning that some locals have an unofficial monopoly on hiring out umbrellas and sunbeds to visitors.
You can still find space on the beach to set up your own though if you arrive early enough.
It does get super busy during the summer months (well, everywhere does on Santorini really!). Visiting
Red Beach
in the off-season is perhaps more enjoyable. Find out more here about the
best time to visit Santorini
.
Video of the Santorini Red Beach
I've included a video below of the red sand beach, where you can see ho busy it can get. In fact, I still think that this is in a slightly off season! Still, it gives you some idea of what to expect if planning to head to the beach on Santorini.
Is Red Beach Santorini safe?
Interesting question! Officially, Red Beach Santorini is classed as unsafe. In fact, hotels have been asked to discourage visitors from going down onto the beach.
The pathway from the archaeological site of Akrotiri also says that Red Beach is unsafe. The reason for this, is that it is prone to landslides.
It doesn't seem to discourage hundreds of visitors every day though! You can make you own mind up as to whether you think the possibilities of danger are worth it.
How To Get To Red Sand Beach Santorini
The Red Beach can be visited in a number of different ways. Perhaps the coolest, is to take a Catamaran Cruise, as you get the benefit of seeing the magnificent sight of the beach from the sea.
If you have hired a car in Santorini, leave it at the parking space, and then make your way down to the beach. A bus service will also drop you off here.
Finally, you can reach Red Beach from a footpath from the ancient site of Akrotiri. Some people refer to it as the Akrotiri Red Beach because of this.
Is Red Beach Santorini worth spending time on?
This is the million dollar question! Whilst I think that Red Beach is an awesome sight, I think that in terms of quality it is actually quite a poor beach.
It is often overcrowded, very hot, and the snorkelling can be somewhat spoiled by the many catamarans which all seem to arrive together.
My opinion, is that Santorini has far better beaches to enjoy if you are looking to spend a day relaxing, soaking up the sun, and swimming.
In conclusion – Red Beach Santorini is very photogenic, you HAVE to add it onto you sightseeing itinerary, but I wouldn't suggest spending an entire day there.
If you would like to find out more about Red Beach Santorini, you can read the Tripadvisor reviews here.
More Santorini articles at Dave's Travel Pages
Hiking from Fira to Oia in Santorini – A non-technical hike suitable for people of all levels of fitness that takes in the best views of Santorini.