Red Beach Santorini is one of the most iconic beaches in Greece. Here's how to safely visit the Red Beach in Santorini.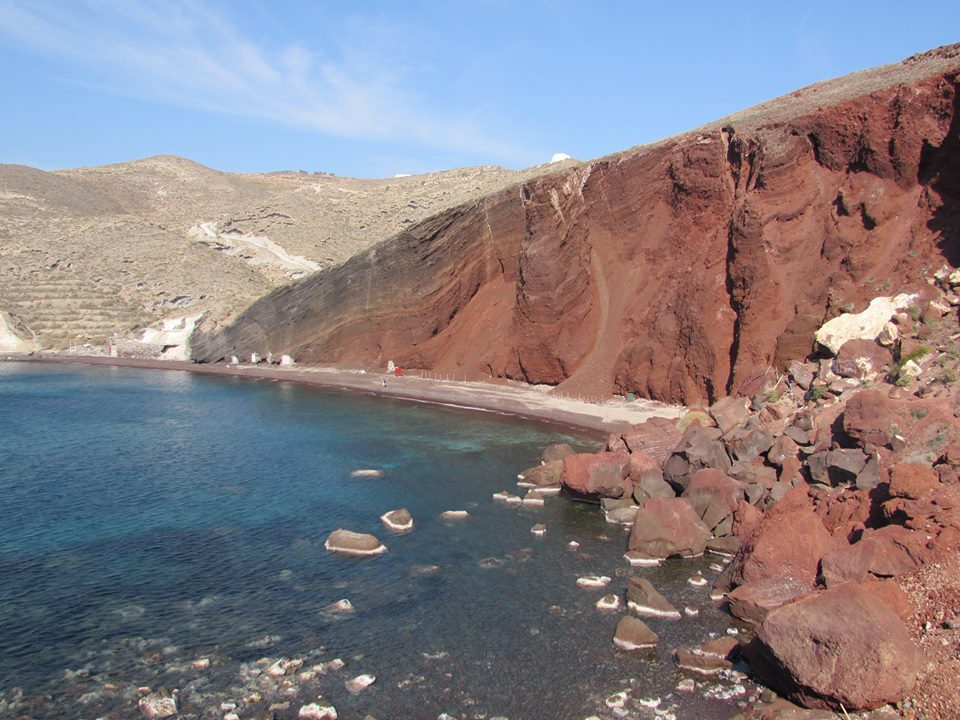 Santorini Red beach is one of the most recognisable and beautiful of the Cyclades Greek islands. The contrasting colours of soaring red cliffs and clear blue waters of the Aegean Sea combine to make a perfect setting.
Also known as Kokkini Beach, here's everything you need to know about how to get to Red Beach Santorini and enjoy yourself!
Related: Best Greek Islands For Beaches
About Red Sand Beach Santorini
Red Beach is one of the places you must add to your sightseeing itinerary of Santorini. The red lava cliffs and sands of this natural landmark face on to the clear blue waters of the Aegean, providing an idyllic scene.
Having visited Red Beach twice now, once in 2015 and again in 2020, I've written this short travel guide so you know how to get there and what to expect.
How To Get To The Red Beach Santorini
The Red Beach can be visited in a number of different ways. Perhaps the coolest, is to take a Catamaran Cruise, as you get the benefit of seeing the magnificent sight of the beach from the sea.
It's a popular stop with boat tours in Santorini, and these catamaran tours also typically take you on to places like White Beach which can only be accessed by sea.
Most people tend to drive to Red Beach in either a hire car, or the increasingly popular ATV hires. To do so, follow the signs for Ancient Akrotiri, and once there, you'll find a little car park to the right of the Akrotiri Excavations site parking lot.
If you're not driving, there's a bus service that will also drop you off here, and probably a bus tour or two. Regular buses leave from the central bus station in Fira and head down to Akrotiri. From the bus stop where you get off, walk down to the sea (about 5 mins), and the follow the walking path.
You reach Red Beach from a footpath which starts at a small canteen near the church at the beach parking. You'll notice a few signs saying do not enter because of the danger of rockslides. More on this later!
Note: Some people refer to it as the Akrotiri Red Beach. If you put just Akrotiri into your GPS, you might end up in either the village or at the lighthouse. Both are interesting to visit, but neither are near Red Beach!
Snorkel to Red Beach from Kambia Beach
We found this unique way to get to Red Beach in 2020. Leaving our car in the parking spaces at Kambia Beach, we walked along the shoreline to our left as far as we could.
It was about a five minute stroll over the rocky and pebbly narrow shoreline, and then we reached an area with great views of Red Beach.
There's also a small tree providing shade here. Whilst I lazed in the shade under it, Vanessa snorkelled to Red Beach along the shore – a unique way to visit it and appreciate the unique landscape!
What is Red Beach Like?
The red sand beach, Santorini is classed as being 'semi-organised.' This is a Greek term meaning that some locals have an unofficial monopoly on hiring out umbrellas and sunbeds to visitors.
You can still find space on the beach to set up your own though if you arrive early enough. There's also a small canteen on the beach, but in 2020 it wasn't opened yet. You might want to take water and snacks with you just in case.
It does get super busy during the summer months (well, everywhere does on Santorini really!). Visiting
Red Beach
in the off-season is perhaps more enjoyable. Find out more here about the
best time to visit Santorini
.
Video of the Santorini Red Beach
Here's a link to a video of the red sand beach, where you can see how busy it can get. In fact, I still think that this is in a slightly off season!
Still, it gives you some idea of what to expect if planning to head to the beach on Santorini.
Is Red Beach Santorini safe?
Interesting question! Officially, Red Beach Greece is classed as unsafe. In fact, hotels have been asked to discourage visitors from going down onto the beach.
The pathway from the archaeological site of Akrotiri also says that Red Beach is unsafe. The reason for this, is that it is prone to landslides and falling rocks.
It doesn't seem to discourage hundreds of visitors every day though it's one of the most popular beaches in Santorini! You can make you own mind up as to whether you think the possibilities of danger are worth it.
Is Red Beach Santorini worth spending time on?
This is the million dollar question! Whilst I think that Red Beach is an awesome sight due to its unique volcanic rock, I think that in terms of quality it is actually quite a poor beach. Greece has thousands of better beaches!
It is often overcrowded, very hot, and the snorkelling can be somewhat spoiled by the many catamarans which all seem to arrive together.
My opinion, is that Santorini has far better beaches to enjoy if you are looking to spend a day relaxing, soaking up the sun, and swimming. Try the black sand beaches near Kamari for example.
In conclusion – The Red Beach is one of those photogenic beautiful beaches that you HAVE to add it into your Santorini island sightseeing itinerary, but I wouldn't suggest spending an entire day there.
Find out more about Red Beach Santorini by reading the Tripadvisor reviews here.
FAQ About Santorini's Red Beach
Here are some commonly asked questions about visiting the Red Beach.
Why is the Red Beach in Santorini red?
The beach's sand is a natural color, formed from the black and red pulverized volcanic rock from the nearby Santorini caldera and the bright red cliffs behind it.
Can you swim in the Red Beach Santorini?
Yes, you can swim at Santorini red beach. The water is normally warm enough to swim in between May and late September.
Are the beaches in Santorini good?
Whilst the beaches of Santorini can be described as unique and interesting, they are far off from being the best beaches in Greece. If you are looking for a beach holiday in the Cyclades, Naxos, Milos, and Ios might all be better destinations.
Is Red Beach Santorini closed?
According to the signs, Red Beach is officially closed, but thousands of people every year take the small hike from the car park to reach the beach and marvel at its red color.
Where is the Red Beach Santorini?
The Red Beach of Santorini is located on the south coast of the island, close to Akrotiri village and the Akrotiri archaeological site.
More Santorini articles at Dave's Travel Pages
Hiking from Fira to Oia in Santorini – A non-technical self-guided hike suitable for people of all levels of fitness that takes in the best views of Santorini. Walk along the caldera at your own pace, enjoy views of the volcano, and arrive in Oia for the sunset!
Santorini Days Trip – A selection of the best activities and day trips to try in Santorini.
Santorini Winery Tours – The island has many small wineries where you can take a tasting tour, and find out more about how wine is made in Santorini.
Best Santorini Beaches – A guide to the best beaches in Santorini Greece coming soon!
---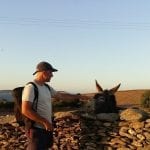 – Dave Briggs
Dave is a travel writer who's been living in Greece since 2015. He's spent many months traveling between the Greek islands researching blog posts such as this one about the famous Santorini red beach. Explore this travel blog for more guides to popular destinations in Greece, and follow Dave on social media for travel inspiration from Greece and beyond: