The delicious food in Greece is one of the best things about taking a vacation in the country! Here's what to eat in Greece with a list of my top 10 favorite Greek foods.
What is the Food of Greece like?
Greek cuisine is as rich and diverse as its history. From the islands in the south, to the mountains in the north, Greek cooking has been influenced by many cultures over time.
Tomatoes, onions, lemon juice, olive oil and herbs like oregano are the base of many Greek recipes. Other ingredients included in Greek dishes are meat, seafood, vegetables, legumes and dairy.
People who visit Greece rate Greek food very highly. They also enjoy the Greek food culture, which calls for sharing dishes with friends.
I've been living in and writing about Greece for over six years now. During that time, I've tried many Greek dishes that don't always feature in tourist menus. Most of them have been home-made, which makes them extra special!
However, there are certain recipes and foods that have become synonymous with Greece and you can find everywhere.
They would be a good choice for people who visit Greece for the first time. Most of them are popular among returning visitors, because they are just so good!
Top 10 Greek dishes
Here's my choice of the top 10 foods of Greece.
1. Gyros Pita and Souvlaki (Street food)
The popular Greek dish, gyros with pita bread, is a must-try. This filling wrap consists of a thick pita bread stuffed with pieces of meat called gyros. Other fillings include fries, tomato, green salad, onion and tzatziki, the famous Greek garlic dip.
Gyros is a special type of meat grilled on a rotisserie. Generally speaking, the most common types of gyros include pork and chicken. Lamb isn't as common as you might think!
In addition to gyros, there's another meat dish you can find all around Greece, which is called souvlaki. This is a meat skewer, where small pieces of pork or chicken meat are grilled on a wooden stick. You can either eat a souvlaki from the stick, or put the pieces in the pita bread, along with the other ingredients.
Both gyros and souvlaki are available at dedicated grill houses called souvlatzidiko or psistaria. You can either eat them on the go or sit at the table. In this case, you can also order them in a platter, along with salad, pitas and fries. This makes them easier to eat, and less messy.
In my opinion, nothing beats the gyros pita wrap. You should definitely try it once when you are in Greece! Bonus – They are an inexpensive, satisfying meal. Perfect for visiting Greece in a budget!
2. Moussaka (Main)
Moussaka is one of the most iconic and traditional food in Greece. You can find different variations across neighbouring countries, like Turkey and Bulgaria, but the Greek moussaka is the most famous. I would best describe moussaka as rich, filling and decadent!
The main ingredients in this popular Greek dish are fried aubergines and potatoes. These are layered with a mixture of ground beef, cooked in olive oil, tomato sauce, onions, wine and herbs. A thick bechamel sauce and grated cheese are spread on top, and the dish is further baked in the oven.
Even though moussaka is a time-consuming to make, it is one of the most traditional Greek food recipes, and you will find it everywhere in Greece. It goes very well with feta cheese and red wine.
3. Horiatiki – Greek Salad
Greek salad, or horiatiki as Greeks call it, is a strong contender for the national dish of Greece. It is a healthy, satisfying salad that you can get literally everywhere in Greece.
A proper Greek salad contains tomatoes, cucumbers, bell peppers, onions, olives, olive oil, oregano, and a big slab of real feta cheese.
Regional variations may contain a few more ingredients, such as capers, caper leaves, rusks and vinegar. In addition, in some areas they use their own, local cheese instead of feta.
In contrast, things that you won't find in a real Greek salad include eggs, ham, pineapple, avocado, fish and chef's sauce.
A Greek salad is very versatile. You can have it as a starter, share it, or eat it as a light lunch, along with fries and maybe a beer. Fun fact – the word "horiatiki" literally translates to "rustic".
4. Fava (Starter / Dip)
Fava is a traditional Greek food that is also a vegan dish that you can find in most tavernas in Greece.
It is a starter / dip that is made out of a special type of beans called fava. These beans grow in several regions of Greece, and some of the most famous come from Santorini.
Fava is similar to consistency to hummus – which, incidentally, is not a food from Greece.
Most tavernas will serve fava with capers, chopped raw onions, lemon and olive oil. You can eat it as a starter, either on its own or with good quality bread. Some people will have it as a main course, along with a salad.
5. Spanakopita and tiropita (Starter / Snack / Main)
Greek pies definitely deserve a place in the list of top-ten foods of Greece. The two most common types of pie are spanakopita and tiropita.
Spanakopita is a pie with spinach, onions or scallions, feta cheese, and sometimes eggs and yoghurt. Occasionally, you will find a version without feta or eggs, which is ideal for vegans. Tiropitas are filled with a mix of eggs and various types of cheese, like feta, kasseri and anthotiro.
Greeks use several different types of pastry, such as filo dough, puff pastry, or a special kind of dough called kourou. Traditionally, the pastry is hand-made, and contains flour and butter. Pies are usually baked but there are several deep fried versions all around the country.
You can get tiropita and spanakopita at all bakeries in Greece. In addition, you will find them in most tavernas. Greeks often have them as a snack or starter, but many people will eat it as their main course.
Fun fact – pies go back to Ancient Greece and Ancient Rome, Ancient Greeks used to eat a type of pie made of flour and wine (!) for breakfast. Other types of pies also existed, made from different types of flour such as barley and rye.
6. Dolmadakia (Starter / Meze)
The word "dolma" comes from the Turkish language, and it literally means "to be stuffed." In Greece, there are two common types of dolmades dishes.
The most common type of dolma in Greece are what Greeks call dolmadakia. These are vine leaves stuffed with rice, onion and herbs, and cooked with lemon juice. Occasionally, you might find a version with minced meat.
Dolmadakia are usually served as an appetizer, but they are so moreish that some people wouldn't want to share them! Stuffed grape leaves go well with tzatziki, or a simple sauce with yoghurt and dill.
You may also find another popular dish, lahanontolmades. These are made of cabbage leaves, which have been stuffed with a mix of ground beef, rice, onions and herbs. These are served warm, topped with a thick sauce containing flour, butter and lemon.
7. Octopus (Starter / Meze)
One of the most popular mezes in Greece is octopus. You will easily spot it in most coastal areas of Greece. Just look around, and you are bound to see several octopus drying in the sun near Greek restaurants by the sea.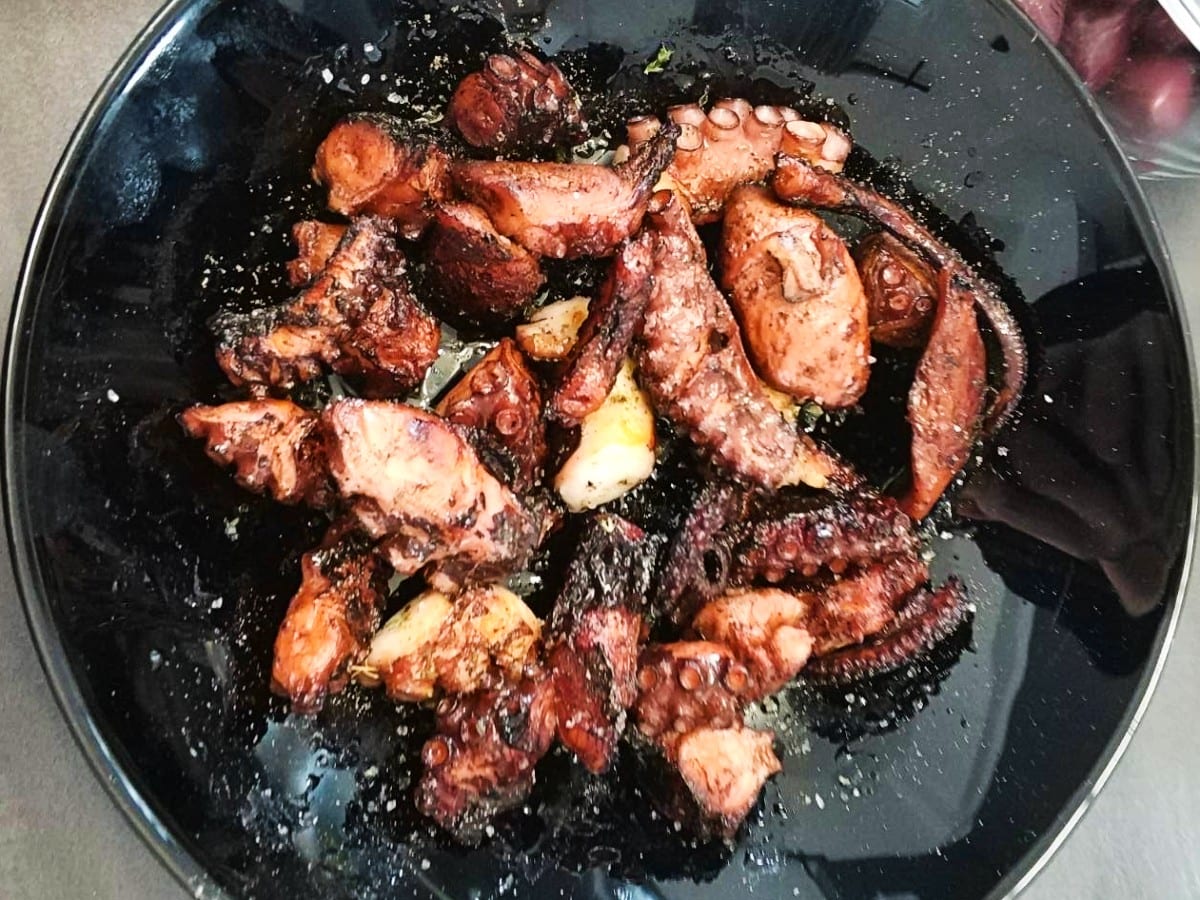 Octopus can be prepared in many ways, such as grilled, boiled, or stewed. Grilled octopus is served with olive oil and lemon juice, while boiled octopus goes better with vinegar.
Here is an interesting fact about octopus: it can't be eaten right after being caught from the sea, as the meat is too tough. The easiest way to make it tender is to keep it in the freezer for a few weeks, then cook it.
This iconic Greek dish is best enjoyed with ouzo or tsipouro, and good company, preferably by the seaside.
8. Gemista (Main)
This is one of the most popular dishes in Greece, for vegans and not only. Gemista means "stuffed" in Greek, and it is exactly that. They are stuffed vegetables, such as tomatoes, bell peppers, courgettes or aubergines. The filling consists of a mix of rice, onion and herbs.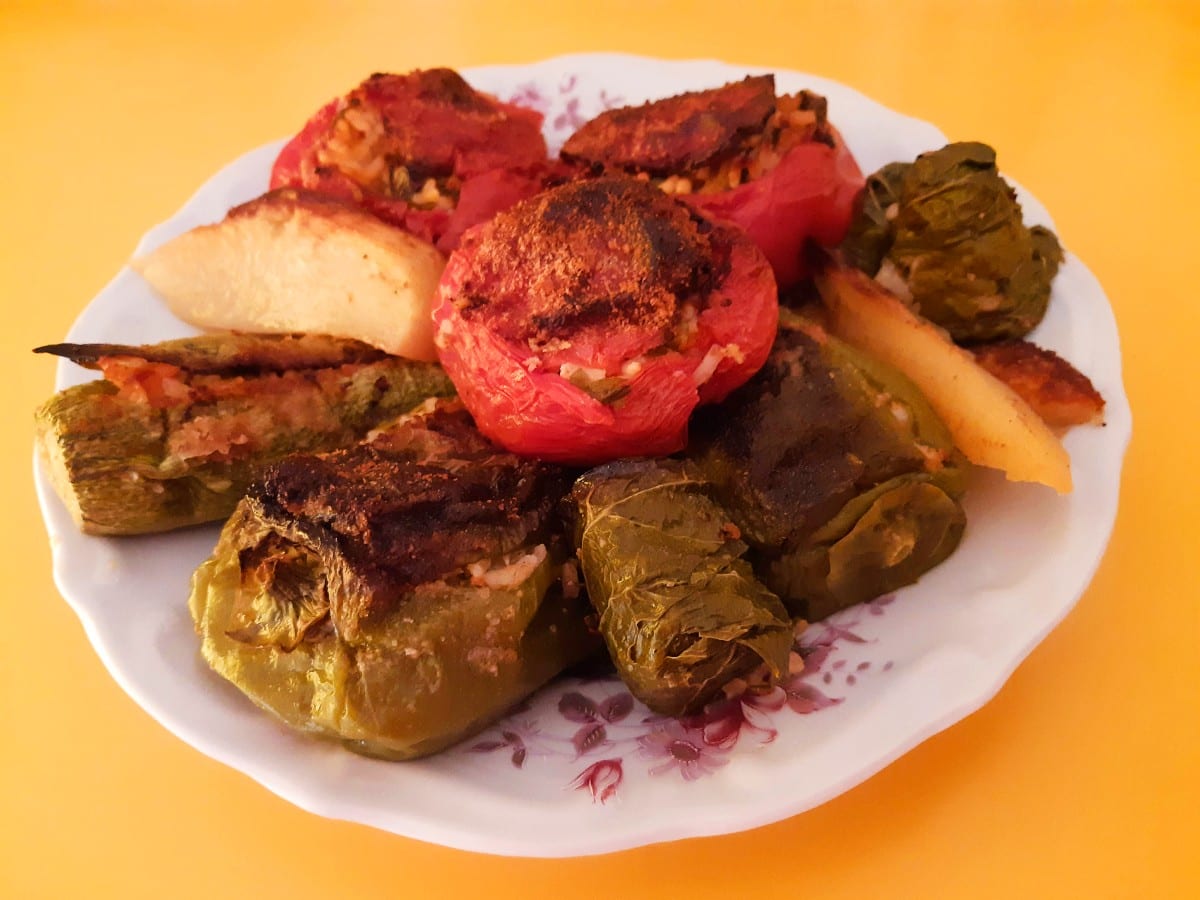 Depending on the recipe, they sometimes contain pine nuts or currants.
Sometimes, you can find gemista with a mix of rice and ground beef. I personally prefer the vegan version, and I always combine them with a big piece of feta cheese. Absolutely delicious!
If you visit Greece in summer, you are bound to find gemista in most tavernas. Make sure you try them, as they definitely belong in any list of the 10 best Greek dishes.
9. Kleftiko (Main)
Meat-eaters will fall in love with kleftiko, a tasty Greek dish. The strange name means "something stolen", and it comes from the times of the Ottoman Empire, when the famished peasants sometimes stole a goat or lamb that belonged to a rich person.
Note – Not to be confused with Kleftiko Bay in Milos!
There are several recipes for kleftiko, varying by the region and possibly the time of year. Usually, kleftiko is made with lamb, goat or pork.
The meat is cut into pieces, which are left to marinate and become tender. It is then wrapped in greaseproof paper, along with potatoes, onions, herbs and spices. Wine, peppers, tomatoes and cheese may be added. The dish is slowly cooked in the oven, maybe for 2-3 hours.
Enjoy kleftiko with some red wine and a green salad. It's one of my favourite Greek meals to have at a restaurant, as this is not the sort of things I have time to cook at home!
10. Baklava (Dessert)
For people with a sweet tooth, Greek desserts are a real treat. Many of these desserts have been around for hundreds of years, since the Byzantine Empire or even longer.
The most famous dessert in Greece is baklava. It consists of layers of filo pastry, butter, a sugary syrup, chopped nuts and spices. It is super sweet and very yummy!
You can get baklava at patisseries and dessert shops, but some tavernas might serve it as a treat, after your meal. Tip – it goes really well with ice cream.
Bonus food: Greek yoghurt
No list of the best foods in Greece would ever be complete without Greek yoghurt. This is a unique type of yoghurt, which is thick in texture, and a little sour in taste. Traditionally, Greek yoghurt comes in clay pots, and there is a layer of cream on top.
You will easily find yoghurt made of sheep milk, which has a higher fat content and tastes richer. Yoghurt made from goat or cow milk is lighter.
Greek yogurt is often served with honey and walnuts. If you are staying at a hotel with a buffet breakfast, try mixing it with cereals or fruit. Watch out, as you can easily get addicted!
Top ten foods of Greece
So, these are my top ten foods of Greece! They are a good starting point if you are visiting Greece for the first time, and I'm sure you'll love Greek food as much as I do in no time!
With that said, food is an integral part of Greek culture and history, and there are dozens more Greek dishes you could try. Here is the ultimate guide to Greek food with 50 dishes! Which one is your favourite?
You might also want to read:
Top Greek Food FAQ
Some commonly asked questions about Greek dishes include:
What is typical Greek food?
Typical Greek food includes a variety of fresh, flavorful dishes that showcase the country's Mediterranean cuisine. Common ingredients in Greek cuisine include olive oil, tomatoes, feta cheese, yogurt, honey, and herbs like oregano and thyme. Some classic Greek dishes include moussaka, spanakopita, souvlaki, tzatziki, and dolmades.
How would you describe Greek food?
Greek food is often described as fresh, healthy, and flavorful, with a focus on simple ingredients and bright, bold flavors. Many Greek dishes are based on traditional recipes passed down through generations, and reflect the country's agricultural heritage and coastal lifestyle.
What is Greek food similar to?
Greek food shares some similarities with other Mediterranean cuisines, such as Italian and Turkish food, as well as Middle Eastern and North African cuisines. However, Greek cuisine has its own unique flavor profile and ingredients that set it apart from other regional cuisines.
What is unique about Greek food?
Greek food is known for its use of fresh, high-quality ingredients, including olive oil, vegetables, seafood, and cheeses like feta and halloumi. The cuisine also features a wide range of herbs and spices, such as oregano, thyme, and cinnamon, that add depth and complexity to the flavors of each dish. Additionally, Greek food has a strong cultural identity and is often enjoyed as part of a larger social gathering or celebration, making it a unique and special part of Greek culture.
---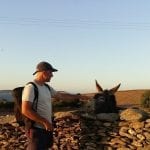 –
Dave Briggs
Dave is a
travel writer
living in Athens, Greece. One of his favorite pastimes is eating Greek food, so it's probably just as well that his other favorite pastime is cycling to burn it all off! As well as writing this blog post about which foods to try when visiting Greece, he's also created hundreds of other travel blogs about Greek destinations. Follow Dave on social media for travel inspiration from Greece and beyond: