If you're planning a trip to the Greek island of Kimolos, you'll want to know where and what to eat! In this guide on where to eat in Kimolos, I'll describe the local specialties to look out for, and which Kimolos restaurants to enjoy a good meal.
If you're doing your research for a holiday in Kimolos, you've already read about the top things to do in Kimolos, and where you can find the best Kimolos beaches. Now, it's time to look at the food scene!
Eating in Kimolos
Food is an integral part of any Greek holiday. You would think that Kimolos, being a small island, wouldn't be anything special in terms of food. Well, you couldn't be further from the truth!
Anything that is produced on the island is super tasty. This includes the home-grown vegetables, the meats and the local cheeses. In addition, Kimolos has some local specialties that you should taste:
Ladenia, a type of pie that resembles a pizza, with dough, tomato, onions and lots of olive oil
Tyrenia, a pie with dough, cheese and eggs
Amarathenia, a tyrenia with fennel
Elenia, bread filled with olives
Melopita, a type of dessert with cheese and honey
The local sheep and goat cheeses like xino, a sour, creamy cheese, manoura, aged cheese preserved in grape must, and mizithra
Paximadia with shinokkoko, dry rusks made with a local herb similar to lentisk
Fresh local pasta
Rooster cooked in wine sauce
Atherinopita, fish pie
Kimolos Restaurants
If you are after bakery snacks, check out both bakeries in Chorio, Ventouris and Paradosiako. Most grocery stores carry some of the local cheeses, as well as other products from the Cyclades.
Best Restaurants in Kimolos
When it comes to eating out, there is a surprisingly long selection of authentic, down-to-earth Greek tavernas and restaurants. Here are a few to help you get started.
Taverna on Kalamitsi beach
If you first visited Greece in the 1980s and have been looking for that type of vibe ever since, look no further. This small family-run taverna on Kalamitsi beach will take you back in time. And if this is your first time in Greece, all we can say, is you were wise to visit Kimolos!
This no-frills seaside taverna was one of our favourites. They have a mix of slowly cooked dishes and grilled meats, and while the menu is not super long, you will be spoilt for choice.
Everything we had was exceptional, including the home-made fries. The owners are very proud of the vegetables they grow in their garden – and very rightly so.
Sardis, Bonatsa Beach
This famous taverna specializes in fresh fish and seafood dishes, such as their trademark lobster pasta. Other popular dishes include the wild goat stew and their home-grown eggplant dishes. Don't forget to ask for the day's specials and any starters and small dishes.
Sardis is a two-minute walk from Bonatsa beach, and they also have rooms to let.
I Palaia Agora Grillhouse, Chorio
This grillhouse is right in the middle of Chorio, close to Panagia I Odigitria church. They have souvlaki, sausages and other grilled meats, salads and fries.
Generally speaking, this type of food is always a safe bet, especially when travelling with children. These guys have seriously taken it to another level!
The meat is juicy, very well cooked, and exceptionally tasty. Apparently, all their meats are local, which definitely makes a difference. Service was excellent too. We totally recommend this place, whether you are on a budget or not. We loved it so much, we ate here twice in a week!
Sinantisi, Chorio
This is an all-day-open café-snack-bar serving coffees, snacks and small plates. There is a cute little balcony where you can sit in the afternoon and enjoy doing nothing. Talk to the owner, who will be happy to tell you his favourite stories from a long time ago.
Kali Kardia "Bohoris", Chorio
This all-time-classic taverna serving traditional Greek dishes is the oldest one in Kimolos, and stays open in winter. It's one of the most popular places to eat in Kimolos for local workers who come for lunch, and most visitors will sit here at some point.
In the evening, it tends to expand out on the street, and you will see more and more tables being added.
To Balkoni tou Nikou, Chorio
Another long-established traditional Greek restaurant, Niko's Balcony has a beautiful view of Psathi port and Polyaigos island. They use their own products to prepare delicacies such as their home-made pasta, the small tiropitakia, the goat stew, tomato balls, zucchini balls and numerous other dishes.
To Kyma, Psathi
This fish restaurant in Psathi offers a slightly gourmet / upmarket approach to popular Greek dishes, including fish and seafood. We didn't eat here, but it came highly recommended, so we'll try it next time.
Kimolia Gi, Prassa
We were really bummed that Kimolia Gi had just closed for winter, as we were looking forward to trying their highly reviewed home-made specialties. They also provide stylish off-the-beaten track accommodation.
Stavento ice-cream, Chorio
This is a gelateria that you would expect to see in a bigger city, or a less traditional island. Whether it "fits" in Kimolos or not is irrelevant, as the ice-cream is fantastic!
Raventi desserts, Psathi
As we couldn't get enough of the Stavento ice-cream, we didn't try the wide range of desserts in Ravanti. Pop in once you've arrived in Kimolos, or maybe take one to eat on your ferry to the next island!
Nightlife in Kimolos
You will have gathered by now that Kimolos doesn't exactly scream "nightlife" and "partying". While this is true, there are a few places where you you can have a late drink apart from your favourite local kafeneio or taverna.
If you want a late night, look out for Laikon and Vatsimanes in Chorio. They both have nice drinks and great music. Stavento bar, not to be confused with the gelateria, is another good option. In terms of ambiance and location, Brachera in the Castle is hard to beat.
Another suggestion, however, is to head to one of the beaches. You are likely to find a few people with drinks and perhaps guitars, and hang out, in true Kimolian fashion. Or bring your own drinks and spend some quiet time under the stars.
Finally, you may be in Kimolos when there is a free movie playing in the open air setting of the ruined castle. Quite a night with the locals!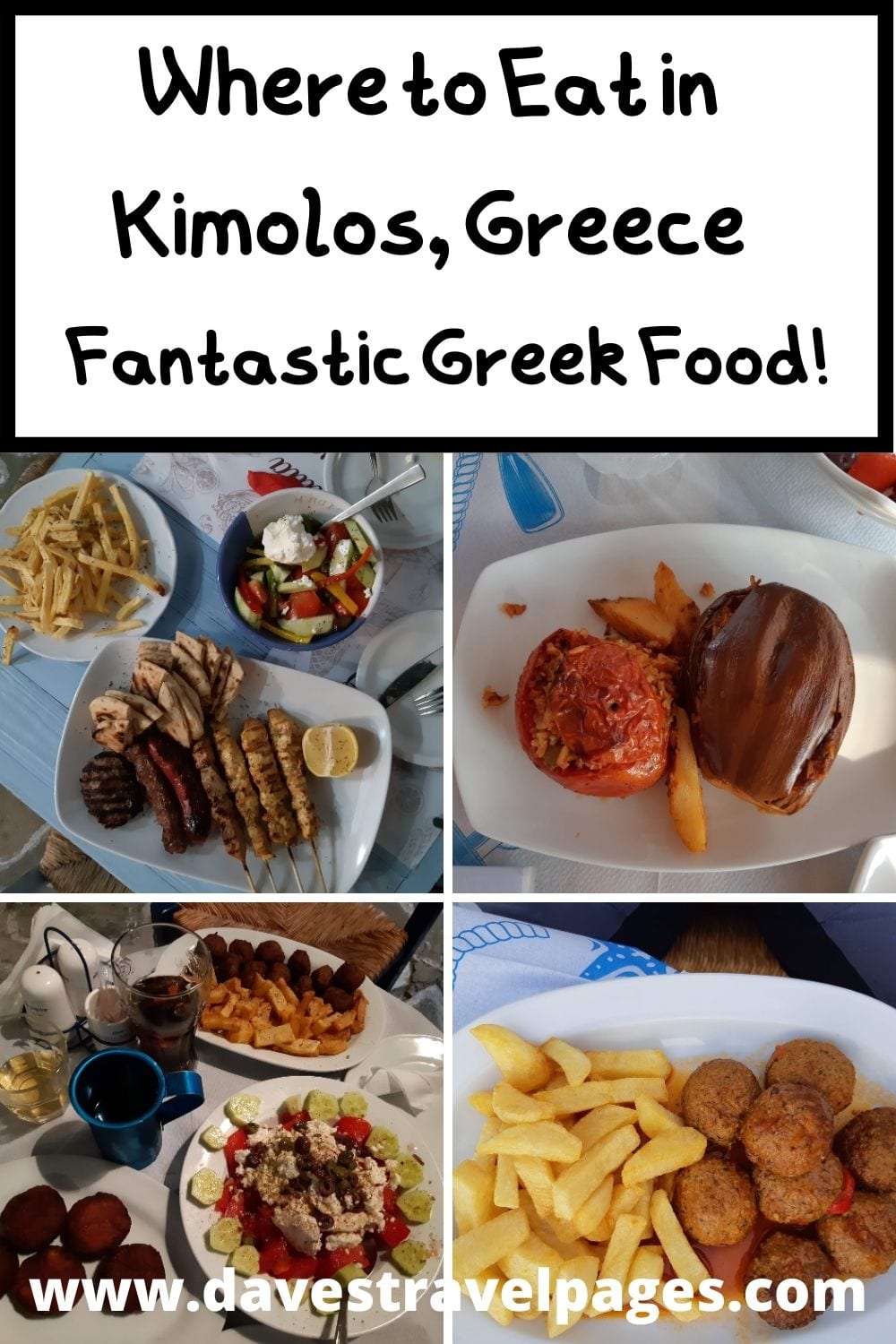 Kimolos Travel Guides
Kimolos is a beautiful island, with great restaurants selling delicious food. If you've visited let me know what you think the best restaurant for dinner in Kimolos is!
Need more information about the island of Kimolos in Greece? Here are some more pages for you to read:
---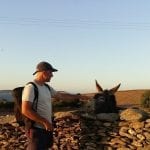 –
Dave Briggs
Dave is a
travel writer
currently living in Athens. In addition to writing this travel guide on where to eat in Kimolos, he's written hundreds more travel guides to the Greek islands and other destinations in Greece. Follow Dave on social media for travel inspiration from Greece and beyond: