Are you still undecided on where to take your next vacation? Here's the top reasons to visit Greece this year… Or any year for that matter!
Why Visit Greece?
Let's be honest – there's probably a million reasons why you should travel Greece! This Mediterranean country has it all – Great beaches, wonderful food, friendly people, history and culture.
From top tier destinations such as Mykonos, to quiet authentic mountain villages, there's something to appeal to every type of traveler.
Ok, so I might be biased (having lived in Athens for nearly 5 years now), but Greece really is the ideal holiday destination.
Still need convincing? If you've ever wondered why go to Greece, here's just some of the reasons why.
Reasons to travel to Greece
Whether you want to soak up the sun on a quiet beach, explore the remains of an ancient civilisation, or enjoy the great outdoors, Greece has something for everyone.
Here's a few reasons why I think you should visit Greece this year or next.
1. Perfect Weather
Due to its reasonably southern location on the Mediterranean, Greece is blessed with wonderful weather during the spring, summer, and autumn months.
Between June and September, rain can be a rare occurrence, and day time temperatures regularly exceed 27 degrees. If your idea of an ideal vacation is to rock up, and wear a pair of shorts and a T-shirt for 2 weeks, then Greece is for you!
2. Awesome Food – Greek Cuisine is the best!
I think traditional Greek cuisine is one of the really underused 'selling points' about Greece. You've probably heard about the benefits of a Mediterranean diet, and how olive oil is good for you.
What you probably don't realise though, is just how tasty all that delicious food in Greece is!
The fresh fruits are divine, the vegetables have taste, and the meat is exceptional. Venture out past a Greek salad, and explore some of the other dishes on the menu – You won't be disappointed by Greek food!
Some Greek dishes you can try include:
Moussaka
Dolmadakia
Souvlaki
Gyros
Baklava
Kalamari
Spanakopita
Fava
Kleftiko
Pastitsio
Stifado
3. Unique Drinks
And to accompany all that great Greek food, you'll need a drink or two!
Ouzo is probably the most well known drink to come from Greece, with the strong Raki, or Tsipouro a close runner up. In addition, there's national brands of beer such as Mythos or Fix, as well as countless micro-brewery beers.
If you love wine, consider spending time in Nemea in the Peloponnese or even Santorini. There's nearly a dozen boutique wineries in Santorini, many of which offer wine tasting tours.
It's not all about the wine though – make sure to try a Greek coffee when visiting Greece.
4. Amazing Beaches
Did you know that Greece has over 6000 islands? That's incredible right! As you can imagine, when you add all the coastlines together, it equates to rather a lot of beautiful beaches to choose from!
Every island seems to have its own little gem, Santorini included if you know where to look – take Red Beach for example!
On mainland Greece there are stretches of sandy beaches which few foreign tourists ever seem to discover. Some Greek islands like Milos have incredible beaches, and yet no-one seems to know of them.
Over the years I've been fortunate enough to visit more than a few, and whilst it's impossible to give a list of the best beaches in Greece, I'd suggest you check out beaches in Lefkada, Crete, Western Greece, Kalamata, Milos, and yes Mykonos.
Maybe I'll see you on one this summer!
5. Stunning landscapes and Natural Beauty
People who have only ever visited Greek islands in August might be forgiven for thinking that Greece has a harsh, dry, and somewhat barren landscape. Whilst this does have an innate beauty in itself, there is far more to the country than that!
Take the magnificent rock formations of Meteora, the chestnut forests of Nafpaktos, or the inspiring views from Arachova near Delphi as a starting point, and you will soon discover that Greece has a varied and stunning landscape.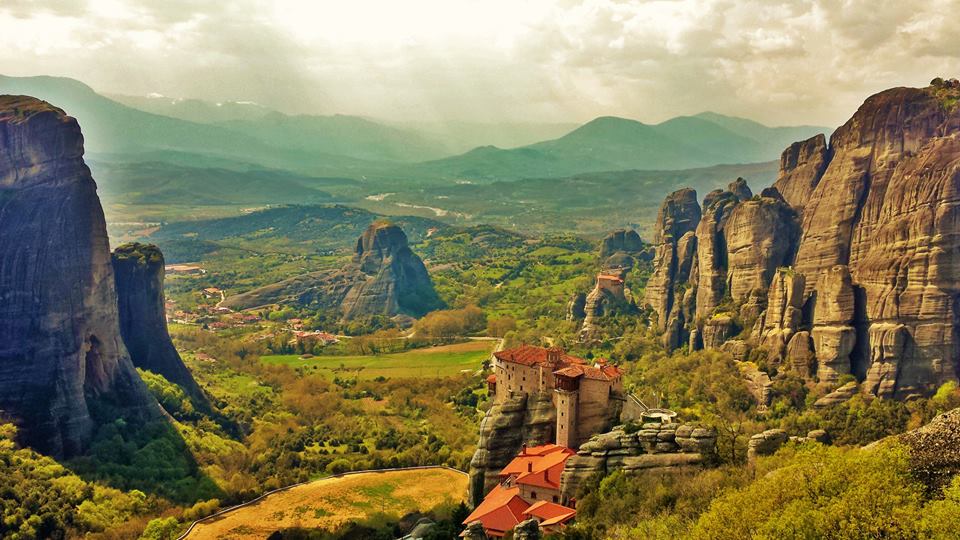 6. UNESCO World Heritage Sites
If I thought that Greece undersells itself on its local cuisine, it definitely does so even more with its UNESCO World Heritage sites. Even Greeks might be surprised to know that there are 18 of them!
Greece is a wonderful destination for history buffs and anyone interested in how the ancient Greeks used to live. There are many historical sites all over the country in addition to the ones designated as UNESCO sites.
I've got a bit of a side mission to visit all the UNESCO World Heritage sites in Greece. I'm not there yet, but give me a few years and I will be!
Related: What is Greece?
UNESCO World Heritage Sites in Greece
Archaeological Site of Aigai (Vergina)
Archaeological site of Olympia
Archaeological site of Mycenae and Tiryns
Historic Centre (Chora) with the Monastery of Saint John on Patmos
Medieval City of Rhodes
Monasteries of Daphni, Hosios Loukas and Nea Moni of Chios
Old Town of Corfu
Paleochristian and Byzantine monuments of Thessaloniki
Pythagoreion and Heraion of Samos
Sanctuary of Asklepios and ancient theatre at Epidaurus
Temple of Apollo Epicurius at Bassae
Mount Athos
Philippi
7. Athens and the Acropolis
Athens has probably had something of a bad press over recent years. Take my word for it though, it's not all protests and riot police! Instead you will find a multi-layered vibrant city waiting to be discovered.
Many people stay just a few days in Athens to visit the main attractions in the historic centre, and that's cool. There's certainly plenty to see here, such as the Acropolis, Ancient Agora, and Temple of Zeus.
Remember, Athens was the birthplace of Western Civilization – ancient sites are everywhere!
Put your urban explorer hat on though, and you'll find inspiring street art, a relaxed coffee culture, hidden neighbourhoods, and much more!
By staying longer, you can also see some of the other significant archaeological sites in the surrounding areas by taking day trips from Athens.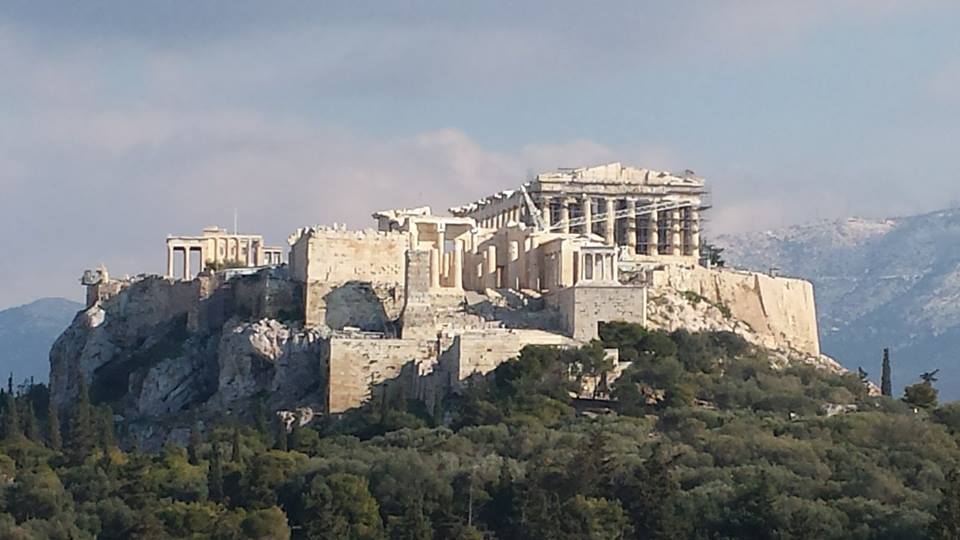 8. Outdoor adventure
Greece is also a great destination for active people. It goes without saying that there are endless watersports opportunities such as kayaking, sailing, windsurfing and kitesurfing to name a few, but there is much more as well.
Hikers will love the varied landscapes, particularly on Crete, and even non-hikers can manage the walk through the Samaria Gorge.
Cyclists will find it a great country to ride through. The best time to go to Greece for outdoor adventure isn't August though as I did on my last cycling holiday in Greece!
9. Venetian Castles
If you are from the United States and want to see some real castles, Greece has many to choose from. Again, these are really undermarketed as Greek tourist destinations.
Whilst people can't fail to notice the fortified town of Rhodes, few people have heard of Methoni and Koroni castles on the Peloponnese. If you are heading that way, be sure to check them out!
These castles are mainly of Venetian origin – another chapter in the remarkable history of this ideal destination for travelers in Europe.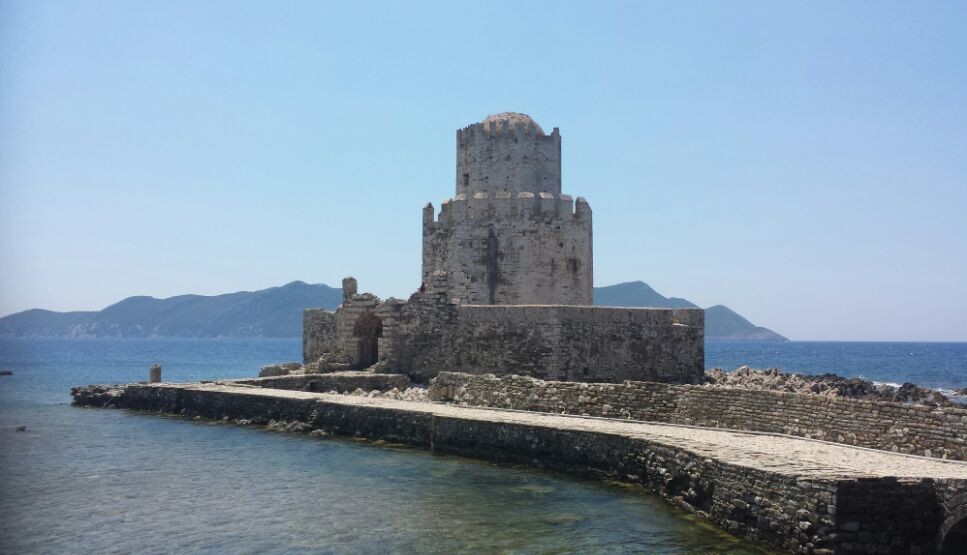 10. Ancient Greece
If you are a Greek mythology fan and love the stories of ancient Greece, you could plan a Greek road trip and create your own Odyssey! Some of the tales and history of Greece can really only be appreciated by visiting the country itself.
For example, you may know that the Greek city states used to hold a truce in ancient times when the Olympic was held in Olympia. This allowed all the athletes to travel there without fear of attack.
It's only when you work out how far Ancient Olympia is from Thebes or further north that you appreciate what an epic journey this might have been!
There's many ancient sites in Greece, with the Acropolis, Delphi and the ancient theatre at Epidavros being the most-visited.
Did you know that Delphi was once considered to be the center of the world? Sounds like reason enough to visit Greece!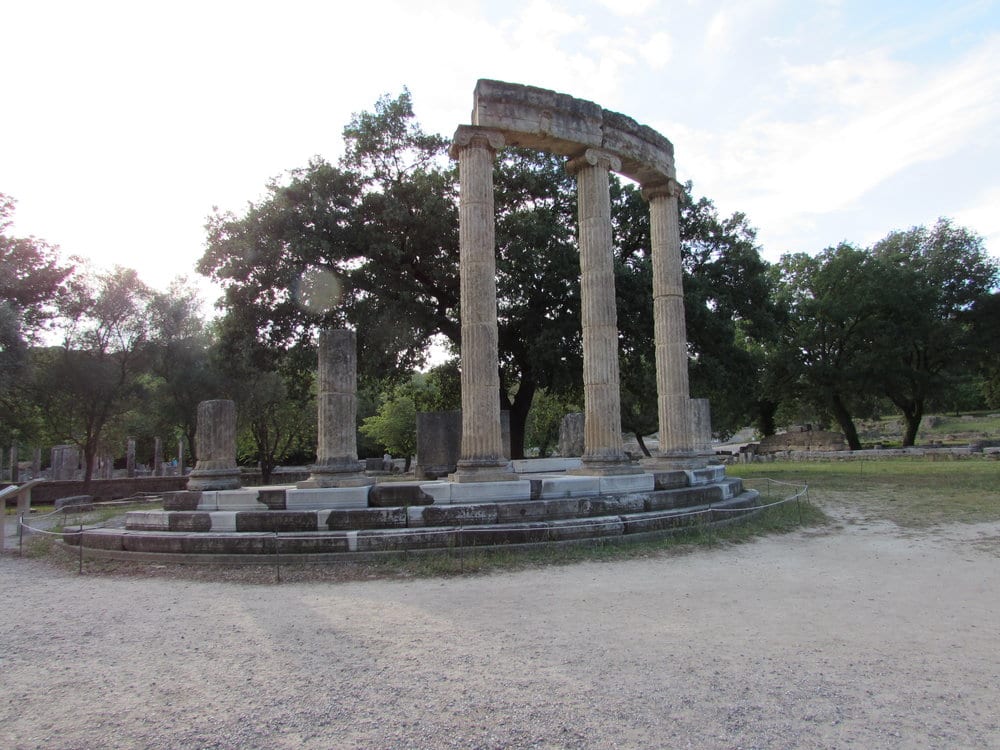 11. Greek island hopping
Greece has over 200 inhabited islands, and each one is a reason to come to Greece.
Perhaps the easiest island chain to go inter-island hopping is the Cyclades. It's quite simple to put together an itinerary that visits both popular and off-the-beaten-path islands, and it's one of my favourite parts of Greece to visit.
A first-timer itinerary often includes Santorini and Mykonos, but I'd encourage you to visit some of the smaller ones as well. Schinoussa and Iraklia are two of my favourite Greek islands yet to be discovered by mass tourism. See them while they are still undiscovered!
You can plan your island hopping Greece itinerary by looking at Ferryhopper. This is also a great site to book ferry tickets online.
12. Santorini and Mykonos
These two beautiful Greek islands deserve their own listing, as they are popular must-see destinations for people from around the world. Who can't help but be moved by romantic images of blue-domed churches, white-washed buildings and picture-perfect settings?
These popular islands are perhaps best visited in the off-season rather than high season. You'll have fewer other visitors, and will appreciate these world-class destinations so much more.
Related: Summer vacation quotes
13. It's safe
My final reason for visiting Greece is again one that I think most people don't emphasize enough. Greece is safe.
There are few countries in the world where you would feel comfortable eating a late meal outdoors, and then walking through the streets of an old town in the early hours of the morning with your family. Visit Greece this year and see for yourself!
Plan your trip to Greece
Have these reasons to visit Greece persuaded you that you need to get planning your trip? I've got travel tips that can help… and they're free!
Sign up for my newsletter, and I'll share my complete guides to Athens and Greece with you, so that you can plan the perfect Greek vacation. My Greece travel guides have helped hundreds of people plan their own itineraries, and I'm sure they'll help you too.
Discover more about Greek culture, historical sites, local specialties, and Greek people.
*** Sign up for my newsletter here ***
Why you should travel to Greece FAQ
Here are some commonly asked questions about why you should travel to Greece.
What is so great about Greece?
Greece is famous for its amazing beaches and clear-blue waters. In addition, the perfect beauty of Cycladic architecture, incredible sunset spots, and warm summer weather makes it one of Europe's most popular vacation destinations.
Is Greece worth visiting?
Greece is definitely worth visiting! There's so much variation in the country, from quiet islands with perfect beaches to archaeological sites and a culture dating back thousands of years.
Why is Greece popular with tourists?
Greece appeals to a broad spectrum of people, due to its varied islands, unique cultural, and important place in history. This, coupled with the fact it offers incredible value for money when compared to other European destinations makes Greece a popular country to visit.
Also read: Money and ATMs in Greece
Pin this travel guide for later
If you are still in the planning stages of your Greece vacation, you might find it a good idea to pin this blog post for later. That way, you can easily find it again when working on your travel plans.
Related: Greece or Croatia?
---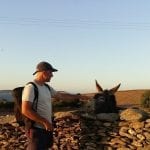 –
Dave Briggs
Dave is a
travel writer
who has been based in Greece since 2015. In addition to writing this blog post about what is special about Greece, he's written hundreds of other insightful travel guides to Greek islands and destinations. Follow Dave on social media for travel inspiration from Greece and beyond: