The Greek island of Milos has a fantastic culinary scene. In this guide, we'll show you the best restaurants in Milos along with which dishes to try.
Where to eat in Milos Greece
Milos is steadily growing in popularity as a holiday destination in Greece. This island in the Cyclades has some incredible beaches and landscapes, and has a far less pretentious atmosphere than the more famous Mykonos.
It also has some great food, literally everywhere you go!
After visiting the island twice now in the last couple of years, I've created this travel guide on the best places to eat in Milos and what you might expect on the menu. Let's dive right in!
Greek food in Milos
Having lived in Greece for five years, I believe that Greek cuisine is underrated. In fact, the tourism authorities really should use Greek food more as a selling point for visiting the country!
This is especially so with Milos, where the culinary scene has really taken off over the last five years. Today, you can find amazing food at a price you wouldn't believe was possible.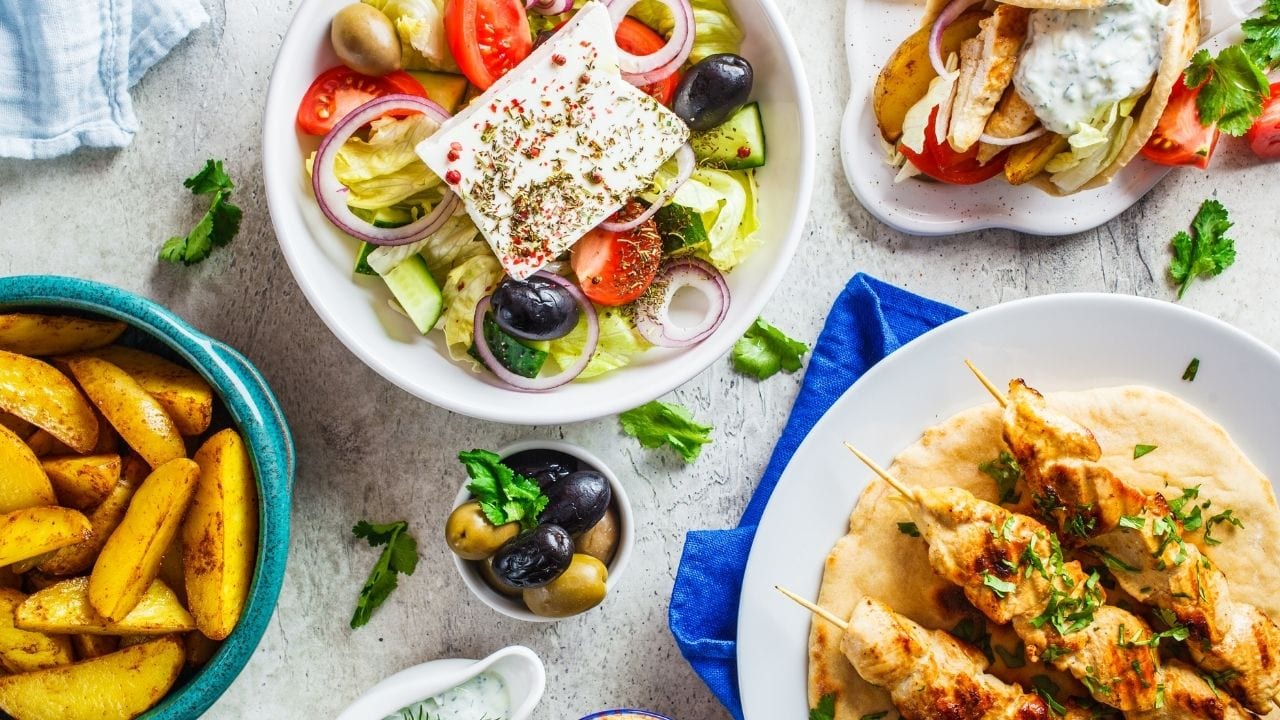 Greek cuisine is very varied, and if you are an adventurous eater you will be very happy in Milos. Some of the local delicacies include the following:
Fresh fish and seafood dishes, like kalamari, cuttlefish and sardines
Meat dishes, for example those with local goat
Local cheeses, like xinomizithra, a soft, sour white cheese
The local vegetables that grow on their own, absorbing moisture from the ground, and as a result are totally different in flavour
The local capers, that grow everywhere on the Cyclades
Pitarakia, small fried pies, and any other type of local pie (ask at local bakeries)
Skordolazana, a type of garlic-flavoured pasta
Karpouzopita, a local dessert with watermelon
Feeling hungry yet?!
Best Restaurants in Milos Greece
Wherever you go in Milos, you are sure to find a restaurant nearby. From round-the-year family run tavernas to places that are open only during the tourist season, there is a good selection of places to eat in Milos island.
While in English we would typically call all of these "restaurants", Greeks have several words to describe a place to eat.
Two of the most common are "taverna" and "mezedopolio". You can find more information in this article about food in Greece.
In our experience, Milos has some of the best food we've had in the Cyclades Greek islands. These Milos restaurants made our top list of the best places to eat on the island:
O Hamos Milos
Ask any local or visitor where to eat in Milos, and they will mention O Hamos. This restaurant is right on Papikinou beach, within easy walking distance from Adamas.
The setting is the first thing that strikes you, as there is a very personalised touch. You'll find lines of poetry written on the back of chairs, and even the menu seems to be handwritten in a book explaining the history and concept of O Hamos!
O Hamos taverna offers traditional Greek food in a shaded outdoor setting. There is a focus on slow cooked oven meat dishes, like goat and lamb, but also vegetarian and vegan options. Needless to say, there is a large selection of salads and starters as well.
One aspect we really loved about O Hamos in Milos, is that they use local vegetables, home-made cheeses, and locally reared meat either from their own or other small farms on the island.
We have been here twice and loved all the delicious food we tried. I'd definitely say that O Hamos is a good contender for the best restaurant in Milos!
What to eat in O Hamos in Milos
It's hard to single out a single dish, as I enjoyed them all so much! I particularly loved the goat dishes, whilst Vanessa loved all the cheese and especially the fusion chickpea dish in the oven.
The portions are quite big, so a hungry couple will probably be ok with a salad and two main courses. Prices are very reasonable for a restaurant of this reputation – we paid about 35 euro for a full meal for two with drinks.
The service is great, and decoration is quite unique. All in all, if you only have time for one restaurant in Milos, make it this one.
Note – O Hamos in Milos is very popular. Even though they have a large number of tables, they are often full, even in late September! Apparently, you may need to queue for over an hour in the evenings during peak season.
My best advice to avoid queues – come at a random time, say around 5 pm, when it's too late for lunch, and too early for dinner. Have a nice, relaxed meal, and then move onto their loungers to watch the sunset.
Bakaliko tou Galani, Triovasalos
This small, visually nondescript place came highly recommended by locals, who are repeat customers during winter.
We're glad we tried it, as Bakaliko tou Galani was one of our favourite places to eat in Milos. We'll go back there again when we return to Milos for sure!
They offer a large variety of small, inexpensive dishes. There are 45 (!) items on the menu, including meat, fish, seafood, cheese, eggs and vegetables.
We came here after hiking to Kleftiko Bay, so we were super hungry and we thought it was a very well-deserved meal!
Some of our highlights were the "pitarakia" (local cheese pies), the grilled mussels and the special "kavourmas" pork meat dish, but really everything we tried was excellent.
To get here, you will need to park in the parking space at Triovasalos, and walk a couple of hundred metres. When we visited, they opened at 6 pm, but check their times when you visit.
Medusa Milos
This fish taverna in the coastal settlement of Mandrakia came highly recommended. We really loved the sardines and the swordfish souvlaki that we ordered at Medusa, and next time, we will go for the grilled calamari, which looked delicious.
There is also a small selection of meat dishes, but hey, why would you have meat in a fish taverna?
The owner of Medusa, Periclis, is quite a character, and has some amusing stories to share. You must ask him about the time the King of the Netherlands came to eat at Medusa taverna in Milos!
The setting, overlooking the impressive bay with the unique rock formations, is really outstanding. Try to sit at one of their outside tables if you can, and go for a walk around the area after you've had your meal. It looks a little like Sarakiniko beach, only without the crowds.
You should also check out the small fishing settlement of Mandrakia itself.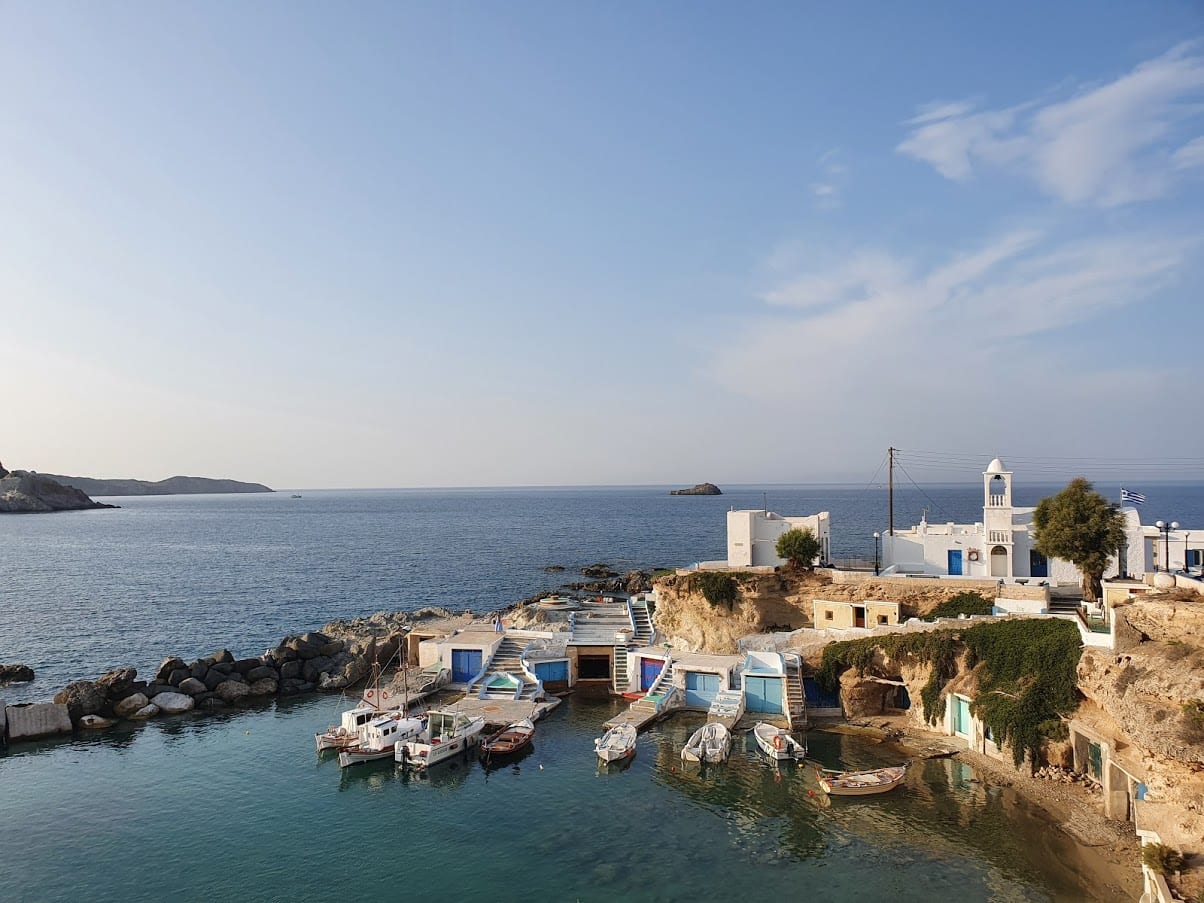 Tip – Medusa is popular, and queues can get very long. Come at a random time if you can, or just have some patience, as it's really worth it.
O Gialos, Pollonia
This slightly upmarket restaurant offers creative Greek cuisine with a twist. You will find dishes like risotto with cuttlefish ink, and prawn tartare. They also have a long wine list to accompany your meal.
The location is right on a coastal stretch, overlooking Pollonia Bay. There are several other restaurants around, which in my opinion makes Pollonia have a slightly tourist resort feel. Nevertheless, it is nice and relaxing.
Outside the peak months of July and August, Gialos also organize catering events. If you are thinking to have a special day on a Greek island which is not Santorini, it's worth considering this option.
Hanabi, Pollonia
If you want a change from Greek cuisine, the first Sushi restaurant on Milos could be just what you are looking for!
We were some of the first customers at Hanabi back in 2018, and were happy to treat ourselves to something different.
Hanabi is located in Pollonia, along the same stretch with Gialos. They have a great selection of Japanese and Signature dishes, fusion cuisine, and interesting cocktails.
Impressive service and a nice setting round things off nicely, and Hanabi makes a good restaurant for a special meal during a vacation in Milos.
Fatses, Plaka
We came here just after a visit to the Archaeological Museum, which is next door. We were originally only planning to have a coffee on the seating in the main square, but we were really glad we had a couple of dishes in the end.
Their "giant Greek salad" was giant indeed, and the stuffed aubergines were unexpectedly good.
There are outside and inside eating areas at Fatses. During the day, it plays relaxed reggae music, while on some evenings they have live Greek music. Make sure you check the inside area, which is almost like a gallery, as it's full of colourful paintings.
Mikros Apoplous, Adamas
This modern Greek restaurant is located right on Adamas port, overlooking the quiet bay. They offer a selection of fish dishes, classic Greek cuisine and a couple of fusion dishes.
A couple of people who live here recommended Mikros Apoplous. Unfortunately we ran out of time to eat here, but the menu looked really impressive.
Astakas, Klima
The only café-restaurant in Klima, Astakas enjoys wonderful sunset views. It is very popular, especially during peak season, so if you want to secure a table, it's best to book ahead.
We haven't eaten here, so we can't recommend any of the dishes, but people eating here seemed very happy. Thinking about it though, who wouldn't be happy having a glass of wine with this view?
Best tavernas in Milos
The above is only a short selection of restaurants and tavernas in Milos. If you only have a few days on the island, you won't have time for all of these! Our top three favourites were O Hamos, Bakaliko tou Galani and Medusa.
Still, if you find yourself in another area, don't hesitate to try the tasty food. We're sure you'll love wherever you eat in Milos!
What do you think is the best restaurant in Milos Greece? Feel free to share it in the comment section below!
Exclusive Travel Tips
You might also like to read these latest posts:
Milos Best Restaurants
Please pin this Milos Restaurant guide for later using the sharing buttons in the bottom right hand corner of your screen.
Milos FAQ
Readers planning to visit Milos often ask questions similar to:
What food is Milos known for?
Milos is known for its local cheeses which are sheep or goat based, pumpkins, and sweets.
What part of Milos is best to stay?
Adamas is the perfect place to stay if you're only on Milos for a couple of days. For longer stays you might also want to consider Plaka, Pollonia, and Klima.
Where is the main town in Milos?
The main town in Milos is Adamas. This is the port town, and where you will arrive and depart if traveling by ferry.
Where is the city center in Milos?
In the high season, Adamas is the central hub of the island. It houses the main ferry port, and has many places to eat and drink, as well as facilities such as ATMs and car rental places.
How long is the ferry ride from Athens to Milos?
Ferries sailing from Piraeus Port in Athens to the island of Milos take 3-5 hours depending on the type of ferry. Check schedules at Ferryscanner.