Exploring Greece on a budget is easy when you know how. Here are my best travel tips on how to see Greece without spending a fortune.
Is Greece Expensive?
Greece is one of the most popular tourist destinations in Europe, and it can also be one of the cheapest depending on how you want to travel.
Sure, if you want to visit the Greek islands of Santorini or Mykonos in peak season you're talking big money, but there's plenty of other islands and destinations in mainland Greece you can visit throughout the year!
I've lived in Greece for over 5 years now, and when I travel within the country, do so on what many people might consider to be a budget basis.
I've used these experiences to put together this guide on how to travel Greece on a budget.
Planning a trip to Greece
This guide to experiencing Greece on a budget will help you cut down on costs by choosing the best time of year to go, introducing lower key islands, and more.
As everyone's idea of budget travel is different, I've started off with a few specific suggestions, and then at the end of this guide, included some travel tips for hardcore budget travelers, so be sure to read through until the end!
Related: How to afford to travel around the world – Tips and Tricks
Off-season Greece holidays
Most people associate Greece with summer, and in particular July and August. These two months coincide with the school summer holidays in Europe, when everyone takes their summer vacations at the same time.
This is the most popular time to visit Greece, and as a result hotel prices are higher making it also the most expensive time. If you are flexible when you can go on vacation, you'll find that you can take cheap holidays to Greece outside of those two months.
Instead, plan a trip to Greece during the shoulder months. Typically, the dates after Greek Easter (normally in April) through until the second week of June, and the months of September and October are good choices. I personally think that September is a perfect month to visit the Greek islands.
Not only will accommodation generally be cheaper, but you will also enjoy Greece with fewer crowds giving you a more authentic experience.
You might also find that the sea will be warmer in September and even October if you want to spend your time sunning on a Greek island beach. April, May, and June can have warm weather, but the sea may be too chilly for extended swims.
On a side note, archaeological sites and most museums have a reduced entry fee from November to March. If you are a history buff, you will enjoy your visit more during these months, as you may have many of the sites and museums to yourself.
Exceptions to the rule: Greece in August
That is not to say that you can't get bargains in summer months. We've found simple rooms in Greece for 40-45 euros, even in August, so it's definitely possible. Just don't expect 5 star hotels to be at a discount!
Related: When to visit Greece
Island hopping in Greece on a budget
Santorini and Mykonos may be on everyone's list, but they are also among the most expensive Greek destinations. If you are visiting Greece on a budget, you might want to skip them and go to other islands instead.
Greece has over 200 inhabited islands to choose from, so putting together an island hopping itinerary that involves islands located reasonably close together makes sense.
This will reduce not only the cost of ferry tickets, but also cut down on the length of time you spend away from the beach!
Despite both Santorini and Mykonos being part of the Cyclades chain of islands, many of the others in the Cyclades barely get a look in. This makes them a great choice for Greek island holidays on a budget.
I've a guide here on how to get from Athens to the Cyclades islands that might be good reading, Here's a few key suggestions for low key and cheap Greek islands to visit.
Tinos and Andros
If you are after less known places, Andros and Tinos are a good combination of islands. They are close to Athens, and therefore ferry ticket prices are lower than for most other islands. Furthermore, they have both kept their authentic character, and you will be able to enjoy a slice of the real Greece.
Take my word on this, Tinos will be the next hot destination in Greece in a few years' time. Go now, and if you still want to experience Mykonos, you can easily get there on a day trip, as it's only 30 minutes on the ferry.
Read more: Tinos and Andros in Greece
Schinoussa and Iraklia
When it comes to quiet Greek island getaways, it doesn't get much better than these two Cyclades islands! When you arrive, you'll quickly slip into the island life: Beach, Swim, Taverna, Snooze, Repeat!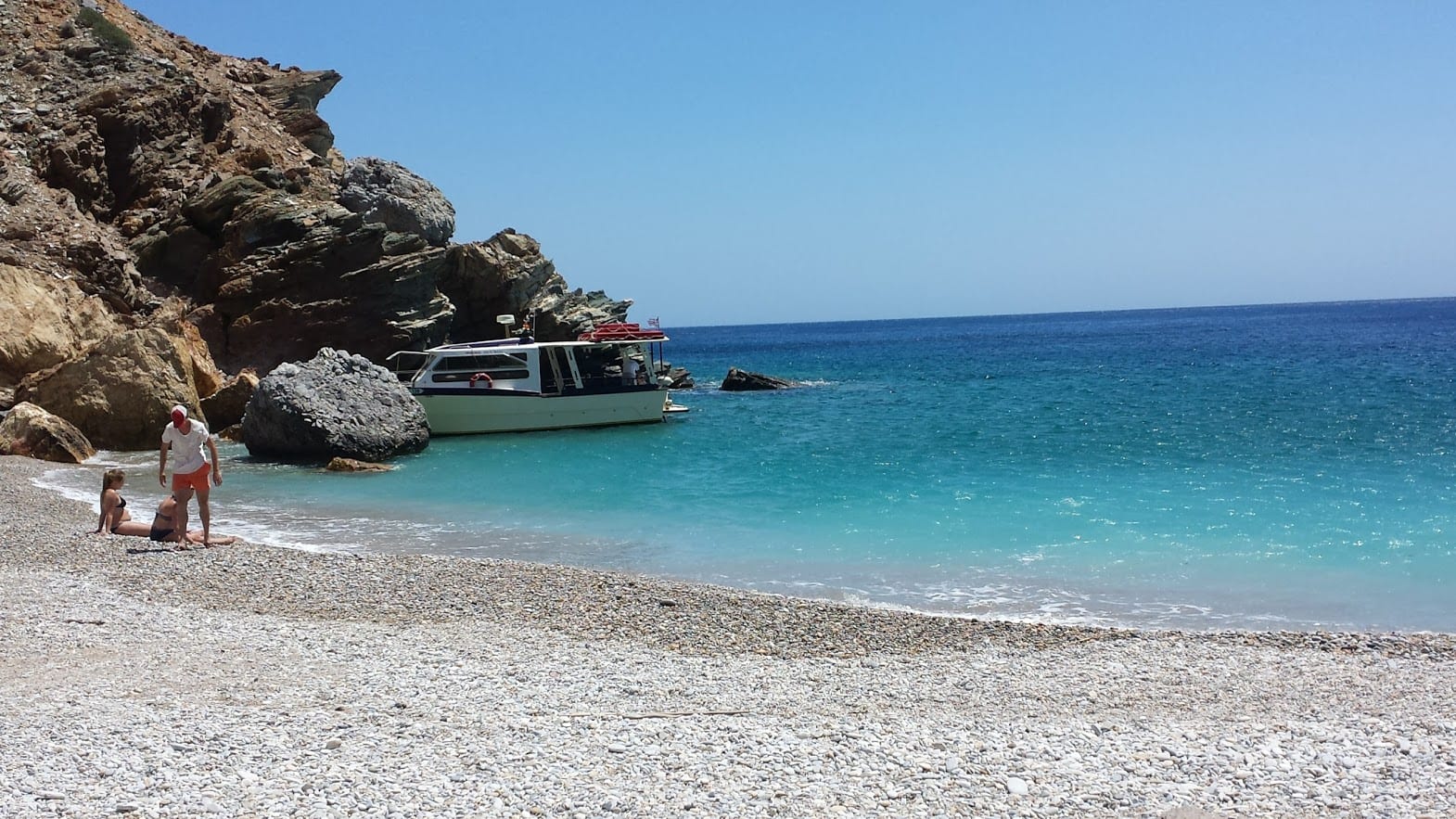 More here: Schinoussa and Iraklia
Crete
Another great island to visit if you are on a budget is Crete. It has tons to offer and all in all is a very affordable place to be.
You will find that meals are cheaper than in the Cyclades, and hotel room and accommodation prices are generally lower, especially if you go to the south.
More here: Travel guide to Crete
Santorini on a budget
Still, if Santorini is an absolute must, it is possible to do so on a relative budget. Of course, you won't be getting caldera views, enjoying sunset cocktails, or other such luxuries. You might even find the hostel prices on Santorini are the same as hotel prices elsewhere in Greece.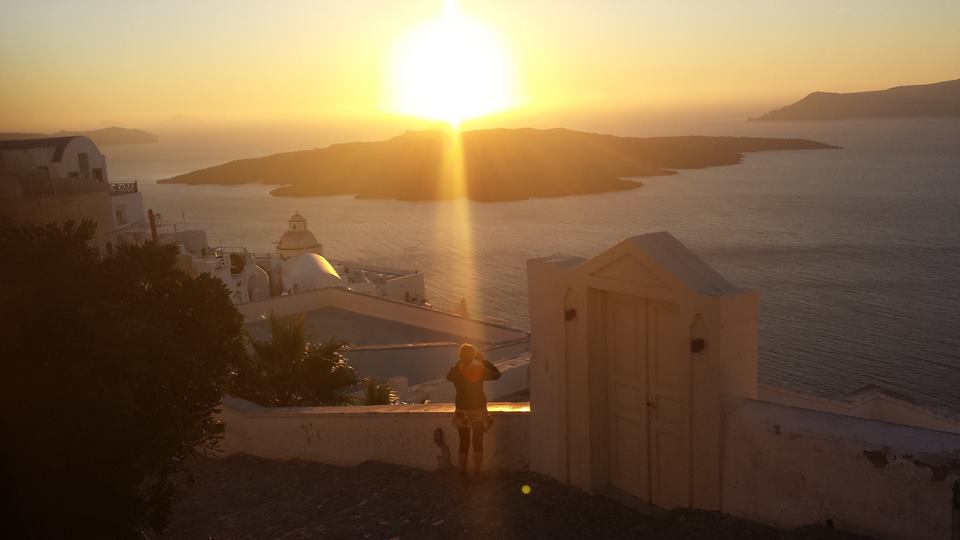 Here's some tips on: How to book a Santorini hotel without breaking the bank.
Of course, some times of year are cheaper than others to visit Santorini. Consider visiting Santorini in October or low season for the best reductions. I've previously visited Santorini in November and loved it!
Cheap Deals to Greece
If you want to visit Greece on a budget, booking your flights several months in advance always helps. Depending on where you are travelling from, you can start looking for flights up to a year in advance of your intended trip.
We have found that booking economy flights, even for long trips, is worth it. As an example, our 11-hour flights between Athens and Singapore with FlyScoot was very decent, all things considered. If you are traveling from Asia or Australia to Greece, this Flyscoot budget route might be a good choice.
More here: Athens to Singapore Flyscoot Review
International Flights to Greece
Using Skyscanner is a good way to check on the prices of flights to Greece. Google flights is also a useful tool. Don't forget to sign up for airmiles and/or redeem them to make your flight even cheaper! Another pro-tip is to use a credit card which offers you rewards for these more expensive purchases. Just be sure to pay it off straight away!
Most people flying within Europe should be fine on the low-cost airlines. RyanAir, EasyJet and the like can be fairly competitive when it comes to pricing. That said, make sure you compare luggage costs and any other hidden costs before you book.
Update 02/11/2020
I now no longer consider the Ryanair app to be safe to use. After booking flights through the app for April of 2020, my flight was cancelled. When applying for a refund, Ryanair said that I had booked tickets through a screen-scraping site and they could not refund my tickets.
Therefore, I can not recommend anyone to use this app, as you may find that you will not receive any money back through cancellations.
Ferries in Greece
In terms of ferries, you can often get non-transferable, non-refundable tickets for many routes if you book well in advance. Check Ferryhopper for all ferry options.
There are normally different ferry companies and boat types going to the various Greek islands.
Typically, slower boats have cheaper ticket costs than faster ones. If you are a student, you'll be entitled to discounts if you have the appropriate student card.
If you are going to some of the islands, you can take overnight ferries to cut down on accommodation costs.
Consider bringing a sleeping bag or jacket, as air-con can be pretty strong on most ferries. And remember that pre-booking your ferries months in advance can save you quite a lot of money.
I've an in-depth guide here to Greece ferry services.
Cheap places to stay in Greece
You will find many types of accommodation in Greece, ranging from expensive boutique hotels with private pools to simple dorms and campsites. Choose the one that fits your lifestyle and budget, and book accordingly.
If you are looking for hostels, you should be aware that they are not always available. You can find them on the biggest cities and towns and the most popular islands. However, they are practically non-existent on many other areas.
In this case, look out for campsites, and you may be pleasantly surprised. And if you don't have a tent, most campsites will have some for rent.
I would recommend using Booking as a website to book your places to stay in Greece. The more you use it, the cheaper future bookings become due to their loyalty system.
In addition, there is plenty of local accommodation that may never appear on online booking websites. Quite often these will be the cheaper places, such as simple rooms. You'd need a bit of local knowledge or language to take advantage of that though.
Getting around Greece on a budget
I've already mentioned how to best use the ferries to get to the islands. Here's a few more specifics for how to travel in Greece cheaply.
In the cities
When it comes to Greek cities, public transportation is very inexpensive. For example, a single journey metro ticket in Athens is 1.4 Euro.
However, if you like walking, you will hardly ever need it. Most, if not all, of central Athens can be explored on foot, especially if you are staying in the historic center. As for smaller cities, like Thessaloniki, Kalamata and Heraklion, they are entirely walkable.
Related: Best cities in Greece
Car Hire
Hiring a car can be something of a double edged sword. The benefit is they are cheap to hire in Greece (I've seen prices of 20 Euros a day and heard of less). The downside, is that if you use toll roads in Greece, the costs add up quickly.
Still, if you want to be independent, and are two or more people traveling, hiring a car can be quite cost effective, especially if you want to get to off the beaten track destinations in Greece.
If you are visiting Greek islands, hiring a car can also make sense in order to get to all those quiet, out of the way beaches that the tourist hordes never reach!
Don't take a hire car on a Greek ferry though. You pay extra for the car, and you may not be insured.
More here: Road trips in Greece
Cheap Eats in Greece – Souvlaki and Gyros!
The Greek cuisine is incredibly varied, and very affordable for the most part. Based on two people sharing, you can have an enjoyable Greek meal for no more than 25-30 euro, and that includes a little local wine!
If this still sounds like a lot, there are many options that will cost you much less. Greece's best-known street food, souvlaki and gyros, is an ideal choice if you are visiting Greece on a budget.
It consists of pieces of meat, tomatoes, chips, onions, tzatziki and lettuce wrapped nicely in a thick pitta bread. You will rarely need more than a couple to be full, at a cost of about 5 euros total. Great!
Other cheap and filling snacks are koulouri, which is similar to a bagel, spinach pie – spanakopita and cheese pie – tiropita.
If you are staying in a private room, it makes sense to book one with breakfast and / or cooking facilities. This way you can buy all the ingredients and enjoy a home-made Greek salad on your balcony.
In terms of shopping for food, ask around for the local markets. If you are staying in central Athens, the cheapest market is the Varvakios central food market close to Monastiraki station. Take your pick from the fresh fruit and veg stalls and go to the cheese shops around Athinas and Evripidou streets.
Check out this guide: What to eat in Greece
Enjoy a slow coffee
Greece has a huge coffee culture. Having a coffee is a lot more than just consuming a beverage – it's really a social thing. People often make one coffee last several hours!
When it comes to having a coffee though, a takeaway will always be significantly cheaper than a coffee at a café. The difficult part will be to decide what you want!
Cold coffees such as frappe, freddo espresso and freddo cappuccino are all very popular, especially during the warm months. Order a coffee to go and enjoy it somewhere with a nice view – it's difficult to beat having a frappe on the beach!
Similarly, alcoholic drink prices in Greece can vary widely. A nice cold beer at a taverna will set you back a few euros, but a cocktail at a stylish bar will typically cost more than all the souvlakis you can eat in one sitting.
If you are after strong drinks, you can have a cold raki with your meal. It's a strong distilled drink that is produced in many areas of Greece. Or you can always go for the better-known ouzo, with a strong aniseed flavour.
Here's a little more about drinks in Greece.
Free Walking Tours
There's nothing better than a walking tour to get your bearings in Athens. Although the centre is pretty small, most people find it hard to orientate themselves through the narrow streets of Plaka or Psirri.
A free Athens walking tour is a good way to get acquainted with the city on arrival. It will offer an overview of the city and its long history, and it can be an interesting way to start your Athens vacation. Just remember to tip!
Visit free museums and art galleries
Many cities and towns in Greece have several museums that you can visit for free, or for a couple of euros. Additionally, some museums have certain days of the week when the entrance is free.
If you are visiting Athens for example, the main Benaki building is free to visit on Thursday evenings, from 18.00 – midnight. It's a great museum to catch a glimpse of Greece's long history.
In addition, makes sure to look out for the free days for archaeological sites and public museums. Key dates for these are:
6 March – In memory of Melina Mercouri, the famous Greek actress and politician
18 April – International Monuments Day – this is the only day that the Panathenaic Stadium has free entrance
18 May – International Museums Day – on this day all museums, including private ones, are free to visit
The last weekend of September – European Heritage Days
28 October – The "Ochi" public holiday
Every first Sunday in November, December, January, February and March
If you are interested in visiting a specific museum, check out their website for more information. Understandably, on free days, the sites and museums can get quite busy! Try to get there early if you can, and be patient.
Additional Note: Visiting Athens in March can be a great choice for budget travelers. Also read: Visiting Greece in March
Check out if you qualify for any discounts
If you are a student or a senior (65+), you may qualify for discounts or even free entrance to many museums and archaeological sites. Similarly, children, teenagers and young people are generally entitled to free or low-priced tickets.
Student and senior discounts also apply on transportation. Children below a certain age may travel for free. If you are travelling by ferry, do your research before you travel, as company policies may differ.
Similarly, ISIC (International Student Identity Card) holders are also entitled to half-price tickets on some ferries. If you are an ISIC holder, make sure you choose your ferries wisely!
In all cases, don't forget to bring proof of your age or academic status with you, as checks can be pretty strict.
Buy a Greek SIM card
If you are an EU citizen, you won't have to worry about roaming costs. However, if you are coming from another country, consider getting a local SIM card. It only costs about 10 euro and it will typically offer a few GB to begin with.
A local SIM card will only work if your phone is unlocked. The main companies are Cosmote, Vodafone and Wind, and it appears that Cosmote has the best coverage. We both have Cosmote pay-as-you-go phones, and rarely pay over 10 euro per month, so that should give you an idea of costs.
Needless to say, you can always consider turning your phone off – but chances are you won't!
More Travel Budget Tips For Greece
Looking for ways to save even more money on your next vacation in Greece? You might also consider:
Getting a Revolut card for perfect currency exchange rates
Using Couchsurfing or similar hospitality sites
Volunteering to work on Eco projects
Hitchhiking
Free camping on some of the islands (a very grey area !!)
Visit Greece FAQ
Readers planning a trip and wondering about Greece costs and how to find decent prices for accommodation and other travel needs often ask questions similar to:
How much should I budget for a trip to Greece?
For two budget conscious people traveling together, 50 Euro a day will cover reasonable accommodation, some meals out, and expenses such as ferry costs when Greek island hopping. As a rule, the slower you travel, the cheaper things become.
Can you do Greece on a budget?
Greece can be a surprisingly affordable country to travel around, especially in the shoulder season. June and September are the best months for saving money on hotel costs, and the gorgeous beaches are much quieter then too!
What is the cheapest Greek island to visit?
The best islands to visit if you have a tight budget will be Crete, Naxos and Kefalonia. These are three of the larger islands in Greece, which means there's a wider range of more affordable private rooms and hotels to choose from.
What is the cheapest part of Greece?
From my experience, you should visit Crete if you are looking for budget destination within Greece. There are more budget hotels to choose from, the local restaurants offer particularly good value, and it's a good place to experience local culture.
How much is street food in Greece?
Souvlaki and Gyros is by far the most widely found Greek food. A souvlaki wrap, which includes meat, tomatoes, onion, and fries, and Tzatziki will rarely cost more than 3.00 Euro. If you eat two, you definitely won't need to eat again for hours!
Would you like even more information to help you plan a trip to Greece? Sign up for my free travel guides to Greece here:
Next read:
---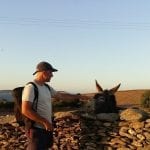 –
Dave Briggs
Dave is a
travel writer
from the UK who's been living in Athens, Greece since 2015. As well as writing these travel tips and hacks on how to plan a trip to Greece on a budget, he's also written hundreds of other travel blog posts and itineraries for travel destinations all over Greece. Follow Dave on social media for travel inspiration from Greece and beyond: