Kleftiko Beach in Milos, Greece is one of the hidden gems of the Cyclades. Here's how to visit Kleftiko, Milos and enjoy this stunning location.
Kleftiko Beach Milos
Milos island is blessed with over 80 incredible beaches, and running neck and neck with Sarakiniko Beach as the most famous, is Kleftiko.
If you are planning to visit the Greek island of Milos, Kleftiko should definitely be included in your itinerary. Its unique rock formations, clear water, and caves make it an outstanding area to spend time in.
Having now visited most of the Cycladic Greek Islands over the last 5 years of living in Greece, Kleftiko Bay still stands out as being remarkable!
In this travel guide, I'll show you how to get to Kleftiko and why it's one of the best things to do in Milos.
Where is Kleftiko Milos?
Kleftiko beach is located in the south west of the island of Milos Greece. It is a cove known for its impressive white volcanic rocks and caves.
What does Kleftiko mean in Greek?
The word comes from 'Kleftis' which means thief. Translated, Kleftiko means Pirate's Lair. Yes, Kleftiko used to be a real life shelter for pirates of the Cyclades Islands in Greece!
Does Kleftiko in Milos have a beach?
Yes, Kleftiko in Milos island Greece does have a beach but you'll have to swim to get there! It's a thin stretch of white sand backed by the imposing rock formations the Bay is famous for.
In the semi-sheltered cove there are a few rocky outcrops where you could have a picnic if you can reach them!
Related: Best Greek Islands For Beaches
How to get to Kleftiko Beach
The most popular way to get to Kleftiko in Milos is by taking a boat tour. It is also possible to walk there, although the hike to Kleftiko is a hard one, and not without its dangers. More on walking to Kleftiko below!
Boat Tours to Kleftiko
The easiest way for the majority of visitors to Milos to get to Kleftiko is to book one of the boat tours. There are several available, and they offer a unique way to see and photo the coastline of the island.

The Milos boat tours I took in 2018 and 2020 still stand out in my mind, and we really enjoyed the experience! Take a look below where you can find a similar sailing trip in Milos that will take you to Kleftiko and other incredible places on the island.
Book a Kleftiko Boat Tour
These sailing trips in Milos Greece are available through Get Your Guide – My recommended tour booking platform for trips and activities around the world. Most of these sailing trips leave through Adamas port (but it's always good to check!).
Walking to Kleftiko Beach
I've visited Kleftiko twice now, and the second time we decided to hike to Kleftiko beach. It's not for the lazy or faint-hearted though!
When hiking to Kleftiko Bay, you can expect some steep rough sections of trail. You even end up going through a reserve for poisonous snakes at one point – I'm not joking!
If this has brought out the Indiana Jones in you and you want to go ahead, here's how:
First, you'll need to drive to the Monastery of St. John Siderianos. You can find it on Google maps.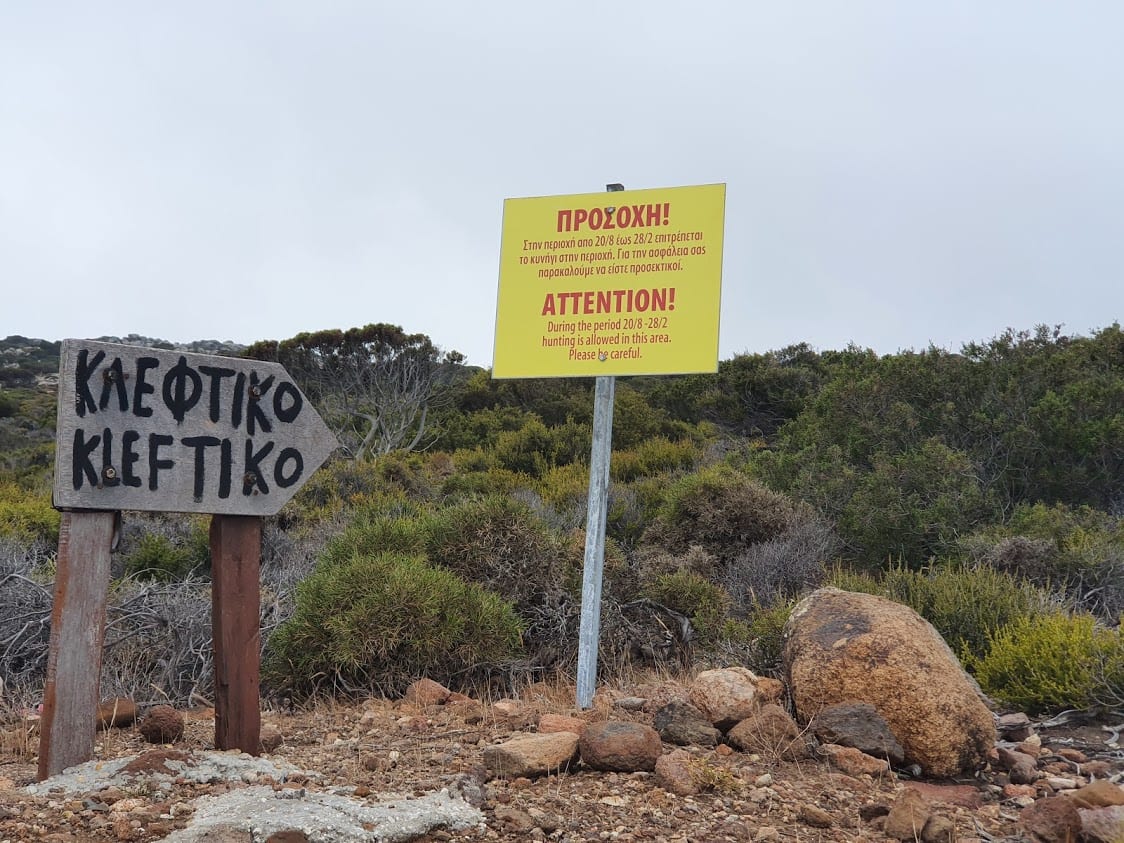 About a kilometre past the monastery you'll find the trailhead for Kleftiko is marked with some areas for parking vehicles.
Walk to the trailhead where you'll see a sign, and then follow the trail for about 40 minutes until you get to the beach. You'll want to wear some sturdy hiking shoes, and take plenty of water and sunblock for both the hike and the time at Kleftiko!
Note: On the way back you'll be hiking uphill, so best leave the beach when it's not quite so hot. Never underestimated the strength of the Greek sun during the summer!
Things to do in Milos Kleftiko
Now you're at the beach, what can you do? Well, if you're on a boat trip, your schedule will be set by the captain. Normally, you'll have some time for a swim and photos. You may even end up having lunch on the boat there depending on how the boat tour has been timed with stops.
Things you can get up to include cliff jumping, snorkeling, swimming, floating around, taking photos and videos and generally enjoying the wonderful clear waters and impressive natural beauty of the area.
More Travel Tips About Milos
If you would like more information to help plan your trip to Milos, you might like to check out these other guides and sites:
If you're planning a vacation in Milos, it might be a great idea to get hold of this guidebook from Amazon: Milos and Kimolos in Greece.
---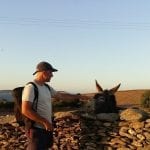 –
Dave Briggs
Dave is a
travel writer
from the UK who has been living in Greece since 2015. As well as writing this guide on how to reach Kleftiko in Milos, he's written hundreds of other insightful articles to Greek islands and destinations on this travel blog. Follow Dave on social media for travel inspiration from Greece and beyond: