The Frissiras Museum in Athens, is the only museum for contemporary European painting in Greece. Located in the Plaka area of Athens, the Frissiras Museum houses rotating exhibitions, featuring contemporary European artists.
Visiting Frissiras Museum in Athens
As part of my quest to visit every museum in Athens, Greece, I dropped by the Frissiras Museum in Plaka. Founded by Vlassis Frissiras, the museum opened its doors to the public in December 2000.
A passionate art collector, Vlassis Frissiras donated his private collection of over 3500 pieces of art to the museum. It is now run as a not-for-profit foundation by the Frissiras family.
The Frissiras art museum has exhibits ad collections from Greek artists as well as other European artists. There is a permanent collection of contemporary painting, as well as rotating exhibitions.
The museum features temporary exhibitions based upon a central theme. I visited during February of 2016, and the exhibition was entitled 'Elles'.
This exhibition featured paintings from 67 female artists, and all the works were drawn from the private collection of the museum. The Elles exhibition at the Frissiras Museum ran from 9 December 2015, and is due to end at the end of June in 2016.
For up to date information on exhibitions take a look at their website (in English and Greek) here: Frissiras Athens
Frissiras Museum Building
The museum itself is housed in a renovated, neo-classical style building. Spread out over four floors, it was well lit by a combination of excellent natural light, and well thought out interior lighting. Each room had plenty of space, and the art was laid out perfectly.
Unfortunately, this was one of those museums where 'no photos are allowed'. I do find this highly irritating!
My favourite artist exhibiting there, was Daniela Stamatiadi. She had a series of paintings in a collection called 'The lies we wear'. The one called 'The Queen Complex' was my particular favourite.
Opinion on the Frissiras Museums in Athens
My general thoughts on the Frissiras Museum, are that the art gallery is a very pleasant place to visit, especially if you are an art enthusiast.
You can spend as long or as short a time you like in an art museum, but I would say to allow about three quarters of an hour to view it all.
There is also a small cafe inside, although it was closed when I visited.
Essential Information for Visiting the Frissiras Museum Athens Greece
The Frissiras Museum is located at 3 & 7, Monis Asteriou in Plaka, Athens. The opening hours are Wednesday to Friday: 10:00 – 17:00, and Saturday and Sunday: 11:00 – 17:00, and the museum is closed on Mondays and Tuesdays.
When it comes to the entry fee, it is a quite steep 6 Euros per adult. Concessions can gain entry at half the price. I visited the Frissiras Museum as part of my ongoing project to see every museum in Athens.
You might also want to check out these other Athens museum guides:
---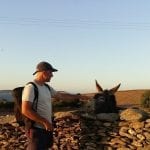 – Dave Briggs
Dave is a travel writer originally from the UK, and currently living in Greece. In addition to writing this guide to the Frissiras Art Museum in Athens, he's written hundreds of other useful guides to help plan your trip to Greece. Follow Dave on social media for travel and adventure inspiration:
Facebook
Twitter
Pinterest
Instagram
YouTube