The Epigraphical Museum in Athens is a very specialised museum, which is unlikely to appeal to most tourists or even locals. As part of my project to visit every museum in Athens though, I of course had to see what it was all about! Here's what I thought.
Epigraphical Museum in Athens
This is going to be a very quick museum review! At it's fundamental level, the Epigraphical Museum in Athens is basically just a collection of inscribed stone slabs and rocks.
These include proclamations, announcements, memorials, and grave stele.
The vast majority of these are inscribed in various versions of ancient Greek, with a handful also in Latin. The dates of the exhibits range from the 8th century BC to the 16th century.
Athens Epigraphical Museum
By the description above, you can probably already tell that the Epigraphical Museum in Athens is not a place everyone will want to visit! Really, you have to have an intense interest in Ancient Greece, be studying archaeology, or be a language specialist.
There were a few things of interest that I noted during my time there though. One, was how during a certain period of time, there were no spaces between words on the inscribed slabs.
Another, was how the letters were perfectly aligned both horizontally and vertically on some of the slabs. Mainly though, it felt that I was just wandering around a museum storage room!
So in conclusion, the Epigraphical Museum Athens is a wonderful place for academics, but probably not worth the while of most people visiting Athens for just a few days.
If for some reason you don't believe me, and want to check out the Epigraphic museum Athens for yourself, here is some information that you may find useful.
Epigraphical Museum in Athens Information
Address: Tositsa 1, Athina, Greece – (Behind the National Archaeological Museum)
Telephone: +30 21 0821 7637
Nearest Metro Stations: Victoria and Omonoia stations
Opening Hours – 08.00 until 15.00 everyday except Monday when it is closed. Note – It is probably worth phoning ahead to check the opening hours of the Epigraphical Museum, as they may be subject to change.
Other Museums in Athens
If you would like to see a complete list of the museums, take a look here – Museums in Athens.
If you only have a short time in Athens, this guide to the top 5 Athens museums might be helpful.
Looking for more information on Athens and Greece? I have an excellent newsletter – sign up here.
More Athens blog posts
You might also be interested in these other blogs about Athens for planning your trip to Greece:
---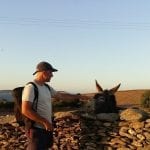 –
Dave Briggs
Dave is a
travel writer
originally from the UK, and now living in Athens. As well as writing this travel guide about the Epigraphic museum in Athens, he's also written hundreds more travel guides to Greek destinations. Follow Dave on social media for travel inspiration from Greece and beyond: