If you are looking to stay at a pretty coastal town in the Peloponnese, look no further than Gythion. Mani's largest town will impress you, and you will definitely want to return!
Gythion in Mani, Peloponnese
Few areas in Greece are as special as the Mani peninsula, in the south Peloponnese. This wild land is one of the most unique areas in the country, and can be easily explored if you have your own vehicle.
A town that you must definitely visit in Mani is Gythio. Also known as Gythion, Gytheio or Gytheion, it is a pretty Peloponnese town, with several great beaches all around. It is located 270 kms from Athens, 164 kms from Nafplion and 143 kms from Kalamata.
Staying in Gythion
Few towns in Greece can boast the combination of neoclassical houses, stone towers, great tavernas and long sandy beaches, combined with an authentic atmosphere. Gythio has all that and more!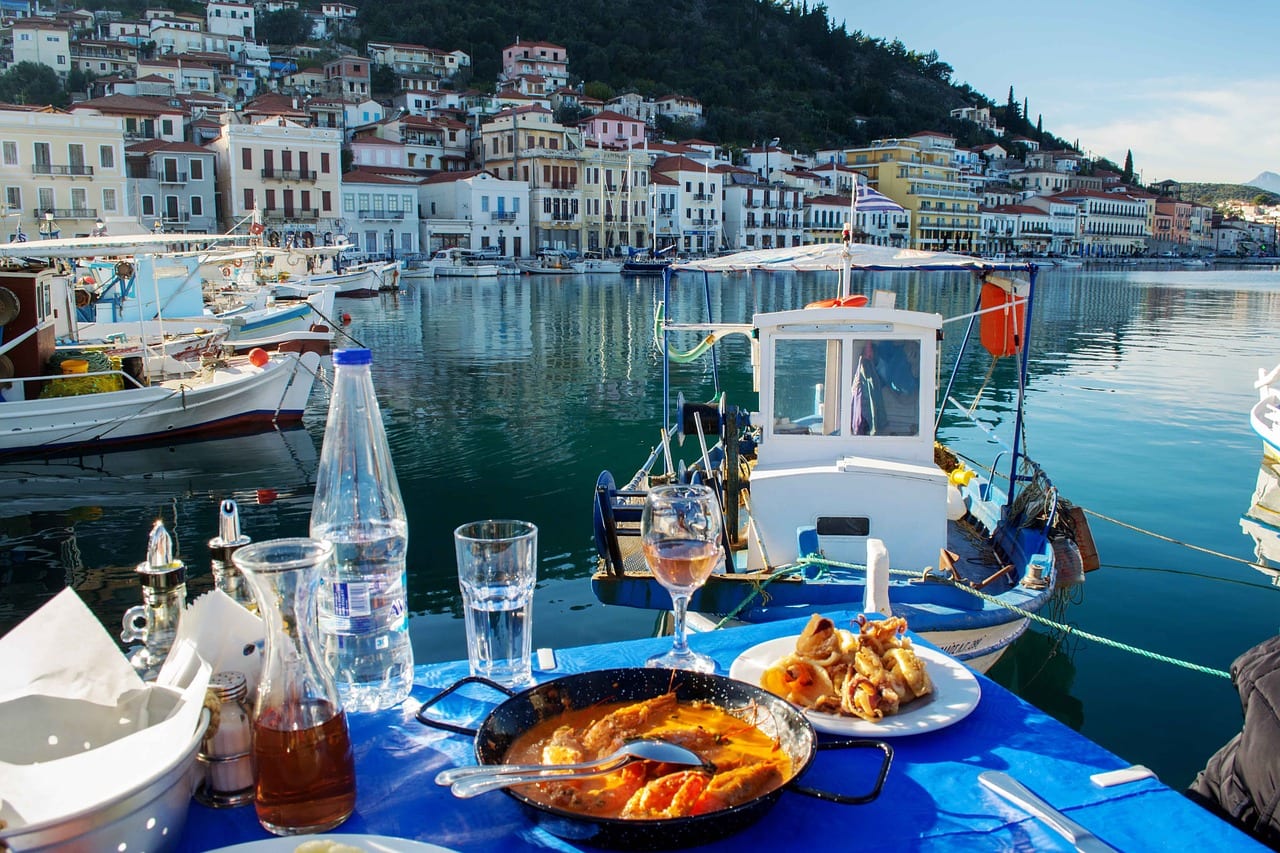 With a population of about 5,000 people, Gythio is fairly lively all year round. It is particularly popular in spring, summer and autumn, when visitors use it as a base to explore the Mani area.
That said, do not expect to see hordes of tourists, as Gythion is still relatively undiscovered, although it does get quite busy in summer.
Gythion is a great choice if you want to be located in a small town close to some of the Peloponnese's best beaches. As we have visited in both summer and autumn, we totally recommend this quaint little seaside town.
History of Gythion
Like the rest of the Mani peninsula, Gythion has a very rich past. As it happens with many Greek cities, legend and history of Gythio are intertwined, and this can make your stay fascinating.
In line with an ancient legend, Gythio was founded by Hercules and Apollo. The first person who wrote about the small port town seems to be the famous traveller / geographer Pausanias, in the 2nd century AD. According to his writings, the small island of Cranae in Gythio was the place where Paris spent his first night with Helen before they fled to Troy.
A description of Gythio is available in Pausanias' writings. It seems that the town was quite wealthy, as it was lavishly decorated with a theatre, several temples and other buildings made out of marble.
Although Gythio served as Sparta's port, it was an independent town during the Roman era. It exported the locally produced purple dye, which was very popular all over the Roman Empire.
In 375 AD, a strong earthquake, followed by a tsunami, shattered the town. Gythio was submerged under the sea, and many of the people didn't have the chance to run to the nearby hills. In the following centuries, the ancient ruins were further covered by dirt and stones, and the ancient city disappeared.
Gythion in recent years
During the Ottoman era, the town was pretty much deserted. People started returning after the Revolution in 1821, especially after the Tzannetakis – Grigorakis tower was built on Cranae island.
Excavations towards the end of the 19th century brought into light several Roman ruins. These include the ancient theatre of Gythion, which is still used for performances, the local Acropolis and several remains of buildings and mosaics, many of which are now underwater.
During the 19th and early 20th century, several neoclassical buildings were constructed, many of which you can see today. However, it's not like the city ever became super important.
Patrick Leigh Fermor, the famous British traveller and writer, explored the Mani before settling in nearby Kardamyli. He enjoyed staying in Gythion and meeting the locals, though he described it as having a "certain decaying Victorian charm".
Nowadays, Gythio is thriving with visitors, especially in summer. We saw large groups of German tourists who use it as a base to explore the ancient sites in the Peloponnese. We were told that it is a culturally active town, and there were several cultural events happening at the time we were there, in late September.
Walking around Gythion
Gythion is a charming little town where you can just take it easy. That said, there are lots of things to do in Gythion and the surrounding area.
The best thing about Gythion is its relaxed atmosphere. We were told that it can get pretty busy on summer weekends, as it's a fairly popular destination for Athenians. However, in our experience it's got a chilled, relaxed vibe that we really enjoyed.
Gythion is built right on the coast, and the seafront is really pretty. You will walk past several neoclassical buildings, some of which have been transformed into cozy hotels. You will also find a large selection of tavernas, fish tavernas, ouzeris, cafes, and many other places where you can sit for a meal or drink.
What we found refreshing about Gythio is that nothing suggests that the town is made for foreigners. Sure, you will see signs in English, and you will probably meet several German tourists, like we did.
However, the town is still authentic and original. Unlike other places in the Peloponnese that have become tourist resorts, like Stoupa, Gythio has kept its Greekness.
Things to do in Gythion
Apart from walking around, eating and drinking, there are a few more things to do in Gythion.
We quite enjoyed visiting the Gythion cultural centre, marked on Googlemaps as the Cultural Center of the municipality of Eastern Mani. It was designed by Ernst Ziller, the German architect who designed many buildings in Athens and other cities in Greece.
This building was a maiden school back in the late 19th century, and has recently been transformed into an ethnographical museum.
If you are planning to travel to the Mani, it's an interesting starting point. You can read a few things about the stone towers that are so characteristic of the area.
The ancient Roman theatre is still in use for certain events. When we visited, there was a local choir event, of which we sadly have no photos.
The little island of Cranae / Marathonisi in Gythion
It's worth stopping at the little island of Cranae, also known as Marathonisi. In fact it's not exactly an island, as it's directly connected to the town – still, everyone calls it an island! Remember, this is the place where Paris and Helen of Troy first got together, so it has a special significance for locals.
The impressive Tzannetakis tower was built in 1829. It was donated to the Greek state by Tzanis Tzannetakis, a prominent Greek politician who briefly served as Prime Minister of Greece in 1989.
The tower is now home to the Historical and Ethnological museum of Mani. We somehow managed to arrive there just after it had closed! Still, you can walk on the little island and reach the lighthouse. This was built in 1873 and is made entirely of marble.
It's possible to go all the way to the lighthouse, if you get off the path and climb over some rocks. However, technically it's prohibited, so you might be better off seeing it from a distance.
The little island offers very picturesque views of Gythio. If you are into photography, you will probably want to go there more than once!
Eating in Gythion
In all seriousness, every single place we ate in the Mani was excellent. Gythio has many nice local tavernas, and even though we had a few recommendations from locals it was still hard to choose where to go.
If we only had the chance for one meal in Gythion, we would probably go to Trata, where we had been before. It's a fish taverna right on the seafront, and they make other traditional dishes as well.
They are very modestly priced, and we will definitely return when we pass by Gythio again.
Tip – they use some fantastic olive oil, which you can buy from a local producer. Just ask them for information!
Meat lovers should definitely visit Barba-Sideris. We went there on a weekday and were surprised to see it was pretty full, and the majority of people were local. They make some great meat dishes – you should definitely try the local sausages and cured meats.
All in all though, we got the impression that you can't really go wrong with tavernas in Gythion. And if you like octopus, you can probably have it every day!
Beaches in Gythion
Gythio is surrounded by beautiful sandy beaches. It is actually quite hard to mention a favourite, as they are all simply beautiful!
To the south of Gythion, you will find the long, sandy beaches of Mavrovouni and Vathy. Both of these beaches are full of campsites, rooms to let and tavernas. As the bay is fairly protected from the winds, they are a great choice for families. That said, the beaches are really long, so you can always find a quiet spot, even in high season.
If you drive towards the south following the coast, you will reach another sandy beach called Skoutari. This beach, which is roughly a 20-30 minute drive from Gythio, is even more protected. In our experience, if you go further south, you will be in what we can describe as "the deep Mani".
A few minutes north of Gythion, you can reach Selinitsa beach. This one wasn't very special, but we were told that it may be possible to see ruins of the ancient sunken city. Unfortunately, on the day the Mrs was planning to go snorkeling, the weather was pretty grim. We will try it next time!
Most of the beaches in the area are home to the Caretta Caretta loggerhead turtles. You will most likely see that certain parts of the beach are cordoned off to the public. Please respect the signs, and be mindful of the environment!
Also, look out for the Archelon Sea Turtle Protection Society of Greece, who normally has an information kiosk in Gythion. If you are in Greece for a long time, you can even volunteer for them.
Agios Dimitrios shipwreck in Gythion
When you are in Gythion, you should really visit Valtaki beach, a little further north of the town. The beach itself isn't as pretty as Mavrovouni and Vathy, however it's famous because of a shipwreck called Dimitrios.
In fact you can see the shipwreck from the road when driving into Gythion. You should absolutely go check it out, as it's very impressive!
The boat has been there since December 1981. According to a popular legend, it was involved in illegal cigarette trading, and it landed on the shore by accident.
In reality, the boat arrived at Gythio port in 1980, because the captain needed to be urgently admitted into hospital. Subsequently, the boat was found faulty and the crew was made redundant.
Eventually, the boat was carried away from the port by strong winds, and went all the way to Valtaki beach. Surprisingly, the owners never showed any interest in retrieving the boat, which has since been a popular tourist attraction.
Valtaki beach itself is a nice place to spend some time, and it's ideal if you have a caravan as there is a large parking area right next to the beach.
Beyond Gythio – Day trips from Gythion
Gythion is an ideal base if you are planning to explore the Mani peninsula. It is actually possible to drive around the whole of the Mani in a day, although it deserves a lot longer.
You can reach the southernmost village, Porto Cayo, and Cape Tainaron, in about an hour and a half.
The Diros Caves, also known as Glyfada or Vlychada, is the most visited tourist attraction near Gythio. It will take you around 45 minutes to get there. The caves can be visited on a guided tour, mostly done on a boat, as an underground river is flowing through the caves.
Another town you can easily visit from Gythion is the historic Areopolis, about a half hour's drive away. The little town comes alive at night, when the stone towers are beautifully lit. As it's built up on a hill, it's a bit cooler in the evenings.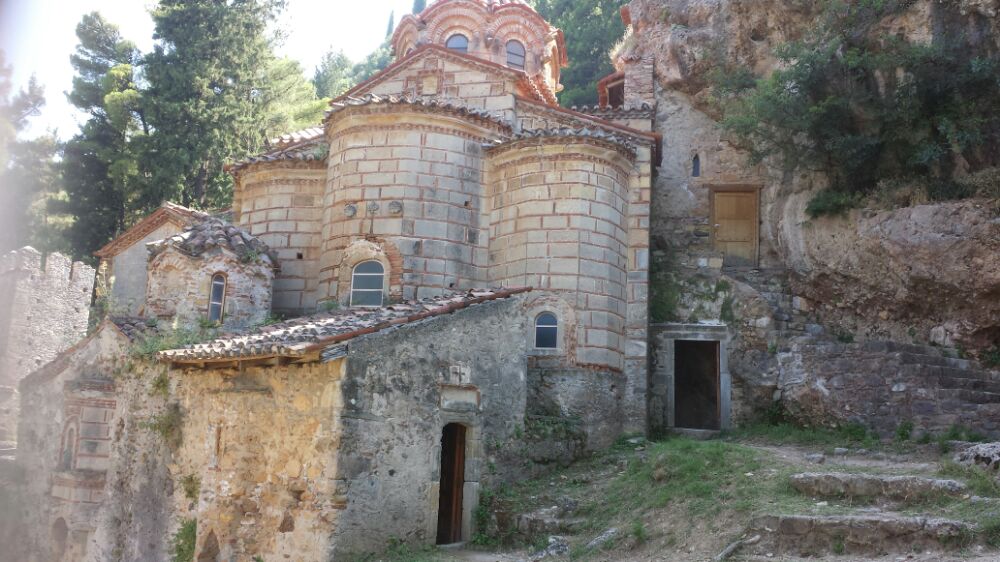 On your way back to Athens from Gythio, you must absolutely visit the Byzantine site of Mystras. It took us a good four hours to explore the site when we were last there, and the views from the top of the castle are simply magnificent. You can also spend a couple of hours in Sparta and visit the Olive Oil Museum.
The picturesque settlement of Monemvasia is about an hour and a half away from Gythio. We suggest, however, that you spend a lot longer on that side of the Peloponnese, as you can then spend some time in Elafonisos, Neapoli and the fabulous Ierakas port.
In fact, choosing which one of the three "legs" of the Peloponnese to visit is a very tough call!
Finally, if you are planning to stay in Greece for a longer time, you can catch a ferry from Gythio to Kythera, Antikythera and Crete.
Where to stay in Gythion
There are plenty of places to stay in Gythion and the nearby beaches. You can choose to either stay in the town and drive to the beaches, or stay on one of the beaches and drive to the town for the evening.
In the past, we had stayed in Hotel Aktaion, right in the middle of Gythion. It's a beautiful neoclassical building and the views to the bay are lovely.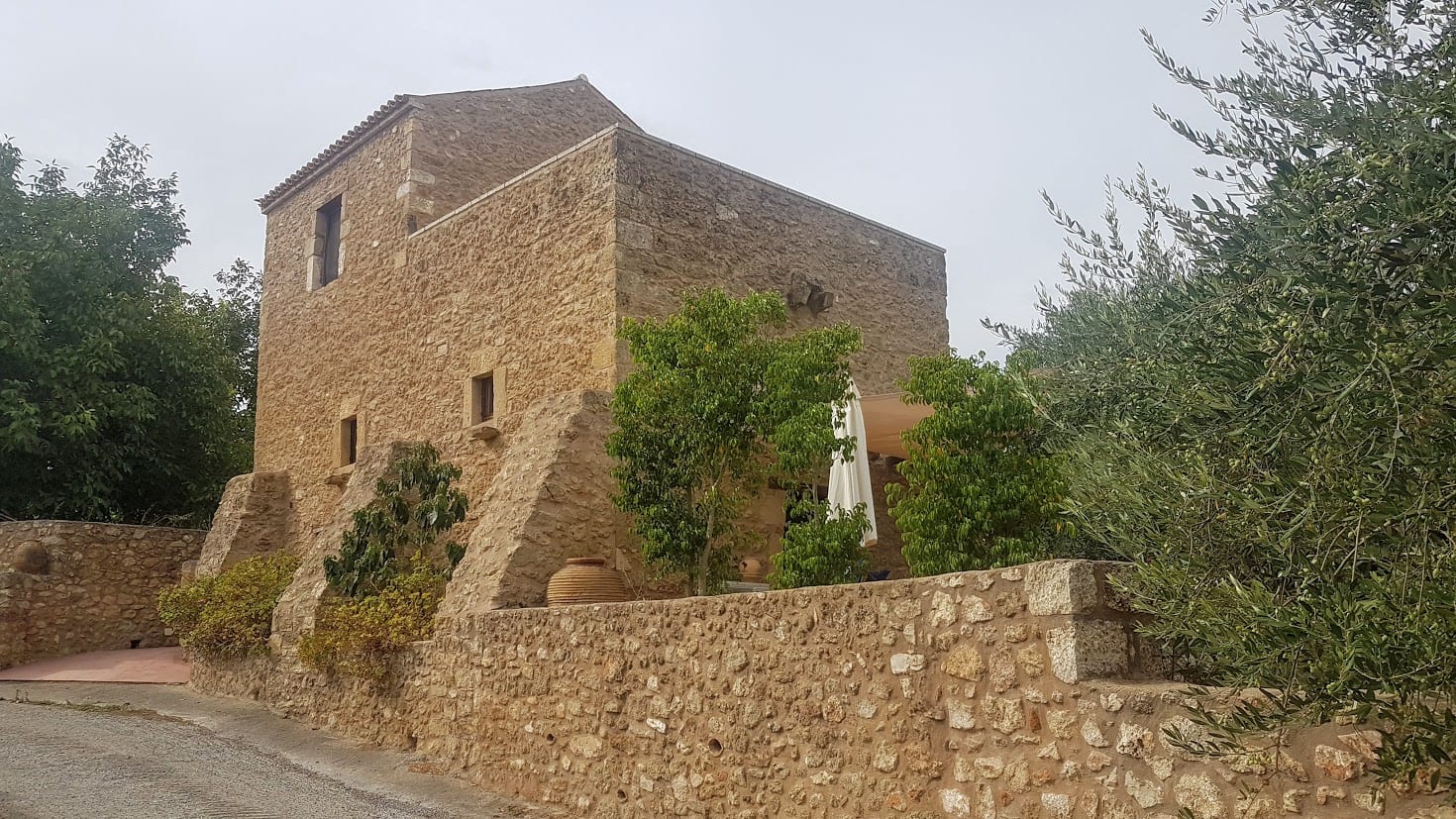 This time, however, I decided to splash out on something more unique, and experience one of the famous Mani stone towers. We stayed in a refurbished stone tower, which was originally built in 1869 and has now been transformed in a beautiful residence.
The owners have paid a lot of attention to detail, and the location is great. It's a short walk from Gythion, but it's as quiet as it gets.
Gythion in the Peloponnese
If you have not been to the Peloponnese yet, it's time to start. Make sure you spend at least one night In Gythion, and I'm sure you won't regret it!
Gythio Greece FAQ
Readers planning to visit Gythio in the southern Peloponnese region of Greece often ask questions such as:
Is Gythion worth visiting?
Yes! Gythio is ideally situated to explore the Mani peninsula, and it has plenty of its own charms.
What is there to do in Gythion?
There are plenty of things to do in Gythio, from exploring the town and its beaches, to taking day trips to nearby attractions.
What is the best time of year to visit Gythion?
The best time of year to visit Gythio is in the summer, when the weather is warm and sunny. However, the town is also nice in the spring and autumn.
How do I get to Gythio?
The easiest way to get to Gythio is by car. You can also take the bus across mainland Greece from Athens.
How do I get from Gythio to Kalamata?
The easiest way to get from Gythio to Kalamata is by car.