Discover the best things to do in Kalamata in Greece. Explore the historic centre, relax at the beach, visit museums and don't forget those Kalamata olives!
Kalamata in the Peloponnese
If you want to visit an authentic, lively Greek coastal city, Kalamata in the Peloponnese of Greece is a great choice. Whilst you may associate the name of Kalamata with olives (more about those later!), there are of course plenty of other things to enjoy.
If you are exploring the Peloponnese, Kalamata is a great place to stay for a few days. It is built right on a very long, sandy beach, and gets quite lively during the evenings, especially in summer. There are also quite a few museums and attractions to keep you busy.
I've visited Kalamata three or four times now on my various travels around Greece. The last time, we spent 3 days in Kalamata at the tail-end of a road trip around the Mani region.
This Kalamata travel guide is designed to act as a quick introduction, and showcase the best things to do in Kalamata when there.
Where is Kalamata and how can I get there?
Kalamata is a coastal city in the region of Messenia in the southwest Peloponnese, about 240 km away from Athens. It is the second largest city in the Peloponnese after Patras, and has a population of just over 54,000 people.
While people coming from the UK or the US might best describe it as a small town, by Greek standards it's a fairly big city! Unlike many Greek towns and cities, it's also pretty flat, meaning you can get to most places by walking if you so choose.
It takes just under 3 hours to get to Kalamata by bus or rental car from Athens. There are also direct flights from several European cities, so you can plan a tour of the Peloponnese beginning and ending in Kalamata.
I've got a full guide here: How to get from Athens to Kalamata
Short history of Kalamata
Kalamata's history is quite old. Homer mentions an ancient city called Fares / Phara, built on the exact same spot. In ancient times, the city was under Spartan and Messenian rule and was apparently relatively unimportant.
A small Christian church dedicated to Virgin Mary was built around the 6th-7th century AD. Not much is known about the city during Byzantine times, though it's believed that fortifications were put in place to keep invaders out.
The city became more important after the 4th Crusade, in 1204 AD. This was when the Frankish lord Geoffroi of Villehardouin built a large castle over the remains of the old fortifications.
In the next centuries, Kalamata was successively occupied by several people. Greeks, Slavs, Franks, Florentines, Navarreses, Byzantines and Ottomans passed by the city. The castle was eventually destroyed by the Doge of Venice, General Morosini, in 1685.
If the name sounds familiar, it's because Morosini was the person who bombed the Parthenon in the Acropolis! The Venetians subsequently restored and extended parts of the castle.
The Kalamata castle was reoccupied by the Ottomans in 1715 and was released after the Greek Revolution in 1821. The city was actively involved in the Revolution, celebrating its liberation from the Ottomans on 23 March. Kalamata's port was built towards the end of the 19th century, contributing to the city's development.
In 1986, a major earthquake shattered Kalamata, leaving behind 22 casualties and lots of damage. In subsequent years, huge efforts were made to restore the city. Today, it's a lively, beautiful coastal destination that's absolutely worth a visit. It's also becoming a popular weekend break for Athenians, and not only.
What are some things to do in Kalamata Greece?
Apart from being a great stop in any Peloponnese itinerary, Kalamata itself has lots to offer. Depending on what you are after, you could comfortably spend a few days, or a few weeks.
Kalamata has a lovely beach, many tavernas, cafes and bars, and offers easy access to other areas of the Peloponnese. There are also events and festivals happening throughout the year. Here's a few suggestions on what to do in Kalamata.
1. Wander around Kalamata Old Town
Kalamata's historic centre is located just beneath the castle. It is compact, easily walkable and truly lovely. This was one of our favourite parts of the city!
Wander around the tiny alleyways. If you look up, you will discover plenty of beautiful neoclassical houses. There are many shops, cute little cafes and a few crumbling buildings, that add to the overall ambiance.
Right in the middle of the old quarter, in March 23 Square, you will see the church of the Holy Apostles. It's a small but impressive Byzantine temple, originally built in the 12th century and expanded during the Venetian rule.
This is where the Greek revolution was declared on 23 March 1821 – though people from Areopoli might disagree! The church was partly destroyed during the 1986 earthquake, but it was fully restored later on.
Just at the edge of the old town, you will see the much bigger Cathedral of Ipapanti. According to legend, a half-destroyed icon of Virgin Mary and Jesus was found in an older church, which had been destroyed during the Ottoman rule. The icon was discovered after a peasant had a vision about it – very similarly to Tinos island!
The icon was first placed inside a nearby church, and was moved to the Cathedral of Ipapanti upon its foundation in 1873. The cathedral was heavily damaged during the earthquakes in 1886 and 1986 and a fire in 1914, but was later restored. An important mass, followed by a big celebration, happens annually on 2 February.
2. Visit the Museums in Kalamata
Within the Old Town, you will discover a few museums. You could visit them all in the same day if you start early and work around their opening times and days.
The small Archaeological Museum of Messenia hosts a collection of findings from the Messenia area and beyond. It is very well laid out, and there are informative signs everywhere. The museum was built at the place of the old municipal market, which has moved right out of the old quarter.
The Folklore and History Museum will be of interest to people interested in Greece's most recent history. It is home to various artifacts from the Greek Independence War in 1821, along with everyday objects used by locals in the past decades. You will also find an impressive collection of objects related to typography and bookbinding, as Kalamata was the first Greek town with a printing house.
Another museum focusing on Greece's newest history is the Military Museum of Kalamata. Artefacts include uniforms, photos and other audiovisual material from the 1821 Independence War and later struggles. The Balkan Wars and Asia Minor catastrophe are covered, as well as WWI and WWII. The museum is free to enter.
The new Museum of Traditional Greek Costumes is another place of interest in Kalamata, and what a place it is! It was founded in 2017 by collector Victoria Karelia, and is run almost entirely through private initiative. The Karelias collection contains several Greek costumes and dresses from the past two centuries.
Many of the garments were painstakingly recreated or restored by local dressmakers. Subsequently, they were placed on custom-made mannequins with moving mechanisms. The amount of work that has gone into creating this museum is unbelievable. If you have time just for one of the museums in Kalamata, make it this one.
3. Explore the new city centre of Kalamata
If you have been to Athens, you may have noticed that there isn't much in the way of wide pavements and boulevards. As a result, we were very impressed with the main square and streets in the centre of Kalamata!
The area around Aristomenous street and Vasileos Georgiou Square is one of the city's liveliest. You will find plenty of shops and cafes where you can sit and watch the locals go by. Some of Kalamata's most beautiful neoclassical buildings can be found in this area.
The more you walk around, the more you will discover. Look out for the lovely covered arcades, where you can sit for a coffee or a beer.
4. Visit Kalamata Castle
The Kalamata Castle is absolutely worth a stop, even if you are just interested in the lovely views. Depending which way you try to get there, finding the entrance might be a bit of a challenge!
Like mentioned earlier, the castle was first built in the 13th century. It was mostly destroyed by the Venetians, only to be rebuilt and expanded. Interestingly though, it wasn't affected by the 1986 earthquake.
Today, you can walk up and admire the views, or sit on a bench and enjoy the sunset. When we were there, very few other visitors were around, and the place was wonderfully quiet.
There is also a theatre inside the castle, which is used for various performances, cultural events and concerts. The Kalamata International Dance Festival was once hosted here – more on this just below.
5. Check out the Kalamata International Dance Festival and other festivals
This is Kalamata's biggest and most important annual event, taking place in summer. Apart from several dancing performances, there are numerous parallel events running for the duration of the festival.
You can find out more information here, a few weeks before the festival begins. If you are planning to visit Kalamata during the festival, make sure you book your accommodation well in advance.
However, this is not the only festival that Kalamata celebrates. If you are visiting in winter, check out the Peloponnese International Documentary Festival. The website is mostly in Greek, but you can use Google translate – or email them and hopefully they will get back to you.
Other local events are the carnival celebrations in Kalamata and Messene, happening towards the end of the carnival season. People who are interested in horse racing could plan their visit around Easter, and head to Plati village on Easter Monday.
6. Visit the food market in Kalamata and eat like a local!
For people who like olives, Kalamata is the place to be (I told you we'd get back to them)! The dark Kalamata olives are considered to be some of the best in Greece. However, this is not the only local product you will find in Kalamata.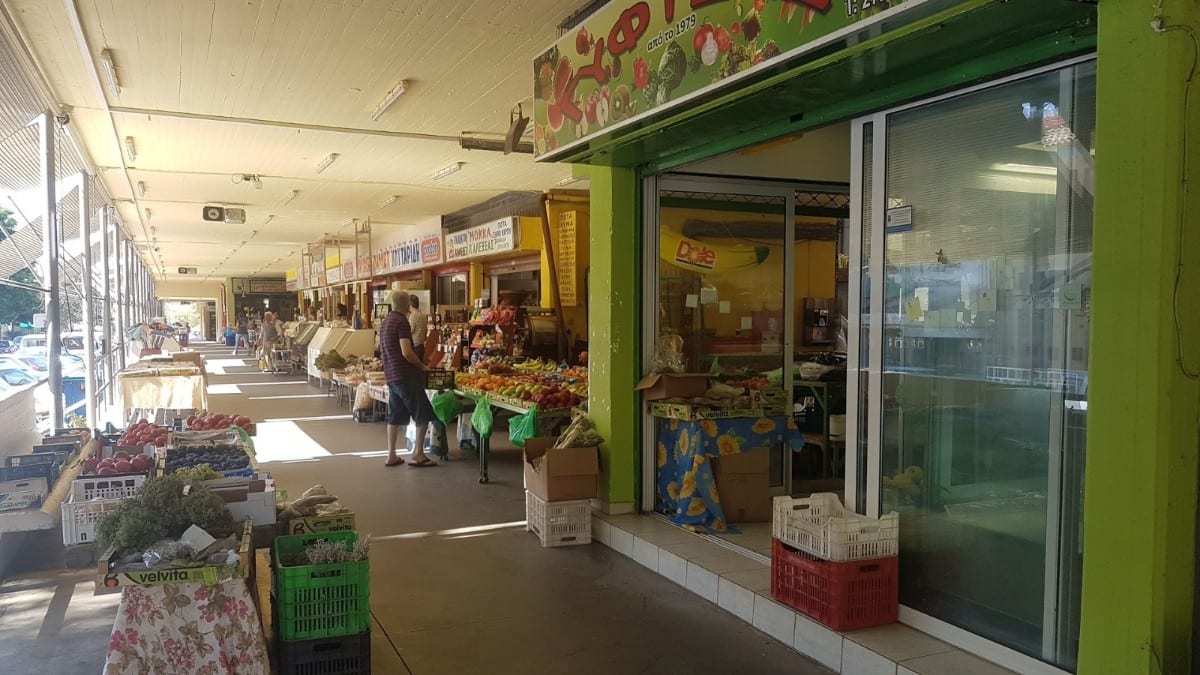 When you are in Kalamata, make sure you visit the food market, which is located right outside the old town. You will find all types of local cheese, honey, nuts, olives and olive oil, along with other traditional products.
Look out for sfela cheese, and lalagia, a type of local fried dough delicacy. There are also sections with fresh fruit and veg, and shops selling meat and fish. The best day to go is Saturday, when more stalls are open.
Close to the food market, you can find an authentic, family-run taverna called Ta Rolla, which is almost 100 years old! The current owner, Giorgos, is the grandson of taverna's founder. If you are lucky, you will also meet his sister Sylvia, who can tell you everything about Kalamata and the local cuisine. Needless to say that there's always a mother in the kitchen!
This was one of the best places to eat in Kalamata, if not the entire Peloponnese, and we'll definitely go back when we visit Kalamata again. The menu changes daily, so just choose the dish that looks the most appealing!
7. Look out for beautiful street art in Kalamata
Athens, where we live, has tons of street art, but so does Kalamata. We were impressed by some of the murals and other artworks all around the city.
One of the most popular street artists is a guy called Skitsofrenis – we loved his work.
8. Visit the Railway Park in Kalamata
The Municipal Railway Park is a pretty unique attraction, and it's also ideal for children. It's very close to the main square, at the south end of Aristomenous street. This open air museum is full of old railway vehicles and locomotives, and it gives you an idea of transportation in Greece 100-150 years ago. Entrance is free. It could do with some renovation though!
9. Take a slow stroll by the beautiful promenade, and hit the beach
One of the best things in Kalamata is its stunning sandy beach! Take some time to walk on the lovely promenade, Navarinou Avenue. This can take you a good hour, depending on your pace – or you can cycle along!
There are plenty of beach bars, cafes and tavernas right by the beach. Many of them are open until late at night, and the nightlife is quite intense.
If you don't feel like driving outside the city to go for a swim, Kalamata's beach is great. There are many sections with loungers, umbrellas and other facilities.
However, if you are after a quieter spot, head to the east, where there is a large, unspoilt sandy area. Just bring some shade, snacks and drinks, and enjoy your day.
If you prefer to get out of the city though, there are plenty of beaches just a short drive from Kalamata. Verga and Santova are some of the best choices. We visited Santova in late September and we were the only people on the whole beach!
Those who don't mind driving can go further south to Kalamitsi beach, just next to Patrick Leigh Fermor House. This was one of our favourite beaches in the Peloponnese, and the house where the great British author lived is a very special place. If you want to visit, make sure you reserve your place in advance.
10. Day trips from Kalamata – Tour the Messenia region and the Mani peninsula
Even though Kalamata is a great standalone destination, it would be a shame not to tour the wider area. You could easily take a month in the Peloponnese, and you still wouldn't see it all though!
Looking at a map of the Peloponnese, you can see Kalamata's immediate area, the Messenia region. To the east, you will find Sparta and the Mani area, which is the middle peninsula. Both these regions are lovely and worth exploring, as is the rest of the Peloponnese.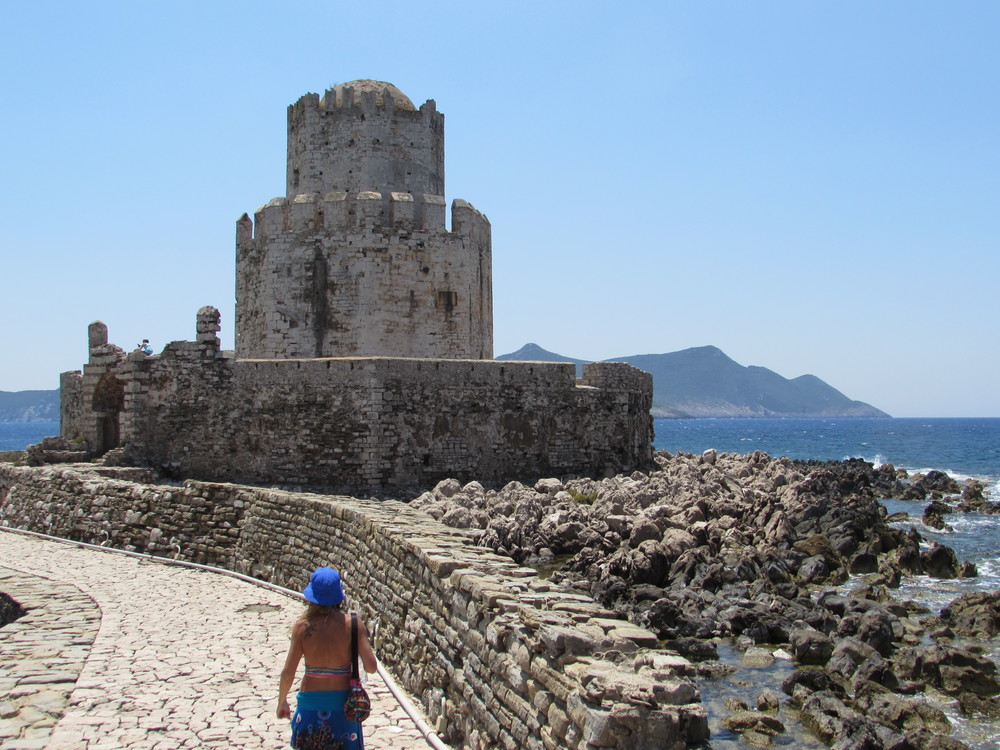 Messenia has some great beaches, as well as some interesting castles and archaeological sites to explore. You shouldn't miss Methoni and Koroni castles or the underrated Ancient Messene. In our opinion, it's one of the most impressive archaeological sites in all of Greece. And by all means don't leave out Mystras, the UNESCO Byzantine castle town, very close to Sparta in the Laconia region.
If you want to go somewhere quiet and off the beaten track, you will love the Mani area. Wild, untamed and seemingly cut off from the rest of the world, the Mani will enchant you. You can go all the way south, to Cape Tainaron, and also stay in Gythion for a couple of days. I can guarantee that you will want to return!
Also read: Best day trips from Kalamata
Where to stay in Kalamata
Kalamata has a wide selection of places to stay for travelers. From budget rooms and hostels to luxury hotels, the city has lots to offer.
As it's quite compact, you can comfortably get around the city center on foot or a bicycle. That said, we would suggest staying in hotels in Kalamata either close to the beach, or in the old town.
Kalamata Hotels
Whether you want the best luxury hotels, or are looking for sea apartments, I highly recommend using the online travel platform Booking when looking for vacation rentals. You can check availability, choose places with an outdoor pool, and check out guest reviews.
Take a look at the map below to start choosing which hotel in Kalamata you'd like to stay.
Kalamata in Greece FAQ
People planning to visit Kalamata Greece often ask questions similar to:
Is Kalamata worth visiting?
Kalamata in Greece is definitely worth visiting for anyone that wants a good beach break in a fantastic setting. The town has a lot to see and do, and it is a good base from where to explore some of the surrounding area of the Peloponnese.
What is Kalamata Greece known for?
You might perhaps know the name Kalamata for a type of olive that grows in the region, which is well known throughout the world. As a town though, Kalamata is know for its student life, beaches, and relaxed atmosphere.
How far is Kalamata from Athens?
The distance between Athens and Kalamata is about 177 km. You can get there within a couple of hours driving on a good day.
Is Kalamata an island?
Kalamata is not an island. It is a town in the Peloponnese region of Greece.
Pin this Kalamata travel guide
So that's it, these are some of the best things to see and places to go in Kalamata Greece. Have you been to Kalamata? Let us know if there was anything else you liked, and I'll add it to this Kalamata guide!