The Byzantine castle town and UNESCO site of Mystras is a must-see for anyone visiting the Peloponnese in Greece. Spread out over three levels, Mystras is a Byzantine walled city which still retains an air of splendour to this day.
Mystras UNESCO Site in Greece
Mystras is a Byzantine castle town complex located in the Laconia region of the Peloponnese in Greece.
Now a UNESCO World Heritage Site, its foundations were originally laid in 1249. Over time, it developed from a strong fortress to become a bustling city state, and a major place of trade within the Byzantine empire.
Today, the remains of the fortress itself can be seen on top of Myzithra hill. Scattered along its slopes, are a number of churches and other buildings which made up the city.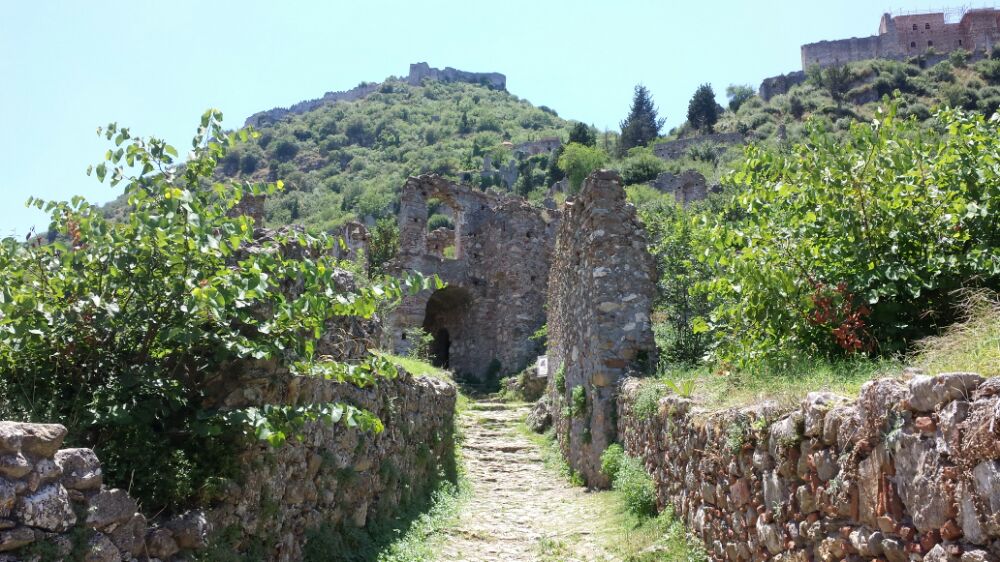 Visiting Mystras in Greece
Mystras is definitely no secret, and yet many people touring the Peloponnese never visit.
Perhaps it is a little too out of the way. Maybe there is just too much to see and do in the region. Certainly, during our time there, we did not see any tour buses coming or going. Rather it was couples or families in cars.
To me, it gave a feeling that it wasn't on the well trodden tourist trail.
Assuming there are no tours put there, you would need your own transport to reach Mystras.
It's fairly easy. From Kalamata, head for the city of Sparti and keep an eye out for road-signs! Unlike some historical sites in Greece, Mystras is well signed both on the road, and in the site itself.
Mystras – Getting Around
As mentioned, the site of Mystras is well signed. A leaflet with a handy little map is also given with the tickets on entry to make life even easier.
There are 17 points of interest marked on the map, although we later discovered there are one or two others which the map doesn't show.
The pathways leading around the site are all rough stone, and there are many steep sections. It is on a hill after all! People with mobility issues or breathing problems should probably give Mystras a miss, or at least prepare for a tough day ahead.
Mystras – My Favourite Bits
The view from the top – Hot work getting to the top from the lower car park, but the views were simply amazing. It's easy to see why the site was chosen, and it really does command the surrounding area.
Pantanassa – Before visiting Mystras, I was led to believe that this was a vacant historical site. To our surprise though, we discovered that there is still a monastery in use on the site! It is the only inhabited monastery in Mystras, and some of the nuns there looked older than God!
Peribleptos – This small church complex is very curious and unique. It is built into the rock, and looks incredible. Because it is positioned further away from the other ones, fewer people visit this almost hidden part of Mystras. I think this is a mistake though, as it is one of the site's real highlights.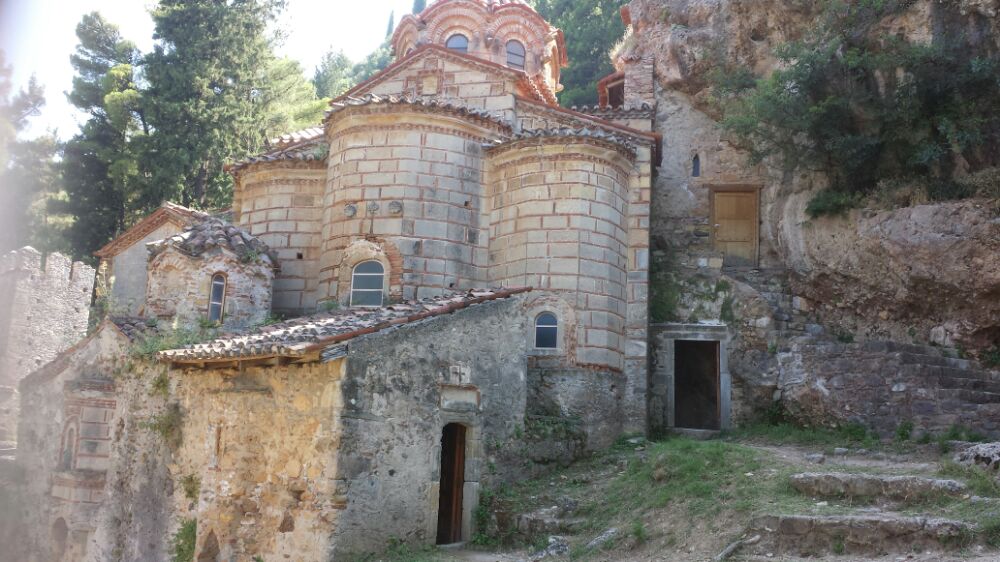 I think that part of the magic of this site, is that it is relatively unknown. It also takes some effort to reach. Once there though, you will be rewarded with a real insight into the Byzantine era. All in a relatively tourist free environment!
Mystras – Useful information
You can gain entrance to the site via two car parks, an upper one and a higher one. Important note – The only toilets are located at the lower entrance!
Allow plenty of time! We spent four hours exploring Mystras.
Take plenty of water! There are also machines dispensing cold bottled water at both entrances.
Further reading
Make sure to include a visit to the Olive Museum in Sparti on a Peloponnese road trip!
If you have an interest in Byzantine art, and are visiting Athens, there is a dedicated museum you may be interested in. Just a short walk away from Syntagma Square, The Byzantine Museum would certainly be worth spending an hour or two exploring.
Interest in ancient Greece? read my guide to the best historical sites in Greece.
Check out this guide to other UNESCO World Heritage Sites in Greece.