These hotels near Athens airport are a good choice to stay for one night when arriving late to Athens Greece, or before an early flight.
Staying at hotels near Athens airport in Greece
Whilst it is very easy to get from Athens airport to city center and vice versa any time of the day and night, staying at the hotels close to Athens airport is sometimes more convenient.
This is especially so if you have to check-in during the early hours for a flight or arrive late.
There are really only two Athens airport hotels to choose from. The first, is the Sofitel Athens Airport hotel which is right outside. The second, is Holiday Inn Athens Airport a little distance away.
Whilst there are other hotels and places to stay a little further away from the airport in Athens, Greece, I'd question if it was worth it.
The travel time from some of these hotels to the airport is very similar to traveling from the city center.
Sofitel Athens Airport Hotel
** Check for the best price here – Sofitel Athens Airport Hotel **
The Sofitel Athens Airport Hotel is literally within walking distance of the airport. It is a 5-star hotel, and the luxury amenities include a sauna, indoor pool, beauty center, and free Wi-Fi.
All the rooms have air conditioning, are soundproofed, have a bathroom and mini-bar, and can receive movies on demand. The hotel also has a restaurant and bar, whilst room service is available.
The Sofitel Athens Airport is the best of the hotels near Athens airport, and a lovely place to stay. Whilst it is not a good place to be based in terms of arranging sightseeing trips to the Parthenon and Acropolis, it does have its uses.
Thinking of hiring a car and making a road trip in Greece but want some rest first? The Sofitel Athens Airport would be ideal.
Have an early flight and want to stay at the best hotel near Athens airport? The Sofitel fits the bill.
Check for the best price here – Sofitel Athens Airport Hotel
Holiday Inn Athens Airport
Check for the best price here – Holiday Inn Athens Airport
The Holiday Inn Athens Airport Hotel is about a 10 minute drive from the airport. A 5 star hotel, it offers guests a range of facilities, which include a gym, swimming pool, business center and meeting rooms, sauna and Wi-Fi.
The rooms are clean and modern, and come with air-con, cable TV, bathrooms, and tea and coffee making facilities. There is also an in-house restaurant and bar.
Like many hotels near Athens airport, the Holiday Inn is actually quite a drive out. With this in mind, it is probably best suited for people who have picked up or are dropping off a hire car at the airport. It is also a popular hotel with business customers.
Check for the best price here – Holiday Inn Athens Airport
The Best Hotels Near Athens Airport
Out of the two hotels, my favourite is the Sofitel hotel. Although it's a little more expensive, the extra comfort and added convenience more than compensates for it. Here's a quick look inside.
More Athens Airport Hotels
A little further away and on the Attica coast, are a selection of other hotels near Athens airport. In my opinion, these are really only suitable for people who have access to a car, or would get to and from the airport by taxi.
Some of them do offer a free shuttle service to and from the airport – but check before booking! One area to check is Artemida which is a coastal holiday town.
For those hotels that don't offer an airport shuttle service, you may still find that the Greek owners are friendly people, often happy to pick you up from Athens International airport main terminal and drop you back again.
You'll notice these places to stay around Athens International are a lot cheaper than the Sofitel. Check out the map below for more ideas where to stay near Athens airport.
Avra Hotel (Rafina)
Located in Rafina, this hotel is a good choice if you have just arrived in Rafina Port by ferry from one of the islands. Instead of staying at a hotel next to the airport, you can spend a little more time by the coast.
Some of the features of this modern hotel include a restaurant bar, balconies in all guest rooms and free parking. Guests enjoy free shuttle service to/from Athens International Airport, 25 km, 30 minutes; taxis take about 30 minutes from Avra Hotel to Athens Airport for about €30-40.
There are many restaurants bars and beach within 2 blocks of the hotel. Breakfast is available beginning at 6 am so it's never too late or too early for those with an early morning ferry departure).
Hotels on the Athens Riviera
A little further afield, you can find some other luxury hotels along what is known as the Athens Riviera.
These hotels are neither particularly near Athens city center or the airport, but they do have a great location on the coast and could be a nice way to end a trip.
Divani Apollon Palace & Thalasso
The Divani Apollon Palace & Thalasso resort is located on the Athens Riviera, 18 km south of central Athens.
The hotel has a wonderful private beach and sea swimming with so many restaurants and shops nearby that are an easy walk from your room. There is also underground valet parking for a fee that will keep all three times in style safe at night time. Taxi service to the airport from Divani Hotel takes about 30 minutes.
Four Seasons Astir Palace Hotel Athens
Located 22 km south of central Athens, Four Seasons Astir Palace Hotel Athens is the perfect destination for a luxury vacation on the tranquil shores of Greece.
With outstanding facilities and amenities in an elegant setting, this 5-star resort will make you feel like royalty. Enjoy vistas over the Aegean Sea from your private suite or terrace as you relax into comfort with expansive living and sleeping spaces equipped with fully imported furniture.
Stay fit by working out at one of three gymnasiums plus enjoy water sports on a private beaches or jogging across 100 acres along the scenic natural trails which also feature unique gardens filled with native flora. Relax after your stay in one of 8 restaurant/bars to unwind and socialize.
Other Hotels in Athens
Unless you really HAVE to stay near the airport, it is far better to stay in the city center. This way, you can make the best use of your time when sightseeing in Athens.
I've created a page of the best hotels near the Acropolis, and any one of these is an excellent choice. I've also got a much deeper guide and Athens hotel list in my post on the best places to stay in Athens.
Some of the popular areas to stay in central Athens include Plaka, Monastiraki, Syntagma Square, Ermou, and Kolonaki. The top luxury hotels and boutique accommodation in these areas may also come with Acropolis views and rooftop restaurants.
If you need any help on where to stay in central Athens, the hotels near Athens airport, or sightseeing in Athens, don't hesitate to get in touch!
Leave a comment below, or sign up for my newsletter!
Athens International Airport Accommodation FAQ
People looking for hotels in Greece and Athens often ask questions such as:
How far is Athens Airport from city center?
It's about 33 kms from Eleftherios Venizelos Airport to Athens centre. It will take you anywhere from a half hour to an hour to make the journey by taxi.
How do I get from Athens airport to city Centre?
The X95 bus runs from Athens International to Syntagma Square in Athens center 24/7. The metro runs from 06:30 am to 11:30 pm. Taxis are available outside the terminal.
How far is Sofitel from Athens Airport?
The Sofitel Athens Airport hotel is literally just a few minutes walk from the arrivals area. As you walk out the terminal, the Sofitel Athens Airport will be a short walk just 50 metres away opposite you.
What is the name of Athens Airport?
The full name is Athens International Airport Eleftherios Venizelos, commonly initialized as AIA (IATA: ATH, ICAO: LGAV). It is named after prominent statesman Eleftherios Venizelos.
How do I get from Sofitel Athens airport to Acropolis?
If you decide to stay at the Sofitel Athens, you can get to the Acropolis most easily by using the metro. You'll need to make one change in Athens city centre at Syntagma Square metro station to get on the Acropolis line. Alternatively, use the X95 bus into Syntagma Square and then walk to the Acropolis. A taxi would be your most expensive option.
Where to stay near Athens airport
Feel free to pin this guide on places to stay near Athens airport for later. That way you'll be able to find it easily when you need to book your Athens airport hotel!
More Athens Guides
Looking for an Athens sightseeing itinerary? Check out my my guide to spending 3 days in Athens. If you are staying with your own vehicle, you might want to take a drive out to the archaeological site of Vravrona with its lovely Temple of Artemis. Need to get to and from the center by metro? Here's my guide to the Athens airport metro.
---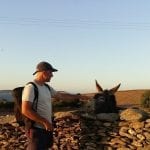 –
Dave Briggs
Dave is a
travel writer
from the UK who lives in and writes about Greece. As well as creating this guide to the best Athens airport hotels, he's written hundreds of other insightful travel guides to Greek islands and destinations. Follow Dave on social media for travel inspiration from Greece and beyond: