You've booked your flight, but now you need to know how to get from Athens airport to city center. Here's all the information about Athens airport transportation, and how to get to the city center from Athens airport you'll ever need.
Athens Airport to City
I've lived in Athens for over 8 years now, and during that time, I must have used Athens International Airport over a hundred times.
It dawned on me that whilst I take getting from Athens airport to city center for granted, it might be useful to write a little guide about it.
Here's everything you need to know about how to transfer from Athens airport, and how much it costs.
Athens Airport Transfers Update 2023
As we all know, the pandemic has changed the way we live and travel, possibly for the foreseeable future.
When it came to airport transfers in the past, people might have avoided taxis because of the expense. Now, the little extra they cost is worth it for the peace of mind.
Taking a taxi means you avoid being crammed in with lots of other people on the Athens airport metro or bus.
For this reason I recommend pre-booking an airport transfer as a Covid secure way to travel into Athens city centre. You'll avoid the crowds and save time. The cost is not much more than a regular taxi, and it is a lot less hassle all around.
If you want pre-arranged airport transfers by taxi, click here: Welcome Taxis
If you are a larger group of people looking to get to Athens city from the airport, I suggest these private transfers with a larger vehicle: Mercedes Passenger Pickups.
Here's some more details of how to travel from the airport to Athens using all the transportation options available.
How to get from Athens Airport to city center
Unless you are staying at one of the hotels near Athens airport, you will most likely need to either get into the city center or to Piraeus Port.
You have 3 basic options to choose from when looking at how to get from Athens airport to city center:
(Note for my readers who might be flying into Athens airport with a bicycle – You can just about cycle from Athens airport to the city, but it is a real pain. It's best to take the metro).
Each of the 3 basic options of getting from Athens airport to city center has its benefits depending on your situation. Let's take a look at them here.
Athens Airport Taxis
Using the Athens airport taxi service is probably the best option for groups of three or more people, and especially families. The Athens Airport Taxi service has a flat rate of 40 euro during the day (before midnight) to the city center. The nighttime rate is 55 Euro.
The set prices for airport taxis from Athens International change from year to year. You can double check the prices by asking before you get into the taxi.
** Find out about airport taxis by clicking here **
There is going to be plenty of room for your bags, and the driver can take you directly to your hotel. This method provides the least hassle when getting from Athens airport to city center.
Catching a taxi from Athens International Airport is very easy. Follow the signs, or simply step outside the arrivals area. There will be a long queue of yellow taxis waiting in line. Walk to the right, and then join the queue for the next available taxi.
In the shoulder seasons, you don't have to wait long for a ride into the city from the airport. During July and August, the queue times can be quite long as it's the busiest time of year.
The downside of getting a taxi from the airport to the center of Athens from the regular queue, is that unfortunately, stories of tired tourists falling for scams do surface from time to time.
** Find out about airport taxis by clicking here **
Welcome Pickups Pre-Booked Taxi
You can also pre-book your taxi with Welcome Pickups and the driver will meet you in the arrivals lounge.
This meet and great welcome service costs a little more money, but it makes life so much easier. You also know the exact price of the Athens airport fare, so there will be no unpleasant surprises.
You can even pre-order some essential items like a Greek sim card which they will bring for you. During the ride to your hotel in Athens, your driver can also answer any questions you might have.
Pros: By far the easiest method of transport from Athens airport to city center. Great for families with many bags. Door to door service to your hotel in Athens. Use Welcome and get those handy essentials like a SIM on arrival to save you time later.
Cons: Most expensive method as it's slightly more than a regular taxi from a queue, but cheaper than a metro for four passengers during the day. Passengers should note that if you get in a taxi before midnight but arrive at your hotel AFTER midnight, you will pay the more expensive fare.
Dave's Opinion – For groups and families using an Athens airport taxi is the best transport option for getting from Athens airport to the center of the city. Find out more about the service by reading the Welcome Pickups Tripadvisor Reviews
Athens Airport Metro
Before researching this article, I had never used the Athens airport metro service. I have to say, for people who are arriving in Athens for the first time, it is NOT user friendly.
And this is a shame, because generally speaking, Athens has a clean, modern metro system which makes getting around the city easy.
Thankfully, you've got my guide to help you out!
If you are determined to use the Athens metro from the airport, follow the signs out of the arrivals area which say 'train'. You will eventually cross a road, go up some stairs, and then use a bridge over a road system and to the metro station.
It takes about 5 or 10 minutes. My advice when you get to the station, is to buy the ticket from the ticket office and then ask which platform the metro departs from for the city.
The direct line connects with both Syntagma Square in the center of Athens, and with Monastiraki which is the next station down. The metro can also be used to go to Piraeus from the airport, but it would involve changing lines.
The Athens airport metro map is below.
Prices from Athens Airport Metro Station
The Athens airport metro runs every 30 minutes, but only between the hours of 06.30 and 23.30. The one way ticket prices are €9.00 for one person. A return ticket is 16.00 Euro.
Pros: Fast service as a journey takes about 38 minutes . Avoids traffic. If you are staying near a metro station along the way, you can get off early. Great for getting into Athens city center from the airport.
Cons: Confusing to find your way to the metro station from Athens airport arrivals. Short service hours. It's a long walk to the metro station with bags.
Dave's Opinion – This method of Athens airport transfer is challenging if you have more than 2 pieces of luggage. I wouldn't recommend this for first time visitors to Athens. Convenient option if your hotel is by a metro station.
Athens Airport Bus
At 5.50 euros per person, the Athens airport bus is by far the cheapest transport option. There are 4 separate routes, with the x95 Athens Airport Bus to Syntagma Square being the most popular. If you are staying at a hotel near the center, this is the public bus you would take.
The x96 Athens Airport to Piraeus Port bus is the next most popular if you are heading straight to the port to catch a ferry to one of the islands. I've a full guide here: How to get from Athens Airport to Piraeus – Taxi, Bus and Train Information
The other 2 buses are the X93 Athens Airport to Kifisou Avenue bus, and the X97 Athens Airport to Elliniko bus.
When I travel to and from Athens airport I choose to use the bus as it is most convenient for me. (It literally drops me off outside my front door!).
Where to buy the Athens Airport Bus Tickets
When leaving Athens Airport Arrivals from the middle doors, turn right. Start walking along the pavement, and you will see a little blue ticket kiosk. You can buy your tickets from this ticket booth.
Once you have them, continue walking along in the same direction looking for the X95 sign. When the bus pulls up, don't expect an orderly queue Northern European style! Be as quick as you can, and grab a seat!
Once you have your seat, THEN you can validate your ticket in the ticket stamp machine at the center of the bus. If you don't, you may be standing for the entire journey.
Pros: Cheap. Runs every 10-60 minutes depending on which route, 24/7. Convenient if staying at a hotel on Syntagma Square.
Cons: You might not always get a seat. Somewhat confusing if you need to get off a few stops before the final destination. Feels crowded. On some days the bus can make the journey in 45 minutes, on others, it might take 90 depending on traffic.
Dave's Opinion – If you know Athens or where you are going, using the airport bus is probably the best option. I would say it isn't the easiest way for people new to Athens or Greece, or for people with lots of bags.
Athens Airport to Athens City Centre FAQ
Readers who plan to land at Athens International Airport and want to find the best way to get to downtown Athens often ask questions such as:
How much is a taxi from Athens airport to city center?
Taxis at the Athens airport are charged a fare of €40 for day trips and €55 after sundown. Taxis outside of central Athens are charge by meter depending on distance traveled.
How do I get from Athens airport to the Metro station?
The Athens Airport metro station is only a 10-15 minute walk from the terminal. To reach it, you'll simply need to go up one level via either escalator or elevator and walk over the pedestrian bridge.
Is there Uber in Athens?
Your Uber app will work in Athens, but as the system uses the officially licensed taxis, you shouldn't expect the ride to be any cheaper.
How do you get to the metro in Athens?
There are three metro lines in Athens connecting many of the central and outlaying suburbs, along with the Athens Airport and Piraeus Ferry Port.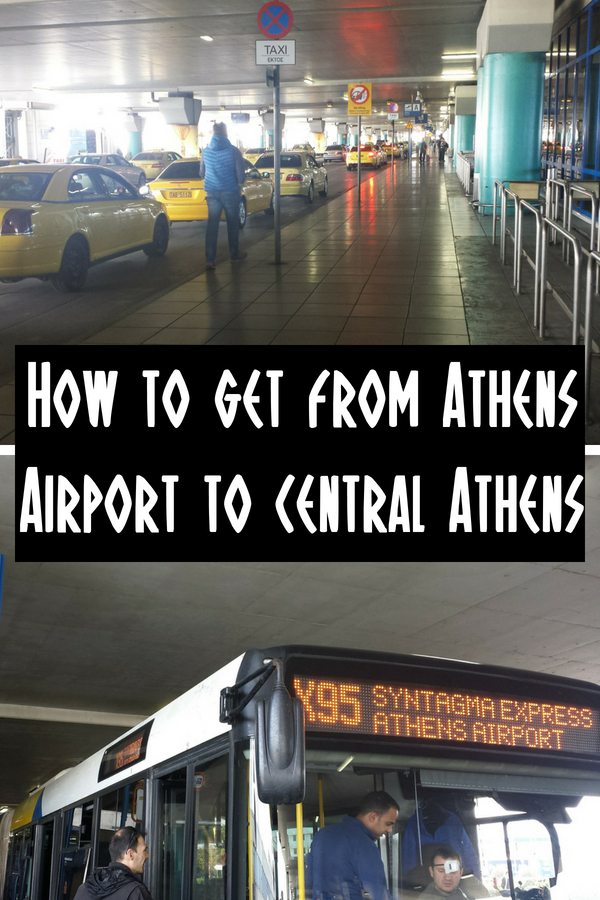 More Information About Athens
So, now you know how to get from Athens airport to city center, it's time to start planning your time in the city. Luckily, I've got some great blog posts to help you out!
This guide on what to see and do with 2 days in Athens ensures you see all the main highlights. If you are looking to go a bit deeper though, my ultimate guide to Athens is the perfect resource.
Of course, if you have any questions or comments about visiting Athens I would love to hear from you. Please leave a comment below!
---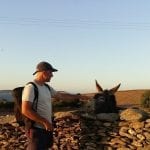 –
Dave Briggs
Dave is a
travel writer
who lives in Athens Greece. In addition to this guide on how to get from the airport to Athens centre, he's also written hundreds of other travel guides and itineraries to Athens and the rest of Greece. Follow Dave on social media for travel inspiration from Greece and beyond: