The sanctuary of Artemis at Vravrona is one of the lesser visited archaeological sites just outside of Athens, Greece. Here's everything you need to know about Vravrona Greece.
Archaeological Site at Vravrona
Athens might be best known for its impressive Acropolis and other historical places, but the Attica region surrounding the city is teeming with other ancient sites.
One of these is Vravrona, located over on the east coast of Attica. Situated between Porto Rafti and Artemida, it's about a 45 minute drive from Athens city center.
In ancient times, this was a sanctuary dedicated to the Greek Goddess Artemis, and a procession used to be held that began in a shrine at the Acropolis and made its way to reach Vravrona. The site was largely abandoned in the 3rd century BC.
As it's difficult to get there by public bus, this is a site best visited by people with their own transport. A visit to Vravrona could also be combined with an afternoon drive south to the Temple of Poseidon at Sounion for the sunset.
Vravrona or Brauron?
Before I dive into this guide, a quick word about its name! You may find it signposted as two variations, which are Vravrona or Brauron.
In English, they would appear to be pronounced completely differently. In Greek though, it's more or less the same, just one has an additional 'a' at the end.
This is due to how letters are translated from Greek to English. We'll leave the 'It's all Greek to me' blog post for another time!
Regardless, when you see them on Google maps, they are one and the same place. To make life simpler, I'll be referring to the site as Vravrona and not Brauron in this guide.
History of Vravrona in Greece
Vravrona started life as a hill settlement overlooking the bay at Vravrona at around 3300BC. Over the next 2000 years, the community developed to a high level, but the site was abandoned at around 1200BC.
Possibly this was to do with the 'Sea Peoples' incursions that occurred around the time of the Late Bronze Age collapse.
The site came back into life again around 900BC, when worship of Artemis Brauronia (Vravronia) began in the area. It reached its peak of religious activity around the second half of the 5th century BC and continued on until 300 BC.
At this point, tensions between the Athenians and Macedonians cause it to be abandoned once more.
According to the archaeological record, nothing of significance at the site happened until the 6th century AD. Then, a small church was constructed.
Excavations at Vravrona began in 1945, and today the site has been partially restored and also has a small, but wonderful, museum.
Myth of Artemis Sanctuary at Vravrona
As with all ancient sites in Greece, there is of course a myth attached to its creation!
In the case of Vravrona, the myth centers around Iphigeneia, the daughter of King Agamemnon. There are many different versions of the tale, but the one written by Euripides (Iphigenia in Tauris) is the one connected with the sanctuary.
Long story short: Iphigeneia was a Priestess of Artemis. There was a long complicated plot. In the end, and after many adventures, Athena sends Iphigenia to the sanctuary of Artemis at Brauron where she is to be the priestess until she dies.
I suggest reading the full Euripides tragedy for a few more nuances and poetry!
Temple of Artemis
The main visual feature of the archaeological site at Vravrona, is the Temple of Artemis. This is of a Doric style, and was built in the first half of the 5th century BC.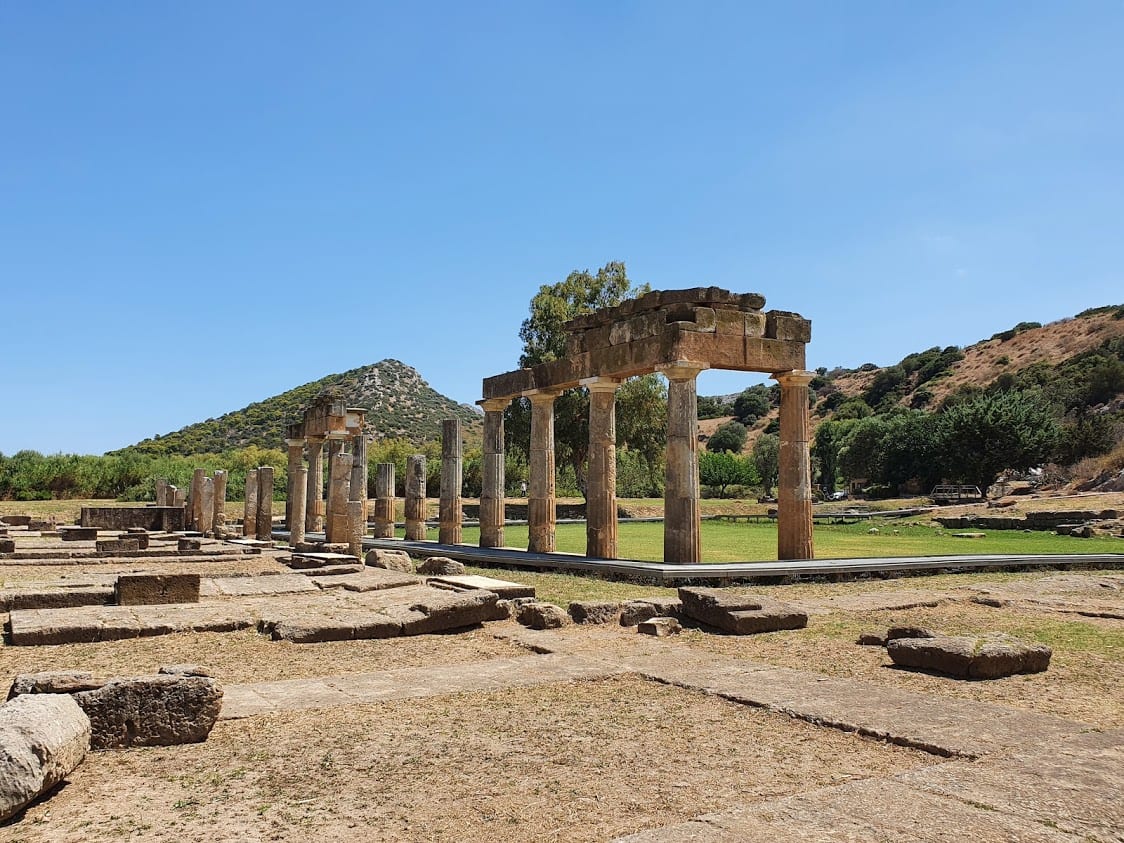 There's a nice little walkway which visitors can follow around the temple. It's useful, as it means you can still get good photos no matter what angle the sun is at!
The temple has partially been reconstructed to give an idea of different architectural elements. There are also some other columns at the back of it, some of which have inscriptions in Greek.
In addition to the Temple of Artemis there are some useful information boards which explain the ceremonies involved here.
Other parts of Vravrona
Following the walkway, you can also see other interesting sections of the site at Vravrona. These include a bridge made of stone block, and the Sacred Spring.
One part that seems something at odds is the small church dedicated to St. George.
Vravrona Museum
I actually found that the museum was more interesting than the ruins of Vravrona and Temple of Artemis. There were a number of unique artifacts inside, including some wonderful stone carvings.
Other exhibits included children's toys (I loved the horse one wheels!), funerary items, household objects and more.
During our visit, we spent about half an hour exploring the sites itself, and another half hour in the museum. Visiting in late August, the approach to the site of Vravrona was lined with fig trees just coming into season. They were very tasty too!
Hotels near Vravrona
If you are planning to stay overnight in the area, perhaps on your way to take a ferry from Rafina, there are a number of accommodation choices. You'll find many hotels in both Artemida and Porto Rafti which are both seaside resort towns.
Perhaps the best choice for staying near Vravrona itself though, is Mare Nostrum Vravrona. (Note – since rebranded to Dolce Attica Riviera).
FAQ about Vravrona Greece
Here are some commonly asked questions about the archaeological site of Vravrona near Athens.
Where is Vravrona?
Vravrona archaeological site and museum is located on the east coast of Attica, about 42 kms away from central Athens in Greece.
How much does it cost to visit Vravrona?
The entrance ticket to the site of 6 Euro in summer (3 Euro in winter) includes entrance to the Vravrona Museum as well as the ruins themselves.
What are other popular day trips from Athens?
The most popular day trips out of Athens, include visits to Delphi, Temple of Poseidon at Sounion, and Mycenae and Epidaurus.
Is Vravrona a city?
Vravrona is one of the original twelve communities that Theseus joined together to form the Athenian city-state. There is no city in the Vravrona area today, but the ancient sanctuary is a significant archaeological site.
What was another name for the festival to Artemis called the Brauronia?
Every four years, the Arkteia festival began at a shrine on the Acropolis of Athens, and then a procession made its way 24.5 kilometers to Vravrona.
The Vravrona archaeological site near Athens is one of the lesser visited sites just outside of Athens. It's a great place to visit for anyone interested in Ancient Greece, mythology or archaeology!
The temple and other artifacts on the property are also worth checking out. If you have any questions about visiting Vravrona or about visiting Greece in general, leave a comment at the end of this blog post and I'll get back to you!
---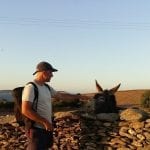 –
Dave Briggs
Dave's
travel writer
from the UK who's been living in Athens since 2015. As well as writing this travel guide to the Artemis temple Vravrona to help people get off the beaten path a little more in Greece, he's also written hundreds of other travel blog posts and itineraries for travel destinations all over Greece. Follow Dave on social media for travel inspiration from Greece and beyond: