Are you wondering where to stay in Athens? One of the hotels near Acropolis might be ideal. Centrally located, and near the major sites, here are 10 of the best hotels in Athens near the Acropolis Museum.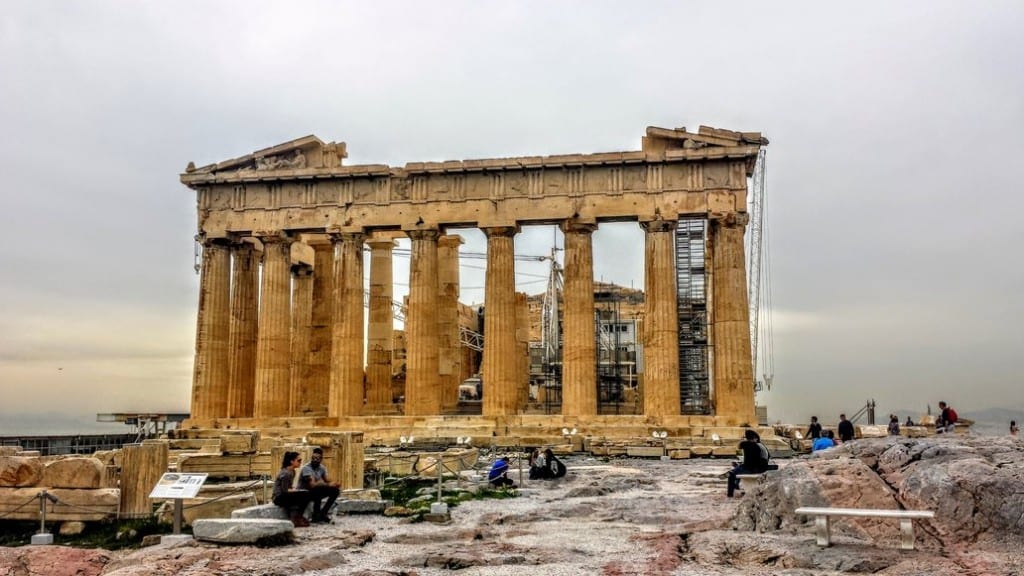 Where to Stay in Athens
Athens is quite a large city, but most of the main attractions for visitors are located within the historic centre.
Here, you can find the Acropolis, Parthenon, Temple of Zeus, Ancient Agora and many other sites. (For an idea of what to see and do in Athens, take a look at this helpful article – 2 days in Athens).
With this in mind, it makes sense to stay in one of the hotels near Acropolis, especially for stays of just a few nights.
This gives you a central location from which to enjoy and explore the birthplace of democracy, and experience the very best that Athens has to offer.
Best Hotels In Athens Near Acropolis
There are literally hundreds of hotels in Athens, with options to suit all budgets. I've put together a list of 10 hotels in Athens near the Acropolis with the best reviews.
These hotels near Acropolis all put you within easy access of the main attractions. Many include rooftop restaurants with amazing views onto the Acropolis itself!
As well as a brief description, I have included links to Tripadvisor so you can check out some independent reviews of people that have stayed there.
I have also put in some links to Booking.com so you can easily reserve your hotel near the Acropolis online.
10 Great Athens Hotels Near Acropolis And Parthenon
Royal Olympic Hotel in Athens, Greece
The 5 star Royal Olympic Hotel is a popular choice with people seeking a comfortable hotel near the Acropolis. Boasting all the amenities you might expect from a luxury hotel, it has a swimming pool, cocktail bar, and even a library.
---
Herodion Athens
Located beneath the Acropolis, the Herodion Hotel offers stylish air-conditioned rooms. The roof terrace has fantastic views, and there are two hot tubs from which to really soak up the atmosphere! The friendly staff are always willing to answer any questions guests have.
---
Hera Hotel in Athens
Tastefully decorated rooms, a rooftop bar and terrace, and helpful staff make this one of the best hotels in Athens. Free Wi-Fi is available throughout, and there is also parking available. A rarity in Athens! Check out the links to more in-depth reviews and descriptions below.
---
Philippos Hotel Near The Acropolis in Athens
Positioned right next to the Acropolis Museum, this hotel has modern rooms, and a fresh feel. Many reviewers rave about the breakfast here! All the usual amenities such as air-con, minibars, and a concierge service will help make your stay in Athens a pleasant one.
---
Divani Palace Acropolis, Athens
Featuring classic, elegant rooms, the Divani Palace is another of the hotels near Acropolis which offers stunning views. All the main sites can be reached easily from here. Remember to have a memorable breakfast in the rooftop restaurant before enjoying the city!
---
The Athens Gate Hotel
Just 200 metres from the Acropolis museum, this hotel has it all. Wonderful facilities, friendly staff, and a perfect location. The bar/restaurant at the top of the hotel has views you can only dream of. Enjoy a meal with outstanding views over the Acropolis at night.
---
Airotel Parthenon in Athens
Start your day with a Greek breakfast, and explore Athens from this centrally located hotel. The helpful staff are always on hand to answer any questions you have, and the main sites are just a short walk away. The hotel itself offers comfortable rooms with air-con, and the facilities include a business centre.
---
AthensWas Hotels Near Acropolis
A sleek, modern, clean hotel offering incredible views over the Acropolis. You won't get much closer to the Acropolis than this! Wonderfully furnished rooms, friendly staff, and a rooftop dining area is a place you should definitely have a meal. Can you do better than eating the best food in Athens whilst enjoying views over the Acropolis? We think not!
---
Acropolis Hill Hotel in Athens
This is a newly built hotel, and attention has been paid to every detail. Features include a swimming pool, sun terrace, and garden. The hotel is also one of the few in Athens which has facilities for disabled guests. If you are looking for a value for money hotel in Athens, this is the one for you.
---
Acropolis Museum Boutique Hotel
Simple but luxurious. Professional but personal. This boutique hotel in Athens offers good value, and an unbeatable location. If you are looking for a central location with comfortable rooms in Athens, this hotel will certainly appeal.
---
If you have a suggestion of other hotels near Acropolis I should add to the list, please leave a comment below. I will then update the blog post to keep it fresh, or even create a new one! You might also be interested in this guide on where to find the best hotels in Greece.
Related: Why is Athens famous?
FAQ About the Best Hotels to Stay in Athens
Readers planning to visit Athens as part of their vacation in Greece often ask questions such as:
What are the best hotels in Athens?
Athens is a large city with many options. Some of the most popular hotels near the Acropolis include Hotel Grande Bretagne (Syntagma Square), AthensWas, and the Royal Olympic Hotel.
Where should I stay if I want to be near the Acropolis?
If you want to be near the Acropolis, then a hotel like Athenswas or The Athens Gate should work. These hotels are just minutes away from all of the major attractions in this area. The best areas to stay in for easy access to the Acropolis include Syntagma Square, Monastiraki, and Plaka.
Should I book my hotel before arriving in Athens, or wait until I get there?
It makes the best sense to book your accommodation in Athens in advance, so that you aren't wasting valuable vacation time trekking from one hotel to another trying to find somewhere to stay.
How do I get from the airport to my hotel in Athens?
The airport is located just 15km from Athens city center and there are a number of options for getting to your hotel. You can rent a car or take public transportation which includes buses, trains, taxis and shuttles! If you do rent a car, make sure your hotel has adequate parking, as finding parking spots in Athens can be a bit of a problem.
What is the best hotel in Athens city center?
If you are looking for a nice hotel in Athens with a great location, spectacular panoramic views, a rooftop pool, and a pleasant walk from the main historic sites, the Coco-Mat Athens BC is a good choice.
Choosing a Central Athens Hotel – Final thoughts
There's no doubting that Acropolis view hotels, especially those with a rooftop breakfast area, will help you to have a memorable stay in Athens. The hotel's location is also important for anyone who wants to maximize their time sightseeing the local attractions in the historic city of Athens.
If you have any questions about picking a hotel location, or choosing luxury hotels with a spectacular view, get in touch by leaving a comment below! Also, sign up for my newsletter for travel tips and advice on how to plan a trip to Athens and the Greek islands!
Further Information About Athens
If you found this guide on the best hotels near Acropolis Athens useful, you might also want to read these other posts when planning your trip.
---