My Big Fat Greek Road Trip covered 1520 Kms from Athens to Thessaloniki and back during the Easter period. This 11 day trip took in mountains, monasteries and plenty of lovely Greek food! Planning a Greek road trip of your own? Read on for some travel inspiration.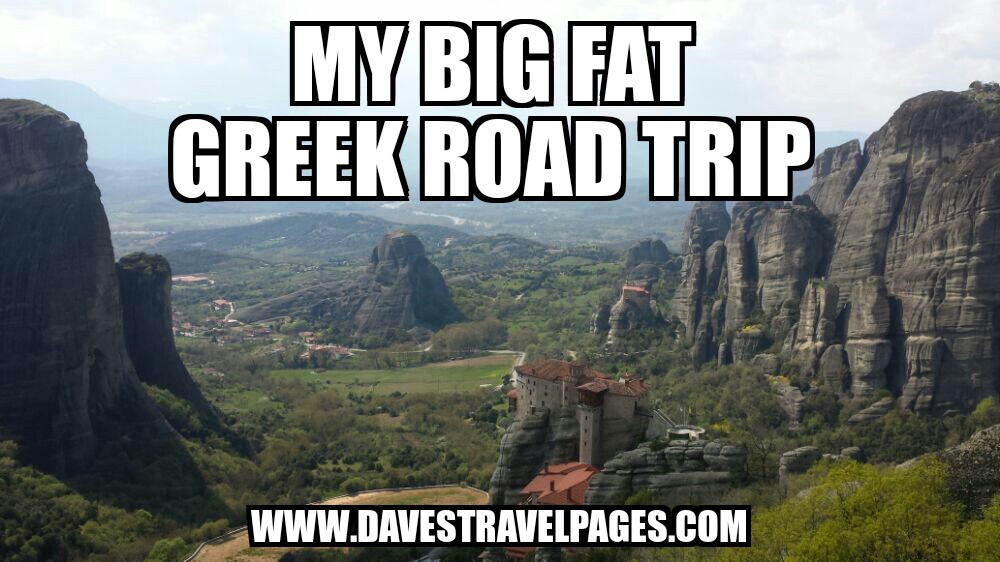 My Big Fat Greek Road Trip
As regular readers may know, a bicycle is my preferred mode of transportation. Sometimes though, circumstances dictate otherwise, and My Big Fat Greek Road Trip saw us use a car for the duration of our 11 day trip.
The plan, was to spend a little time with the Mrs family in Arachova for the Easter weekend, see some of central Greece, and then finish up in Thessaloniki to stay with her brother. After our time there, we would then drive back from Thessaloniki to Athens.
Planning the road trip in Greece
The Greek road trip was divided into four stages, which I will describe below. As this is just a summary, I won't go into too much detail of sites such as Delphi, but you can expect individual blog posts about them over the next couple of weeks.
You might also be interested in this detailed post about the best places in Greece to see on a road trip.
Big Fat Greek Road Trip Itinerary
Athens – Arachova – Osios Loukas monastery – Delphi – Gravia – Kalambaka – Meteora – Trikala – Pyli – Elati – Pertouli – Kalliroi – Doliana (Iera Moni Timiou Stavrou church) – Vergina – Thessaloniki – Nea Michaniona – Athens
Total kms = 1520
Total Days = 11.5
Find car rentals at: Discover Cars
Arachova
The mountain town of Arachova is located about 170 Kms to the north-west of Athens, and driving there took us around 2 hours. It is the most popular winter sports destination in Greece, and the town has a touristy feel to it.
Hotels, shops, cafes and restaurants are at their busiest during the peak months between December and March, when the slopes of Mt. Parnassos attract a mainly Greek skiing and snow-boarding crowd. It is also a busy place during the rest of the year, due to its close proximity to the magnificent archaeological site of Delphi.
Arachova was to be our home for 4 nights, staying with the Mrs aunt for the Easter period.
During our time in Arachova, we visited a couple of nearby places of interest. Delphi was one of them of course, and you can read about The Temple of Apollo and Sanctuary of Athena here. Another place, was the Osios Loukas monastery which was a 20 minute drive from Arachova.
Greek Easter
Easter was the 'main event' during our stay in Arachova though. It is religiously and culturally more important to the Greeks than Christmas, and is a chance for family and friends to eat and drink well. Really well! You can read about that in more detail here >> Greek Easter 2015 – The Fast, The Feast, and the Curious.
We had a great time in Arachova, but after 4 nights there, it was time to continue on with our Greek road trip.
Kalambaka and Trikala
We had planned to visit Karditsa and the nearby Lake Plastira on the way up to Kalambaka. Due to a late start and good-byes, we didn't have the time though, so it's on the list for the next trip!
Kalambaka is another town geared up for tourists, with plenty of accommodation to choose from. This is the place to stay when visiting the Meteora monasteries, which we did the next day. Take a look here for the best places to stay near Meteora.
The Monasteries of Meteora
The monasteries of Meteora are perched on the tops of beautiful and improbable rock formations. There are a number of walking routes which can be used to get from one monastery to the other, but the car gave us a little more freedom and access to better viewpoints.
It would also have been a challenging but rewarding area to cycle around. In fact, I later did this in 2018 – Go and check out my YouTube channel!
Related: Road trip food ideas
Trikala
After spending the day at Meteora, we then drove on to nearby Trikala where we would stay over night in a central hotel. We could have stayed an extra night in Kalambaka, but we met up with friends in Trikala for a meal, so it made more sense to stay there for the night.
Note – Trikala is the most bicycle friendly city in Greece. It's not bad for pedestrians either – The traffic actually STOPS at crossings to let people walk across the road!! Crazy, I know!
Kalliroi
On leaving Trikala, our Greek road trip then took us up through a valley, with snow capped mountains on either side. This is a part of Greece that travellers would find hard to see without transport of their own.
As we went up into the mountains, I couldn't help but think what a great cycling route it would make. It would be hard work, but thoroughly rewarding!
With limited time on our hands, the car was a better option though. There was very little traffic on the road, and we managed to hit a sweet time of year.
The mountains still had snow on, the weather was warm, and there was a distinct lack of other tourists. This was evident when we arrived at the hotel in Kalliroi – we were the only people there!
Thessaloniki
After leaving the hotel, the Greek road trip took us to Thessaloniki, where we would stay with the Mrs brother for a few days. Along the way, we stopped off at Vergina to visit the museum there.
This unique place is actually built on the top of the tombs of Alexander the Great's relatives. It both protects and displays them, and is a really interesting place to spend a couple of hours. The no-photos allowed rule is a bit annoying though!
Our time in Thessaloniki was spent with family, visiting the beach, and even going to a basketball match.
Going back to Athens
Finally, it was time to leave, and we started the 500 Km drive to Athens from Thessaloniki. We had planned to stop off at Dion on the way, but again, that will have to wait for another Greek road trip.
During the journey back, we noticed two things. Firstly, that there are a lot of toll roads! Secondly, there is a tremendous amount to see and do.
It also got us thinking about travel, the future, and a possible 4WD trip around the world. That's probably something I will write about much later on though!
Related: Travelling by Car: Advantages and Disadvantages
Stats from the road trip in Greece
I know some people are into stats and stuff like that, so here is a break down of what we spent during our Greek road trip. These figures are based on two people using a car we already owned.
It was never intended to be a 'budget' trip, and we ate and drank exactly what we felt like. Keep in mind that a lot of accommodation was 'free', and that we were also treated to more than our fair share of meals. (Greek hospitality towards family and friends never ceases to amaze and humble me).
Still, these stats should be useful for anyone else planning a road trip through Greece.
Accommodation
Nights spent at Auntie's = 4
Nights spent at Brother's = 4
Nights spent in budget hotels = 2
Nights spent in non-budget hotels = 1
Expenses
Supermarket food / coffees = 22
Restaurant food = 95
Alcohol = 10
Chocolate = 5
Tolls = 41
Fuel = 147
Accommodation = 135
Ticket for church = 2 (A student card comes in handy sometimes!)
Total = 457 euro
Cost per Day = 39.73 Euro
Cost per Km = 0.30 Euro (I put this out of habit from bicycle touring!)
You might also be interested in this travel guide: Athens to Thessaloniki travel guide
If you are planning a Greek road trip, and would like some advice, please get in touch. If you've been on a Greek road trip of your own recently, I would also love to hear from you, so please leave a comment below.