Dreaming of a perfect vacation in Greece? This guide to the best hotels on the Greek islands and mainland will help you pick the perfect place to stay.
Hotel Guides to Popular Destinations in Greece
You'll find the best luxury hotels in Greece in popular destinations like Santorini, Mykonos, Athens, and Crete. As you might expect, Greece has plenty of great beach resorts and high-end hotels throughout the mainland and the islands!
Use these guides to find the best hotel for your vacation.
Greece Travel Information at a glance
Go island hopping: Use Ferryhopper to book ferry tickets.
Stay: Reserve rooms, villas and places to stay with Booking.
Get around: Rent a car at Rentalcars.com
Tours: Discover more with amazing day trips Get Your Guide
Top Luxury Collection Hotel Choices Greece
When it comes to best hotels in Greece, there are many to choose from. These are some of the best places to stay in some of the most beautiful parts of Greece.
Grace Hotel, Auberge Resorts Collection, Santorini
Grace Hotel Santorini is the Cliff-Top Retreat You've Been Dreaming Of
The Grace Hotel is situated on a cliff top overlooking the Aegean Sea, 2 km from Fira town centre and offers luxurious accommodation with panoramic views of the Caldera coastline of Santorini.
The hotel features an infinity pool and provides in room spa treatments. A picturesque sanctuary perched above the Aegean Sea, this award winning boutique hotel is a serene escape for couples who want to experience luxury living at its finest!
With luxurious accommodation and free WiFi, this hotel is an exclusive boutique experience for those who want to relax all day long.
Kensho Ornos Mykonos
Luxury Living at its Finest
Luxurious design and amenities are just a few of the reasons why Kensho Ornos is one of the best resorts on island.
In addition to their state-of-the-art facilities, they also offer free WiFi throughout for those who need it. Unwind in an air conditioned room with your own private pool or spa bath. Enjoy stunning views from your terrace as you relax and take in all that this resort has to offer!
Located within minutes from some of the most famous beaches, restaurants and nightlife destinations of all time, this resort offers you an experience that will leave you speechless every day for as long as your stay lasts.
Katikies, Santorini
Experience luxury at Katikies Santorini. Perched on the cliffs of Oia and with views to die for, this 5-star hotel is a place where you can find peace and tranquility as well as all the luxuries that make your stay unforgettable.
Enjoy sweeping views from their infinity pools or indulge in an authentic Greek taverna experience with traditional dishes cooked to perfection by talented chefs at Mikrasia Restaurant.
Domes of Elounda, Autograph Collection, Crete
Discover the Domes of Elounda, Suites and Villas. Luxury Hotel in Greece with stunning views and a beautiful resort atmosphere. CORE is an open air agora where you can enjoy delicious food and wonderful company at nightfall.
Four restaurants offer dishes made from local ingredients that will make your taste buds sing! Explore our website to learn more about this luxury hotel in Crete!
Casa Cook Rhodes
Set in the beautiful and unspoiled countryside of Kolymbia, Casa Cook is a luxurious retreat with large outdoor pool and an a la carte restaurant.
Relax on your private veranda by dipping into our refreshing pool or swinging away to your heart's content from one of the hammocks. For those looking for something more relaxing they offer bohemian-style rooms which are perfect for enjoying some quiet time!
Sit back, relax and enjoy all that this hidden oasis has to offer you.
Naxian Collection, Naxos Collection
Breathtaking views of Naxos town and its castle, beaches that can be reached by foot, an organic vegetable garden, a well-stocked wine cellar and sublime private or semi-private pools under the bluest Cycladic skies – this is what awaits visitors to this alluring property which artfully blends luxury with nature.
The villas are set in idyllic surroundings where you will find yourself relaxing in style while taking everything in. With stunning sea views from every room it's easy to see why these properties have been awarded 5 stars for their design excellence.
Canaves Oia, Santorini
Oia is a picturesque village with the most amazing views. It's also home to one of the best luxury hotels in Santorini, Canaves Oia Santorini. This hotel has everything you could want from fine dining and relaxation therapies to romantic getaways for couples – it truly is an experience that can't be missed!
Canaves Oia is a luxury hotel that offers gourmet dining and an exclusive spa experience. The Spa has been transformed from a 17th century wine cave into a Luxury Spa without losing its inherent charm. Canaves Oia is the ultimate destination for romantic couples looking to escape on their next vacation or honeymoon.
There are plenty of activities available, but most people love relaxing by the pool with stunning views of the Aegean Sea and majestic mountains as backdrops. This place will make you feel like royalty!
Greece Best Hotels FAQ
Readers wondering what type of hotel they should stay at when on the Greek islands or on mainland Greece often ask questions similar to:
What is the most luxurious place in Greece?
Santorini is known for its luxury hotels with amazing views of the caldera and Aegean Sea, but perhaps Mykonos has the most expensive and luxurious accommodation thanks to its private villas, many of which rent for tens of thousands of Euros a week.
Where do the Kardashians stay in Greece?
The Kardashians stayed at Celestia Grand (back when it was part of neighboring Volcano View Hotel) in Santorini during their vacation in Greece. It's a beautiful luxury home complex located south of Fira (about a 30-minute walk into town or a short taxi ride or free shuttle).
Where do celebrities stay in Greece?
Mykonos is a hotspot for celebrities, particularly models, rock stars, and famous athletes. For their summer holidays, rich and famous people, as well as royalty and other high-profile individuals, come to Mykonos.
Where is the best place to go in Greece for couples?
Some of the best Greek islands for couples include Santorini (honeymoon destination), Milos, Corfu. Nafplio, Mykonos, and Tinos.

Greece is a renowned tourist destination, and with good reason. There are so many amazing places to stay, from luxurious beach resorts on idyllic Greek islands to high-end hotels in the heart of Athens.
No matter what your budget or travel style, you'll be able to find the perfect place to stay in Greece. Use our guide to best hotels in Greece to find the right accommodation for your dream vacation.
Next read: What to pack for Greece – Packing lists for every season
---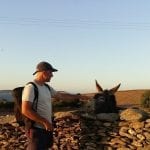 –
Dave Briggs
Dave is a
travel writer
who has been living in and writing about Greece since 2015. As well as writing this guide on how to find the best Greek hotels, he's written many more travel blog posts about destinations all over Greece. Follow Dave on social media for travel inspiration from Greece and beyond: