During the summer, there are two ferry connections a week between Ios and Anafi islands in Greece. The ferry ride take about 2 hours and 25 minutes.
Ios to Anafi Ferry Connections
Ios and Anafi are two popular Cyclades islands with independent travelers, but surprisingly, there are only two sailings weekly between them during the high season. In the winter, there are no ferries at all on this route.
As there are only 2 sailings weekly between April and October, and the summer season is a busy time to travel around Greece, I'd strongly advise you book tickets for this ferry route a few months in advance.
The best place to do this is at Ferryhopper.
Ferry Companies Sailing Ios Anafi
The ferry company operating the direct route from Ios to Anafi during most of the summer, is Blue Star Ferries.
While their vessel is a large, conventional ferry that also accepts vehicles, the journey times are quite quick at just 2 hours and 25 minutes.
The Anafi ferries from Ios might change during the year, and so you may find that Blue Star Ferries are replaced with SeaJets. These offer a faster service at just two hours.
Typically, the SeaJets ferries are the more expensive of all the ferry companies. So, if you have a choice between them, you might want to go with Blue Star for the best prices.
If you want to check schedules and book tickets for the ferry online, check out Ferryhopper.
Anafi Island Travel Tips
A few travel tips for visiting the Greek island of Anafi:
Ferry services leave from the main ferry port of Ios, called Gialos. Passengers are advised to be at the ferry port at least a half hour before their ship is due to depart.
---
Ferries arrive at the main port of Agios Nikolaos in Anafi.
---
For rooms to rent in Anafi, I suggest using Booking. They have a great choice of places to stay in Anafi and areas to consider staying include Chora, and Roukounas.
---
If you are traveling to Anafi in the peak months of summer, I advise reserving where to stay in Anafi a month or so in advance.
---
For some quality beach time, head to these beaches in Anafi: Katsouni, Roukounas, Monastiri, Flamourou, and Klisidi.
---
Ferryhopper is perhaps the easiest site to use when it comes to booking Ferry tickets online. Book your Ios to Anafi ferry tickets in advance, especially during the tourist season.
---
---
---
Ios to Anafi Frequently asked questions
Questions about about traveling to the destination of Anafi from Ios include:
How do you get to Anafi from Ios?
The only way to travel from Anafi from Ios is to take a ferry. During the summer months, there are two crossings per week sailing this direct route.
Is there an airport in Anafi?
As there is no airport in the island of Anafi, the only way to get from Ios to Anafi is by using the ferry network. The airport most close to Anafi is at Santorini.
How long is the ferry crossing from Ios to Anafi?
The ferries to Anafi from Ios take between 2 hours and 2 hours and 25 minutes. Ferry operators on the Ios Anafi route may include Blue Star Ferries.
Where do I buy ferry tickets to Anafi?
One of the best places to look at ferry schedules and to book tickets for Anafi and other islands online is at Ferryhopper.
---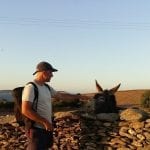 –
Dave Briggs
Dave's a
travel writer
originally from the UK and who's been living in Greece since 2015. As well as writing this guide on taking the IOs to Anafi ferry, he's also created hundreds of other travel blog posts and itineraries for travel destinations all over Greece. Follow Dave on social media for travel inspiration from Greece and beyond: