A travel guide to the best things to do in Ios, Greece and why this beautiful destination is more than just a party island.
I visited Ios during the last week of August and first weeks of September, and was blown away by all the amazing things to do on this fantastic island in Greece. In this Ios travel guide, I'll take you beyond the party scene to see a different side to the island.
An introduction to Ios Greece
The small Greek island of Ios is a popular destination in the Aegean. It is located between Santorini, Paros and Naxos, and is often included on a Greek island-hopping trip in the Cyclades.
Just like Mykonos, Ios is often referred to as "a Greek party island". This is absolutely true – Ios has been known for its wild party scene for decades. However, there's a lot more to Ios than just partying.
To begin with, there are some amazing beaches on the island. The most famous, Mylopotas beach, is a long stretch of sand where you can enjoy yourself at any time of the day.
It's also got its fair share of history and archaeological sites – the stunning views from Paleokastro are more than enough reward for the 15 minute hike to the top of a mountain!
In addition, as Ios is one of the Cyclades islands in Greece, the distinctive Cycladic architecture is instantly noticeable. You will see the picturesque white-washed houses and blue-domed churches everywhere.
If you want to get your 'Gram on, Chora, the main town which is built on the sides of a hill, offers amazing views to the Aegean Sea, and countless Instagram moments.
And that's just scratching the surface!
Top things to do in Ios
These are the attractions, activities and sightseeing highlights I recommend you should include in your itinerary for Ios:
Explore Chora
Check out the churches (there's 365+!)
Relax on amazing beaches
Visit Skarkos Archaeological site
Spend time at the Archaeological Museum
Walk to Homer's Tomb
Hike to Paleokastro
Watch a sunset at the lighthouse
Enjoy watersports like paddleboarding
Celebrate in a bar or nightclub!
Let's take a close look at what to do in Ios and how to best enjoy your time there!
Sightseeing in Chora Ios
Let's face it – some of the people who visit Ios might not be interested in sightseeing. However, watch out, as the beautiful island might steal your heart!
Like all of the Cyclades, Ios is full of the traditional whitewashed houses and stone-paved streets. Chora is a great place to walk around and explore the unique architecture.
Another feature largely associated with the Cyclades Greek islands are the iconic windmills. In fact, these were used in the past all over Greece, to grind wheat and other crops. Ios has 12 windmills, a few of which have been restored. They are just at the outskirts of Chora.
Only a short walk from the windmills, you will find a large amphitheatre, named after the renowned Greek poet, Odysseas Elytis. It was designed by the German architect Peter Haupt, based on designs of ancient Greek theatres.
Stone and marble were used for its construction. The first performance was held in 1997, and cultural events are organized on most summers. Up to 1,100 visitors can be accommodated.
Even if there is no performance though, it's worth coming to check this modern theatre based on an ancient design, and the cool views.
Just next door to the theatre, you will see an abandoned series of buildings. This is the Gaitis-Simosi museum, an art museum founded by the prominent Greek painter G. Gaitis and his wife, Simosi.
Sadly, it has never fully operated, due to lack of funding. Still, it's worth walking up here to explore some of Gaitis's white sculptures, standing in the courtyard. The gorgeous views from the top were among my favourite sunset spots in Ios, Greece.
Churches in Ios
The blue-roofed churches are another trademark of the Cycladic architecture. You won't only find them in Santorini and Mykonos.
The most famous church in Ios is Panagia Gremiotissa, located high up from Ios Chora. The pretty church along with the two palm trees in the courtyard is one of the island's landmarks.
It's worth climbing a few extra steps to reach the cliff-top St Nicholas church, where you can have some beautiful sunset views towards the Aegean.
However, you will see churches pretty much anywhere you go in Ios. Local legend says there is supposed to be a church for every day of the year. You can't miss them!
On your way to Psathi beach, you will notice a sign with the name Paleokastro. Literally meaning "the Old Castle" the conveniently paved path leads to the remains of a Venetian castle built in the late 14th century.
Nowadays, you can see the quaint Panagia church, celebrating on the 7th September. The views from up here are truly breathtaking!
Another iconic church is Agia Irini, just by Ios port. Its roof is really very unique. If you are lucky, you may see a wedding here!
Archaeological sites and culture in Ios
Ios may not be the first Greek island that comes to mind when it comes to archaeological sites and museums. However, there are a couple of sites worth exploring.
The archaeological site of Skarkos is one of the most important in the Cyclades. While you may not find it particularly interesting to walk around, it has a long and impressive history.
You can learn more about the Cycladic civilization in the Ios archaeological museum, right in the Chora. While it's a fairly small museum, there's a lot about the history of Skarkos and Ios itself.
Another important historical place in Ios is Homer's grave. The great Ancient Greek poet from the Bronze age is said to have been buried in Ios, at the north-east side of the island.
The monument is only a short hike from the car park. It's a pretty cool site, with beautiful rock cairns and stunning views over the remote Plakotos beach.
Hiking in Ios island
Like all of the Cyclades, Ios has several hiking paths. If you are interested in hiking, you can get in touch with Ios Paths, run by the very knowledgeable Giorgos.
Giorgos has been very active in cleaning and signposting the various paths over the last few years. He also offers guided hiking tours all around the island.
One of the lesser known but most iconic spots in Ios is the lighthouse, located close to the Koumpara peninsula. You can find it on google maps if you type in "φάρος ιου". There's an easy footpath that you can follow to get there.
Other hiking paths lead to some remote beaches and churches. Before you set off, make sure you have proper footwear, and enough water and snacks.
Ios beaches
There are several pretty beaches in Ios Greece. Most of them are sandy, with crystal-clear waters. Some are fully organized, with sunbeds, umbrellas and other facilities. Others are quiet and unspoilt.
You can get to many of the beaches in Ios by car or quad-bike. There are also buses running the most popular routes. Just be aware of the latest timetables.
There are also several beaches that you can only reach through a hike, or a boat tour.
Related: Best Greek Islands For Beaches
Mylopotas Beach
If Ios island has a signature beach, it's Mylopotas. Its golden sands and crystal-clear waters make it one of the most stunning beaches in the Aegean.
Yes, Mylopotas can get busy, and the thump thump of music does drift over from time to time. At the end of August and early September though, it can be quite empty, and nothing quite beats being able to enjoy a sunset from the beach.
Tip: If you want to get quiet time in peak season, go early in the morning, when the party crowds are still on the dance floor.
Milopotas is an area with accommodation (we stayed 5 minutes walk from the beach), and plenty of tavernas and bars. If the sun is too hot, chill in the Karma bar, or rent one of the many sunbeds on the beach.
If you're looking for watersports, there's a few places hiring out windsurf, paddle boards giving rides and much more. Check out Meltemi, close to Far Out beach club, for more information.
Manganari Beach
The beautiful, south-facing Manganari Beach is on the south side of the island, about a half hour's drive from Ios Town. Manganari is your best bet when the strong north wind, called meltemi, is blowing.
It consists of several bays that are connected with each other and is probably the most picturesque beach on Ios, with lovely turquoise waters.
There are some facilities, including rooms to let, umbrellas and loungers and a bar / restaurant. In fact, Manganari is a popular Ios resort area for people who are not interested in the famous nightlife.
Tip – if you are after shade, go to the left side of the beach, where you can camp under some trees.
Kalamos Beach
Kalamos is a stunning wild beach, where you can get to through a dirt road. The bumpy ride is totally worth it. On the way, you will pass by the picturesque Agios Ioannis Kalamos church.
The beach itself is a long, wide stretch of sand. There is absolutely no shade and no facilities, so you will probably want to bring your own.
Getting in the sea isn't as pleasant as on other Ios beaches, as there are some pebbles and rocks that make it a little difficult. Avoid Kalamos beach on a windy day, as going in will not be smooth. I've a video you can watch here on Kalamos Beach.
Psathi Beach
This is another sandy beach on the east side of the island, which can be accessed through a long paved road.
Unusually for Ios, there are many trees offering some much needed shade. When we visited, there were no sunbeds or umbrellas and the beach was wild and natural.
If you want to walk straight into the sea, go to the far right side of the beach. Otherwise, be prepared to walk on some slippery stones.
There is a taverna in the area, but you can always bring your own snacks and water and spend a lazy few hours, enjoying the views of the wild Iraklia island.
On your way there, don't miss Palaiokastro and Panagia church, offering some incredible views of the Aegean.
Agia Theodoti Beach
Theodoti is another east-looking beach, close to Psathi. It's an easy paved road to get there, and there are a few umbrellas and loungers and a couple of tavernas.
This beach seemed to be popular with families and local people. Like most of Ios beaches, it is very wide, so there should always be plenty of space.
Loretzaina Beach
A surprisingly good quality road leads up and then down to Lorentzena (Loretzaina on googlemaps) beach. There's a parking area, and collection bins for trash, but no taverna so bring your own food, drink and shade.
The sandy, semi-crescent beach provides easy access to the sea, and the bay is protected on two sides by rocky coastline.
We arrived at 16.00 and stayed until sunset at the end of August, with just a handful of other people on the beach. A nice, quiet beach with no music and just the sound of the waves lapping on the shore.
Koumbara Beach
There's a little area in the southwest of the island which I have to say didn't impress me much. This area includes Pathos Club, Koumbara Beach and a private resort area on a peninsula attached by a man-made causeway.
The problem I had with this area, was it just looked a little too fake and the beach was a lot inferior to Mylopotas. In fact, it reminded me a little of Phu Quoc in Thailand – I hope it doesn't go down the same path!
Still, just because it wasn't my cup of tea, doesn't mean you might not love it. If you like seafood, the Koumbara seafood restaurant, according to one knowledgeable local we spoke to, is worth the trip out to the area.
Yialos beach and Tzamaria
Yialos, also marked on google maps as Ormos, is a long sandy beach, close to the port. As it's shallow and protected when it's windy, it's a great place for families. There are plenty of tavernas and rooms to let all around the area.
Nearby, you will also see the small beach of Tzamaria, a well-known spot among locals. You can easily reach it by a short walk from Yialos and then a few steps down.
Water sports in Ios
As Ios has many beautiful beaches, watersports are very popular. Meltemi Water Sports on Mylopotas beach offer plenty of options for an active day in the sea.
From wind-surfing and SUP to snorkelling and diving, you will definitely find something you want to try.
In addition, you could take a boat tour to see the less easily accessible beaches in Ios. While technically it's not exactly watersports, it would be a fun way to explore the island.
Partying in Ios
Last but definitely not least – yes, Ios is a party island. People from all over the planet travel to Ios during high season to enjoy the vibrant all-night fun.
If one of the things you want to do in Ios is bar-hopping, Ios Chora is the best place to spend your evening. There are dozens of bars and clubs to choose from. Some of them compete on the cheapest shots available. Others offer a combination of great music and exclusive drinks.
People who are interested in the Ios nightlife will definitely find a bar (or ten) that they will love. Here are some of the popular choices in Chora:
Astra cocktail bar, with amazing cocktails, great music and super friendly owners
Sweet Irish Dream, a traditional Irish Pub setting combined with cocktails, pool tables and table dancing
Coo bar, a late bar / club serving great drinks alongside hip-hop and R'n'B tunes
Slammer bar, specializing in cocktails and shots. If you are feeling brave, you can put a helmet on and ask the bartender to slam you on the head with a hammer. Fun times!
This is only a small selection though. Walk around the old town, and you will find many more, each with its own character. Maybe your own favourite is hidden somewhere in the backstreets!
With all that said, if you only go out to Chora for an early meal and head back early, you can easily miss the bar scene altogether. Same if you visit during shoulder season, which is the best time to enjoy the natural beauty of Ios island.
You can also party on some of the island's beautiful beaches. The Far-Out Beach Club on Mylopotas beach is the best-known beach bar on the island. The combination of drinks, cocktails and music will remain unforgettable. Or maybe not!
Getting around Ios
Exploring the island by ATV is among the favorite things to do in Ios for some people. You can reach some of the best beaches and places to watch the sunset along dirt roads that are a little more tricky for cars to navigate.
Of course, hiring a car is also a great way to get around Ios. You can either hire an ATV or car when you arrive at the port, or hire one in the Chora.
As usual, we took our own car from Athens with us when we visited Ios. Pro driving tip – Keep your eye out for goats on the road when driving!
Where to stay in Ios Greece
There is plenty of accommodation and hotels in Ios Greece. Popular choices among budget travellers include the Purple Pig Stars campsite in Milopotas, or Armadoros in Yialos.
That said, there are plenty of affordable self-catering rooms and budget hotels on the island. We stayed at the family-run Sunshine Studios. They were great value for money and also offered to do our laundry.
If you want a little more luxury and perhaps a swimming pool, there are quite a few options. Some of the top-rated choices are
Getting to Ios from Athens
Ios does not have an airport, so the only way to reach the island is by ferry.
From Athens, you can easily get to Ios by ferry from Piraeus, and possibly from Rafina which is a secondary port. Here's an article on how to get to Ios in Greece from Athens.
Take an early ferry from Piraeus Athens to Ios if you can, and you should arrive at Ios Port in early afternoon. This way, you'll have all the afternoon and evening to start exploring the things to do in Ios!
Traveling to Ios from other Cyclades Islands
In addition to direct ferries to and from Athens, Ios has ferry connections to many other nearby islands
Ios is less than an hour away from Santorini, while the trip to Paros would only take you a couple of hours on a conventional ferry.
Check my guide here: Ios to Santorini ferry guide.
There are also connections with lesser-known islands, like Serifos, Kimolos, Sikinos, Folegandros and Anafi.
It's best to book your ferry tickets in advance, especially if you are travelling during peak season. I use Ferryhopper, a convenient website where you can compare all inter-island itineraries and book your tickets online.
If you have limited time, you can also take a day trip to the nearby Sikinos, an unspoilt, virtually unknown Greek island.
Islands Near Ios
For onward travel, the closest islands to Ios are Santorini, Paros, Naxos, Sikinos, and Folegandros. If you're planning to Greek island hop after Ios, check out my complete guide to islands near Ios.
FAQ About Ios Island Greece
People planning to spend some time on Ios island in Greece sometimes ask questions similar to:
Is IOS Greece expensive?
Ios can be one of the more budget friendly Greek islands, which is why it has grown to become something of a backpackers and twenty-something's party island. Accommodation and food are very affordable. How much you decided to spend on anything else is up to you!
What is IOS Greece known for?
Ios island is perhaps best known for its party scene, but it is also developing a reputation as one of the best Greek islands to visit for beautiful sunsets. There are numerous sunset spots in Ios for memories that will last a lifetime!
How do I get to Ios in Greece?
The Greek island of Ios in the Cyclades can only be reached by ferry. There are regular ferry connections with Athens, as well as other islands in the Cyclades group in Greece.
Which tomb is north of Mylopotas?
Homer's Tomb is in the north of the Greek island Ios, and is located on a pretty cool site, with beautiful rock cairns and views over the remote Plakotos beach.
Travel Resources for Greece
Planning a trip to Greece? These travel resources will make the whole process a lot easier!
Ferryhopper – Check schedules and book Greek ferry tickets online.
---
Booking.com – Check for hotels in Ios, and reserve online.
---
Get Your Guide – Offers unique tours and experiences throughout Greece.
---
Revolut – A great travel money card if you are from the UK
---
Transferwise – If you're from the US, this travel will help you massively with exchange fees. Like a bank, but better!
Greek Island Travel Guides
Looking for more Greek islands travel guides. I've got you covered …
---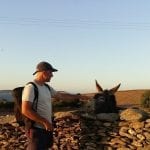 –
Dave Briggs
Dave is a
Greek travel blogger
from the UK, now living in Athens in Greece. In addition to writing this Ios things to do guide, he's written many other blog posts about traveling to Greece. Follow Dave on social media for travel inspiration from Greece and beyond: