There is no direct ferry connection from Ios to Antiparos island in Greece. Instead, you first have to take a ferry from Ios to Paros, and then a different ferry from Paros to Antiparos. This guide shows you how.
Travel between the Greek islands of Ios and Antiparos
While Ios has many direct ferry connections with other islands in the Cyclades, Antiparos is unfortunately not one of them.
This means that if you want to visit Antiparos after Ios, you'll have to go via another island first – in this case Paros. From there, you'll need to take another ferry on to the small island of Antiparos.
Ios to Paros Ferries
During the summer. there can be up to four ferry services each day sailing from Ios to Paros, Greece. The journey times range from 1 hour to 3 hours, depending on the ferry company.
When it comes to ferry ticket prices, they can vary quite wildly. The cheapest Ios Paros ferry ride starts from about 9.50 Euro – but it doesn't sail very often. Expect to pay anywhere between 45.00 Euro and 65.00 Euro.
If you get an early ferry from Ios to Paros, you may be able to get a Paros to Antiparos ferry the same day. Should you arrive at Paros late though, you might need to spend the night on the island and get a ferry to Antiparos the following day.
If you do find yourself in this position, it will be best to spend the night in Parikia, which is the main port town.
You can book your ferry tickets between Ios and Paros online at Ferryhopper.
Paros to Antiparos Ferry
There are many different ferry connections between the two islands of Paros and Antiparos each day. Travel times on the Paros to Antiparos crossing take 15-30 minutes, depending on which boat you take.
During the high season, there are several foot passenger boats from Paros to Antiparos departing from the main port of Parikia. In addition, several bus ferries with automobile capacity depart from Pounda port every day. You'll need to take the Pounda ferry to reach Antiparos if you are traveling with a car.
Paros to Antiparos ferry tickets can not be booked in advance. You can buy tickets at the ports.
Antiparos Island Travel Tips
A few travel tips for visiting the Greek island of Antiparos:
Aim to be at the ferry port for your departure from Ios at least a half hour before the ferry is due to sail.
---
The easiest way to get hold of ferry tickets when Greek island hopping is by using Ferryhopper. Book your ferry tickets a few months in advance, especially if your next trip is during the summer season.
---
For accommodation in Antiparos, I suggest using Booking. They have a great selection of rooms to rent in Antiparos and areas to consider staying include Agios Georgios, and Antiparos town.
---
If you are traveling to Antiparos in the peak months of summer, I advise reserving hotels in Antiparos a month or so in advance.
---
---
Be sure to visit the amazing Antiparos Cave during your time on the island!
---
How to take the journey from Ios to Antiparos FAQ
A few of the questions readers ask about traveling to Antiparos Cyclades island from Ios include:
How can you get to Antiparos from Ios?
There are no direct ferries sailing to Antiparos from Ios. This means the only way to make a trip from Ios to Antiparos is to go via another island first such as Paros.
Is there an airport on Antiparos?
There isn't an airport on the Cyclades island of Antiparos. The nearest airport to Antiparos is at Paros, and this has domestic flights to and from the main airport in Athens.
How long is the ferry crossing from Ios to Antiparos?
With no direct ferries going to the island of Antiparos from Ios, it is hard to calculate the exact travel time. If connections line up perfectly, it could be 6 hours or less. In the worst case, you may need to stay over night on Paros.
Where do you get ferry tickets to Antiparos?
The best place to look at Greek ferries online is Ferryhopper. Although I recommend you book your Ios to Antiparos ferry tickets in advance, you could also use a local travel agency in Greece.
Find out more about other ferries from Ios: Islands to visit near Ios in Greece
---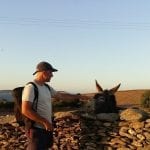 –
Dave Briggs
Dave is a
travel writer
who has been based in Greece since 2015. In addition to creating this travel guide to ferries from Ios to Antiparos, he's written hundreds of other insightful travel guides to Greek islands and destinations. Follow Dave on social media for travel inspiration from Greece and beyond: