It was hard work picking the best islands in the Cyclades to visit from the 24 to choose from – but someone had to do it! Here's my choice of the best islands in the Cyclades, Greece.
The Cyclades islands in Greece
The Cyclades islands in Greece are very popular with foreign visitors. They are famous for their whitewashed houses, hundreds of churches, dry landscapes, nice beaches and unique views.
The Cyclades chain of islands includes 24 inhabited islands, and several uninhabited ones. (Click here for: A List of the Cyclades islands).
Out of those 24 islands, the best known ones for their beauty and dazzling light are Santorini and Mykonos.
Just because they are the most famous though, doesn't make them the best (although it's not like they are terrible!).
Santorini and Mykonos are only two of the Cyclades
Mykonos and Santorini are not only the two most popular islands in the Cyclades, but also two of the most visited islands in Greece.
Santorini is world-famous for its volcano, the impressive sunset views and wineries. It's a small island, and a popular stop with cruise ships most months of the year.
People visit Mykonos for the vibrant nightlife, its fantastic sandy beaches, and the quaint Mykonos town.
The nearby Delos was one of the sacred islands in ancient Greece and a Unesco World Heritage site. It is a popular half-day trip from Mykonos.
But what about the remaining 22 inhabited Cyclades islands?
I've been to almost all of them now, and I find it impossible to have just one favourite. (Actually, it might be Donoussa, but more about that later).
Each one is unique, and will appeal to different types of people.
After careful thought, here are what I consider to be six of the best islands in the Cyclades.
Milos – A beautiful volcanic island
Milos is an upcoming Greek island. In the past, it was only known among Greek people, and often referred to as a couples island. But not anymore!
It's fair to say that Milos is one of the top Cycladic islands in terms of natural beauty, unique landscapes and pristine beaches.
Like Santorini, Milos is a volcanic island, created after an eruption. As a result, its soil is rich in colourful minerals and rocks that can best be described as weird.
Looking at a map, you will see that Milos is a horseshoe shaped island. Its right side is more developed, while the left side is rugged and wild, making a paradise for off-road exploration.
Here are a few of the things you can do in Milos Greece.
Visit the incredible beaches
No other island in the Cyclades has such an incredible variety of unique, diverse beaches. You will find everything from long sandy beaches, to hidden coves, to rocky outcrops.
There are several bays full of pretty, colourful rocks and surrounded by tall cliffs.
Apart from the lunar-like Sarakiniko beach and the rugged Kleftiko bay, Milos has over 70 wonderful beaches you will love. You will even find hot springs on a couple of them.
This guide to the beaches in Milos gives an overview where to swim on the beautiful island.
As some of the beaches are difficult or impossible to reach by land, you can take one of the popular sailing tours of Milos. You will get to enjoy the day on a sailing boat, visit remote beaches and explore the wild island of Polyegos.
Learn about the unique mining tradition in Milos
Milos owes its incredible landscapes and unique mining tradition to its mineral-rich soil. Since the ancient times, people have been extracting materials like kaolin, bentonite, perlite and pozzolan.
If you go to Milos, make sure you visit the excellent Milos Mining Museum. It will give you an overview of the island's mining history, and you will learn about the living conditions of people working in the industry.
It's also worth taking a land tour of Milos. You will learn everything about mining and how it shaped the island's economy over the millennia. This was one of my favourite activities in Milos.
Explore the island's long history
Milos is great for people who are interested in history. To begin with, this is where the famous Venus de Milo statue was discovered.
The original statue can be seen in the Louvre, but you can see a replica in the local archaeological museum.
Milos is also home to some of the few catacombs in the whole of Greece. They date from the Proto-Christian years, and were used as a cemetery in the past. Today, you can take a short guided visit.
Walking distance from the catacombs, you will find the ancient theatre in Milos. It was first built during the Hellenistic Age (3rd century BC), and was later reconstructed. Today, it is occasionally used for performances and other events.
Other places to visit in Milos if you are interested in history is the ancient city of Phylakopi, and the Venetian castle in the island's capital, Plaka.
Visit the traditional fishing villages
Milos is also known for its traditional fishing villages, with the quaint fishermen's houses, called syrmata.
You will find these traditional colorful houses in many of the quaint villages on the coast. The most popular fishing village is Klima, which enjoys lovely sunset views.
Some of the syrmata houses have been transformed into visitor accommodation with all amenities. It's a great alternative to luxury hotels.
These are just a few of the things you can do in Milos. For more information, you can check out our Milos and Kimolos guide, available on Amazon.
Ios – Not just a party island
When it comes to nightlife, there are two Cycladic islands that rate highly – Mykonos and Ios. However, Ios is much more than just a party island.
To begin with, Ios has some amazing white sand beaches and a pretty capital town with pretty Cycladic architecture.
Moreover, you will find 365 churches, one for every day of the year, lovely hiking paths and some of the best sunsets in the Cyclades.
Here are just a few of the things you can do in Ios Greece.
Wander around Ios town
Like most Cycladic capitals, Ios town is a small, traditional settlement, full of whitewashed houses and colourful doors and windows.
Around the narrow alleys you will find dozens of restaurants, bars and souvenir shops.
Walk to the highest point, to the church of Agios Nikolaos, and you will discover a lovely sunset spot.
Hike around Ios
The Cyclades islands are ideal for people who like hiking. Ios is no exception, as there are numerous hiking trails.
My favourite hike in Ios was on the Koumpara peninsula. There is a half-hour easy trail leading to the lighthouse, and going there for sunset was magical.
I also enjoyed visiting Palaiokastro, where you will see the remains of a Venetian castle and a small church. The views from up the top are really impressive.
Another popular hike in Ios is from the main town, Chora, to Skarkos, the archaeological site. While it's not the most impressive ancient site in the Cyclades, it's a cool place to visit.
Spend some time on the beaches in Ios
Ios has some of the best sandy beaches in the Cyclades. The most famous beach is Mylopotas, where you will find the most options for accommodation, water sports and beach bars.
Apart from Mylopotas beach, there are dozens more. Some of them, like Yialos, Agia Theodoti and Manganari at the southern edge of Ios, are popular with visitors and locals alike.
Others, like Kalamos, Psathi and Lorentzena are relatively quiet and ideal if you want some privacy, even during the busy summer months.
You can read some more information about Ios and its nice beaches in this guide on what to do in Ios.
Naxos – Long history, lovely beaches and fantastic food
Naxos is the largest and one of the best Cyclades islands. It combines everything a visitor could ask for – lots of history, great beaches, delicious food and plenty of charming villages.
Naxos offers plenty of tourist infrastructure, including numerous options for accommodation and tavernas and busy beach bars.
However, the island has largely kept its authentic atmosphere and not everything revolves around tourism. All in all, it's the best of both worlds.
Visit Chora in Naxos
Chora, the island's port town, is one of the biggest and most impressive capital towns in the Cyclades.
The first thing you will notice in Chora is the amazing 13th century AD Venetian Castle. It was built on the ruins of ancient settlements, and you will see evidence of that as you are walking around.
Stroll around the white-washed alleys, and take in all the architectural details. When you are tired, sit at one of the numerous tavernas or bars, and enjoy a traditional meal or drink.
Naxos town is also home to the best known landmark in Naxos, the Portara Gate. It's a spot to watch the sunset from – just get there early.
Explore the traditional villages in Naxos
The popular island has many more villages apart from Chora. Visitors will love the medieval village of Apeiranthos, with the Venetian towers, stone houses, high arches, byzantine churches and old windmills.
Other villages in Naxos include Filoti, Chalkio and Kamares. Each one has its own unique character, and you will almost forget you are on an island.
Learn about the long history of Naxos
Naxos is a great destinations for history buffs. While in Chora, you will enjoy wandering around the medieval castle and taking photos of Portara at all times of day and night.
But that's not all. There are two archaeological sites you can visit, the temple of Demeter and the site of Yria. In addition, make sure you go hunting for the three Kouroi statues, in Melanes and in Apollonas village.
Naxos has some of the best beaches in the Cyclades
It may sound like a cliche, but Naxos has some really fantastic beaches. The long coastline boasts several long stretches of sand, but you will also find many secluded coves.
Some of my favorite beaches on the west coast of Naxos include Plaka, Glyfada, Aliko and the small beach of Mikro Alyko. If you have a car, try Psili Ammos on the quieter east coast.
Here is an article with all the beautiful beaches in Naxos.
Naxos has some of the best food in the Cyclades
People who visit Greece often rave about the food. Naxos is one of these places where the food is just amazing.
The island is big and fertile, and as a result there are many local products. These include the famous Naxos potatoes, the delicious meat dishes, the tasty home-grown vegetables and the incredible Naxos graviera cheese.
Here is some more information about Naxos.
Tinos – One of the most authentic Greek islands
Tinos rarely features in best islands in the Cyclades lists. It appears that not too many people have discovered it yet, which is a good thing if you ask me.
Tinos combines a strong religious culture, a long tradition of marble crafts, amazing traditional villages, lovely beaches and great food. It could easily become your new favorite island in Greece.
The church of Panagia Evangelistria
Among Greeks, Tinos is famous for its church, our Lady of Miracles or Panagia Evangelistria, in the main town. Every year, thousands of Greek Orthodox people visit on a pilgrimage.
The most popular time to visit the church is on the 15th of August. If you want to visit Tinos during that time, make sure you book your accommodation well in advance.
Around the church, you will find several museums with paintings, sculptures, impressive Byzantine art and many unique ecclesiastical items.
You can read more about the church and its museums in this article.
Tinos has dozens of traditional villages
Tinos is one of the best islands in the Cyclades if you like exploring traditional villages. With over 30 beautiful mountain villages, it will take you several days to see them all.
The island is famous for its marble crafts, which is evident immediately in most of the villages. Walk around the narrow alleyways and observe all the little details.
Three of the most visited villages in Tinos are Pyrgos, Kardiani and Ysternia. If you only have a few days on the island, this is where you should start.
However, don't miss the smaller villages, like Volax, Agapi, Triantaros, Arnados… the list is almost endless, and the more you explore, the more you will love this beautiful, authentic island.
Tinos has several beautiful beaches
Tinos isn't the first Cycladic island that would come to mind in terms of nice beaches. However, there are plenty of beautiful beaches where you can relax after exploring all the amazing villages.
Some of the beaches closest to Tinos town are Agios Ioannis Porto, Agios Sostis and Fokas. They are all nice and sandy, with shallow waters.
Towards the north side of the island, you will find a few wilder beaches, like Agia Thalassa, Rochari and Kolimvithra.
One thing you need to know about Tinos, however, is that it is very affected by the meltemi winds. These strong northern winds blow in the Aegean Sea during the summer months, and make it uncomfortable, or even dangerous, to swim.
On these days, ask the locals where it's best to go – or just spend longer exploring the island and its hiking trails.
For more information on Tinos island, check out this guide. We also have a book on Amazon, including Andros and Tinos islands in Greece.
Serifos – Beautiful main town and lovely beaches
Serifos is another upcoming destination in the Cyclades. According to Greek mythology, it is connected with the legend of Perseus and the Gorgon Medusa.
These days, Serifos is best known for its impressive main town and beautiful beaches.
Explore a little further, and you will find cool landscapes with deserted mines, lovely hiking paths and some fantastic views to the Aegean.
All in all, Serifos is an ideal Cycladic island if you want to relax and spend some time in nature, without giving up on the nightlife.
Visit the quaint Chora
Serifos has one of the prettiest main towns in the Cyclades. It is built up on a hill, an an altitude of 200 metres. The houses literally look like they are hanging off the cliffs.
Walk around, and explore the quaint Cycladic architecture. Climb all the way up to the top, and you will enjoy some outstanding views of the nearby islands, like Sifnos and Milos.
There are plenty of cafes, tavernas and bars where you can sit and enjoy the relaxed ambiance.
Explore the island's mining tradition
Like Milos, Serifos has a longstanding mining tradition. During ancient times, the extraction of copper was important for the island's economy.
In the 19th century, other minerals were discovered in Serifos, including iron. Once again, mining became an important activity.
However, working conditions were harsh, and demand for iron gradually decreased. Eventually, the mines closed down in the 1960s.
Today, visitors can see the deserted mines in the area between Koutalas and Megalo Livadi. The path from Chora to Giftika was once used by the miners, to go to the mines and back.
Visit the Monastery of Taxiarches and the cool winery
Up on the mountains at the north side of the island, you will find the Monastery of Taxiarches, dating from the 15th or 16th century.
The monastery looks like a castle from the outside. Inside, you will find several rooms like the abbey, the kitchen and the monk's cells. Besides its cultural significance, it's a lovely spot to watch the sunset from.
On your way back to the Chora, stop at the small Chrysoloras winery, which is only open in the evenings. Their website is in Greek, but you can email or call them for information and bookings.
Relax on the gorgeous beaches in Serifos
The small Greek island has some truly amazing beaches. Unlike other islands, you won't find too many beaches with loungers and umbrellas.
Instead, you will find virgin, natural beaches, some of which are only accessible through rough dirt roads or hiking trails.
Whether you like sandy or pebbly beaches, Serifos has something for you.
Some of the nicest beaches in Serifos include Platys Gialos, Agios Sostis, Psili Ammos, Ganema and Koutalas.
Closer to the town, you will find Livadi and Livadakia, among the few beaches in Serifos which offer facilities like sunbeds and beachbars.
According to the locals, Serifos has over 70 beaches, so it would take you several days to explore them all!
Donoussa – A small island off the beaten track
People looking to relax, unwind and get away from it all should look no further than Donoussa.
Donoussa is one of the smaller islands in the Cyclades. It belongs to a group of islands known as the Small Cyclades. This includes four inhabited islands, the other three being Iraklia, Schinoussa and Koufonisia.
What to do in Donoussa
Strictly speaking, the little island doesn't have much "to do". Yet, you can spend several days relaxing on its amazing, pristine beaches, and walking on its lovely hiking trails.
You will find accommodation on the island's main village. If you are going in July or August, you will need to book several months in advance.
Beware though – this quiet island is not for everyone. If you are after luxury hotels, busy beach bars and nightlife, Donoussa is definitely not for you!
Why haven't I written much here about it? Perhaps I don't want to encourage too many people – we don't want it turning into a tourist trap!
Here is my full guide on things to do in Donoussa Greece.
Getting to the Greek islands
You can get to all of the Cyclades islands on the extensive network of Greek ferries. There are several connections to Piraeus and Rafina ports close to Athens in mainland Greece.
Moreover, Milos and Naxos have small domestic airports, so you can take a short flight from Athens.
If you have several days, you could easily do some island hopping. There are plenty of ferry connections between the Greek islands. This way, you can combine a popular island with a less visited island.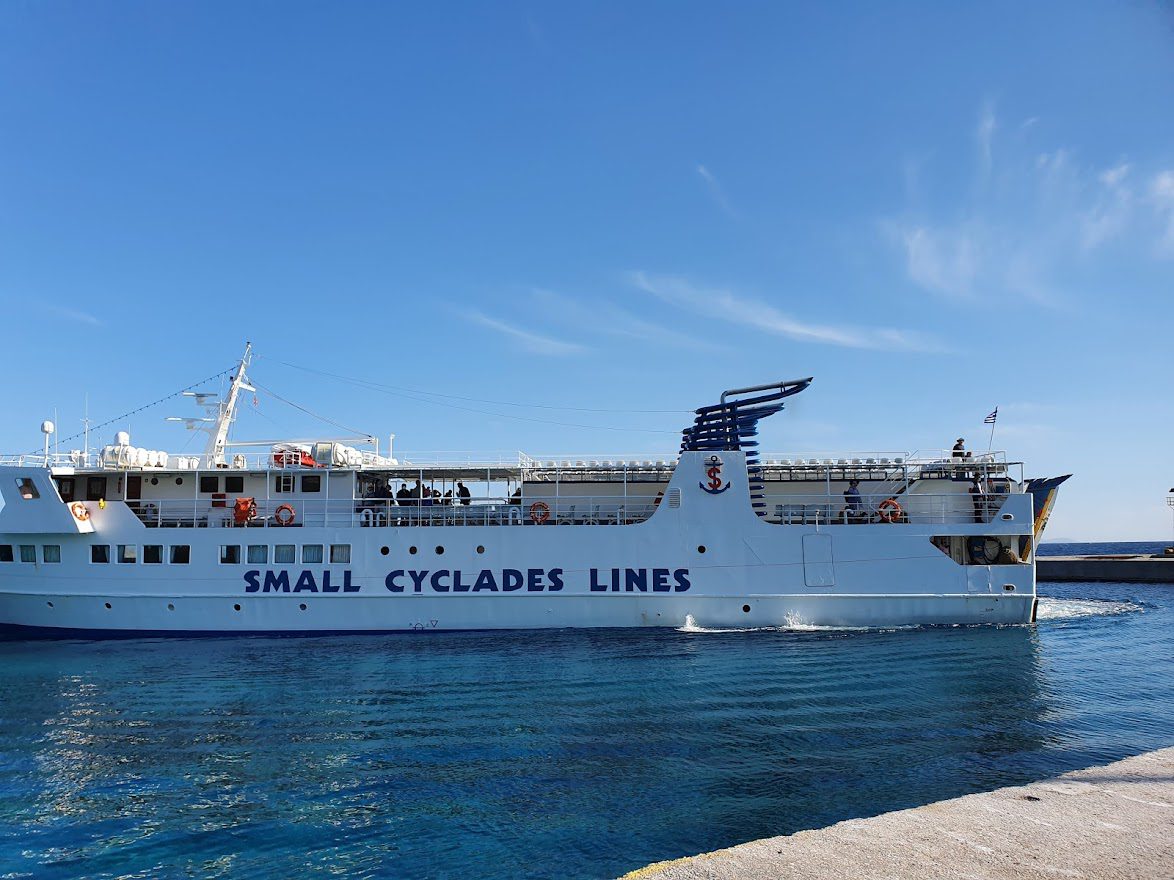 Among the above islands, the easiest ones to include in one trip are Tinos and Naxos, Naxos and Donoussa, or Milos and Serifos.
Other easy combinations involving only a short ferry ride include Ios and Santorini, Naxos and Paros, Milos and Kimolos, or Tinos and Andros.
Ferryhopper is a great place to compare routes and prices and book your tickets. You will find all connecting ferries between the islands.
Frequently asked questions about the best islands in the Cyclades
Here are some questions travelers often ask regarding the Cyclades islands:
What are the best Cyclades islands?
This depends on what you are after! As an example, Milos is great for landscapes, Tinos has amazing villages, and Ios has some fantastic beaches.
Which island in Cyclades has best beaches?
Four of the best Cyclades islands for beaches are Ios, Milos, Naxos and Serifos. Other islands with great beaches include Andros, Mykonos, Koufonisia and Kythnos. It surprises some people to learn that Santorini has very poor beaches in by comparison to other Greek Cyclades islands.
Which is the prettiest and quietest Greek island?
One of the prettiest and quietest Greek islands in the Cyclades is Donoussa. You will also find some quiet islands in the Ionian islands and the Dodecanese.
Is Paros or Milos better?
Paros and Milos are very different islands. Milos offers more adventurous activities and remote beaches, while Paros has more organized beaches with sunbeds and umbrellas for hire. Milos is better for landscapes, diverse beaches and history. Paros is better for sightseeing, traditional Cycladic architecture and nightlife.
---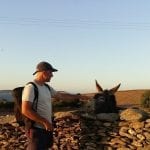 –
Dave Briggs
Dave is a
travel writer
living in and writing about Greece. As well as writing this blog post about the best Cyclades islands of Greece, he's written hundreds more guides to other destinations. Follow Dave on social media for travel inspiration from the Greek islands and beyond: