With no direct ferry from Ios to Andros, you'll first need to take a ferry from Ios to Mykonos and Syros, and then another one on to Andros. This Greek island hopping guide shows you how.
Ios Andros Ferry Route
Some Greek islands pair together more naturally than others when it comes to traveling between them, and these normally have direct ferries.
Ios and Andros are not such an obvious combination though when planning a trip in the Cyclades islands. As such, you'll need to get creative if you want to visit Andros as your next trip directly after spending time in Ios.
Basically, you'll need to first of all get a ferry to another island such as Mykonos or Syros. Once there, you'll then need to take a second ferry on to Andros.
When deciding on your routes, you'll want the latest ferry schedules and prices. You can find them here at Ferryhopper.
I've also got some dedicated guides on Ios ferry options to Andros you can read by clicking on the links below.
Ios to Andros Ferry Timetables
Time is an extremely important factor when it comes to catching ferries between the Greek islands.
You'll have to make sure you have ferry connections that line up well on the date you want to travel. You may need to spend a night on either Mykonos or Syros if you can't get a ferry straight out to Andros.
If you find yourself in this position, you might want to read these guides on where to stay:
Andros Island Travel Tips
A few travel tips for visiting the Greek island of Andros:
Passengers should arrange to be at the main ferry port of Ios at least a half an hour before the ferry is due to leave.
---
---
Areas to consider staying in Andros include Korthi, Chora, Batsi, and Agios Petros. If you are traveling to Andros in the the months of July, August, and September, I advise reserving where to stay in Andros a month or so in advance.
---
The easiest way to get hold of ferry tickets in Greece is by using Ferryhopper. I think it's better that you book your Ios to Andros ferry tickets in advance, especially during the peak months of summer.
---
---
---
---
How to make the journey from Ios to Andros FAQ
A few common question and answers about travelling to Andros from Ios include:
How do I get to Andros from Ios?
Currently, there is no ferry company offering a direct sailing to the Cyclades island of Andros from Ios. In order to travel from Ios to Andros you would need to go via another island first such as Mykonos and Syros.
Is there an airport on Andros?
There is no airport in Andros. The airport closest to Andros is at Athens International Airport.
How long is the ferry crossing from Ios to Andros?
With no direct ferries going to Andros island from Ios, it is hard to calculate the exact travel times. If ferry services line up perfectly, it could be 6 hours or less. In the worst case, you may need to stay over night on Mykonos and Syros.
How can I buy tickets for the ferry to Andros?
Most ferry companies and their services in Greece can now be booked on the Ferryhopper website. You may be able to find discounts and special offers for certain dates if you book online directly at each ferry company website.
Ios Ferry Andros Final Thoughts
The Ios to Andros ferry route may not be the most intuitive as the two islands are not directly connected, but it is possible to make with a little effort. If you are able to get your hands on the latest ferry schedules and prices for ferries between these two islands in Greece, then you can find a connection that works with your travel plans. You'll have to spend some time either on Mykonos or Syros depending which direction you're traveling from Ios, so make sure you book accommodation if you have to before committing!
---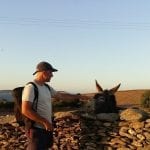 –
Dave Briggs
Dave is a
travel writer
who has been based in Greece since 2015. In addition to writing this blog post about ferries from Ios to Andros, he's also written hundreds more travel guides to Greek destinations. Follow Dave on social media for travel inspiration from Greece and beyond: