Taking the ferry from Ios to Sifnos is the only way to travel between these two Greek islands. The journey takes around 3 hours and 15 minutes, and there are two ferries a week operated by Zante Ferries.
Sifnos island in Greece
Sifnos is a small and quiet island in the Cyclades group of islands in Greece. It's known for its stunning beaches, traditional villages, and delicious food. There are plenty of things to do on Sifnos, from swimming and sunbathing at the beaches to exploring the villages and ancient ruins.
As such, Sifnos can be a good next island to visit after Ios, and it's only a short ferry journey away.
Ios Sifnos Ferry Route
Currently, only Zante Ferries provide the crossings between the Cyclades islands of Ios and Sifnos. The use conventional ferries, but even so, the travel time is relatively quick at around 3 hours and 15 minutes.
During the height of summer, there may be up to 2 ferry crossings a week from Ios to Sifnos. If these services don't line up with your itinerary, you might be able to put an indirect route together by swapping ferries at another destination such as Paros first. It's complicated and more expensive though.
Note that as there is no airport in the Greek island of Sifnos, so the only way to get from Ios to Sifnos is by ferry.
Ferries to Sifnos from Ios
Readers planning their island hopping routes in the early part of the year may find that the summer timetables for the Ios Sifnos ferry crossing are not live. Typically, the summer schedules are published in March, although occasionally they may only go live after Greek Easter.
I find that Ferryhopper is a good website to use to book ferry tickets online. If they're not showing availability on the dates yo want to travel yet, keep trying!
The Ios Sifnos ferry route rarely sells out, so you can even make a booking a week before in some cases.
Departing the Island of Ios from the ferry port
Here's a few things to keep in mind when taking the Ios to Sifnos ferry:
Ferry services leave from the main port, called Gialos in Ios.
---
One of the best places to look at ferry schedules and to book tickets online is at Ferryhopper. I recommend you book your Ios to Sifnos ferry tickets in advance, especially during the peak months of summer. There are also travel agencies in the Chora and by the port.
---
If you're pre-booked your ferry ticket and have an e ticket, be at the ferry port of Ios a half hour before departure.
---
If you've decided to buy a ticket at the port, or need to collect your ticket at Ios Port, try to get there an hour before the boat is due to leave. Should you end up waiting around, there are a few place to enjoy the Greek coffee culture in the cafes!
---
The Ios ferry port is very small and easy to navigate, with just a couple of gates. Nothing like the giant Piraeus Port of Athens!
---
Food and drink are available on the ferry, but prices are higher. You may find it more affordable to bring your own along.
---
Sifnos Island Travel Tips
A few travel tips for visiting the Greek island of Sifnos:
Sifnos ferries from Ios and other Cycladic islands arrive at Kamari port in Sifnos.
---
For places to stay in Sifnos, take a look at Booking. They have a great selection of accommodation options in Sifnos and areas to consider staying include Apollonia, Kamares, and Platis Gialos.
---
When it comes to choosing a hotel in Sifnos for your vacation, it is important to do your research and find one that meets your needs. Some factors to consider when making your decision include the cost, location, amenities, and reviews from other guests. Some of the best hotels you can stay at in Sifnos are:
---
Readers recommend visiting the following beaches in Sifnos: Vathy, Platis Gialos, Gialos, Seralia, Kamares, Apokofto, and Herronisos.
---
The best way to explore Sifnos is by renting a car or scooter. This gives you the freedom to travel around at your own pace and see the sights that interest you. There are also buses that run around the island, but they can be quite slow and don't cover all the areas. Read my guide here on things to know before renting a car in Greece.
---
---
---
How to make the journey from Ios to Sifnos FAQ
Questions about about traveling to Sifnos from Ios include:
How can you get to Sifnos from Ios?
If you want to go to from Ios to Sifnos the best way is by taking a ferry. There are up to 2 ferry crossings per week sailing to the Cyclades island of Sifnos from Ios. The ferry company on this route is Zante Ferries.
Is there an airport on Sifnos?
As there's no airport in Sifnos, the only way to make the trip from Ios to Sifnos is by the ferry services. The airport nearest to Sifnos is at Milos or Paros.
How long is the ferry crossing from Ios to Sifnos?
The ferries to the island of Sifnos from Ios takes around 3 hours and 15 minutes. Ferry operators on the Ios Sifnos route may include Zante Ferries and there are two crossings weekly.
Where do I buy ferry tickets to Sifnos?
The easiest way to get hold of ferry tickets in Greece is by using Ferryhopper. Although I recommend you book your Ios to Sifnos ferry tickets in advance, you could also wait until you are in Greece, and use a travel agency.
If you are looking for a reliable and cost-effective way to travel from Ios to Sifnos, the ferry is your best (and only!) option. The travel times for ferries sailing between these islands take around 3 hours and 15 minutes and there are usually two sailings weekly during the summer.
If you want more information about how to get from Ios to Sifnos by ferry or would like help with planning your vacation to Ios, Sifnos, or other islands, be sure to leave a comment below!
---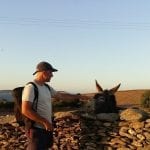 –
Dave Briggs
Dave is a
travel writer
currently based in Greece In addition to creating this guide to ferries from Ios to Sifnos, he's also written hundreds more travel guides to Greek destinations.Follow Dave on social media for travel inspiration from Greece and beyond: