During the summer, there are 2 or 3 ferries sailing from Ios to Serfios a week. The travel time for the crossing is 6 hours and 20 minutes.
Ios Serifos Ferry Route
If you're looking for a beautiful and secluded Greek island to relax on after spending time in Ios, Serifos is the perfect destination. Located in the Cyclades group of islands, Serifos is a small and peaceful island with stunningly clear water and lovely beaches.
As there isn't an airport in Serifos, the only way to make a journey from Ios to Serifos is by taking a ferry.
The only way to get from Ios to Serifos by ferry directly is through Zante Ferries, which operates 2 or 3 ferries per week depending on the time of year.
Ferry Operators – Zante Ferries
Rather confusingly for some people, the ferry company sailing between Ios and Serifos is Zante Ferries. (The confusing part is that this company doesn't sail anywhere near Zante!).
They offer a slower conventional ferry that sails between the Cyclades islands called the DIONISIOS SOLOMOS. While the ferry may stop at some other islands in the way depending on its itinerary, you won't need to change ferries as it will take you directly from Ios to Serifos.
During the busiest time of summer, you may expect up to 2 or 3 times a week from Ios to Serifos. The trip duration takes around 6 hours and 20 minutes.
In order to book your ferry tickets online, and also to check the exact times of the services, I recommend you use the Ferryhopper website.
Note that summer timetables on this and other routes are often not published by Zante Ferries until March.
Departing Ios by Ferry
A few tips for taking the ferry between Ios and Serifos
Ferries sail from the main port, called Gialos in Ios.
---
There are some cafes around the port are so you can enjoy a bit of Greek coffee culture before you leave!
---
Ios only has a small ferry port with easily identifiable gates.
---
While this ferry can take vehicles, it's important to know that most car rental companies in Greece do not allow their cars to be taken on ferries.
---
The best place to look at Greek ferries online is Ferryhopper. I suggest you book your Ios to Serifos ferry tickets in advance, especially during the height of summer.
---
Unless you have to collect a ferry ticket at the port, passengers are advised to arrive at least a half hour before departure.
---
You can buy food and drink on the Ios ferry to Serifos, but it's more affordable to take your own on board with you.
---
Serifos Island Travel Tips
A few travel tips for visiting Serifos:
Ferries arrive at Livadi port in Serifos.
---
For where to stay in Serifos, I suggest looking at Booking. They have a great selection of hotels in Serifos and areas to consider staying include Livadi, and Chora. If you are traveling to Serifos in the tourist season, I advise reserving rooms to rent in Serifos a month or so in advance. Take a look at my guide on where to stay in Serifos.
---
Beach lovers recommend these beaches in Serifos: Agios Sostis, Karavi, Sikamia, Psili Ammos, Ai Giannis, Ganema, and Livadakia.
---
---
---
---
How to go to from Ios to Serifos FAQ
A few of the questions readers ask about traveling to Serifos from Ios include:
How do I get to Serifos from Ios?
The best way to make the trip from Ios to Serifos is by ferry. There 2 or 3 crossings a week sailing to the Greek island of Serifos from Ios, with the ferry Ios Serifos taking around 6 hours and 20 minutes.
Is there an airport in Serifos?
There isn't an airport in Serifos island, so the only way to get from Ios to Serifos is to use a ferry. The airport most close to Serifos is at Milos or Paros.
How long is the ferry ride from Ios to Serifos?
Tourists should expect the ferries to the Cyclades island of Serifos from Ios to take around 6 hours and 20 minutes as the ferry type is a slower, conventional ferry. Ferry operators on the Ios Serifos route may include Zante Ferries.
Where do I buy ferry tickets to Serifos?
The easiest way to get hold of ferry tickets in Greece is by using Ferryhopper. Although I recommend you book your Ios to Serifos ferry tickets in advance, you might also go to a travel agency in Greece after you arrive.
I hope this article has been useful for planning your trip from Ios to Serifos. Have you traveled on this route and have any insights to share with other visitors? Did you find other ferry companies who operated on this route? I'd love to hear from you – drop a comment at the bottom of the page.
If you have any more questions about the ferry route between Ios and Serifos, its travel times, prices, or would like help with planning an itinerary for your vacation, let me know below!
This article first appeared on Dave's Travel Pages
---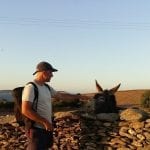 –
Dave Briggs
Dave is a
travel writer
based in Athens, Greece. As well as creating this travel guide to ferries from Ios to Serifos, he's also written hundreds more travel guides to getting around the Cyclades islands and Greek destinations. Let's stay connected – Follow Dave on social media for travel inspiration from Greece and beyond: