The closest island to Ios is Sikinos, and the most popular Greek islands to visit after Ios are Santorini, Mykonos, Sikinos, Folegandros, Naxos and Paros. You can also get to most Greek islands in the Cyclades from Ios. This guide shows you how.
Closest Greek Islands To Ios
If you're looking to visit a nearby island after Ios, there are many to choose from. This Greek island hopping guide shows you how to get from Ios to Santorini, Paros, Naxos, and Folegandros, and other great destinations in the Cyclades.
The nearby islands to Ios can all be reached on a direct ferry – that means that even if the ferry stops at other islands on the way, you stay on the vessel until you arrive at your destination.
Some of the surrounding islands around Ios can only be reached via an indirect ferry. This means that you may have to take more than one ferry from Ios to get to your eventual destination.
There is no airport on Ios island, so you can only arrive or depart by ferry.
Tip: It's always best to take a direct ferry from the island of Ios to your next destination, as this way you minimize your overall travel time.
** Check Ferry Timetables In Greece At: Ferryhopper **
Popular Greek Islands To Visit After Ios Greece
Let's kick off by looking at some of the most commonly visited Greek islands to go to after Ios. I'm sure the first island needs no introduction at all!
Santorini
Located to the south of Ios is the ever-popular island of Santorini. As Santorini has an international airport (connecting with cities in Europe), it can be a good Greek island to visit after Ios if you want to fly straight back home when you're done there.
During the summer, there are at least 4 ferries a day sailing from Ios to Santorini. The quickest ferry takes just 35 minutes.
More information here: How to get from Ios to Santorini and my Santorini Travel Blog
Paros
The island of Paros has grown in popularity over the last few years. Whether that's a good thing or a bad thing I'll leave to your discretion. If you're visiting Paros after Ios, you're likely to find it a lot busier and more developed.
There are two or three ferries per day sailing from Ios to Paros, with the quickest ferry taking around 1 hour and 35 minutes.
More information here: How to get from Ios to Paros and Best things to do in Paros
Naxos
Due to the size of Naxos, there is plenty to see and do here for people with a variety of interests. You can visit an archaeological site or two, check out some traditional villages, relax on the beautiful beaches, and enjoy some incredible food.
There are three or four ferries per day in the summer season sailing from Ios to Naxos, and the quickest travel time is around 40 minutes.
More information here: How to get from Ios to Naxos and Things to do in Naxos
Folegandros
If you enjoyed the non-party side of Ios, you're likely to enjoy Folegandros for the same reasons. There's nice beaches, hiking trails, stunning sunset spots, and the highlight for many is the late evening dining scene in the main village.
There's normally one ferry a day from Ios to Folegandros, with the travel time taking 1 hour and 20 minutes.
More here: How to get from Ios to Folegandros and Things to do in Folegandros
Mykonos
With its stunning beaches, upmarket club scene, and chic Cycladic style, Mykonos is a perennial favourite with people looking to travel to Greece.
Two ferries a day sail from Ios to Mykonos during the summer, operated by Golden Star Ferries and SeaJets.
More travel information here: How to get from Ios to Mykonos and my Mykonos Blog
Sikinos
It might not be as well known as the other islands mentioned so far, but perhaps that's what makes Sikinos so charming.
Tourism is really low key here. If you've ever wanted to go to a Greek island with a pile of books and get away from things, Sikinos is just what you've been looking for.
Read more here: Sikinos island travel guide and How to get from Ios to Sikinos.
Crete
Although not one of the Cycladic islands, Crete is another island that visitors want to visit after spending time in Ios.
During the tourist season, there is one ferry a day sailing between these two islands, operated by SeaJets. During off season, you might not find a direct ferry.
Don't expect the ferry tickets to be cheap, but the travel time of 2 hours and 45 minutes is pretty quick.
More here: How to get from Ios to Crete and my Crete Travel Blog
Other Cyclades Islands To Travel After Ios
If you've already visited the islands mentioned above, perhaps these other Cyclades islands you can travel to after visiting Ios might appeal.
Here's my dedicated travel guides on getting from Ios to other destinations in the Cyclades:
How to get from Ios to Thirasia
Port of Ios and Ferry Tickets
Ferries arrive and depart from the port of Ios, which is located in Gialos, 2km from Chora the main town.
In addition to ferry connections with the islands already mentioned, there are also ferries from Ios to Piraeus and Rafina ports in Athens.
While you can buy ferry tickets in Ios town and the port town of Gialos, I always recommend to buy ferry tickets online in advance when possible. Some popular ferry routes do sell out, especially in August.
Ferryhopper is the best place to look at ferry schedules and buy tickets online.
Ios Island Hopping Tips
A few travel tips when taking ferries from Ios:
---
---
---
---
---
Looking for budget destinations in Greece? Check out my guide to the cheapest Greek islands to take a vacation.
---
FAQ About Ios Island
Readers planning to visit Ios and other Greek islands nearby often as questions similar to:
Is Ios still a party island?
While Ios has a reputation as a party island for young people, an increasing number of non-party types are falling in love with Ios due to its great beaches and landscape. It's fair to say that Ios is evolving to be a welcoming destination for everyone.
Which island is better Paros or Ios?
Both Ios island and Paros have a lot to offer, although it is fair to say that Paros is the more expensive of the two, and Ios has the best beaches.
Is Ios a nice island?
Ios is one of the most beautiful islands in Greece, and the people are also very amiable. While the island of Ios is known for its party scene, it is not associated solely with its wild nightlife scene. In fact, Ios has some of the finest beaches in all of Greece.
Is Ios a Greek island?
Ios is one of the Cycladic islands of Greece, and is positioned between the famous Greek islands of Santorini and Paros.
If you are looking to experience the Greek islands after Ios, this list of other Cyclades destinations might be useful. If you want more information about travel in Greece, please sign up for my newsletter where I share blog posts on how to get from one destination to another in Greece, along with hotel recommendations!
---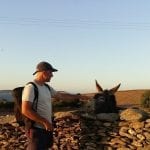 –
Dave Briggs
Dave is a
travel writer
based in Athens, Greece. In addition to writing this guide about ferries from Ios to other Greek islands in the Cyclades, he's also written hundreds more travel guides to Greek destinations. Follow Dave on social media for travel inspiration from Greece and beyond: