During today's cycling route between Lions Camp and Iskut in Canada, I experienced some hills. Then, on arrival, disaster struck when my tent pole snapped. All the fun of a bike tour in Canada and more!
Leaving Lions Camp
(Blog post written: Aug 26 2009)
Another cold night, but at least no rain this time. I can't wait to get to warmer and drier countries on this Alaska to Argentina bike tour!
I was packing my tent away, thinking about how the tent was bearing up under the conditions, when one of the poles snapped.
Tremendously not good news, as I am about 500 kms away from anything remotely resembling an outdoors shop.
Gnat Pass in Canada
There wasn't a lot I could do about it there and then, so I carried on packing away and started cycling. The first three quarters of an hour saw me in my grinding gear, as I moved to the top of Gnat Pass. At 1241 metres, its no where near the highest I've ever cycled, but at the same time, not insubstantial.
The cycling was good again, apart from when I reached one section advising drivers to test their brakes. Now, this should have been a good thing, as it meant that I would be going down hill, but something in the back of my mind told me that whatever I lost, I would soon have to make up again.
And I was right. The road descended at an 8 degree angle and soon left sealed road for rough stuff. At the bottom, it crossed a bridge, and after that, it was back up a nine degree gradient to get back to the same height.
Mountain Shadow Campground
It was tiring, but no where near as bad as that monstrous gorge I had to do in Ethiopia, and on the plus side, there wasn't a village load of people chasing me either.
After the steepness lessened, and I returned to sealed road, the angle still seemed ever upwards, just not as severe, but I was getting tired, and thankfully, I found a great little campsite called Mountain Shadow, where I took a reasonably priced cabin for the night.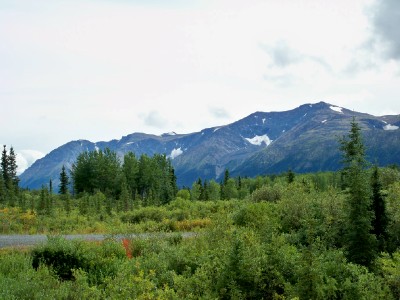 After I went on an eating frenzy, I asked the owner if he could help me out with my snapped tent pole situation, and he just happened to have exactly the right size and strength aluminium tubing for my needs.
I tested it, and it seems to hold ok, and I just hope that it lasts until I get to Prince George where I can get a spare pole (well, I hope I can).
Ahead of me now, is four or five days travelling through pretty isolated areas, so I need to make sure my food is stocked up, and I hope my repair job holds, because without the tent, I am going to have difficulties to say the least…
---
Read more about this cycling expedition
Use the links below for more travel updates from this tour:
---
You might also want to check out:
---
– Dave Briggs
Dave wrote this travel guide about cycling from Lion's camp to Iskut in Canada when bikepacking from Alaska to Argentina.
Follow Dave on social media for travel, adventure and bike touring inspiration: