There are usually 3 or 4 direct ferries from Milos to Sikinos per week during the summer, with the quickest travel time being 1 hour and 20 minutes.
Sikinos island in Greece
The island of Sikinos is one of the quietest in the Cyclades, and doesn't feature on many travel itineraries. It's a laid back place with a local population of less than 300 hundred, so you can imagine how different Sikinos is to more famous places such as Mykonos or Santorini!
As such, it doesn't have the regular ferry connections that other islands enjoy. Perhaps in a way, this is what helps keep it off the tourist radar.
Sikinos is certainly worth visiting though, and I loved spending time there. It's the perfect Greek island destination for anyone like me who prefers being away from the crowds and likes to enjoy nature and peace and quiet.
How to get from Milos to Sikinos
Sikinos hasn't got an airport, so taking a plane between Milos and Sikinos is not an option. The only way to get to Sikinos from Milos is by ferry.
During the height of the tourist season, there might be up to 3 or 4 ferries per week from Milos to Sikinos. These ferries to Sikinos from Milos are operated by SeaJets, Blue Star Ferries, and Zante Ferries.
Check the latest ticket prices and availability at: Ferryscanner
Milos Sikinos Ferry Route
At one point, the slowest conventional ferry took a whopping 9 hours to complete the journey from Milos to Sikinos! Thankfully, that route has now been altered.
Still, it's worth checking the timetables for travel times before you book a ticket in case you end up on a slow boat service!
Ferries to Sikinos from Milos
The quicker boat from Milos going to Sikinos takes around 1 hour and 20 minutes. This is a SeaJets operated vessel, laid on for the summer months.
The slowest ferry sailing to Sikinos from Milos island takes around 9 hours (yes, seriously!). This is also a SeaJets, but it's a circular route which Sikinos happens to be at the end of.
The Blue Star Ferries and Zante Ferries tend to run through the year on a once per week basis each. They will be the cheaper option, and you can expect the travel time to be between 2 and 3 hours.
If you want to check schedules and book tickets for the ferry online, visit Ferryhopper.
Sikinos Island Travel Tips
A few travel tips for visiting Sikinos:
---
---
---
---
What to see in Sikinos Greece
Sikinos doesn't exactly have an extensive list of 'must-see' attractions. Which is the entire point of visiting the island – at least in my opinion!
With a few days on the island, you'll get to visit most of the beaches, enjoy a few hikes, and perhaps a few late night drinks in the Chora.
One experience I highly recommend is a sunset meal at the winery. Read my travel guide here: Things to do in Sikinos
Ferries from Milos to Sikinos FAQ
A few of the questions readers ask about traveling to Sikinos from Milos include:
How can we get to Sikinos from Milos?
In order to make a trip from Milos to Sikinos the best way is to take a ferry. There are up to 3 or 4 ferries per week sailing to the Greek island of Sikinos from Milos.
Is there an airport on Sikinos?
The island of Sikinos does not have an airport, so flying between the islands of Milos and Sikinos is not something you can do. The closest airport to Sikinos is on Santorini.
How long is the ferry crossing from Milos to Sikinos?
The ferries to Sikinos island from Milos take between 1 hour and 20 minutes and 9 hours (yes, seriously!). Ferry operators on the Milos Sikinos route may include SeaJets, Blue Star Ferries, and Zante Ferries.
Where can I buy tickets for the ferry to Sikinos?
I find that the Ferryhopper website is the best place to book ferry tickets online, but you could always use a local travel agency in Greece. Wherever you decide to buy them, I think it's better that you book your Milos to Sikinos ferry tickets in advance just in case your desired crossing sells out.
---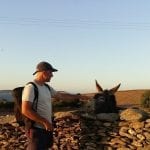 –
Dave Briggs
Dave is a
travel writer
who has been living in Greece and writing about the country since 2015. As well as creating this travel blog post about ferries from Milos to Sikinos, he's written many more travel blog posts about destinations in Greece. Follow Dave on social media for travel inspiration from Greece and beyond: