This Milos travel guide is a must-read for anyone planning a vacation on this beautiful but often overlooked Greek island in the Cyclades. Start planning your Milos holidays now, with what to do, where to stay, getting to Milos, and more!
Milos Island, Greece
It is no secret that Santorini is too busy and Mykonos too expensive. Fortunately, there are a couple of dozen more inhabited Cycladic islands to choose from.
Many of them have retained their unique charm and authentic appeal. Milos is one of those islands, and it has recently become an up and coming destination.
Boasting more than 70 amazing beaches, Milos island is compact enough to get around easily. At the same time, it has enough to do to keep most people occupied for a week or longer.
This Milos travel guide is broken down into sections designed to give you the essential information, with links to further articles which dive deeper.
Deep Dive Milos Guides
** Milos and Kimolos travel guide now available on Amazon: Click here **
About Milos, Greece
Milos is one of the Cycladic islands of Greece. It is located almost halfway between Athens and Crete in the Aegean sea.
With around 5,000 permanent inhabitants and an area of 160 square kilometres, it is the fifth biggest island in the Cyclades after Naxos, Andros, Paros and Tinos.
Milos island has something of a laid-back feel. This is perhaps to do with the fact that mining has been the main economy driver here, for at least the last 100 years or so.
Tourism is starting to give mining a run for its money, but thankfully not in the form of "mass tourism".
You won't see tour buses crammed with photo-snappers on their conveyor-belt tour of Europe. Instead, the Greek island of Milos attracts people with a spirit adventurous enough to organise their own flights, ferries and accommodation.
It's popular with couples and young families, and the total absence of nightclubs pumping out loud music is a welcome relief.
In short, Milos is the perfect destination for a relaxing holiday, while offering plenty of options for exploration. That's why I liked it!
Milos Island Map
Below is a map of Milos which you can zoom in and out of. Milos is indicated by the red marker.
You'll see that the island is shaped a little like a horseshoe. Almost all the accommodation is located on the eastern (right hand) side of the island. The west side of Milos is remote, wild and rugged.
A lot of mining goes on in many areas of the island. When planning your Milos holidays, you will need to decide how much exploring you will want to do.
The eastern side of the island should be your main point of focus, especially if you only have a few days. Still, there is a lot to explore on the western side as well.
Best time to visit Milos
The tourist season in Milos roughly lasts from May to October. In between these times, some months are better than others for visiting.
We have visited Milos twice, in mid June and late September. The weather was lovely on most days, and the sea warm enough to swim in. In my opinion, these are the best months to visit Milos, as tourist numbers are lower than during peak season.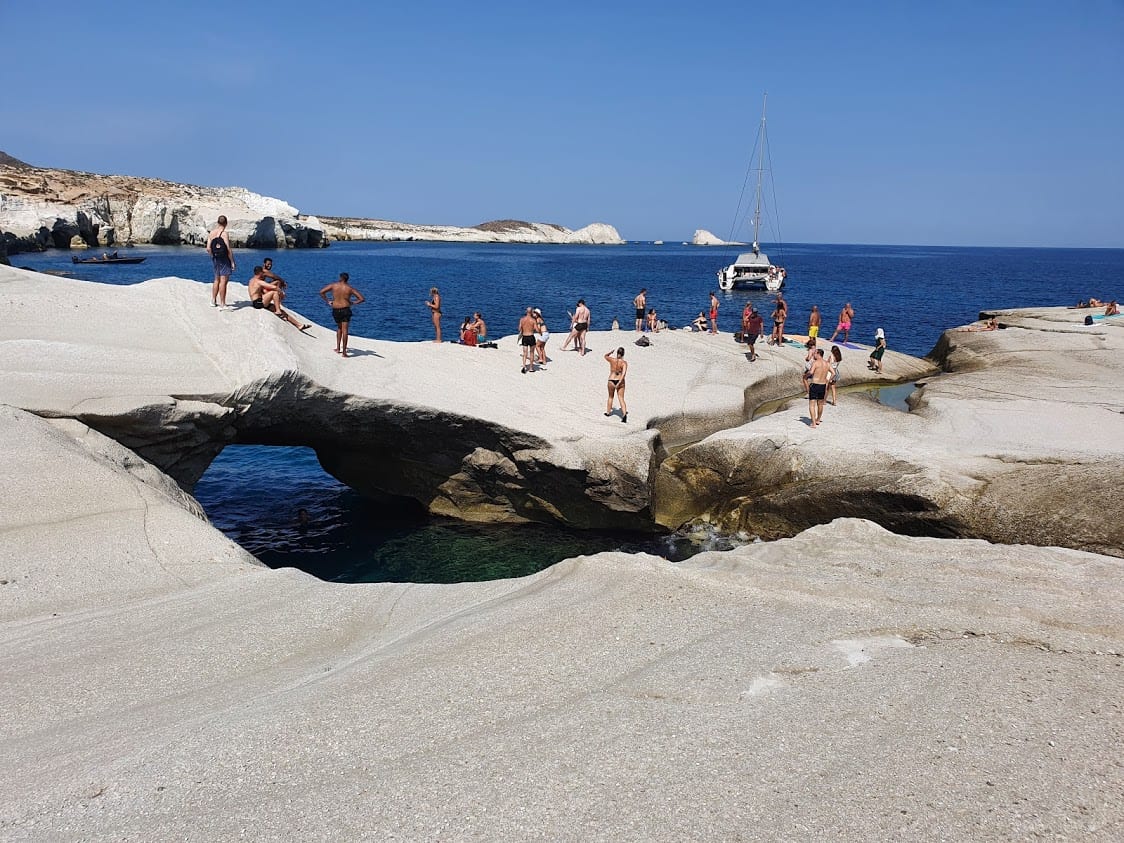 In June, the days are much longer, as sunset is between 8.30 and 9 pm. The sun is stronger, and there is generally little to no wind. The sea is not as warm as later in the year, but it a lot clearer.
On the other hand, September is generally a little cooler, and you are less likely to get a sunburn. However, you may experience some of the last meltemi winds. In addition, the sun sets much earlier, so there is considerably less daylight.
Like most places in Greece, I would suggest avoiding August as a time to visit Milos. Things can become crazy busy during this month, and accommodation can be hard to find or just very expensive.
Related: Best time to visit Greece
Getting to Milos
There are two ways to travel to Milos, which are by ferry and by air.
If you are planning to fly from outside Greece, you will need to catch a short connecting flight from Athens airport to Milos. Check your options at least a couple of months in advance, in order to get information on the best prices.
There are two carriers operating the route: Olympic Airways / Aegean Airlines, and a smaller company called Sky Express. There aren't too many Athens to Milos flights per day, so it's best to reserve your spot early.
We have used ferries both times we went to Milos. As we are bringing our own vehicle, this is our preferred way of travelling to Milos.
We recommend Ferryhopper for checking ferry schedules and booking tickets online.
How to get to Milos by ferry
During summer, there are several ferries per day from Piraeus, the Athens port, to Milos. Most of these ferries are likely to stop at Serifos and Sifnos on the way to Milos, but occasionally there are direct routes.
We have used the Speedrunner 3, operated by Aegean Speedlines, and also the Champion Jet 2, run by SeaJets, to travel between Athens and Milos. Both of these ferries are great, and they will get you to Milos in anywhere between 3 to 4 and a half hours.
On our trip to Milos we also took the car, so we pre-booked our tickets to be guaranteed a place. I definitely recommend booking your tickets at least a week in advance, and definitely more if you are travelling in peak season. Yes, the ferries do get sold out on occasion!
For more information, check out this deep dive travel guide on how to get to Milos from Athens.
If you're considering island hopping onward travel, take a look at this guide to ferries from Milos to other Cyclades islands.
Where to stay in Milos
Where you choose to stay on Milos may in part be determined by how you intend to get around the island. If you have your own transport, then you can really stay anywhere. That said, be prepared for lots of driving, as the road network is pretty extended, and there are many dirt roads.
If you aren't planning to hire your own transport, you can use the Milos island bus service to get around. In this case, it makes the most sense to stay in the port of Adamas, or maybe the resort town of Pollonia.
Accommodation in Milos is mostly on the east side of the island. I've written this in-depth article with more information: Where to stay in Milos.
Where I stayed in Milos
During my vacation in Milos, I have stayed at three different places on the island. One was an apartment in Pollonia, another near the famous Sarakiniko beach, and the last one in Adamas port.
All of these were in the 40-45 euro a night price range and had fridges. Two of them had a kitchen, and the other did not.
I was happy with all three places, and so I will share the information with you!
Pollonia Milos Hotels
Pollonia is something of a developing area on the island, which has a hint of the upscale about it. There is accommodation to suit every budget though, from hotels to apartments.
The Mrs. and myself stayed in a small apartment about a 5 minute walk along the beach from Pollonia. You can find out more about it on Tripadvisor here – Polyegos View.
Staying near Sarakiniko Beach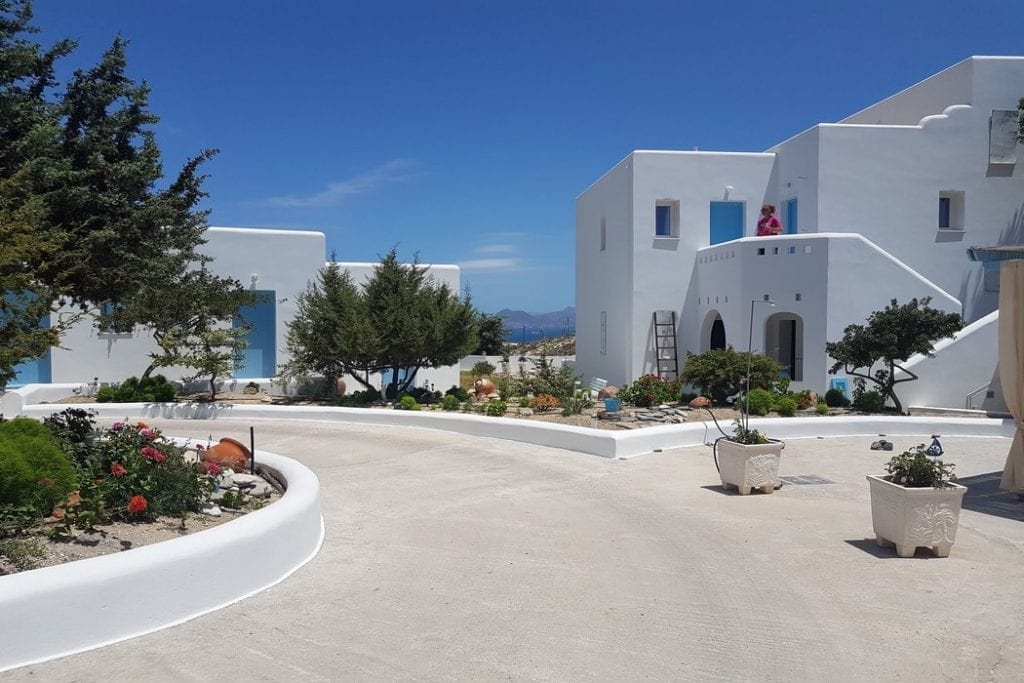 The second apartment I stayed at in Milos was just a short walk from the famous Sarakiniko Beach. This place didn't have the kitchen, but had a nice outdoor area and a generally good vibe. The owner was super friendly as well!
You can find out more about it here – Sarakiniko Rooms.
Accommodation in Adamas Milos
During our latest trip to Milos island in September 2020, we stayed at Veletas rooms by the port of Adamas. This spacious apartment had a fully functional kitchen. It was on the basement level and didn't have a view, but I don't think many apartments in Adamas do.
Getting around Milos in Greece
Your Milos transport options include car, ATV, bus, and motorbike. You can also hire a bicycle if you wish.
Having taken our car from Athens to Milos on the ferry, my experience is mainly of using the car to get around. This gave us maximum flexibility, and there wasn't a day we didn't use it.
We did the maths on paying extra to take our own car on the ferry from Athens to Milos as against simply hiring a car on Milos, and found it cheaper.
Most people planning a Milos holiday are probably not going to have their own vehicle though, and will rent some form of transportation when on the island. Here's how to get around in Milos.
Rent a car in Milos island
The best place to rent a car is at Adamas port, Milos. There are several local car hire companies to choose from. As Adamas port is small, you can walk around and ask for prices.
On our first visit there, it seemed that most people had gone for Nikos cars. During our second visit, another company called Matha was probably the most popular.
If you are travelling to Milos during peak season, it's best to book your rental car in advance. American drivers should note that most cars in Greece are stick shift, and not automatic.
Before deciding on what type of car to rent, you should have an idea of what roads you need it for. Milos has a super long network of dirt roads, some of which are in pretty bad condition.
A normal car won't be able to go on many of these roads, and the insurance won't cover you in case of a breakdown. If you are planning to fully explore the island, the best option is to rent a small 4WD.
Also read: Money in Greece
Rent an ATV in Milos
Another idea is to rent an ATV in Milos. These will take you places that normal cars can't, and there are plenty of them for hire on Milos.
The more powerful ATVs are ideal for reaching beaches down rough dirt tracks, of which there are plenty.
That said, driving an ATV is very different to driving a car or a motorbike. If you haven't driven one before, rent it for at least a few days, so that you get the chance to get used to it.
Prices vary widely, and you will generally get a better price if you need the ATV for several days. Ask around and see what you come up with.
Use the Milos Island bus
Milos has a regular bus service which connects all the main points of the island. Generally speaking, Pollonia seems to have fewer connection times than Adamas Port or Plaka, but this might change from time to time.
Check the bus timetable for Milos a few days ahead of your visit. If you plan to stay in Milos and use the bus as your primary form of transportation, it won't take too long to get your head around it!
Taxis on Milos
Milos also has a number of taxis, which operate 24/7. You'll see signs for these in many places, including the beaches which have bus connections.
My guess is, that each year, there are plenty of people who either miss the last bus back to where they are staying in Milos or want to spend longer at the beach!
If you are visiting in peak season, it's best to arrange your taxi transportation in advance. Your hotel should be able to help.
To get an idea of prices and itineraries, you can visit this website.
Cycle around Milos island
Sadly, I didn't have the chance to take my bike to Milos, so couldn't try out the cycling for myself. Certain mountainous areas of the island will definitely be a challenge, especially for inexperienced cyclists.
Still, there are also flat and paved routes, such as the road from Adamas to Achivadolimni. There are plenty of places to hire bikes in Milos.
In addition to simply getting around Milos on the normal road system, there are also a few circuits that have been devised for both hiking and cycling on Milos.
You can find out more information about the Geo Experience tracks here.
Best things to do in Milos
So, time to see what you can do during your Milos holidays! Here's some information to get you started.
Beaches in Milos
As previously mentioned, Milos has over 70 beaches. From the iconic Kleftiko Beach and Sarakiniko beach, to smaller more intimate beaches, you can stay on Milos a month and still not visit them all!
Some of the best beaches in Milos can only be reached via dirt tracks. For the most part, a standard car will make the journey, although there were one or two we didn't feel confident our jalopy would manage!
My favourite beaches in Milos included Ag. Kryriaki, Paleochori, and 'Sulphur Mine' beach. Look here for my complete guide to Milos beaches.
If you decide to reach the beaches by land, be prepared for some long drives. It's totally worth driving around Milos though, as you'll get to see all the diverse, colourful landscapes.
Note: Kleftiko is arguably the most famous beach, and many people say you can only reach it by boat tours. During our second trip to Milos, we managed to hike to the famous Kleftiko caves. Read more about it here: Kleftiko hiking
Sailing trip around Milos
Some of the beaches in Milos island can only be reached by the sea. The best way to get to them? A sailing trip around Milos!
The island is stunningly beautiful, and viewing it from the sea is a real experience you are unlikely to forget. I wrote about my recent experience here – Milos boat tour on a catamaran.
There are all types of sailing trips around Milos available, ranging from half-day to full day.
During my vacation in Milos, I took a catamaran cruise around Milos island on a day trip. We visited many of the key places including Kleftiko, and sailed around the entire island.
You can check out reviews of the Milos island sailing trip on a catamaran here – Milos sailing tripadvisor reviews.
4WD Trip around Milos
In a way, it's surprising that it has taken so long for 4WD trips around Milos to arrive on the scene. After all, the boats can't sail during windy days, so how else can you see the remote parts of the island?
During my time in Milos, I took a day 4WD trip around Milos which had a focus on the island's connection with mining. It was a fascinating tour, revealing a side to Milos island I probably would not have been aware of otherwise.
I'll go into more detail about the Milos 4WD tour in the future, but for now, you can see some reviews on TripAdvisor.
Plaka
The main town of Greek islands is often called or referred to as the "Chora". On Milos island, that town is Plaka, and it's up on a hill.
Some people choose to stay in Plaka. If you don't, you will need to park your vehicle in the spacious parking lot and then go on foot.
Like most of the main towns on the Cyclades, Plaka in Milos has narrow cobbled streets, and side alleys just begging to be explored. There are plenty of shops here for anyone wanting to buy a souvenir or two, and a few restaurants and cafes.
Plaka is also one of the best places in Milos to watch the sunset from. The views from the top of the Kastro were particularly stunning. Looking out over the island brings everything into perspective.
Visit the museums in Plaka and Adamas, Milos
Apart from the views and cobbled streets in Plaka, you should also visit the Archaeological Museum. Among other exhibits, you will see an impressive replica of the Aphrodite of Milos statue, which can be seen in the Louvre.
In addition, don't miss the small but very intriguing Sand Museum. This is a small museum / gallery, tucked away in a narrow alleyway in Plaka.
The owner has been collecting sand from all around the world – if you are vising from a country with interesting sand, feel free to bring him some! His website is under construction, but you can get in touch at marmara_milos@yahoo.gr.
While in Adamas, make sure you visit the Milos Mining Museum. This will bring into light the mining industry in Milos, and how it's developed over the centuries.
If you go early in your visit, you can then look out for all these unique rocks and minerals that exist all around the island.
Finally, if you are interested in Greek Orthodox icons and artefacts, you should definitely visit the impressive Ecclesiastical Museum inside the church of the Holy Trinity.
It helps if you can read Greek, but some of the icons are stunning regardless.
The Catacombs and Theatre
Just underneath the town of Plaka are two of the more significant archaeological spaces on Milos. These are the catacombs used by early Christians, and the recently renovated theatre area.
The catacombs of Milos are where some of the early Christians on the island were buried. Today, you can spend a short time in there accompanied by a site guard, who limits the time spent underground to 15 minutes. This is an interesting, and perhaps a little spooky, place, and you will probably love seeing the sunshine again.
The theatre up above the catacombs has been recently renovated. It gives a good indication of how it must have looked in the past, and is free to enter and explore. Its position on the side of the hill is really lovely.
From the theatre, you can then walk or drive down to the fishing village of Klima.
Fishing Villages of Milos
One of the unique features of Milos are the fishing villages built in bays all around the coastline. These small settlements are characterised by their colourfully painted doors, and the "boat garages" that are underneath each one.
The best-known fishing village in Milos is Klima. You can reach this either by driving down here, or by walking down from Plaka or the theatre underneath.
You may be surprised to know that some of these fishermen's houses have been transformed to modern rooms to rent. While the location is very unique, I wouldn't necessarily want to stay here myself.
On windy days, the waves will literally come knocking on your doorstep! Still, it's an unusual, if pricey, option for accommodation in Milos.
Where to eat on Milos
And finally, no vacation in Milos would be complete without visiting a restaurant or two. In our experience, you'd have to try pretty hard to find a bad meal. All of the tavernas and restaurants we visited were way above average.
Whether you prefer sticking to traditional tavernas specialising in local food or want to try more upscale restaurants, you'll certainly eat well. Here's some of our favourite places to eat on Milos, where a couple can easily eat for 35-40 euro, with little space left for dessert.
Oh! Hamos (Adamas)
Ask anyone on Milos about places to eat, and it won't be long until Oh! Hamos is mentioned. They have a great selection of slow cooked oven dishes, including hearty meat dishes but also vegetarian and vegan options.
The setting right on Papikinou beach is very pleasant, and you can watch the sunset here. When you've finished your meal, take home a recipe postcard or two before you leave!
Note – there are often long queues to eat here in peak season. Try different times of the day – maybe around 5pm is your best bet.
Bakaliko tou Galani, Triovasalos
This small place came highly recommended by locals, and it was one of our favourite places to eat in Milos. They offer a variety of small, inexpensive dishes, that are all fantastic.
We came here after hiking to Kleftiko Bay, so it was a very well-deserved meal! Try the grilled mussels and the special kavourmas dish, but really everything on the menu was excellent.
Medusa, Mandrakia
This is a great fish taverna right on an impressive setting by the rocks. We loved our fish dishes, and were very amused with the owner's stories. Don't forget to ask him about the time he met the King of the Netherlands!
Hanabi (Pollonia)
In my opinion, Greek cuisine is the best in the world, but if you want a change, the first Sushi restaurant on Milos could be just what you are looking for!
Hanabi is situated in Pollonia, and has a great selection of Japanese and Signature dishes as well as cocktails.
Impressive service and a nice setting round things off nicely, and Hanabi makes a good restaurant for your 'treat' meal during a vacation in Milos.
If you have any questions about planning a trip to Milos, or would like to share travel information, please leave a comment below. It would be much appreciated!
Day Trip to Kimolos
I touched briefly on day trips in Milos, but thought I would mention one more. Kimolos is the closest island to Milos, and is just a half hour away on a local ferry so make a good day trip.
Here, tourism is really low key, and there is a true authentic feel to the island.
While generally, I would say to consider planning 3 or 4 days in Kimolos, it is perfectly possible to see the highlights on a day trip from Milos island.
Take a look here: How to get to Kimolos from Milos, and Best things to do in Kimolos.
Greek islands near Milos
Milos is the perfect island from where to continue your Greek islands hopping adventures. Some of the Greeks islands you can visit close to Milos include Kimolos, Folegandros, Sifnos, Serifos, and Paros.
Milos Greece Travel FAQ
Readers planning a trip to the beautiful island of Milos often ask questions similar to:
Where did the travel guides stay in Milos?
The Guides stayed in a small fishing village of Klima where the boat houses have been converted into boutique accommodation.
Can you get around Milos without a car?
Yes, you can explore Milos without a car if you either use the public bus service, take guided tours to some areas, or use the hiking trails. Taxis in Milos can also help you to see more of the island.
How long do you need in Milos?
Aim to spend at least three days in Milos in order to appreciate the charming towns, fantastic landscapes, and amazing Milos beaches.
Is Milos too touristy?
Like many Greek islands, Milos can be very busy during the peak month of August. Outside that though, it is large enough to easily absorb the visitors that make the journey, and does not feel too busy at all.
Pin the Milos Travel Guide for later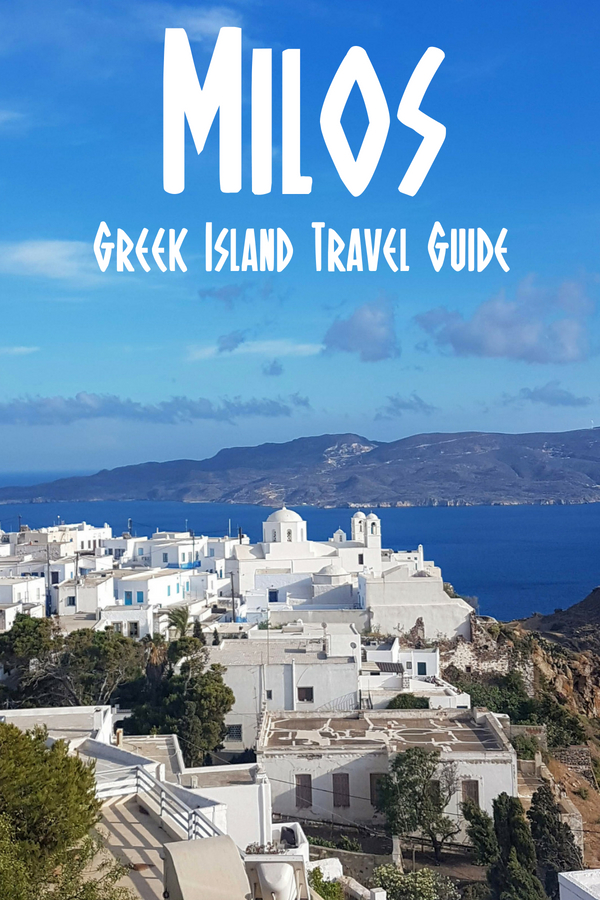 Related Greece Travel Blogs
You may also be interested in these other Greece travel guides:
---